Gautham Menon: I love making love stories
Last updated on: December 13, 2012 11:19 IST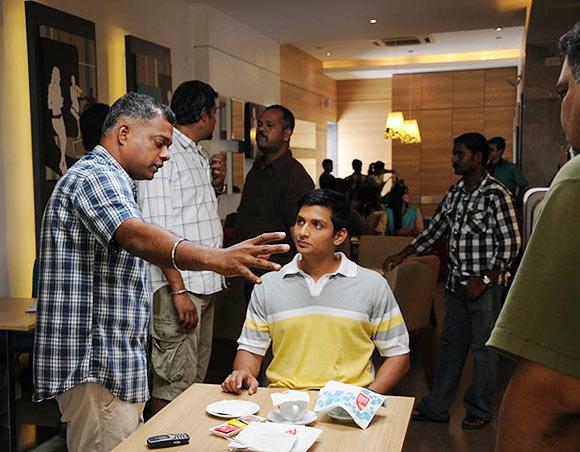 Gautham Vasudev Menon's last romantic musical, Vinnaithandi Varuvaya was a huge hit and is described as one of the best romantic films made in Tamil.

His ambitious trilingual, another romantic film, was started more than a year ago.

But with the Hindi version of Vinnaithandi Varuvaya -- Ek Deewana Tha -- failing miserably, he has put the Hindi version of the new film (with Aditya Roy Kapoor and Samantha) on hold, and has decided to finish and release the Tamil and Telugu versions first.

Thus Neethane Enn Ponvasantham in Tamil and Yeto Vellipoyindi Manasu in Telugu release this Friday, a big day for the 39-year-old director.

In this exclusive interview, he talks about the film.
What is the inspiration behind this love story?

There was no inspiration as such.

At our production house, Photon Kathas, we have a writer called Reshma who came up with this idea which she herself made into a screenplay that I liked.

We took it to Telugu producers first.
'It's a simple love story which people can identify with'
Last updated on: December 13, 2012 11:19 IST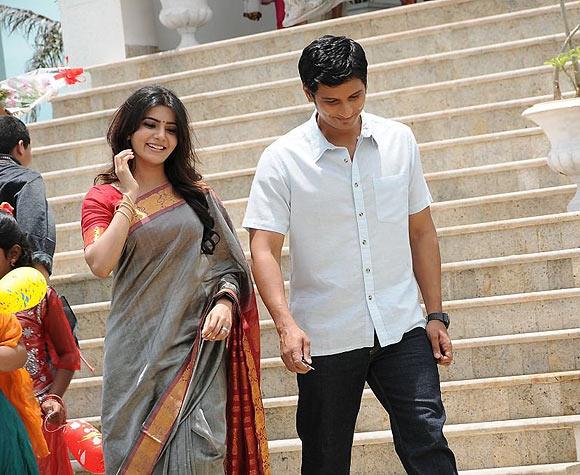 Any particular reason?

We were supposed to do a Telugu film with Ram. So, the script was developed for him. Then, we decided to make it a bilingual, Tamil and Telugu. Then Ram opted out and Nani stepped in.

It's basically an inspirational love story which anybody can relate to. People love to watch good love stories and I love to tell love stories!

Is Neethane Enn Ponvasantham like Vinnathandi Varuvaya?

The difference between VTV and Neethane Enn Ponvasantham is that the latter spans three periods in the life of the lovers -- school, college and at 25.

Though it's the story of Varun and Nithya, it could be anybody's story. It's about people who find each other and at some point, because of ego or the choice of careers, they drift apart.

Varun and Nithya fight and break up even when in school. In college too, they do the same. Finally, they meet again at 25. 

It's a simple love story which people can identify with, like their own love stories.
'Good actors makes your work easy'
Last updated on: December 13, 2012 11:19 IST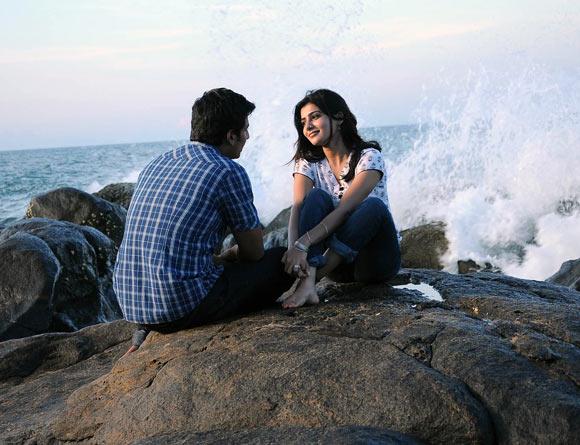 As your story spans from school days to the age of 25, the actors have to look like school kids too. How difficult was it to achieve that?
It was difficult, but then working with good actors makes your work easy. They are ready to put in a lot of hard work. When I asked Jiiva to lose weight and look lanky, he did that in no time.
You will see that there is a marked difference between the way they look in school, college and in the mid-twenties portions. Even Santhanam looks different in college and as a 25-year-old. All of them did their home work well so that the film looked good.
Why did you decide to shoot the film simultaneously in three languages?
The idea to shoot in three languages was to exploit all the markets. Both Jiiva and Nani have good markets in their own languages. It was tough but I love such challenges.
I have put the Hindi version on hold right now. I will complete it only after the release of the Tamil and Telugu versions.
'I don't know what went wrong with Ek Deewana Tha'
Last updated on: December 13, 2012 11:19 IST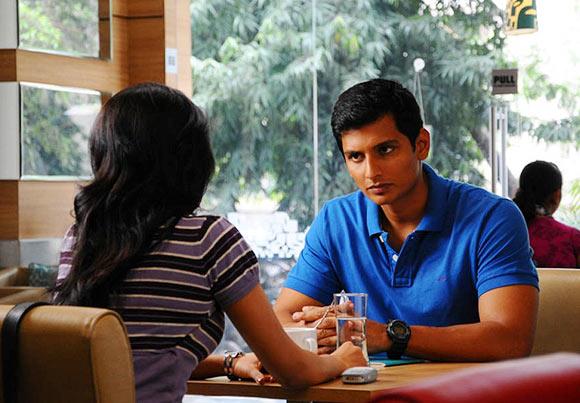 Why?

After the Ek Deewana -- tha debacle, I thought I would hold back another film that had newcomers. I still have to shoot 50 per cent of the Hindi version.

Did you feel bad when a film that was so successful in both Tamil and Telugu, did not work in Hindi?

Completely.

What could have gone wrong?

I don't know. 20th Century Fox produced it and they marketed it well, I think. We were checking the theatres and on the first day itself, there was nobody in the theatres.

Maybe they didn't want to go to a theatre to see a movie like that. Maybe the songs by Rahman, which were huge hits in Tamil and Telugu, didn't click in Hindi.

Or maybe I didn't do a good job the third time. I don't know what went wrong.
'I like making action films too'
Last updated on: December 13, 2012 11:19 IST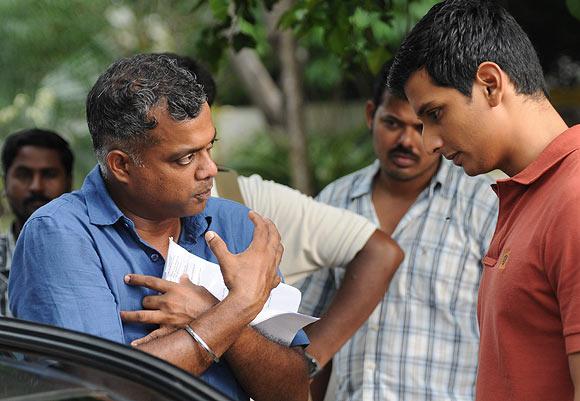 You are called the king of romance. Do you also feel romance is your forte?
I don't know. Yes, I like making good love stories. The inspiration to make love stories is that anybody would watch a good love story. At any age, I feel you can enjoy a love story.
The best compliment I received was from K Balachander who said after watching
Vinnaithandi Varuvaya
he wanted to go back home and talk to his wife!
Which genre do you enjoy making the most?
I like making action films too. I enjoyed making
Vettayadu Vilayadu
. 
I loved making
Vinnaithandi
... and
Nadinisai Naigal
. Yes, it didn't work but I enjoyed making it.
I like making all kinds of films.
Neethaane...
The film has many layers. After I shot some scenes with Jiiva and Samantha as 25-year-olds, I told them that I had made them say similar lines as school kids, college students and as 25-year-olds, but in a different style and manner. That would really work for the film.
'Directing Kamal (Haasan) was a dream-come-true for me'
Last updated on: December 13, 2012 11:19 IST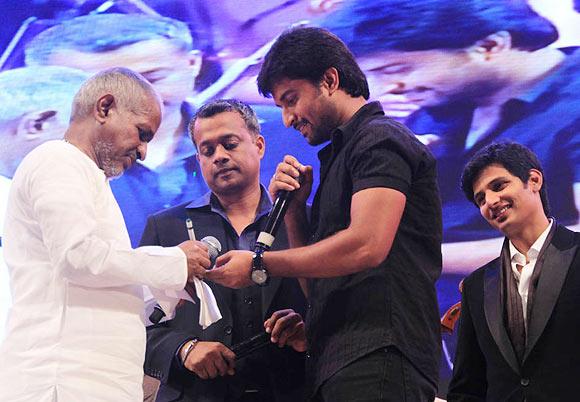 In this story, you have Samantha in all the three versions. What do you see in her as an actor?

She has grown tremendously as an actor from when she started off in Ye Maya Chesave.

This time, I didn't have to explain the scenes much; she gets the emotions quite fast. She didn't need second or third takes. Above all, she is very good in all the three languages and got the lip sync perfectly right.

It is always a pleasure working with actors like Suriya, Jiiva, Samantha, Nani, etc. They give more than 100 per cent to their work. 

Is there any difference in directing senior actors like Kamal Haasan and Suriya, and youngsters like Simbu, Jiiva etc?

Obviously, directing Kamal was a dream-come-true for me. Working with Suriya is easy because he puts in everything to get the shots right. He keeps asking me what I want from him and takes it from there.

With Simbu and Jiiva, it is more spontaneous, and they just listen and perform. 

Your female characters, whether it was Jyothika in Kakha Kaakha or Sameera Reddy in Vaaranam Aayiram or Trisha in VTV, they are quite independent and strong unlike female characters in most Tamil films...

When I write the script, I make sure that my female characters are strong. They are based on women I meet in real life.

In Neethane... Samantha plays a very strong female character and the film is about her and driven by her. The second half is almost from her point of view.

Did you start Photon Kathas to make the kind of films you believe in?

I want to make the kind of films I like to watch in a theatre. I wouldn't watch every film that releases. The films I produce are the ones I would go to the theatre on the first day and watch.

How tough is it to work as a producer and a director?

It is quite tough. I wish I could give more time to the production house though I have capable people running it. Right now, two films are under production. I would like to be a little more involved.

What are your expectations from Neethane...?

It is a moment driven film like Vinnaithandi....  I hope people will love and cherish those moments.