'Kool has no logic but it has magic'
Last updated on: May 12, 2011 11:04 IST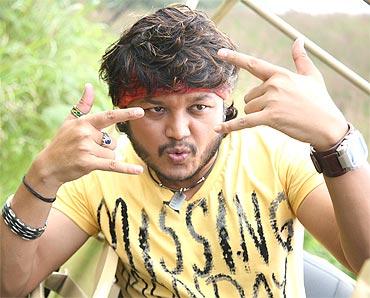 After delivering three consecutive hits (Mungaru Male, Cheluvina Chittara, Gaalipata), it has been a downhill journey for actor Ganesh barring films like Krishna, Aramane and Maleyali Jotheyali.
The 'golden' boy of Kannada industry hopes to bounce back with his first directorial venture, Kool, which is his second home production.
The actor chose to wield the microphone after director Mahesh -- who had directed him in Eno Onthara (that made more news for its controversies than its content) -- walked out of Kool after an ugly spat over ace cameraman Rathnavelu's 'interference' in direction. But all that's history now.
Ganesh tells Shruti Indira Lakshminarayana more about the film.
What prompted you to direct Kool?
I had planned to take up direction 10-15 years down the line. But (wife) Shilpa insisted that I direct. She felt I couldn't ask for a better launch as a director with technicians like Randy (Rathnavelu) and Anthony, and music composer Harikrishna on board. I was in no hurry as I had my hands full as an actor. Then, as you know, certain incidents made me take up the mantle.
Are you equipped with enough experience to direct a film?
I started my career as an assistant director to B Suresh. As an actor, I have done more than 25 films. I have been learning different aspects about film making, especially direction, from each of the directors I have worked with.
'Lot of incidents from my own college days have been woven into the story'
Last updated on: May 12, 2011 11:04 IST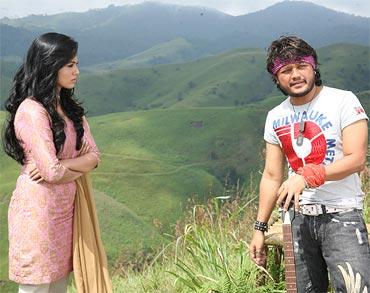 Did the actor in you feel stressed at any point?
It is difficult to be a director and actor at the same time. As a director, there is no scope for the blame game. But that responsibility also gives you greater creative satisfaction. There is more scope for improvisation.  Donning both roles has further helped me understand the making of a film.
How different will Kool be from your other films?
First of all, it's going to be completely different from my first home production Maleyali Joteyali. Also, you'll see Ganesh in a whole new role. You will see me mouthing romantic dialogues, and there will be action sequences. But you won't miss the newness in the screenplay.
Kool is a college love story. Sana Khan, who has acted in Tamil films, is the heroine. Humour and sentiments are in plenty. I play a bindas guy in the film, a huge Michael Jackson fan too. Lot of incidents from my own college days have been woven into the story. Kool has no logic but it has magic. It's a soothing summer cocktail.
'I have sung a song in the film'
Last updated on: May 12, 2011 11:04 IST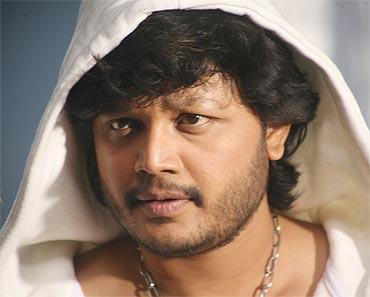 Cinematography of Kool is expected to create a trend.
I have worked with Rathnavelu before in Gaalipata and his involvement appeals to me. He discusses each and every scene with you and shows exactly what's on the director's mind. The camera and lens used are the ones used in his recent blockbuster Endhiran. Of course that was a film that was high on technicalities, Kool will be high on emotions.
Have you also crooned for the film?
Yes. There are five songs, composed by V Harikrishna. I have sung a song Coffeege hogana. In this song, you'll find the girl flirting like a boy and vice versa.
Is it true that Shilpa wasn't very convinced with this track initially?
She was apprehensive as the song is like a conversation. She wasn't sure if dialogues would work in a song. But once she heard the entire song and understood the situation it would be placed in, she was okay with it.
'Shilpa designed my costumes in this film'
Last updated on: May 12, 2011 11:04 IST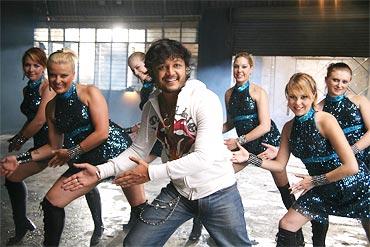 How is she as a producer?
Wonderful! She is very hard working. She has even designed my costumes in this film.
Where have you shot the film?
We have shot in Lawrence School in Ooty, a location you haven't seen in Kannada films. Jordan is the other place that we have captured beautifully in the film.
Kool is making its entry into cinema halls with less hullabaloo. Do you believe that the fact that you are directing the film will itself be a crowd puller?
We have been promoting the film extensively over the past one and a half months. We have reached out to the public through hoardings, audio launch and interviews. My fans will surely encourage me.
Are you planning a worldwide release?   
Yes. Two weeks after its release here, it'll be shown in USA, UK, Australia and Singapore.
'There is nothing wrong with remakes as long as they are inspirational'
Last updated on: May 12, 2011 11:04 IST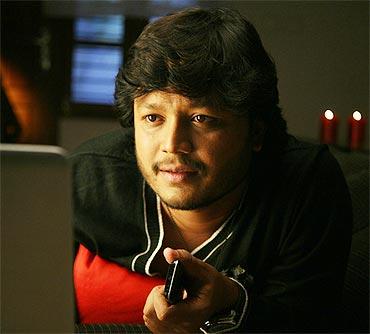 What's up your sleeve after Kool?
I have three films. I am doing the remake of the Tamil film Mynaa and have started dubbing for Maduve Mane. I just signed a love story with first time director Shekar.
Why did you turn down the offer to act in the remake of 3 Idiots?
The film was a huge hit in Hindi. I wasn't sure how many people would actually come to watch the film in Kannada as they would have watched the original.
But aren't you doing other remakes?
There is nothing wrong with remakes as long as they are inspirational. In this particular case, I just wasn't sure how fresh the concept would seem as the original is not something that many would have given a miss. Also the Kannada version would be released only after the Tamil and Telugu ones came out.
Is it true that Yograj Bhat and you are teaming up again?
Nothing is on the cards right now. But why not if something good comes up?
'I will get back to direction only after two-three years'
Last updated on: May 12, 2011 11:04 IST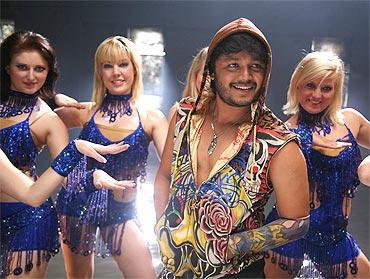 Don't you tire of your onscreen goody image?
I have no complaints as my fans like me that way. It is my duty to entertain the way they want me to. There is no 'conditions apply' rule for an actor after all!
You were alleged of not promoting your previous release Eno Onthara. Will you clarify?
It was the producer who created the problem. Not me.
Any plans of getting back to television from where it all began?
I am an entertainer and have no set boundaries. So if an exciting concept comes my way, I will do it.
If offered, are you open to directing films for other banners?
Script is what matters to me. As long as it is high on entertainment quotient, I don't mind. However you'll see me getting back to direction only after two-three years.
How do you describe your journey from your struggle days to Comedy Time (a popular show that Ganesh hosted on TV) to becoming the 'Golden Star'?
It has been nothing but
Kool
!