Bala: I am the audience first, director later
Last updated on: June 15, 2011 11:49 IST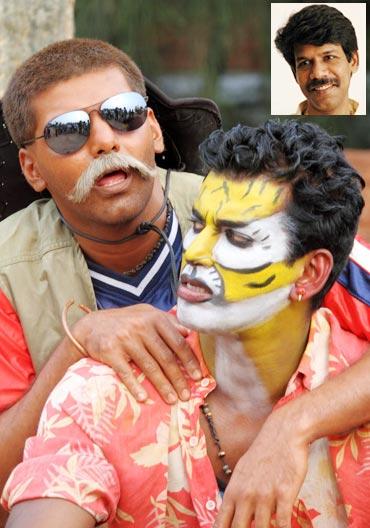 Filmmaker Bala won the National Award for Best Director for his Tamil film Naan Kadavul in 2010. His new film Avan Ivan is more in the entertainer genre with Arya and Vishal in lead roles.

Bala had assisted well known director and cinematographer Balu Mahendra for 10 years before venturing to make a film of his own. It took him five years to make Sethu with Vikram in the lead. This was followed by Nandha and then Pithamahan for which Vikram won a National Award. In the last 12 years, Bala has made only five films.

In this exclusive interview with Shobha Warrier, Bala reveals how he chooses stories and characters and why awards and success are not such a big deal. 

Avan Ivan will open in theatres this Friday.

Your characters are unique, whether in Sethu or Pithamahan or Naan Kadavul or Avan Ivan. From where do you pick these characters?

All my characters are real and if you look around, you can see them. They are not alien or from any other planet. Somehow, I notice only the poor and the underprivileged; those from the bottom of society. I never notice those who travel in the latest cars, I notice only the beggar.
Why is that?

Though my father worked in a bank, we were a lower middle class family and because of that I interacted only with people from that background in my childhood. So, I notice only them.

Today, you move around in a Mercedes, you live in the most posh locality in Chennai and you are surrounded by people from the industry. How do you keep in touch with reality?

These are all material possessions. I am not attached to any of them. I still see those people whom I saw in the past, and I interact with those whom I am comfortable with. I am not trapped in any of the things money can buy. Moreover, I am not attracted to the people I see in the cities; my characters come from the villages where I grew up and have my roots.
'Avan Ivan is an entertaining film'
Last updated on: June 15, 2011 11:49 IST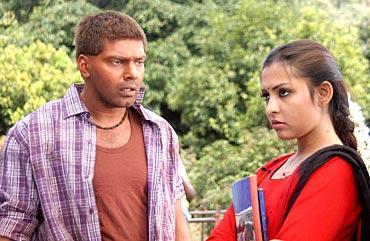 Do you go to villages and talk to real people?


Yes, I do go to villages and talk to the people. I am not inhibited and I am conscious of the fact that I should not move away from real people. I walk around in the villages, sit with the villagers and talk to them. These interactions make me rooted to reality. That is how I am able to pick characters that are real.
Avan Ivan is about two men. What was the inspiration behind these two characters?


They were around me when I grew up. They are two young men who enjoy stealing small things for fun. They steal things as if that is their family job.
Avan Ivan
is not like my earlier films; it's not a serious film but an entertaining film till the last 20 minutes.
'We have a lot of freedom as Indian filmmakers'
Last updated on: June 15, 2011 11:49 IST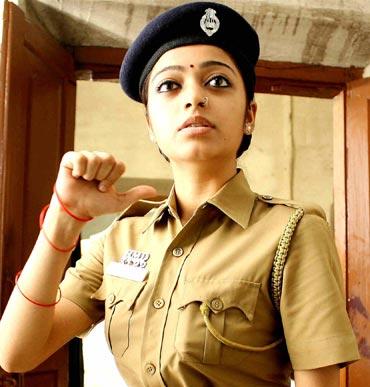 When we met a decade ago, you said films were not for entertainment alone, and that it was a very powerful creative medium through which you could convey many things. Has your opinion changed over the years?


My opinion has not changed. Though there is entertainment in all my films, I try to convey something more. I try to take up issues and talk about them.
There is entertainment in my films because films are not about my tastes or my likes alone. But I have to like what I create. I don't look at myself as a director or creator; I am the audience first.
What has changed over the years is that even the creator has to think of the commercial viability of a project, the audience, the distributors, financiers, critics, censor board, etc. When I take a shot, I think whether it will be objected to by anyone.
Does that not affect your creativity?
No. Compared to many countries, we have lots of freedom. If you look at Iranian films, those film-makers are under so much pressure and restrictions and still they make such wonderful films. So, restrictions need not hamper the creative elements in you.
'I used to go to a graveyard every week to contemplate'
Last updated on: June 15, 2011 11:49 IST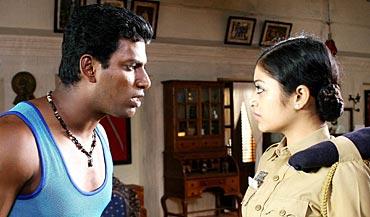 Many people say your films are dark...

Yes, there is a complaint from the audience and critics that I deal with only the dark areas of life. But according to me, what I show in my films is not the dark side of life. It is very real and that is how life is.

I used to go to the graveyard every week and sit there for at least three hours and contemplate.

Why do you go there?

To understand what life is. Only when you see death will you know about life. But after the birth of my daughter, after I saw life, I don't go there. Rather, I don't need to go there any more.

Are you worried about the success or the failure of your films?

I am not bothered about the success or the failure of my films but I want to give success to those who come to me believing in me and my films. I have to give success to my producer who believes in my film and has put in the money. I have to give success to those artistes who act in my films believing in me.
I no longer look at my films as mine; they are the films of my artistes. If you take Avan Ivan, it is not my film, it is Arya's and Vishal's film.

Is the director not the captain of the ship? What is your role in a film?

No. I do not know where this idea comes from. All the people involved in a film are captains. There has to be equal contribution from all. I have realised that I am not the person who puts in the real hard work. I create my characters in my head but who executes the characters on screen? The actors. Without them, my characters have no face or character. They are the people who do the hard work.

But I am a tough task master. If there is an action scene in the film, they have to do that. I do not keep any safety net for them. If they have to fall on the floor, they have to.
'I'm a lazy person, ideas just come to me'
Last updated on: June 15, 2011 11:49 IST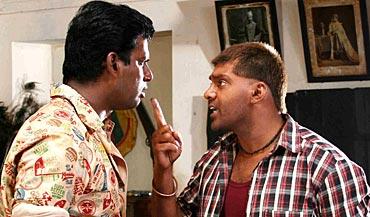 You made Arya grow a beard and hair for more than a year. You made Pooja act as a blind girl. Now, you have made Vishal act with a squint. Why are you so hard on your actors?

When they come to me, they know they will have to undergo hardship. When someone asks, do you have to give so much hardship, I feel guilty as nobody else gives so much hardship to actors. I make them do so many things, not for me, but for themselves. I do not like to see them as themselves in my films; I want them to be my characters.
Why is it that you have made only five films so far?

I am basically a lazy person. I don't try too hard to get an idea or characters; they have to just come to me. I create a script based on characters and not vice versa. In fact, I do not have a bound script at all. I have everything in my mind and then I start shooting.

Why did you decide to make a light film this time?

The general complaint is that I make very serious films. Even my guru Balu Mahendra told me to try a different genre.
I feel I am five years younger after making Avan Ivan. I never felt so light after making a film. We were all laughing while making it.
'Awards are not important'
Last updated on: June 15, 2011 11:49 IST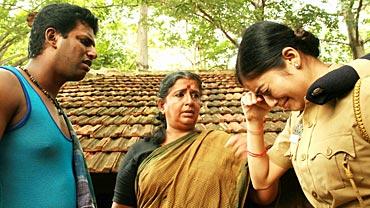 Why did you decide to have Vishal, an actor who has done only commercial films so far?

It was Arya who brought him to me. He wanted to act in my film. I felt responsible because a commercially saleable actor was willing to act in my film. The first three days, he was Vishal and not the character. That was when I thought of giving his character a squint. I knew I was being tough on him. He had terrible headaches every day after the shoot. I even felt sorry for him, but I am sure he will get great recognition.
You were adjudged the Best Director in India for Naan Kadavul. How important are success and awards to you?

Not at all important. I feel too much importance has been given to me and the award. So many people have contributed to the film and that made me win the National Award.

Arya learnt sheersasan in record time, grew his hair and a beard for a year. Pooja wore an opaque lens throughout the day so that she felt like a blind girl. How can I belittle their contributions? Without these artistes, I am nobody.

Are you not being too humble?

No. Look at the contributions made by many senior Tamil directors. I have made just five films. But people write so many things about me. I don't think I deserve all this, and I am quite frank about this and not being humble.