'I want people to say there's no one like me'
Last updated on: September 15, 2011 13:09 IST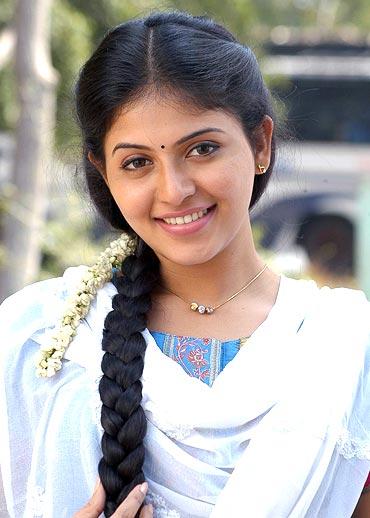 After wowing audiences as Kani in Vasantha Balan's Tamil film Angadi Theru, Anjali is acting in a light romantic film Engeyum Eppothum produced by A R Murugadoss and Fox Studios Productions, and directed by debutant M Saravanan. In between she had a small role in Ajith's blockbuster Mankatha.

In this interview, Anjali talks to Shobha Warrier about her hopes of Engeyum Eppothum, which releases this Friday, doing great things for her career.
After the intense Angadi Theru, was it easy acting in a light romantic film like Engeyum Eppothum?

Acting in Engeyum Eppothum was quite relaxing. I play Manimeghalai, a nurse and a very bold woman. The way she behaves was quite new to me.

To act as a nurse, did you do any preparation?

I am not shown in a working environment in the film. The role is heavily emotional. I would say the character is as heavy as the one I portrayed in Angadi Theru. I expect people to appreciate my role more than they did in Angadi Theru.

'I want to do only performance-oriented roles'
Last updated on: September 15, 2011 13:09 IST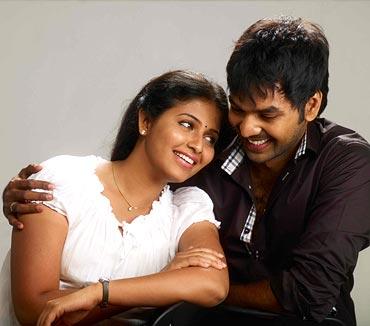 This is the first production by Murugadoss. How did you feel when it was offered to you?


I felt very proud. Murugadoss liked me immensely in
Angadi Theru
. The main reason I did the film was that he wanted me in the role of Manimeghalai. 
He also said that after Asin's role in
Ghajini
, mine was the one performance that impressed him. His appreciation is more than an award for me.
Are you happy that film-makers think of you when there is a performance oriented role?

I am very happy that they think of me when a role requires a good performance. I feel that you can stand up and make a name for yourself only if you have talent and can perform. Anybody can play glamorous roles but not all can perform. I am blessed that I have the talent. I want only to do performance oriented roles.
'I'm sure I'll get some interesting offers after Engeyum Eppothum'
Last updated on: September 15, 2011 13:09 IST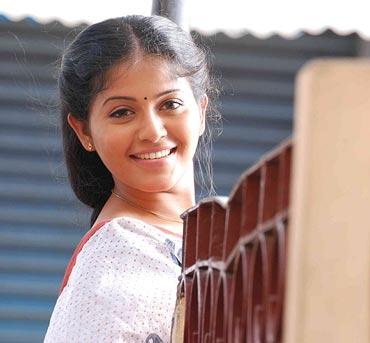 After Ram of Katrathu Thamizh spotted you and gave you the leading role, did you expect to make such a name for yourself?
Not at all. I never expected this kind of appreciation. I am very, very happy that I am looked at as an actress who can perform.
What is your expectation from Engeyum Eppothum?

The story will create a sensation and all four of us will be appreciated. I am sure I will get more appreciation from
Engeyum Eppothum
than
Angadi Theru
.
What other films of yours will be coming soon?

I have not signed any new film. I am reading many scripts. I will sign only after this film is released. That is because I am sure I will get some interesting film offers after this. I have that much confidence in
Engeyum Eppothum
.
I got to do emotions, comedy, romance everything in
Engeyum Eppothum
and I am confident that it will take me to another level. Like many say, 'before
Angadi Theru
and after
Angadi Theru'
, they will start saying 'before
Engeyum Eppothum
and after
Engeyum Eppothum'
. 
'I accepted Mankatha because my role was significant'
Last updated on: September 15, 2011 13:09 IST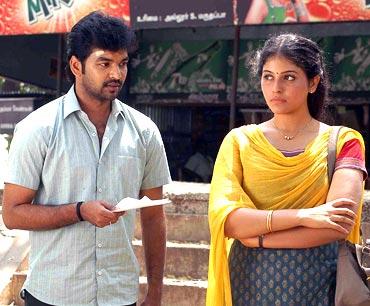 You played a role in Ajith's Mankatha, which is a guys' film and all the four female characters are quite small and insignificant. Why did you do the film?

I accepted
Mankatha
because my role, though small, was significant. It was an interesting role. In an Ajith film, you cannot expect anything more than that.
I signed the film because it was Ajith Sir's film. I know that a Venkat Prabhu film is always a guys' film. But by God's grace, my role was good and I had cute scenes in it. I loved working in it and the appreciation I got from everyone also was satisfying. This is what I want: even in a multi-starrer, the audience should remember me and appreciate me.
Engeyum Eppothum has another heroine, Ananya, who is also not the typical heroine. Was there any healthy competition between you two?

We didn't have any scenes together except in the climax; otherwise, our stories run parallel.
'Engeyum Eppothum is everyone's story'
Last updated on: September 15, 2011 13:09 IST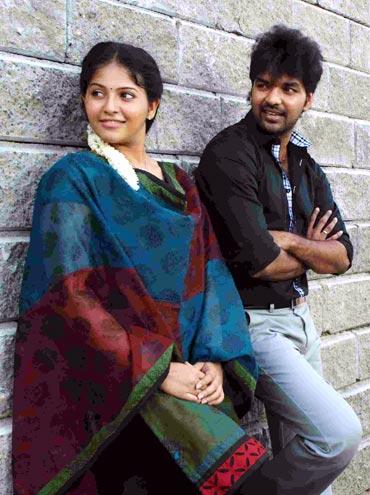 Will you be excited or nervous on the day of release?


I am excited even now as I know everybody will identify with our roles and enjoy the film. It is everyone's story.

Do you have any ambition as an actress?

I want everyone to say, Anjali is a very good actress and there is no one like her.