Dookudu, a storming success
Last updated on: October 12, 2011 14:46 IST

Large-sized posters of the dashing Mahesh Babu in the Telugu film Dookudu formed the perfect backdrop to the 'success meet' of the film at the Hyderabad International Convention Centre.
This spectacular hit has just swept theatres across Andhra Pradesh and other parts of the country, besides the US and some other parts of the world, garnering unprecedented revenues for the 80-year-old Telugu film industry.
By the second week, it has raked in about Rs 70 crore. Dookudu is well on the route to being the biggest grosser and a popular success as well.
To celebrate this extraordinary triumph, the success meet was attended by a galaxy of personalities like the superstar of yesteryears, Krishna (father of Mahesh Babu), his wife Vijayanirmala (actress and director), Shyam Prasad Reddy (producer of Arundhati), D. Suresh Babu (producer), Tanikella Bharani and Subbaraju (actors), Dasarath (director), and the cast and crew of the film.
The prince of Telugu cinema, Mahesh Babu, took time off from the shooting of The Businessman in Mumbai to fly down for the event.
Dookudu, a storming success
Last updated on: October 12, 2011 14:46 IST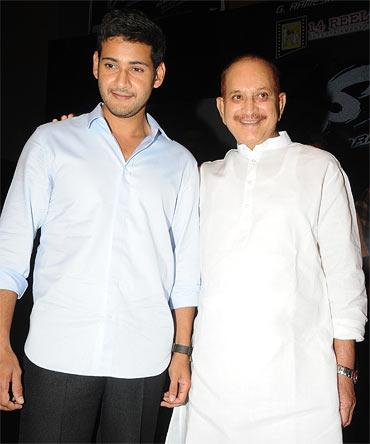 Actress-director Vijayanirmala said, "I normally look out for mistakes in cinema. I didn't find any, and I forgot I was artiste/director."
She saw the film twice and would probably see it again. She praised the good work by all the technicians, appreciated the locations, and added that Mahesh always works hard and is sincere. She then invited her husband Krishna to speak.
Krishna, father of Mahesh Babu, started off by saying, "The audience comprises different kinds -- class, mass, kids, youth, women -- and all these have liked Dookudu. The dialogues, music, camera work, and direction, were good. We laughed through the film. Three good producers were behind it. Mahesh looked good in this film. After seeing the film, I called Mahesh and the director and told them this film will collect 80 crores. After seeing Pokiri I had predicted it would collect 40 crores. Dookudu will rewrite records in Telugu cinema."
Dookudu, a storming success
Last updated on: October 12, 2011 14:46 IST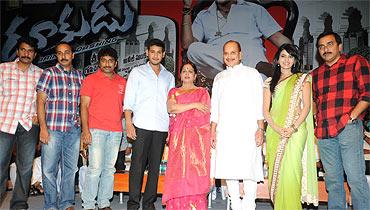 Producer Shyam Prasad Reddy attested to the appeal of the film across generations.
"The day the film released was my parents' 60th wedding anniversary. In the afternoon my mother expressed her desire to see Mahesh's film. So my 80-year-old mother, my 54-year-old sister, her 27-year-old daughter and her three-year-old granddaughter -- in effect four generations of the family -- went to see the film as they all like Mahesh Babu! That's why it is successful. He is like a rocket, he needs just that little fire to be ignited and then the sky is the limit for him. He makes his own record and breaks it. Dookudu was screened in Botswana. The LA Times carried a report on its success," he said.
Dookudu, a storming success
Last updated on: October 12, 2011 14:46 IST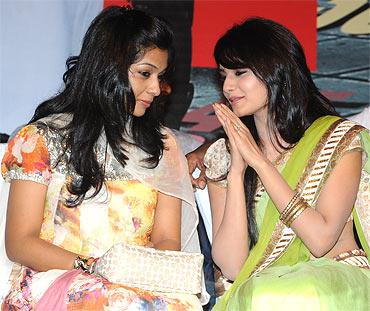 A beaming Samantha, heroine of Dookudu, dressed in a pretty green and beige sari, said, "I don't think I would have been able to write a better future than what is happening now. Sreenu garu and Mahesh have a great connection. It's an honour for me to see them work and learn from them. I am thankful for the advice Mahesh's gave me: 'Treat every film like your first film.'"
One of the producers, Anil Sunkara, said that for the first time in the second week itself, a film has collected Rs 70 crore, a genuine record. "We hope it will touch the Rs 100 crore mark."    
Dookudu, a storming success
Last updated on: October 12, 2011 14:46 IST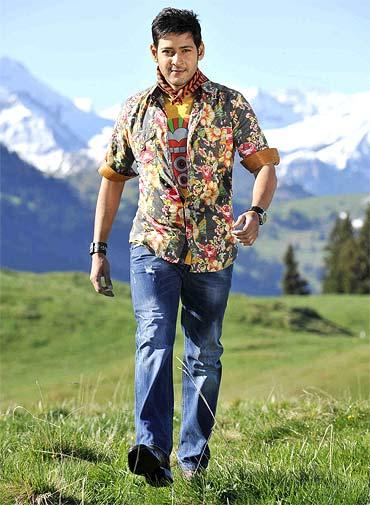 A pleased Sreenu Vytla, the director, praised everyone. "The producers are people with commitment. All technicians worked hard. Samantha is a natural actor and worked well. I understood Mahesh's potential but I didn't realise Dookudu would make so much money."
Almost at the end of the function, a delighted Mahesh Babu said that the success of the film hasn't sunk in yet "as I have not taken a break and have been shooting for The Businessman. At the audio release I had said that it would be a hit. It is not just a blockbuster, but also an industry hit. I want to celebrate 100 days."
With Dookudu being such a super-duper blockbuster, there are offers to do it in Hindi but Mahesh is not willing to reprise his role in Hindi. "I am busy with three-four films in Telugu so there are no dates now," he smiles.