Sukumar's riding high on film's success
Last updated on: May 10, 2011 15:06 IST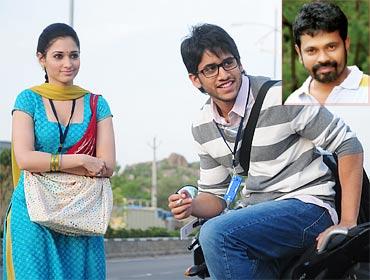 Director Sukumar has helmed just three films before 100% Love and is known for his characterisation.
His debut film Arya (Allu Arjun, Anu Mehta) was a smash hit while his second film Jagadam (Ram, Isha Sharwani) fared averagely. His third -- a sequel to Arya (Allu Arjun, Kajal Agarwal and Navdeep) did average business.
However it seems like Sukumar has bounced back and is on track with yet another love story -- 100% Love which released on Friday, May 6.
Basking in the success of 100% Love (which had a good opening), Sukumar talks about the film.
100% Love seems to be doing well. Are you happy?
Definitely. There was positive talk since the re-recording. So the film's doing good business.  Due to the positive feedback, everything worked well. The timing of the film is also crucial. I am really happy.
How did you get the idea for the film come about?
I had this idea in mind for the last 15 years. We used to study together and there was a healthy competition between us then. So the basic thought was always there. I just played around with the characters.
We wanted a maths related title for the film'
Last updated on: May 10, 2011 15:06 IST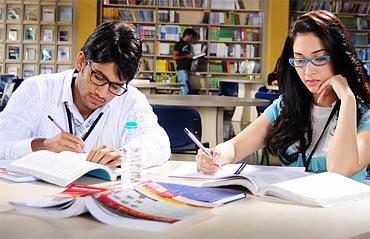 Why did you get Hariprasad to write the screenplay, while you wrote the story?
It's all teamwork. We were four-five people who worked on the script and each was acknowledged according to his contribution. Dialogues are by Ramesh.
How did you choose the title?
We thought of a Maths-oriented title as the story it was a study-oriented subject. We even thought of a title that has something to do with chemistry but we decided to go with 100% Love.
The title credits were imaginatively done like question papers...
Yes. Everybody found it new, different and good.
'Tamannaah is a very committed actress'
Last updated on: May 10, 2011 15:06 IST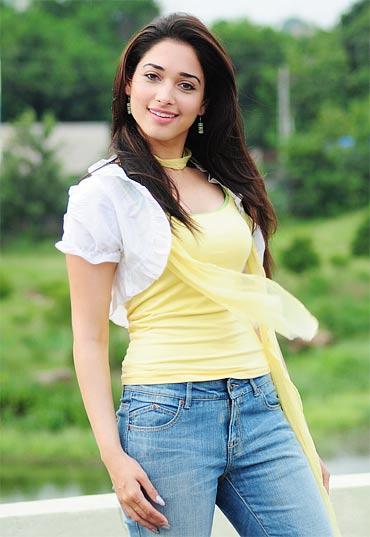 How did you select Naga Chaitanya and Tamannah?
When I wanted to make the film, I couldn't think of anyone else other than these two.
So I narrated the story to Chaitanya and he agreed. Tamannaah also agreed after listening to the story.
Tamannaah had said in an interview to us that it was one of her best performances. She said you gave her the freedom to think and improvise...
Tamannaah showed total commitment. I didn't even see her talking on the phone. She would discuss and clarify things before acting. She is like a sheet of blank paper. You can write your expressions on her.
Chaitanya too was complimented by all for his performance...
He has a great memory. You can give him 10 pages of dialogues and he will remember them.  He gives subtle, natural expressions.
'My next project will be produced by 14 Reel Entertainment'
Last updated on: May 10, 2011 15:06 IST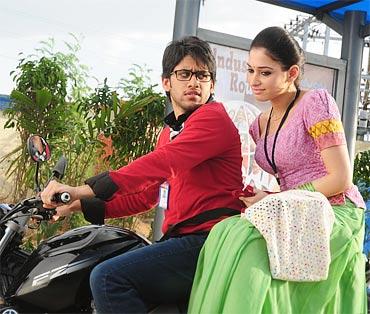 Were there any real life experiences?
Almost 50 per cent of the film was based on real life experience!
While the first half was refreshing, the second half seemed to get on the routine track...
I knew the younger audience would definitely like the first half. But I also wanted the film to be a family entertainer so I added all that was necessary for it to be one in the second half.
100 % Love is a youth-centric story, will it go down well with the family audience?
Very much! It has done well in the C centres also. The opening day collections were very good.
Have you thought about your next film?
The project will be produced by 14 Reel Entertainment. The discussions are on regarding the cast.