'Chiru is not like Dilwale Dulhaniya Le Jayenge'
Last updated on: November 18, 2010 15:29 IST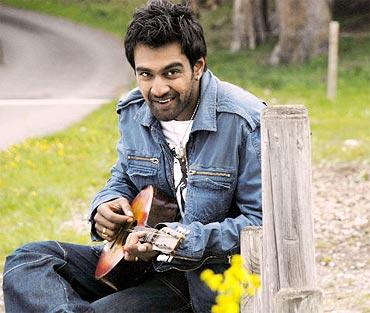 Chiranjeevi Sarja is all set for the release of his third Kannada film Chiru. This Mahesh Babu directorial is a love story and will see Chiru (as Chiranjeevi is popularly known) star opposite Kriti Kharbanda.
The actor who debuted with Vayuputra last year, on the eve of his latest release, speaks about his role; his uncle Arjun Sarja, wrong career moves, forthcoming films and his brother Dhruva who is shooting for his debut film.
Tell us about your second release of the year Chiru...
It is a love story of a happy-go-lucky guy; a light hearted individual with a positive attitude. It is about how he solves the problems he encounters with his presence of mind.
My reel character is a lot similar to the real me. Chiru has given me an opportunity to play a lover boy, a character I haven't played so far. I'm looking forward to people's reaction to this image of mine.
I also wish to clarify that Chiru is not on the lines of the Hindi blockbuster Dilwale Dulhaniya Le Jayenge. It's just that parts of our film have also been shot in Switzerland.
'I have come across criticisms about my lack of expressions'
Last updated on: November 18, 2010 15:29 IST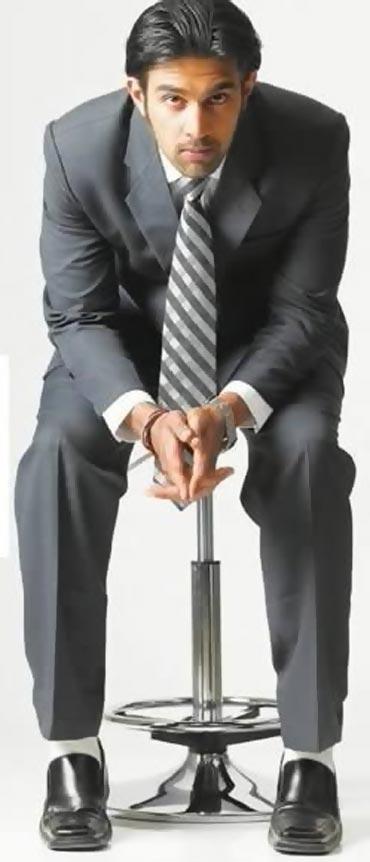 What would you say are the highlights of the film?
While the whole story is something to look forward to, I enjoyed shooting the fight sequences. This is the first time that I worked with action director Ravi Verma and he ensured that I got every kick and punch right.
I haven't used dupes and have performed some dangerous stunts myself. There was this scene for which I needed to pull down a bad guy to the ground. It was being shot in a rocky area and one wrong step meant hitting against a rock. But thankfully nothing went wrong.
Your critics think you are paying more attention to action than acting. Do you agree?
I am trying to improve with each film. Acting is a continuous learning process, after all. And yes, I have come across criticisms about my lack of expressions.
I have tried to work on my acting with greater vigour in this film and I am hoping that the same critics will write positive things this time.
In fact actor Sudeep, who is my guiding force, appreciated my acting in Chiru and said that my performance in the second half is sure to garner favourable reviews.
My uncle and actor Arjun Sarja were also of the same opinion. They felt that I had slipped into the character and said that they could not find even a single trace of the real me.
'My uncle is one of my harshest critics'
Last updated on: November 18, 2010 15:29 IST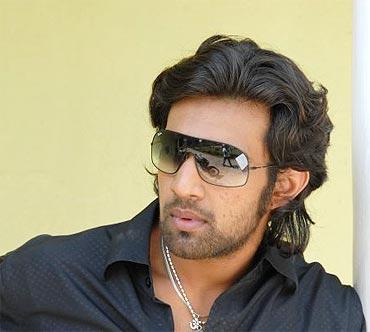 How dependent are you on Arjun for your career moves?
Well, it feels great to have godfathers in an industry like this. He is always around when I need his guidance. But like he himself says, he has initiated me into the industry and now it's up to me to survive.
Also my uncle is one of my harshest critics. It is hard to please him. He has no doubt felt that I am improving with each film, but also keeps reminding me that I have a long way to go. One day I want him to tell me that I have done good work, and I will work towards giving such a performance.
There is also Sudeep to look up to. He is more than a helpful senior to me. He is like my elder brother. I look forward to working with both of them one day. There is so much to learn from the actor and director in them.
How do you choose a film?
I okay a script only if I can relate to the character. But then again people tend to make mistakes and I do feel that Gandedhe was a hurried decision. I should have taken more time to choose my next film after my debut movie Vayuputra. But I hope to make informed choices henceforth and move on in the right direction.
'I want to play the villain and my uncle the hero'
Last updated on: November 18, 2010 15:29 IST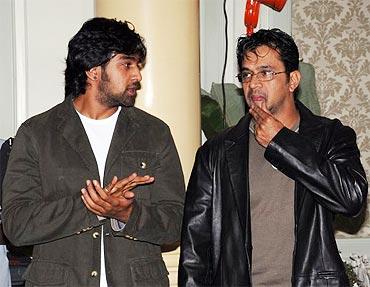 Does the entry of new faces bother you?
I am my only competition. I have no time to bother about other people's market positions. I rather use that time to improve my own performances.
Your brother Dhruva Sarja is entering the industry too...
Yes. Adhuri is his debut film. I'm relieved as he is in the right hands. He is getting the right launch and I have heard only good things about his acting skills so far from people who have seen the shooting.
Is a film with Dhruva, Arjun and you on the anvil?
Why not? While it may take some time to materialise, I want to play the villain and my uncle the hero.
'My dream role is Nayagan'
Last updated on: November 18, 2010 15:29 IST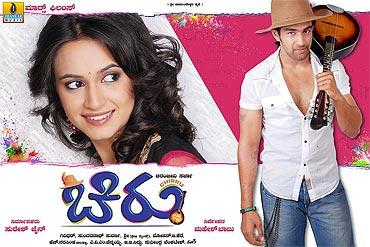 What are your current projects?
I have just finished dubbing for Dandam Dashagunam, the remake of Gowtham Vasudev Menon's Khakka Khakka. I have undergone a makeover for the film. You'll see me sporting a beard and in a more fitter shape. Ramya is my co-star. She is a thorough professional. In fact the whole unit is very focused. While in my previous units, it was more about having fun as all my co-stars were also in the same age group, on the sets of Dandam Dashagunam, I was motivated to think more about the film and characterisation.
We have all worked hard on the film and I request audience to come and watch the film without thinking about actors Suriya or Venkatesh, who have done the Tamil and Telugu versions respectively. Apart from this film, I am reading a few other scripts, but I am yet to finalise on any.
What is your dream role?
Kamal Haasan's in Nayakan. That film inspired just not me but a whole lot of others. I want to do a role that is inspirational.