Pinki smiles on Rediff!
Last updated on: October 2, 2009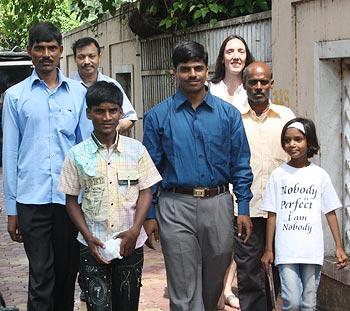 Pinki Sonkar, the star of Megan Mylan's Oscar-winning documentary Smile Pinki, stopped by the rediff.com office in Mumbai and did just that -- light up the place with her luminescent smile.
The eight-year-old girl, who was born in rural Uttar Pradesh, now fancies herself a big city girl after her trip to Los Angeles to the Academy Awards earlier this year. She's been showing her co-star Ghutaru the sights and sounds of Mumbai, like how to ride an elevator and eat pav bhaji!
Pinki along with Smile Pinki director Megan Mylan, Dr Subodh Kumar Singh and Ghutaru chatted with Rediff readers and had a lot of fun while at it. For those of you who missed it, here's what transpired:
Megan Mylan says, Hi, this is Megan Mylan, director of Smile Pinki. I'm so thrilled to be here today, on the day of our India premiere. And also with us is Dr Subodh Kumar Singh, the surgeon featured in the film, who operated on Pinki. So let's answer some questions!
nemo asked, Hello there. Congrats on winning an Oscar. What made you decide to make a film on children suffering from this condition?
Megan Mylan answers, I'm drawn to stories of social change, but I also love good cinema. So I'm always looking for stories that have that intersection of a fun ride of a movie, but that can make some positive impact on the world at the same time. It has to be both! Because there are a lot of worthy stories that make for boring movies. And this one had it all. A magical fairy tale, we call it a real-world fairy tale.

Vibha asked, How did you come to know about Dr Subodh Kumar Singh's work
Megan Mylan answers, I met Dr Subodh through the Smile Train that supports his work and the work of Indian doctors across the country. They also work to provide free cleft surgery to children in 75 countries, always working exclusively through local doctors.
'The challenge is connecting with the people in need'
Last updated on: October 2, 2009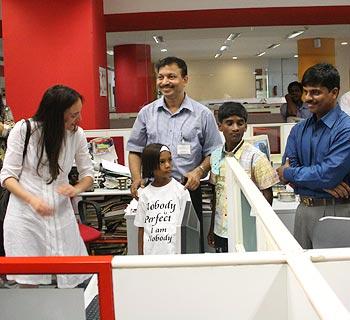 Reena asked, Was it easy to convince Pinki's parents of the surgery?
Dr Subodh answers: Pinki's parents always wanted this surgery for her, but they didn't have means for it. So do about 1 million children in India. They need to know where this surgery can be performed free of cost, which is now possible in all 160 Smile Train centres in India. So as soon as they came to know about this facility, they were excited to go for it. However they had some queries, which were cleared by the social worker, Pankaj.
Megan Mylan answers: The surgery takes a very short amount of time. It can be provided for free. But the challenge is connecting with the people in need, and letting them know; and that's our goal, with launching Smile Pinki in India. We want every child with a cleft to know that it can be completely fixed, for free.

check asked, So how was your film making experience
Megan Mylan answers, On India and making the film here, it was a complete joy, from the moment we set foot in Varanasi. It was truly a gift to be able to tell this story. I was fortunate to work with an Indian field producer, named Nandini Rajwade, who helped us connect with the families. I saw very intensely Varanasi and the surrounding rural areas, but now for the time I am visiting the rest of this amazing country, as we head out on our five-city film tour. As for the Indian people, of course they're fabulous! But maybe not all of them, as there sure are a lot!

Sanjog asked, Hi Megan, Where can I watch the film? I have heard a lot about it but am not sure where can I get the DVD to watch the film, also how were you inspired to make this film.
Megan Mylan answers, We're launching the film in PVR cinemas in five cities. And if audiences show up, we will expand to more. After that, we have plans for television broadcast and DVD distribution. Stay tuned at: smiletrainindia.org for details.
 
molly66 asked, wat do you think about ssl hospital BHU and varanasi .it made me thrilled that this movie won oscars as i earlier worked with this type of patients in the plastic surgery dept of bhu.do you remember meeting dr. pradeep or dr. f.m. tripathi during your visit
Dr Subodh answers: This film was actually made in GS Memorial Plastic Surgery Hospital in and around Varanasi. However, I had my training in SS Hospital BHU, in the plastic surgery department, which is a wonderful hospital that treats many cleft children.
'Nobody in Bollywood asked me yet'
Last updated on: October 2, 2009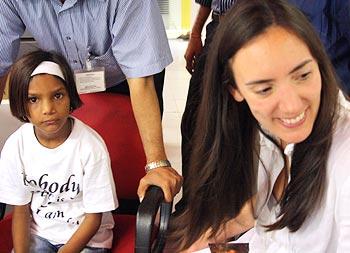 Shivansh asked, HI dr Subodh, hats off to ur wrk very few people realy knw wht the should do in life apart frm earning money.. Wht r ur expectations frm the viwers of this film.
Megan Mylan answers, I expect that viewers will spread this information to more and more people, especially to cleft patients, and bring them to the Smile Train hospitals all over the country, so that their cleft can be fixed and so that their smiles could be brought back to their faces once again.

Megan Mylan says, And the star of the film -- Pinki -- has joined us in the rediff.com office! Any questions for her, just fire away.
drhiren asked, Hi megan, I am a smile Train Plastic surgeon from Baroda India. Congratulations for the oscar and for the movie. A lot of people and donors would be inspired and help give smile to all the kids.
Megan Mylan answers, Congratulations back to you! You spend every day giving children like Pinki this new start at life. You should feel very proud of your work with Smile Train. We are counting on the Indian Smile Train doctors to help us get the word out about the film, all across the country.

PagalAadmee asked, Hi Megan, I really salute for the work you have done and helped that poor girl. May God bless you with every thing you desire. Any plans to join Bollywood?
Megan Mylan answers, Thank you. As for Bollywood, nobody's asked me yet! I do really love making documentaries though. :)
'All my friends ask about my trip to Los Angeles'
Last updated on: October 2, 2009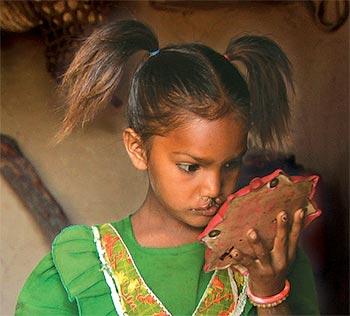 pinkoo asked
, how long did it take you to film and follow pinky
Megan Mylan answers
, The surgery happens very fast, and so did our journey. From the time the social worker visited Pinky's village, to when she returned home transformed, was about one week, without a cleft. Then we came back five months later to see how her life had changed.
shiningstar asked
, Dr Subodh We heard a lot of negative things about Pinki's family at later stage like stil she is not going to scholl etc. Hw r they doing now
Dr Subodh answers:
Both Pinki and Ghuturu (who also had the surgery in the film) are going to good schools, which they did no do before the surgery. And both their families are doing very well. A lot of development has been done in their village, following the Osacar win of this film.
Chetan asked
, What has changed for pinki after the surgery and the international recognition she has got through this film.
Pinki answers
: I started going to a very good school, which I was not able to earlier, because other kids were teasing me. Now things have become much better. I go to Lucknow public school now. And now all my friends ask about my trip to Los Angeles.
'I'm drawn to stories of people making a positive impact in the world'
Last updated on: October 2, 2009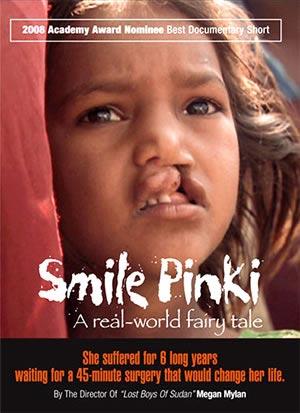 ahmad asked, Hi Meg congrats first of all on your rare achievement. Would you continue to make films on some ignored health issues. I am an Indian doctor with a background in preventive medicine and communications and would like to see more of your work related to health in developing countries like India.
Megan Mylan answers, I'm drawn to stories of people making a positive impact in the world, whether it be health or any other social issue we all struggle with. I'm currently in postproduction on a film in Brazil on race relations. So we'll see what happens!

lalli asked, hi pinki
Pinki answers: Hi! We're having lots of fun in Mumbai. My friend Ghutaru rode an elevator for the first time last night! We're staying in a five-star hotel, and we saw the ocean for the first time. Mumbai is much, much bigger than my village!

Megan Mylan answers: Thanks for talking with us. We're off to get ready for tonight's premiere. And I sure hope everyone will look out for Smile Pinki at a theatre or TV near you!
Dr Subodh answers: After viewing this film in theatres or on TV, I'm sure you will carry on this message to all the cleft children, so that they can have free surgeries in Smile Train hospitals across India, and that will surely change their lives.
Pinki answers: Namaste! Thank you!
 
Gutaru answers: Bye, everyone!