Is Simi Garewal getting younger?
Last updated on: August 22, 2011 13:05 IST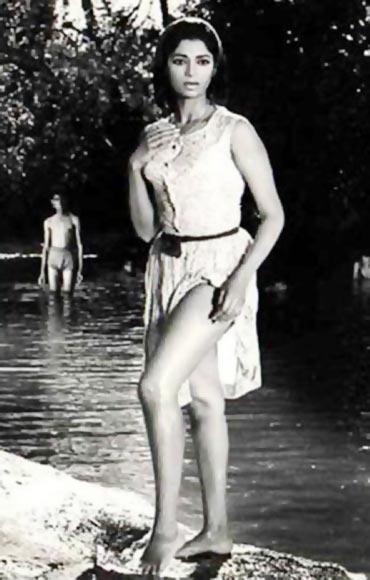 Simi Garewal defies age like no one else. Or so they say. Known for her classic looks and a penchant for white, the actress/television host has come a long way since her Mera Naam Joker days.

We trace Simi's steps from her starlet days to hosting the new talk show Simi Selects India's Most Desirable where she managed to get none other than Lady Gaga to make an appearance for an hour-long chat.
Check out these pictures for a look at the curious case of Simi Garewal -- is she really getting younger?
Mera Naam Joker

A 23-year-old Simi was cast as Mary -- adoloscent Raju's (played by Rishi Kapoor) exotic-looking teacher who he's besotted with -- in this 1972 Raj Kapoor movie. Her English upbringing reflected in her mannerisms and she soon became a star.
Namak Haraam
Last updated on: August 22, 2011 13:05 IST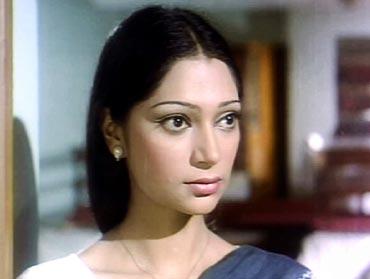 In 1973, came Hrishikesh Mukherjee's Namak Haraam where Simi starred along with the then reigning superstars -- Rajesh Khanna and Amitabh Bachchan.
As Manisha, SImi got the character down pat in a sari and that troubled yet naive look on her face.
Karz
Last updated on: August 22, 2011 13:05 IST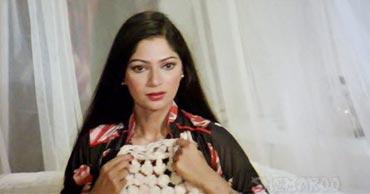 Cast as a scheming femme fatale in Karz, Simi was lauded for her performance.

The actress managed to stay as youthful as her Mera Naam Joker days even though her character ages in the film.
Rendezvous With Simi Garewal
Last updated on: August 22, 2011 13:05 IST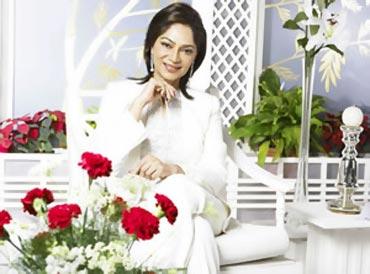 With Rendezvous, Simi had a narrow escape from the Bollywood has-been tag and rose to popularity with her candid conversations with the film industry's hottest celebrites.
Every actor worth his salt had been on the show and viewers just lapped up every interview with the fervour of a die-hard fan. Simi's popularity grew too, as the genial host who loves to wear everything in white.
Simi Selects India's Most Desirable
Last updated on: August 22, 2011 13:05 IST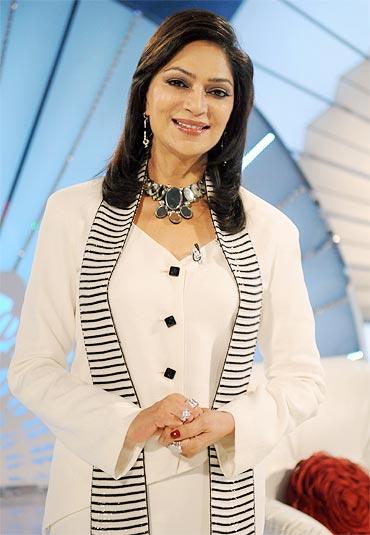 And now, Simi hosts a similar talk show, with the present generation Bollywood hotties and the occassional high profile celebrities from outside of the film industry.
While the show isn't a patch on
Rendezvous
, Simi has somehow managed to lock time in. In her 60s now, the TV host looks younger than her years and her white fetish is still in place.