'I haven't hidden the cash under my bed'
Last updated on: February 1, 2011 17:31 IST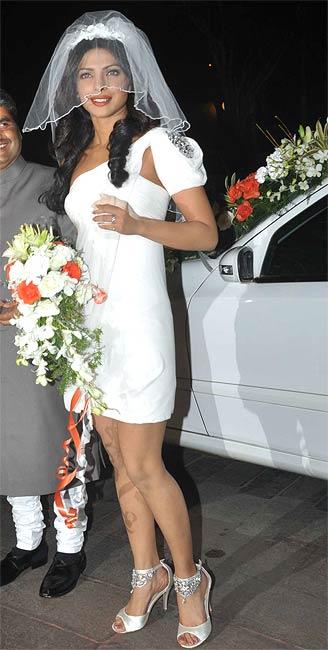 Priyanka Chopra set the record straight when she met up with the media, and clarified her stand on the Income tax raid on her premises.
The actress also spoke to Sonil Dedhia about her recent run-in with Kareena Kapoor, and of course, her upcoming film 7 Khoon Maaf.
Over to Priyanka:
There are reports that the Income Tax department found an undisclosed amount of    6 crores in your house. Can you please clarify?
I guess my chartered accountant had clarified with the media and my spokesperson gave a statement as well. But it's shocking because whatever was reported was all unsubstantiated news, presented as reality. It was all source-based news. The media just wants to put something on the front page without even verifying it.
I have never experienced something like this at any point of time in my career. This has really affected me. I am co-operating with the investigating authorities.
About finding    6 crores in my house, I've not even seen so much cash. I haven't hidden it under my bed!
It was also reported that Shahid Kapoor was present at the time of the raid.
My mother was not at home at that time. Shahid lives just three minutes away from my house. So yes, I did call him because I couldn't think of calling anyone else then.
There was a time when you were among the highest tax payers in Bollywood. Now suddenly, you are in the IT raid list.
To flatter myself, I can say that these things happen with big and famous people (smiles). I feel proud to be in the list of the highest tax payers, and would like to remain in that list.
'It was not a deliberate attempt to make Kareena wait'
Last updated on: February 1, 2011 17:31 IST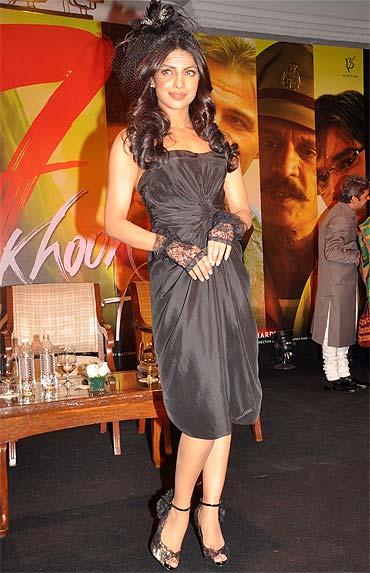 You were also in the news recently for keeping Kareena Kapoor waiting for four hours at an event rehearsal.
Yes, it did happen. But it wasn't me who asked her to wait. I don't like to wait and would not ask anyone to wait for me.
There was a slot allocated to us and due to some miscommunication, things went wrong. Kareena arrived early and my act required a lot of hours. When I met her, I told her that it would take three or four hours. So it was not a deliberate attempt to make her wait.
'I can make anyone's life beautiful'
Last updated on: February 1, 2011 17:31 IST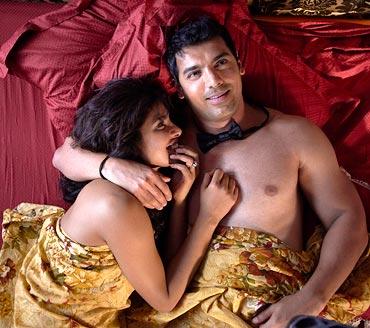 In your film 7 Khoon Maaf, Susanna kills all her husbands with a poker face. What would you do in similar real life situations to your husband -- would you forgive him or kill him?
I would be disappointed with my love. I would not kill him but would treat it as the other person's loss. I don't think anyone would like to lose me, as I can make anyone's life beautiful. (laughs)
Out of the seven murders, which was the toughest?
I don't think I can point to a single one. I killed all of them in a jiffy! (laughs)
You fall in love seven times in the film. How many times do you think you can fall in love in real life?
I am lover in my heart. I'm always in love. Since I'm talking to you right now, I can say I like you. I like Vishal because he gave me the opportunity to work in this film.
There is no definition of love. It should be an ongoing process, as life is beautiful when you are in love.
'I don't know of any marriage that doesn't have intimacy'
Last updated on: February 1, 2011 17:31 IST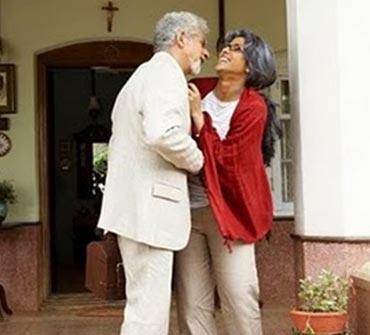 Is there anyone you would like to kill in real life?
No. I don't think anyone is as important as that. And I don't have the right to kill.
In the promos, we can see you in some intimate scenes with your co-stars. How has the equation been?
I am an actor, playing a character. We're talking about marriage here, and I don't know of any marriage that doesn't have intimacy.
You have worked with some fine actors like Naseeruddin Shah, Annu Kapoor and Irrfan Khan. Were you nervous?
It was very nerve-racking initially because I had never worked with them. Annu Kapoor is a friend of my father's but I had not worked with him.
Before the shoot started, I had a workshop with Naseer sir, which really helped me. He is an institution of cinema. Irrfan is a tremendously talented actor and we started the first shooting schedule with him.
The role is quite complicated, as it takes your character from the age of 20 to 65. What kind of preparation went into it?
It's a story of a girl, who searches for love from the age of 20 to 65. But every time she looks for love, she only gets sorrow and grief.
It's a complicated character, because it's not only about aging. It's also the thoughts in Susanna's mind, her emotions, and the different men in her life.
There is a beautiful dialogue in the film, where she says 'Duniya ke sare galat aadmi meri kisamt mein likhe the (All the wrong men were written in my fate).'
It was difficult to play an aged woman. Make-up artist Drag Studio came from Los Angeles. They are very professional. They have worked in films like The Curious Case of Benjamin Button and Lord of the Rings.
They asked me for my grandmother and mother's photographs, as they wanted to see how people in my family aged, and take that as references to style my look.
'I will give you seven ways to get rid of your Valentine!'
Last updated on: February 1, 2011 17:31 IST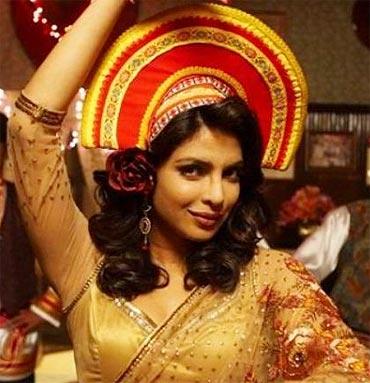 How was it working with Vishal Bhardwaj again, after Kaminey?
Every film that I do makes me feel that I have reached my limit and that I cannot go any further. But with Vishal, it's totally a different equation. I have always learnt something, and that surprises me. Whenever I am shooting, a lot of learning takes place. I hope this journey continues.
Out of the seven actors, who were you most compatible with?
John Abraham. I have done three films with him now (Salaam-e-Ishq, Dostana and 7 Khoon Maaf). I got along really well with Neil (Nitin Mukesh) and Vivaan (Shah, Naseer's son) as well. It was also fun to work with Alex (Aleksandr Dyachenko).
What are your plans for Valentines Day?
I will give you seven ways to get rid of your Valentine! (laughs)