Shahid: Response for Teri Meri Kahaani has been wonderful
Last updated on: June 21, 2012 19:33 IST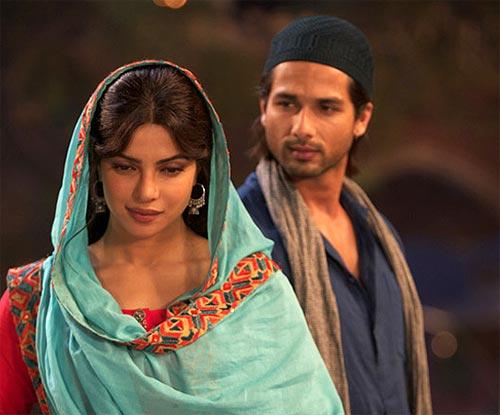 Shahid Kapoor is looking forward to his new release -- Kunal Kohli's Teri Meri Kahaani opposite Priyanka Chopra. 
Since Priyanka and Shahid made a great onscreen pair in Kaminey, there's renewed interest in their chemistry with the new film. That Teri Meri Kahaani is their first film ever since they parted ways after a rumoured whirlwind romance also contributes to the curiousity.


Shahid speaks to Patcy N about his role in the film, demystifies the magical Rs 100 crore benchmark for films, and has some telling things to say about critics and reviews.
As the release date draws closer, how do you feel?
When the film's release date gets closer, you are on the last leg of the film's promotion. We have visited the IIFA in Singapore and been to Australia, Indore, Ahmedabad, Delhi and now Mumbai and there's more travelling.
It was wonderful to meet so many people and interact with them. The response was wonderful all over.
We saw the film on Monday night and are proud of it. Everyone is happy with the way it has turned out.
We have three premieres -- in Dubai, London and Toronto. I think it's the first time any of my films has had three premieres and I am really excited about that. 
'We hope our film makes as much money as it can'
Last updated on: June 21, 2012 19:33 IST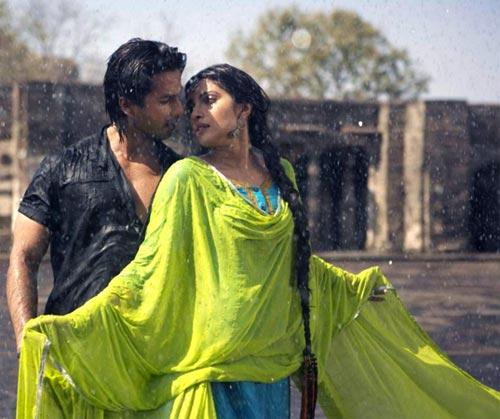 You did a special screening for your family. What was the response?
You should ask my family! They seem to be very happy. They liked and enjoyed the film. 
Everybody who is associated with the film was there -- the cast and crew, family members of Kunal (Kohli), Vicky (Bahri, producer) and my family. 


We will get to know on Friday if the audiences like the film.
Nowadays films are grossing Rs 100 crore at the box office. Do you think Teri Meri Kahaani will make Rs 100 crore or more?
The Hindi film industry has completed 100 years and there are only six films that have earned Rs 100 crore. 


I don't think any actor can say 'my film will make Rs 100 crore'. You cannot predict such things.
We hope that our film makes as much money as it can. We want viewers to accept the film and we want the film to do well. How well it does is never really up to us.
If a film is made on a budget of Rs 5 crore and does a business of Rs 50 crore then it is a huge hit. But if a film is made on a budget of Rs 70 crore and makes Rs 90 crore, then it is a lesser hit. So the 100-crore benchmark is a wrong way of judging a film. 
Kahaani released this year and its first day collection was Rs 2 crore. It has since made more than Rs 60 crore. That shows how much audiences have liked the film.
Priyanka has two films that crossed Rs 100 crore this year (Agneepath and Don 2), which is wonderful. No one from my generation has done that kind of business.
'Gangs Of Wasseypur is very different from our film'
Last updated on: June 21, 2012 19:33 IST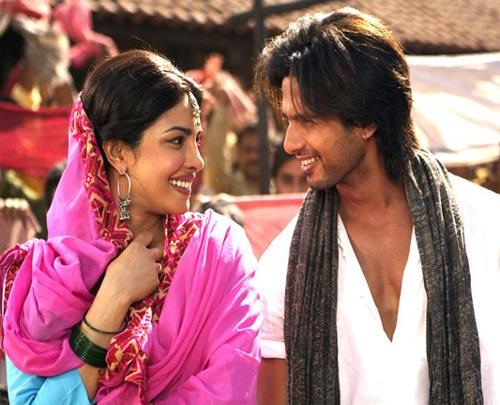 What do you think of film reviews? 
The review that matters to me are the audiences'. Many channels take audience reviews. Audience reactions matter to me and they are most relevant.
Of course a critic's review is respected, but it cannot be the parameter because a film cannot be made to please one person. We can't make a film keeping in mind what a critic personally thinks, likes and dislikes. 
Like Priyanka said, there are so many films that are critically acclaimed but are not accepted by audiences, and there are so many films that critics don't like that are huge hits. 
That is a clear indication that you cannot make films for the critics, you have to make films for audiences.
There is a strong buzz around Gangs of Wasseypur.
I wish the film all the best. Anurag (Kashyap) is a very talented director. 
It is very different from our film. I hope both the films do well. 


It looks very interesting. But honestly, we don't know what the common man wants -- that we will only know on Friday.
'All the three eras are relatable'
Last updated on: June 21, 2012 19:33 IST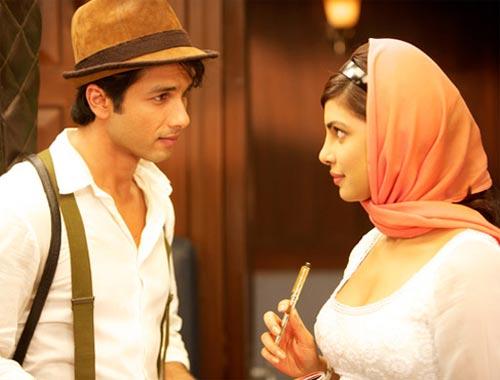 How will the present generation relate to a character from 1910 or even 1960?
Terminator and Avatar are futuristic films and they were such big hits. You should be able to relate to a story and it should be entertaining.
The 1910 character I am playing is called Javed Qadri. He is a Casanova in all the three eras. He's also ill mannered, shameless, he flirts with girls, doesn't work. All he has to do is recite shayaris to make girls swoon. 
Every boy wishes for a life like that. When I heard that character's story, I wished I was Javed Qadri.
All the three eras, stories are relatable. The 2012 love story is contemporary; it is the kind of romance that happens between youngsters today.
The 1960 love story is about a struggling musician and a superstar. I think that is relatable too because many times we fall in love with people who are different from us.
I feel the 1910 love story will connect the most with the audience because it is the most interesting one.
'My family always discusses my films'
Last updated on: June 21, 2012 19:33 IST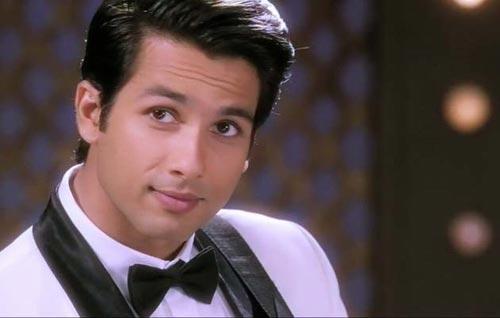 Who in Bollywood would you like to show the film to and whose reactions will matter the most?
Everybody's opinion is important to me.
Obviously, you want to share everything with your family, and that we have done.  
Priyanka's family wasn't there but her brother and his friends and some of her close teammates were there and their opinion is very important because they have contributed to the film. 
My family always discusses my films when I come back from the shoot and we are dining together.