Which are Shah Rukh's Top Five Films? VOTE!
Last updated on: December 19, 2012 13:41 IST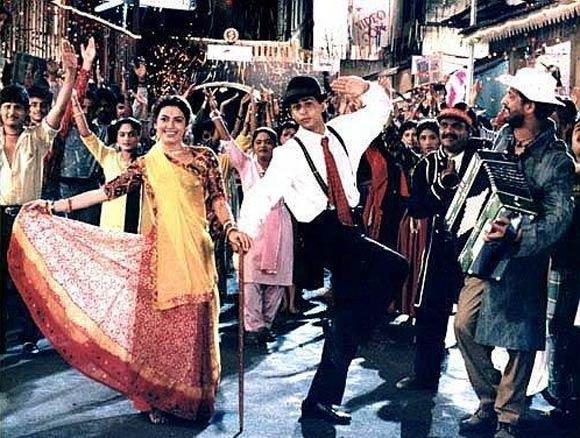 Twenty years ago, a Delhi boy who had dabbled in television and met with a good degree of success, came to Mumbai and began a career in films. 
With no star daddy or godfather, nothing could have possibly prepared him for the extent of popularity and superstardom he'd achieve on the silver screen.

His ceaseless poise, commanding presence and a capacity to constantly entertain within India and overseas has carved his name in Bollywood gold. 
An icon at all times, an artist when he chooses to be, the Shah Rukh Khan saga shows no signs of slowing down. From Deewana to Jab Tak Hai Jaan, the 47-year-old continues to be the best romantic in town.

And while he's often guilty of playing his larger-than-life facet in way too many movies, SRK, indeed, has quite a collection of memorable performances too.
Bet you have your pick of favourites.

So go on and vote for your favourite five from this list of some of King Khan's most-applauded works at the end of this slide show!
Raju Ban Gaya Gentleman

There's much simplicity and camaraderie to be found in Aziz Mirza's update of Shree 420 and it's hard to imagine anyone except Shah Rukh Khan in the role of Raju, a small-town boy with sky-high ambitions and how they get the better of him.
With his refreshing enthusiasm, steady charm and smooth confidence, SRK makes it very easy to adore and forgive both the sweet and selfish, respectively, in him.
Baazigar
Last updated on: December 19, 2012 13:41 IST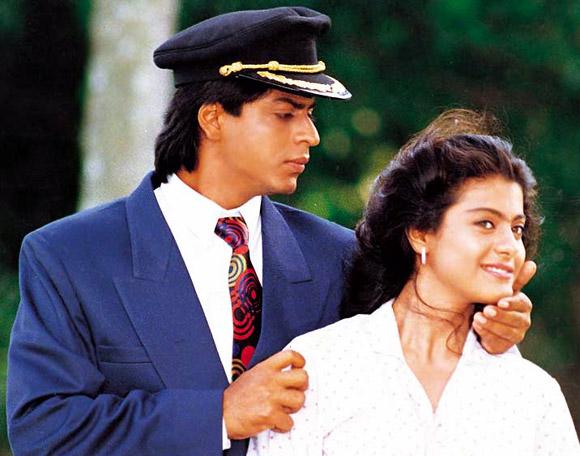 No sooner had the Loveria bug hit us all that SRK did a complete 360 degree to play an avenging devil in Abbas-Mustan's smash hit, Baazigar.
There's a good amount of range in the almost schizophrenic character he poses to be in the thriller -- a bumbling geek, a smooth talker, a sharp and ruthless criminal mastermind and an emotionally ruined son with the single-minded objective of destroying the man behind his family's downfall.
Where SRK succeeds is, how in spite of bumping off so many people in the movie, he still walks away with a fair amount of audience sympathy.
Darr
Last updated on: December 19, 2012 13:41 IST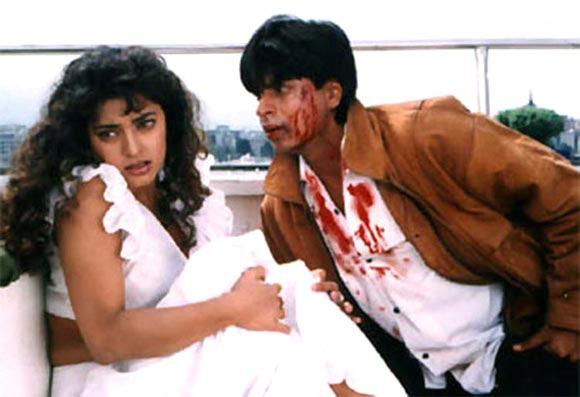 Perhaps it is his conviction to pull off another embodiment of evil as the stalking, stammering Rahul in Yash Chopra's Darr within weeks of Baazigar's release that cemented his fate as superstar worthy of unquestioned success for years to come. 
While his performance itself is quite apparently on the showy side, it's also his MOST mimicked.

Even after so many years, the K-K-kacophony refuses to die down.
Kabhi Haan Kabhi Naa
Last updated on: December 19, 2012 13:41 IST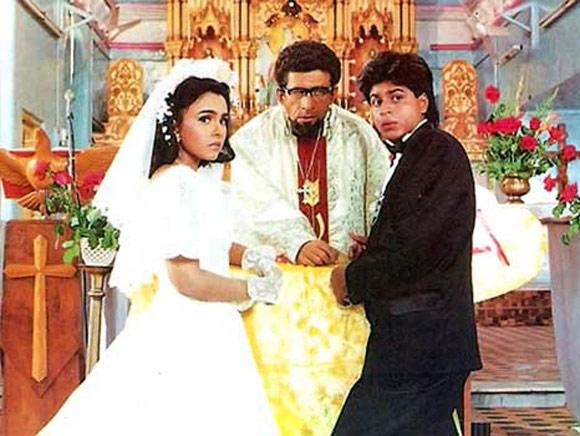 If one was to pick only one of Shah Rukh Khan's best works, Kabhi Haan Kabhi Naa would be an easy answer for many. 
As the sprightly Goa boy who loves his band and Anna and bungles up at studies and romance, SRK hits you with his remarkable innocence and unprecedented lovability.

Nothing quite compares to this small film with enormous heart.
Dilwale Dulhaniya Le Jayenge
Last updated on: December 19, 2012 13:41 IST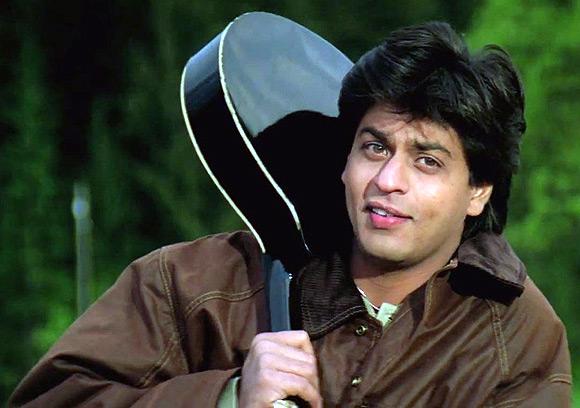 Speaking of heart, there's nothing small about SRK's pursuit as Raj of Kajol's Simran.

One has now lost count of the number of weeks, months and years director Aditya Chopra's debut ran in the cinemas. 
What makes him special? His conviction when he says 'palat' and his conscience when he chooses the 'sahi raasta.'

Yes Boss
Last updated on: December 19, 2012 13:41 IST
SRK's portrayal of the middle-class office-goer with grand dreams and sly tricks makes for light-hearted entertainment in the rather underrated Yes Boss. 
Adding to the fun is his spot-on chemistry with friend and business partner Juhi Chawla and how their sweet banter produces some of its best scenes.
Kuch Kuch Hota Hai
Last updated on: December 19, 2012 13:41 IST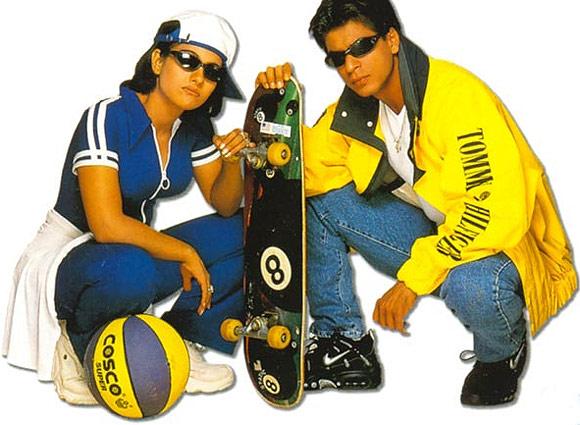 Although Karan Johar's first film as a director is an out-and-out romance; it documents two very different phases of its leading players' lives.
While Kajol transforms from a spirited college tomboy to a subdued, demure school teacher, SRK loses some of his campus smugness and that C-O-O-L chain to accommodate a protective yet indulging single parent in Kuch Kuch Hota Hai.

Baadshah
Last updated on: December 19, 2012 13:41 IST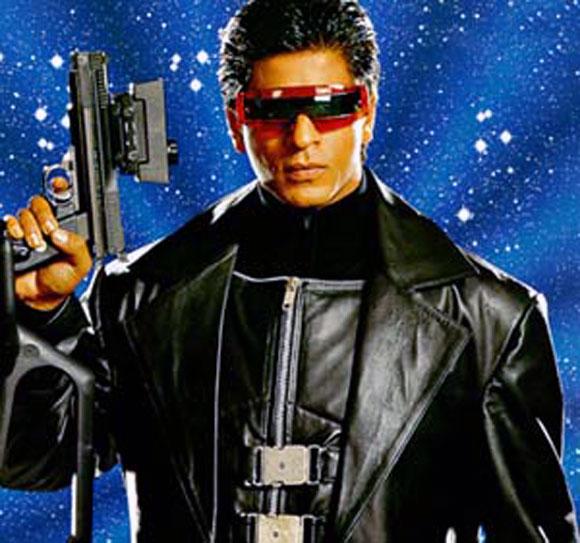 Baadshah reminds us why SRK ought to do more comedies. And not that of the noodle-in-curd variety. 
As the goofy detective caught in a comedy of muddled identities and a team that prides itself on being caricatures, the actor never once takes the baloney seriously.

The upshot is a genuinely funny film high on a pleasantly loony SRK.
Dil Se
Last updated on: December 19, 2012 13:41 IST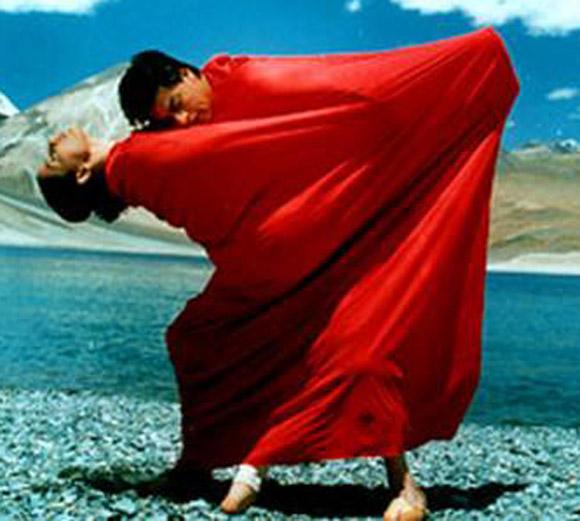 Besides being one of the best-looking films he's ever worked in, Dil Se is also his most fascinating. 
Though not a box office winner, Mani Ratnam puts aside SRK, the star delve into edgier aspects of his hyper personality and quirky appeal to understand the curious obsession his Amarkant harbours towards a doe-eyed Manisha Koirala.

Devdas
Last updated on: December 19, 2012 13:41 IST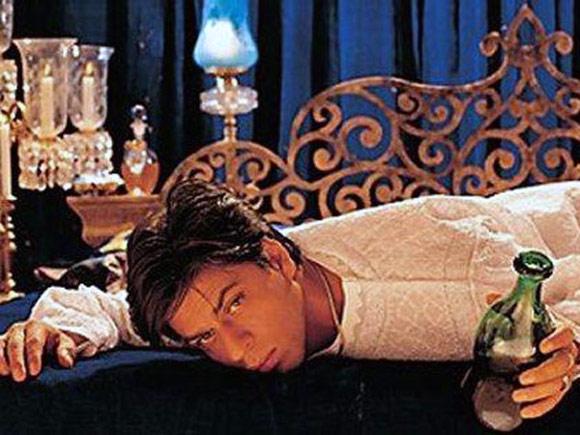 Just like Darr, Devdas too falls under SRK's most over-the-top deliveries.

Even so his theatrics as a disillusioned lover doomed to drink to his death somehow finds a bizarre resonance in Sanjay Leela Bhansali's explicitly opulent set-up. 
Think of it as a literary adaptation, disappointment is inevitable.

Treat is as a kitschy musical celebrating the tradition of showmanship and you might just appreciate the exaggeration.
Kal Ho Naa Ho
Last updated on: December 19, 2012 13:41 IST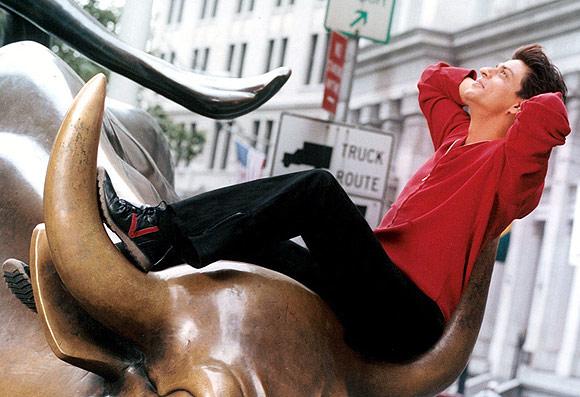 The humour of K Jo's Kal Ho Naa Ho, directed by Nikhil Advani, is a perfect fit for the SRK and Saif Ali Khan fellowship.  
Its hip sensibilities, along with SRK's vulnerability, elevate KHNH from being just another melodrama about tragic conclusions.
Swades
Last updated on: December 19, 2012 13:41 IST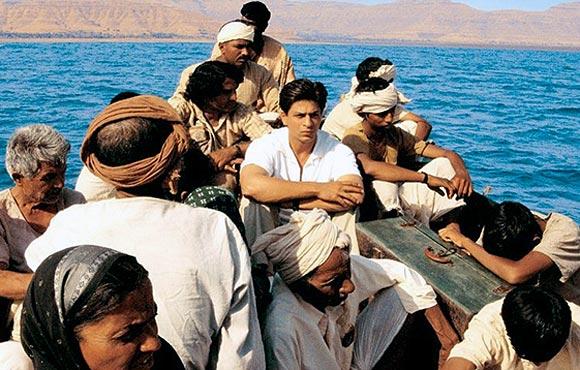 And this is the film which won back the favour of many old Shah Rukh Khan fans who began looking elsewhere after their beloved hero refuse to budge from the realm of same old. 
As a NASA scientist who comes down to a small village in India and discovers his roots in the most poignant manner, SRK is intelligent, real, warm and accessible.

Actually he's not SRK at all. He's Mohan Bhargava.
Chak De! India
Last updated on: December 19, 2012 13:41 IST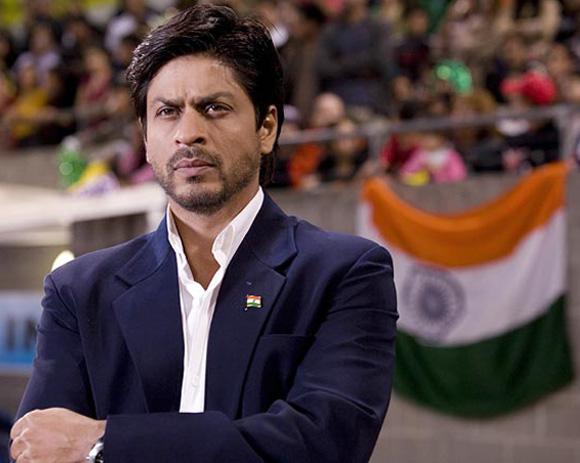 SRK knocks his detractors down with another round of credibility as the previously disgraced athlete turned coach of an all-girls Indian hockey team in Shimit Amin's Chak De! India.
The intensity and grace with which he conveys the complexities of Kabir Khan, his resentment, bitterness, determination, desperation, disappointment and subsequent vindication, it's all aces from start to finish.
Om Shanti Om
Last updated on: December 19, 2012 13:41 IST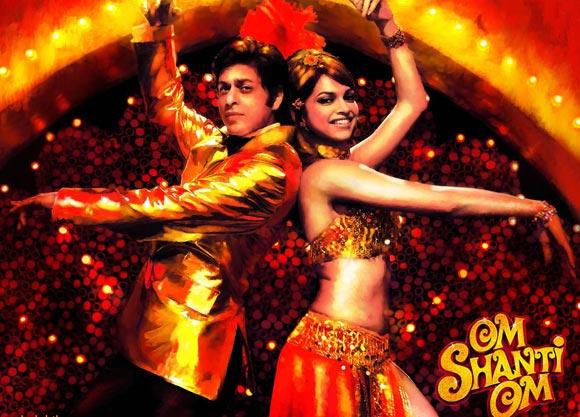 Farah Khan builds a part-retro, part-current character for her relentlessly entertaining Om Shanti Om with generous bits of drama, romance, humour, song and dance, action, reincarnation and even horror. 
And SRK's monumental presence as producer and actor ensures it is delivered with a bang.
Rab Ne Bana Di Jodi
Last updated on: December 19, 2012 13:41 IST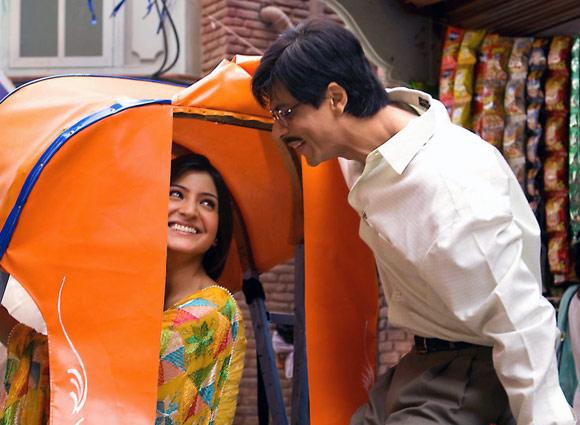 From DDLJ's cool dude to developing a six-pack for OSO, SRK's known for his trendy imagery.

But the actor completely distorts it to make a convincing case as the bhaisahab-next-door in Rab Ne Bana Di Jodi.
While Aditya Chopra's romance is about an ordinary looking husband parading as a fancier version of his own self to woo the wife, SRK's moustache and makeover as the endearing Suri is what makes this Amritsar fairy tale really work.

My Name Is Khan
Last updated on: December 19, 2012 13:41 IST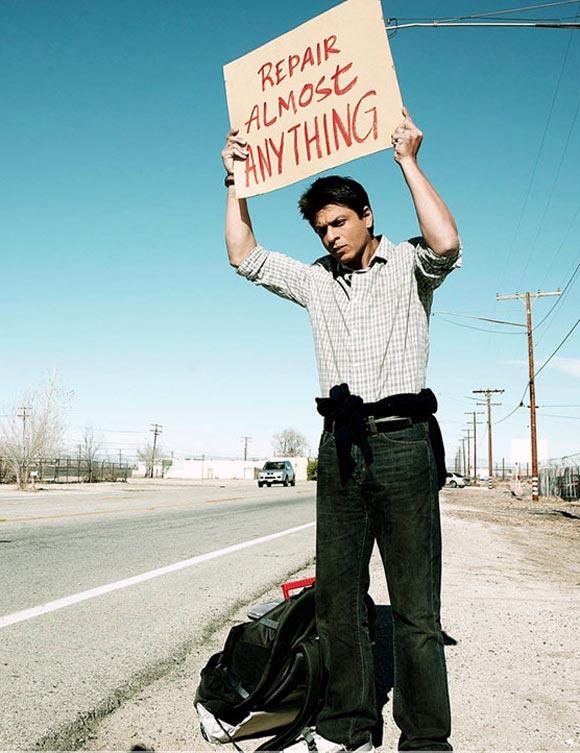 SRK plays a man with Asperger Syndrome in Karan Johar's most atypical effort so far, My Name Is Khan, which looks at how the world looks at a Muslim post 9/11.
Even if the film veers towards overtly idealistic at some point, its sensitive and well-meaning contents along with a solid SRK have its say.
Don 2
Last updated on: December 19, 2012 13:41 IST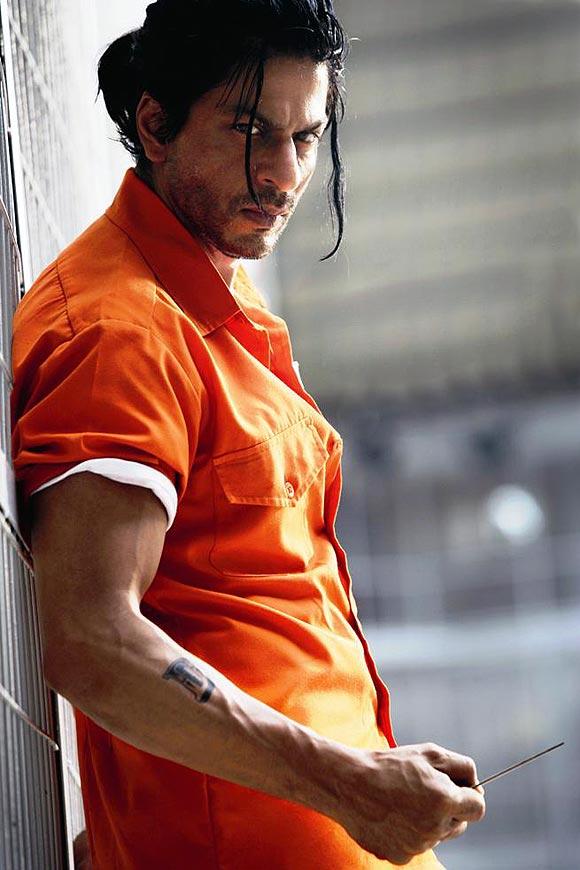 Million dollar business notwithstanding, Don 2 hardly qualifies as quality entertainment.
But that's not the point.

While SRK appeared a tad conscious and hammy about stepping into Amitabh Bachchan's shoes in Farhan Akhtar's remake of the 1978 cult classic, he's completely at ease and blissfully wicked as the long-haired or stubble-sporting criminal mind in its sequel.
Jab Tak Hai Jaan
Last updated on: December 19, 2012 13:41 IST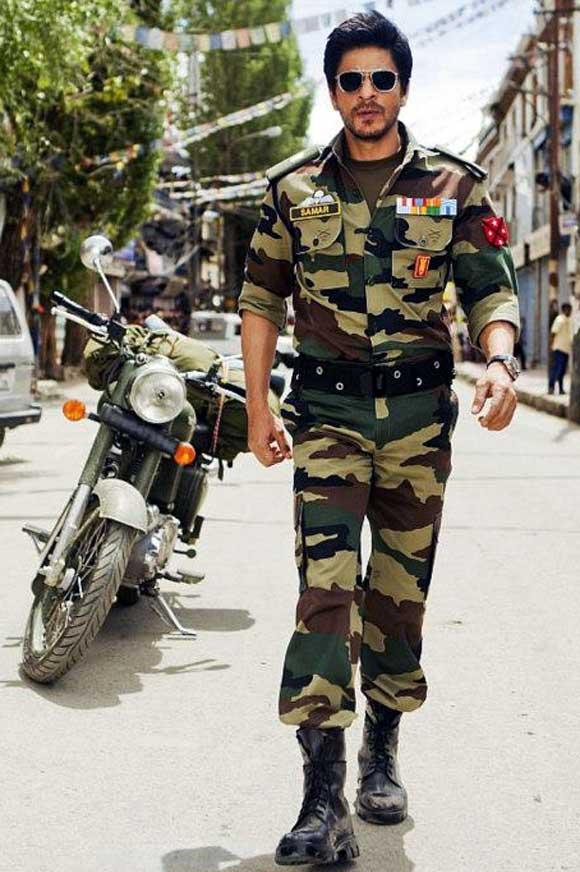 The man is quite easily the best thing about Yash Chopra's swan song Jab Tak Hai Jaan. 
His dazzling show of restraint and grit in an old-fashioned romance -- be it as the passionate waiter cum street singer who'll take his chances in matters of the heart to an aloof bomb defusing army man who's achieved tremendous strength and maturity, SRK lend JTHJ a stability its script doesn't possess.
Shah Rukh Khan's Five BEST Films? VOTE!
Last updated on: December 19, 2012 13:41 IST