Shah Rukh: I think I can do action better than romance
Last updated on: June 13, 2013 19:26 IST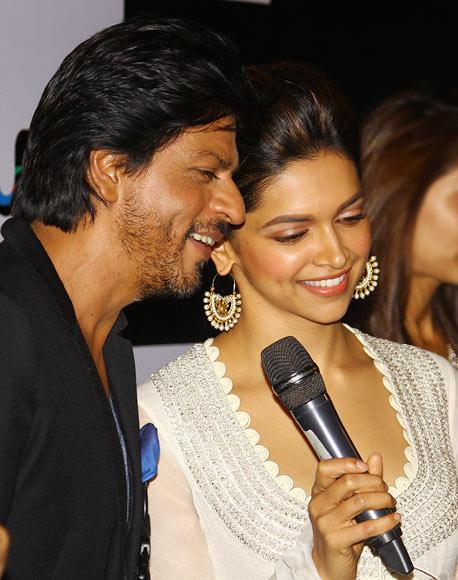 Shah Rukh Khan seemed very happy at the trailer launch of his new film Chennai Express at IMAX, Wadala, in central Mumbai.
He claimed it was a 'special moment' for the entire team, and raved about his director Rohit Shetty and co-star Deepika Padukone.
"Rohit is a fantastic director," Shah Rukh said. "His work speaks volumes. I had done a lot of intense roles and really wanted to do an action comedy. Chennai Express was the perfect film to do."
Rohit has often been criticised for the over-the-top action sequences in his movies. Defending the director, SRK said, "I used to think the same. But after working with him, I think I can do action better than romance. He has a fantastic team of almost 200 people, who have worked really hard."
The action, however, came at a price. Shah Rukh injured himself while doing a stunt, and had to undergo a shoulder surgery last month. At the trailer launch, the actor wore a fashionable sling for his injured arm.
'I am very protective about Deepika'
Last updated on: June 13, 2013 19:26 IST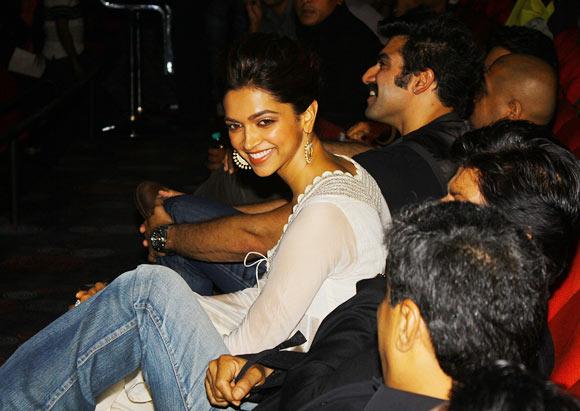 Deepika looked beautiful in a white anarkali, and seemed excited about pairing up with the superstar again, after Om Shanti Om.
"Deepika has really grown as an actor," Shah Rukh said. "I love the fact that she started her career with me. I am very protective about her." 
Later, he added: "Her last few films like Cocktail and Yeh Jawaani Hai Deewani have been hits and I am happy with her success."
Deepika returned the compliments with: "I had a wonderful debut with Shah Rukh in Om Shanti Om. Before Chennai Express, Shah Rukh and I would often say that whenever we do a film together, it has to be as special as Om Shanti Om. And Chennai Express has been very special."
'We should respect life more than love'
Last updated on: June 13, 2013 19:26 IST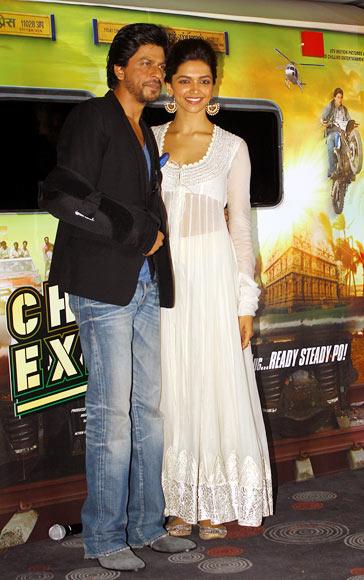 Shah Rukh also used the platform to react to Jiah Khan's suicide, and urged his fans to respect life more than love.
"Everyone has different definition of love. Love is a universal thing. I play the role of a lover which are written by a set of people. It is their interpretation of love. But I feel we should respect life more than love," he said. 
"There are going to be difficult times in everyone's life but one must not give up, and respect life. Every problem will be sorted out, don't lose hope," he said. 
Jiah Khan, 25, was found hanging at her flat in Sagar Sangeet building in the posh Juhu area on June 3. She has reportedly left behind a six-page letter, which points fingers at Aditya Pancholi's son Suraj, whom she was reportedly in a relationship with. Suraj has been arrested in connection with the suicide.
Rohit Shetty 'shtyle' runs rampant through the promo
Last updated on: June 13, 2013 19:26 IST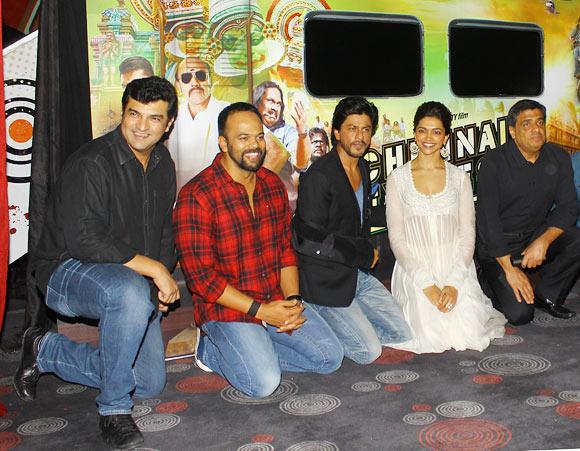 In the Chennai Express trailer, Shah Rukh and Deepika play second fiddle to the director. Rohit Shetty "shtyle" runs rampant through the loud promo, and all signs point to this being yet another massive blockbuster for Shetty.
Both actors look to be genuinely enjoying themselves, which is half the job done. Shah Rukh looks relatively fresh -- except for a painful drunken accent -- and Deepika, playing an exaggeratedly Tamilian stereotype, looks to be having fun playing that far over the top. Is she doing the cartoonish voice or is it a dub? Too soon to tell, but there are definite shades of Juhi Chawla from Hum Hain Rahi Pyaar Ke.
The Om Shanti Om pair certainly has chemistry, and with Rohit Shetty's ever-inflammable hatchet-friendly formula at work, things will go boom. But the fact that there isn't even one good line in this technicolor trailer makes us wonder if volume is all it'll have.
Chennai Express releases August 8.