Filmi fashion: The sexy and frumpy sides of it
Last updated on: March 17, 2011 12:25 IST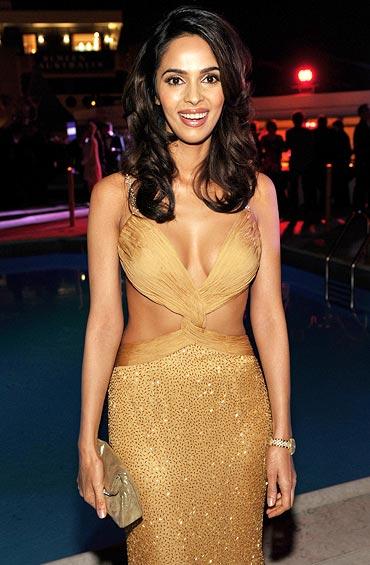 In the recent years, we have seen Bollywood actresses developing their own personal style. Their taste in clothes and accessories is unique to them and sets them apart from the crowd.
We take a look at some very individualistic personalities, who are known for their signature styles.
Mallika Sherawat, the Attention Seeker
Mallika has been a consistent rebel and attention seeker all through her time as an actress, and that is strongly reflected in the dressing choices she's made so far.
Creating quite a stir with 17 kissing scenes in one of her early films, she's taken to making red carpet appearances in eye-popping numbers.
It wouldn't be completely wrong to say that push-up bras and thigh-high slits are this enchantress' best friends.
Malaika Arora Khan, Miss Bootylicious
Last updated on: March 17, 2011 12:25 IST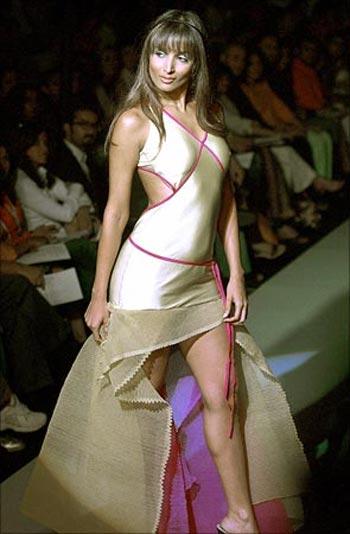 The bootylicious Mrs Khan also happens to be one of the yummiest mummy in tinsel town.
Proud owner of the most coveted derriere, she could give the hispanic stars a run for their money. And she knows how to accentuate her assets. Be it award functions, reality shows or just a casual brunch, her best features are subtly highlighted with empire waistlines, well-fitted denims and body-hugging fabrics.
Kangna Ranaut, The Bohemian
Last updated on: March 17, 2011 12:25 IST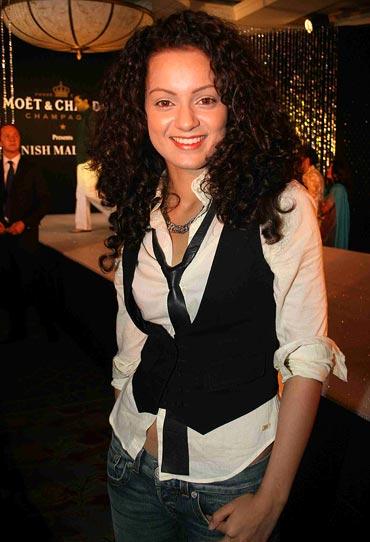 Kangna is often perceived as a bohemian actress, thanks to her personality, lifestyle and sense of style. Instead of blindly following what's in vogue, she likes to bend fashion rules.
No wonder she's the queen of sexy cool.
Vidya Balan, Ethnic Chic
Last updated on: March 17, 2011 12:25 IST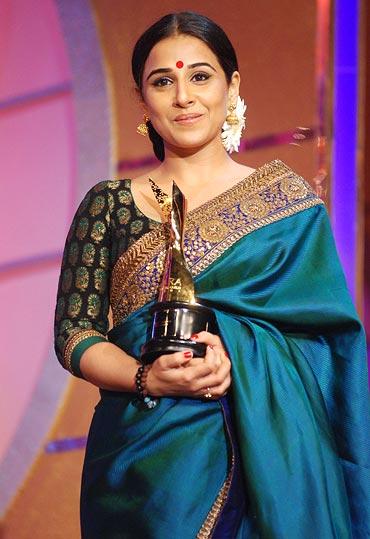 Vidya is ethnic chic personified. Her recent appearances in Sabyasachi outfits will vouch for that. Who would believe that not long ago, this actress was widely criticized for her wardrobe?
She's learnt her lessons the hard way though and it's seemingly done her a lot of good. She cuts quite a picture in chiffons, organza, kohl-lined eyes and statement jewellery.
Priyanka Chopra, The Flirty Teen
Last updated on: March 17, 2011 12:25 IST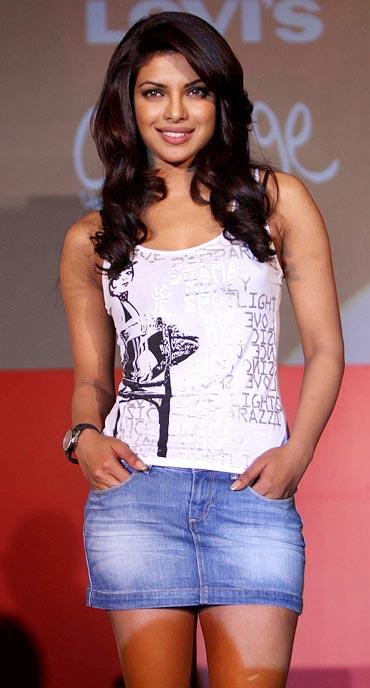 The reigning queen of Bollywood is seen in short dresses for the most part.
She does the occasional red carpet outfit when required but it's quite clear that the flirty mini look works for her any day.  
Sonam Kapoor, The Fashionista
Last updated on: March 17, 2011 12:25 IST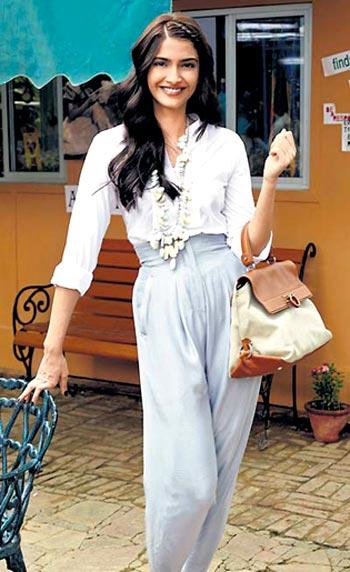 This star kid has a flair for international fashion trends and labels and got a chance to flaunt it in her home production Aisha.
Almost always well turned out, Sonam has revealed in the past that she keeps a close watch on the goings-on in the international fashion world.
A worshipper of global brands like Christian Dior, this young actress sure has expensive tastes. Haute-couture is her real estate.
Kajol, The Frumpy Look
Last updated on: March 17, 2011 12:25 IST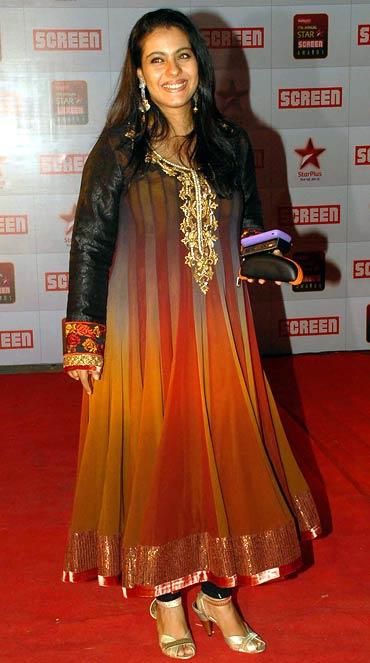 With the kind of clothes she picks out for public appearances, it's a blessing that people approve of her acting skills.
Almost every time she's wearing anything that doesn't make you cringe, the dress is picked out by her fashion-forward friends like Manish Malhotra. Always frumpy to say the least, she appears too cocky to really care.
Earlier, it was block heels. Now, it's Anarkali dresses.
Juhi Chawla, The Chirpy Chica
Last updated on: March 17, 2011 12:25 IST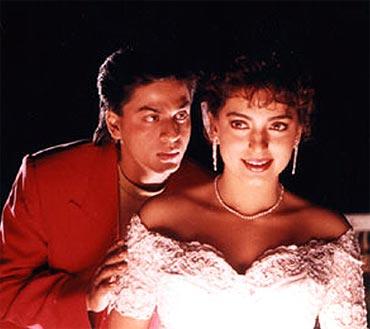 The chirpiest bird to ever perch on Bollywood's windowsill, Juhi Chawla has a smile that can disarm anybody. She came into movies when Bollywood had Indianised western clothes.
She was a former pageant queen with the right attitude. That helped her carry off the clothes with much ease. She is also credited with popularizing off-shoulder dresses that showed off her collarbone, maxies and blouses in mute colours and ruffled sleeves.
Rekha, The Kanjeevaram Express
Last updated on: March 17, 2011 12:25 IST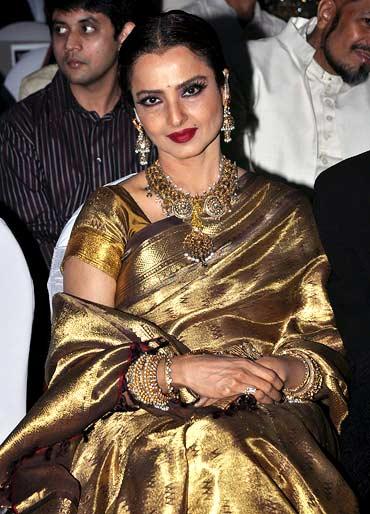 The first thing that pops into mind at the mention of Rekha's name is Kanjeevaram saris.
Case in point: Year after year, different styles and trends have arrived and departed from Bollywood's popular award show:  Filmfare. But Rekha has not abandoned her saris, maroon lips and gold jewellery. It could be a way for her to stay frozen in time and memory.