The Very Best of Soumitra Chatterjee
Last updated on: March 22, 2012 09:48 IST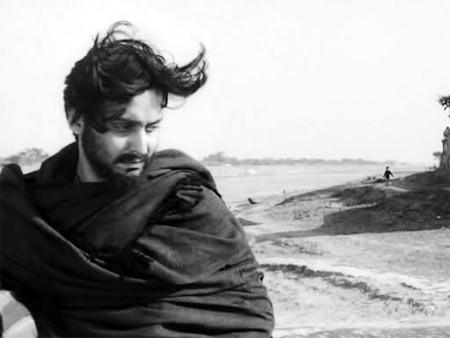 A Dadasaheb Phalke Award is the least one could have asked for Soumitra Chatterjee.

Still slogging it out on the studio floors, this 77-year-old actor has dominated Bengali cinema for years. Many of us grew up on his films and saw in him a complete actor. 

Drawing up a list of Chatterjee's memorable work is a mammoth task. Here, I present some of his films that I would never get tired of watching over and over again.
Apur Sansar

As an adolescent, I fell in love with Apu, the protagonist of Satyajit Ray's classic triology. He was the hero we all wanted to adore -- the sensitive, intellectual, intelligent and homely youth.

Apu represented the undaunted spirit of a rural man who knew how to rise above personal woes. When Chatterjee was launched in Apur Sansar in 1959 as Apurba Kumar Roy aka Apu, Bengali cinema discovered a new matinee idol, who looked like the only capable artiste to take on then megastar, legendary Uttam Kumar. 

Ray himself was often heard telling the media, 'Soumitra was the Apu that I had in mind all the time. He was just meant for this role.'

The viewers felt so too.

Chatterjee looked remarkable with Sharmila Tagore as Apu's wife Aparna in the film.

I could never get over the Chatterjee's portrayal of pain on getting the news of Aparna's early death while giving birth to their child Kajol.
Devi
Last updated on: March 22, 2012 09:48 IST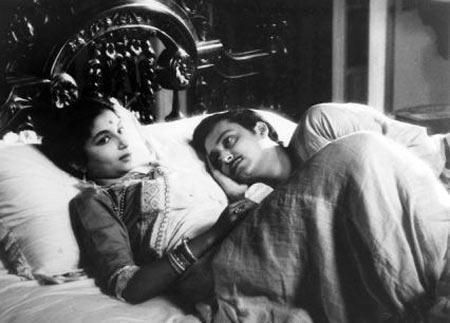 In this 1960 film based on a short story by Prabhat Kumar Mukhopadhya, Chatterjee plays Umaprasad, a youth head-over-heels in love with his wife Doyamoyee.

The latter, according to Umaprasad's father Kalikinkar, is an avatar of Goddess Kali and must be worshipped.

On hearing the news, a rational-minded Umaprasad returns home but is unable to mend the situation. Chatterjee, in his inimitable style, brings forth Umaprasad's struggle against a society reeling under dogmas and superstitions.

His struggle intensifies when Dayamoyee herself begins to believe that she is an avatar. The plot takes a tragic turn towards the end.
Saat Paake Bandha
Last updated on: March 22, 2012 09:48 IST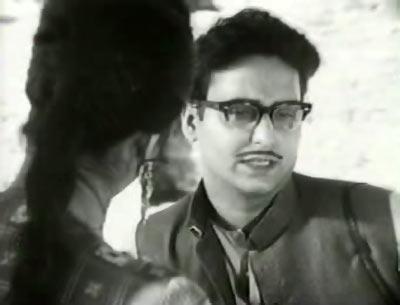 This 1963 film, directed by Ajay Kar and based on an Ashutosh Mukhopadhyay novel, is one of Chatterjee's best works where he brings out the usual tension between an urban couple caused by their differing socio-economic backgrounds leading to divorce.

Playing the role of a middle-class Bengali Sukhendu opposite Archana (Suchitra Sen), Chatterjee was so effective in emoting the pain of a not-so-affluent teacher married to a rich man's daughter, that some of our friends cried for nights together thinking what would happen to the estranged couple.
Charulata
Last updated on: March 22, 2012 09:48 IST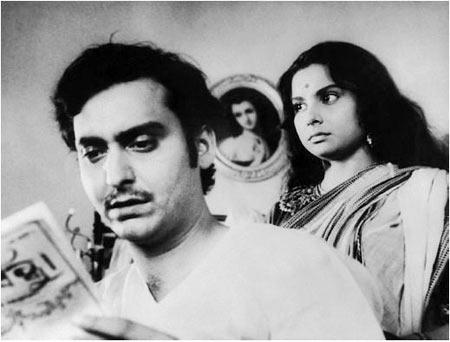 In this 1964 Ray film based on Rabindranath Tagore's novella Noshto Neer, Chatterjee plays Amol, a brother-in-law to Charulata (played by Madhabi Mukherjee), someone who ushers in a breath of fresh air in her mundane urban existence.

Since Charu's husband Bhupati is tied up with work, Charu finds in Amol a friend, philosopher and guide who would hone her writing skills.

But soon, the friendship deepens and Charu feels irresistibly drawn towards Amol.

Lest he should betray his brother's trust, Amol leaves Charu's home. That, however, cannot prevent Bhupati from reading Charu's mind.

Chatterjee immoratised the character of Amol with his flamboyance and sense of humour. Kishore Kumar's rendition of Ami chini go chini tomare on his lips added special dimension to his role and the film.
Parineeta
Last updated on: March 22, 2012 09:48 IST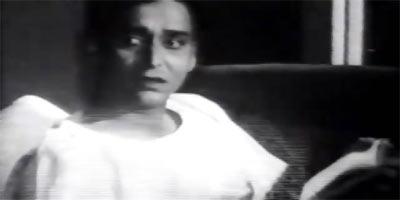 Chatterjee plays Shekhar, the elusive, introvert son of a conservative, wealthy businessman Nabin Roy in this Sarat Chandra Chattopadhyay classic.

With effortless ease, Chatterjee portrays Shekhar's secret love for Lalita, the needy girl next door played by Mousumi Chatterjee.

While Shekhar mostly speaks in monosyllables and maintains the poise of a recluse, his eyes carry the passion of a true lover.

When the same film reappeared on screen in Hindi, with Saif Ali Khan playing Shekhar, I saw it several times once again.
Aranyer Din Ratri
Last updated on: March 22, 2012 09:48 IST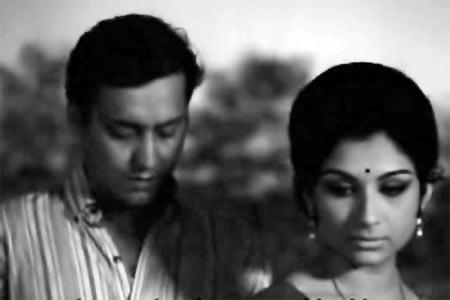 Perhaps, no other matinee idol could have played the role of Ashim better but for Chatterjee in this Satyajit Ray adaptation of a Sunil Gangopadhyay novel.

In this film that depicts four urban youth's brief forest sojourn, the central character, Ashim, is attracted to the elegant and enigmatic Aparna but is unable to keep pace with her composure, presence of mind and intelligence.

The film ends with a note of unrequited love and that's what makes the film as well as Ashim's role so very poignant.

Sonar Kella and Joi Baba Felunath
Last updated on: March 22, 2012 09:48 IST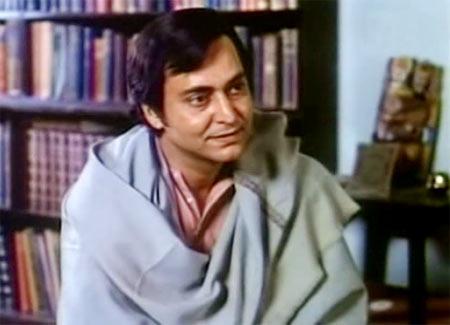 Bengal woke up to a new on-screen sleuth Feluda played by Chatterjee.

With his lithe six-foot frame and sharp features, Chatterjee just the actor that avid fans Satyajit Ray-penned detective would have loved to have.

And Chatterjee did not let us down even for a minute.

The viewers lapped up Feluda's way of detecting the crimes in both these films and relished when he taught the criminals a lesson.

With his agile mind and brilliance (Mogojastro as Ray mentioned in his works), Ray's sleuth wowed one and all. Youths of Bengal started idolising him. This Feluda was the man of their dreams.