Saif Ali Khan: I'm not angrez!
November 22, 2013 09:21 IST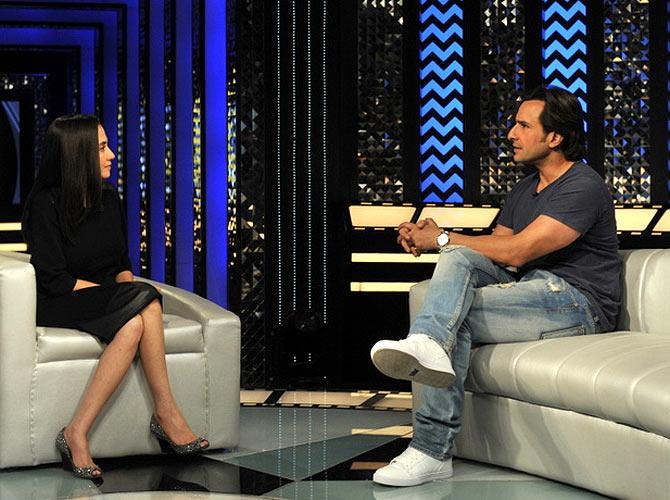 Anupama Chopra's television show The Front Row will feature Saif Ali Khan and director Tigmanshu Dhulia on Friday, November 22.
The actor-director, who are currently promoting their new film Bulett Raja, had an interesting chat, where Saif insisted he wasn't angrez!
We present excerpts from the show:
Anupama: Tigmanshu, what was Saif like with the character of Raja Mishra in Bullett Raja? Personally, Saif comes across as very westernised, extremely 'angrez'. So how do you break that?
Tigmanshu: It wasn't difficult. We had discussed everything before we went to the sets.
Saif
:
Yaar
, I'm not
angrez
. I have this image of being
angrez
because I went to an
angrez
school but I'm sure there's a class or a section of Eastern people who are exposed to the West. I mean, they're not
dehaats
but they're not Western also. I am rooted. I like to eat with my hands, I like to sit cross-legged. I pray on a
janamaz
.
S
o I think I'm a little bit like my father in that sense. He liked the tabla and the harmonium, he wasn't English. But nobody's Raja Mishra,
yaar (smiles)
. I mean there are a few people, but not around here
Tigmanshu Dhulia: (laughs) Exactly.
Click Next to read more.
'The late Yashji (Chopra) used to stammer a tiny bit'
November 22, 2013 09:21 IST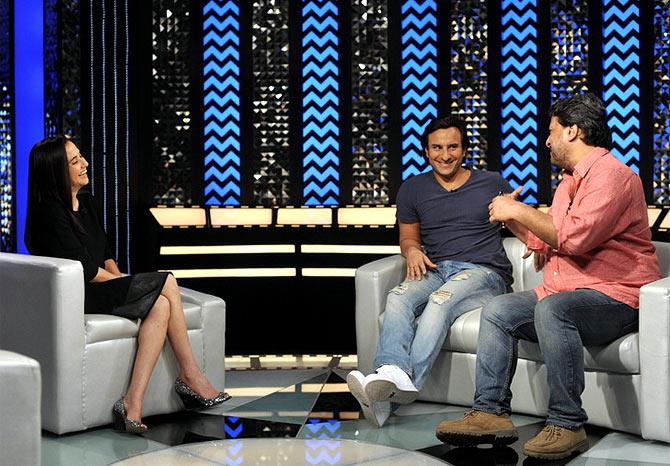 Anupama: Saif, what's it like to work with a director who also acts and acts as well as Tigmanshu Dhulia?
Saif: Well, it's much easier because you are trying to do something that you haven't done before, it's all new for you, I think all directors should know how to act a little bit. Some directors, I've had the privilege of working with, are not such great actors.
Anupama (referring to husband Vidhu Vinod Chopra): You know my husband's a real ham (smiles).
Saif: I've had the pleasure of working with him (smiles).
Anupama: If you've seen him in the scene from Jaane Bhi Do Yaaro (laughs)...
Saif: But even the late Yashji (Chopra) used to sometimes stammer a tiny bit. And he said a line to me once. He said, "You just come in and you say 'P-p-pratap has landed'". So I came in my first take and said (stammering), "P-p-pratap has landed." Everyone started laughing. I said, "Why are they all laughing?". Everybody said "Idiot! What are you doing?"
Anupama: Did you really do that?
Saif: Yes, it was my first shot ever in movies. That's what happened.
Anupama: In your debut film Parampara?
Saif: Yes. I had to say, 'Pratap has landed'. But it's nice if you get an idea of what to do because all actors would like a fresh take. There's a way that we would have done it but if somebody shows you, then your way of modulating lines, saying something is different and it gives us something to work with.
Watch The Front Row on 8:30 pm on November 22, on Star World.