Here's how Agneepath's Mandwa was created
Last updated on: January 25, 2012 18:34 IST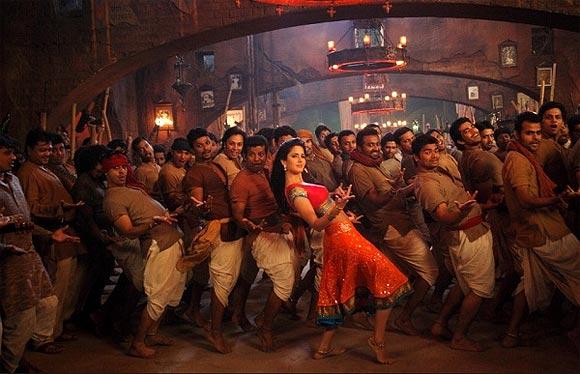 Recreating the village Mandwa from 1990's Agneepath was a tough job. Yet, art director Sabu Cyril pulled it off, and even gave his own touch to it.
He tells Patcy N how difficult it was to make the sets for Karan Johar's Agneepath remake, and how he overcame the challenges.
Didn't you think there'd be little to do with Agneepath since the movie has been made before?
No, in fact I thought it will be more challenging. Moreover, when Karan (Malhotra, the director) narrated it in the beginning, I knew he had made it differently. He has changed everything and only the storyline is the same -- the characters, everything, is different.
He told me the set should look very rugged. Since I heard the whole narration I knew how we could do it; it was quite challenging that way.

'The new Agneepath's Mandwa is more realistic'
Last updated on: January 25, 2012 18:34 IST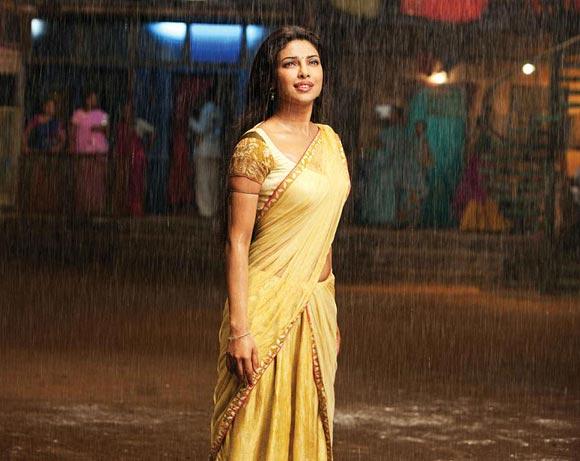 The whole movie was shot in Diu. How did you zero in on Diu?
Yes, we shot the whole film in Diu and just a few scenes in a mill in Mumbai.
Karan told me the village in the film was close to Mumbai but at the same time is an island and they commute by boat from Mumbai to this village. So I suggested Diu because its terrain is such that it looks as if nobody can come there, it is totally cordoned off from other places. It looks like a small village next to the sea.
I showed Karan some pictures and he liked them, he wanted to go and see the place and then we finalised the place.
How is Mandwa, featured in the old Agneepath, different from the location in the new Agneepath?
I saw that Agneepath long back and I know that the village was beside the sea, but this I guess is more realistic.
We have a big haveli-like structure, actually an old fort that we created, that has been converted into a den by Kancha Cheena (Sanjay Dutt). We added a lighthouse to give a good effect. We created the village at a lower level and we put up huts and a school. It is quite an elaborate set.
We wanted a tree to be at the edge of a hillside, protruding out due to erosion, with not enough soil. We made this banyan tree with fibre as we wanted it to have a particular look.
'We created Kancha Cheena's den in Mumbai for Chikni Chameli'
Last updated on: January 25, 2012 18:34 IST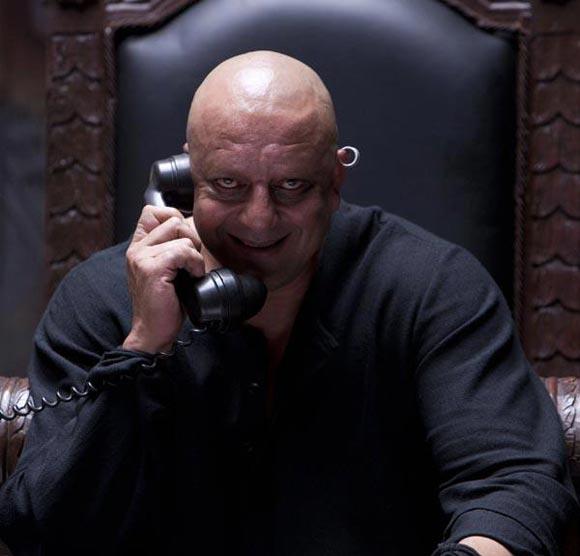 Tell us about Kancha Cheena's fort-like den.
We first created a fort as though it was built by the Portuguese (who had historically occupied Diu) and then abandoned when they left. It is then taken over by Kancha.
We had some tantric paintings on the walls to give the place a different look. In the movie, Kancha narrates the Bhagwad Gita but he misinterprets the Gita. I took that and worked on the concept.
What does Vijay Dinanath Chavan's house look like in the film?
Vijay (Hrithik Roshan) lives in a chawl. He lives on the terrace in a small sack-like thing. It was difficult to shoot on top so I had to make the same set down below also.
On some open ground I built a chawl of a hundred houses. It is about 60 feet in height and 110 feet in length, quite a huge set. There was a small cave in Diu that we used after adding a Buddha statue.
Priyanka (Chopra) plays a poor girl, a beautician, and she has a small beauty parlour.
Were some of the sets created in Mumbai?
We recreated Kancha Cheena's den in Mumbai for the song Chikni Chameli. There were lots of dancers in the song, and it was finalised later so it was easier to shoot it in Mumbai.
'We had 200 people to help create the sets'
Last updated on: January 25, 2012 18:34 IST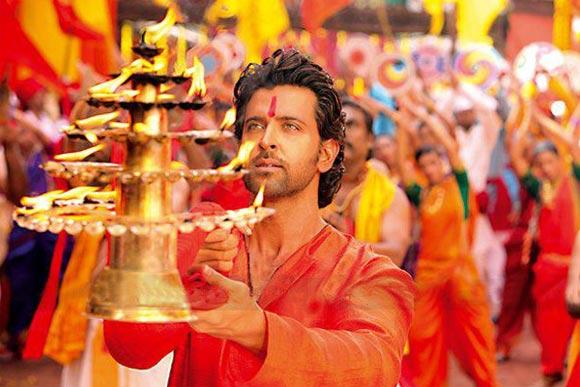 What was the most challenging and difficult thing to create?
Everything was very difficult. We had to carry all the material to create the sets from Mumbai plus the set was three-and-a-half kilometres away from the beach and there was no approach road so we had to carry all the material and walk on the sand with those heavy instruments. We had to walk that far even if we needed water.
The funny part was by the time we finished making the set, we found an easier route that the villagers showed us. We created a road on that route for the artistes and other crew members. Since the road was in the villagers' backyards, we needed approval from each villager. 
When we started, we had 200 people to create the sets, but the whole unit was much bigger.
There was no shade. I made five or six palm trees because the landscape looked very flat. It was an interesting terrain with volcanic rock but without any vegetation.
'I'm working on Tezz and Krrish 3 next'
Last updated on: January 25, 2012 18:34 IST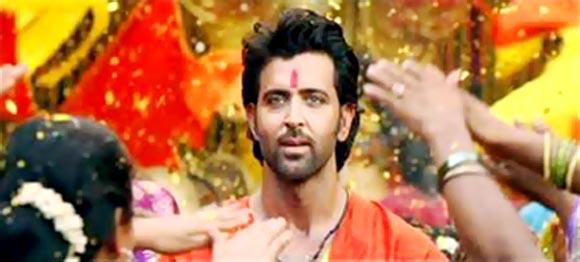 How much time did it take to create the sets?
We finalised the location two months in advance. Director Karan Malhotra was very clear about what he wanted for his first film. So it was very easy for me to design.
Ravi K Chandran was the cameraman, and later, Kiran Deohans. We worked hand-in-hand with the cameramen. The whole team was very efficient.
Which is your favourite creation in Agneepath?
We created Rauf Lala's (Rishi Kapoor) place. He is a butcher and he is exporting meat. We took a mill in Mumbai and created it and I was very happy about that.
I converted the whole mill. I like the colours and the way I treated it. Not just the butchers' market but the whole area where they stay was a set with narrow alleys.
A lot of work went into it. At least 90 per cent of it was the set; we have just used the exterior brick exposed walls of the actual mill.
I loved it because I achieved more than I expected. In Diu, we had limited resources. But here we had freedom to do many things.
What are your forthcoming films?
We have to shoot on a song for Tezz and after that I am doing Krrish 3, for which one schedule has been completed.

Click here for Rediff Realtime News!