The Best of Mr Bean
Last updated on: September 9, 2011 13:52 IST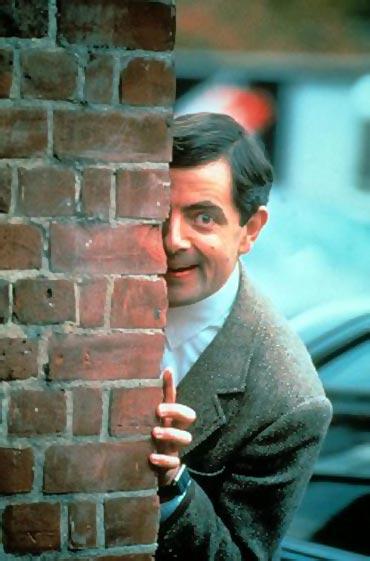 Many things have been said about
Mr Bean
and its creator Rowan Atkinson who
bowed out recently
with a rather flimsy excuse -- 'I am getting too old.'
It would be such a delight to see how this bumbling adult trapped in a nine-year-old body of a boy grows old and the very thought of that transition brings a playful smile to one's face. It is this timeless quality, of every time you think about your favourite Mr Bean moment and a grin is guaranteed, that collectively ranks the 14-episode series among the greatest piece of comedy of our time.
Like most enduring comedies,
Mr Bean
's humour that arose out of day-to-day situations at once belies the tragedy and tears behind him and that will someday qualify it alongside Chaplin, Tati and Keaton's (people Rowan was immensely inspired by) works which symbolise a deep sense of tragicomedy.
Here's our cherry-picked, best moments of
Mr Bean.
Episode: Back to School
Last updated on: September 9, 2011 13:52 IST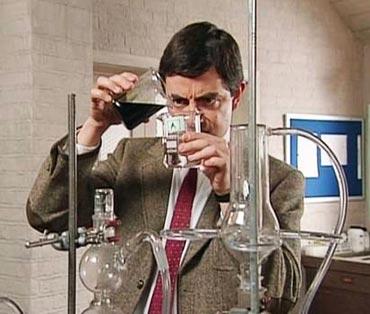 Of all the funny antics, you might find it odd why we choose to begin with a quintessentially un-Mr Bean-like moment.
The climax in which Mr Bean's mini is mowed down by an army tank during a demonstration is by far the most moving experience in pictures.
Just watch him, thoroughly in despair as if a part of his body has been taken away, as he comes closest he ever has to bursting into tears. This shot has its roots in Charlie Chaplin's golden words, 'Life is a tragedy in close-up and comedy, in a long-shot.'
Mr Bean can be too egoistic and wouldn't let the viewers peep into his private persona. His constant struggle is to baffle, misdirect and outsmart the viewers as can be seen in the final sequence in which he reminds us that, 'So, what if I have lost the car? I still have the padlock and the key.'
In that respect, Mr Bean is like a haughty businessman who may have lost a million but won't admit and instead, will spend another million to prove that he didn't lose a million!
Episode: The Return of Mr Bean
Last updated on: September 9, 2011 13:52 IST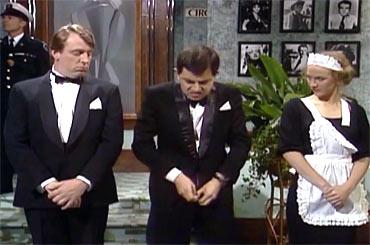 A close friend of Prince Charles in real life, there is some curiosity on how the royalty reacts to a handful of Rowan's spoofs on them.
For one, there's Mr Bean's hilarious meeting with the queen, for which he has been undergoing preparations on royal etiquette and protocol. This is one of those films in which there's more material in the act of preparation than the point of culmination as you see Mr Bean learning the correct way of handshake and bowing, polishing his shoe and doing last-minute remedy for bad breath.
Although well-meaning as he always is, the meeting ends in tragedy. In another show, Mr Bean goes for a haircut only to vamoose hiding behind the poster of Prince Charles.
Episode: The Curse of Mr Bean
Last updated on: September 9, 2011 13:52 IST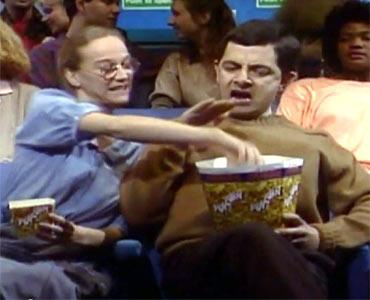 The only true comradeship Mr Bean receives is from his girlfriend but he is too self-centred to ever care for her love or emotions.
He won't buy her anything but expect gifts. On occasions when he does present her something, it's never of her liking (like the hook instead of the diamond ring).
In
The Curse of Mr Bean
, he takes her out for a horror movie outing. In his efforts to scare her, it is Mr Bean who comes across as more frightened. It rains popcorns on him as he shivers and suffers in what is ideally supposed to be a nice evening-out.
Episode: The Return of Mr Bean
Last updated on: September 9, 2011 13:52 IST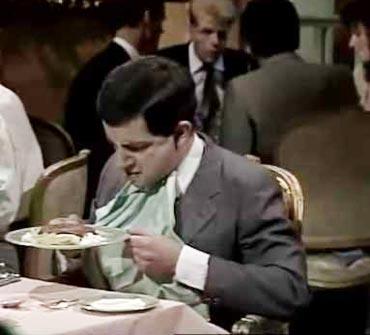 Just to be certain, he counts every single shilling in his wallet before ordering a dish at a plush British restaurant.
He may be endearing to us but to those occupying the surrounding tables, Mr Bean is a nuisance and must be thrown out immediately.
Incidentally, the most beautiful moment is when he plays the happy birthday tune -- to wish himself on his birthday. Sometimes, it feels as if there's nobody lonelier than Mr Bean. Not even Travis Bickle.
Episode: The Curse of Mr Bean
Last updated on: September 9, 2011 13:52 IST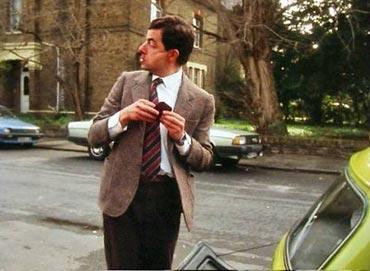 The key to understanding Mr Bean, at least some of his behaviour, lies in a scene in the blink-and-miss capsule in which he meets a cyclist on the signal. He steps out of his car and guides his car past the signal and drives away.

In effect, Mr Bean in almost all his acts is trying to find a shortcut way of doing things. Another iconic image from the same show comes from his sandwich-making skills, the underlying theme of which is again Mr Bean's anorak-esque desire to challenge mundane aspects of everyday life.

He thinks he can do it better. His only problem is he over-thinks.

Episode: Mr Bean Goes To Town
Last updated on: September 9, 2011 13:52 IST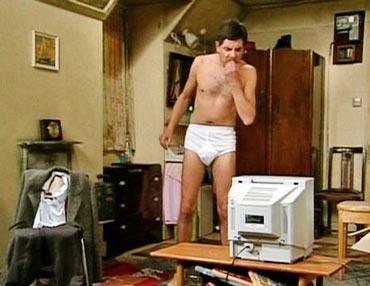 This entire show is Mr Bean's tour de force; it's what The General is to Buster Keaton devotees.
It's difficult to point out which is the best but the most hilarious is certainly when Mr Bean's camera is stolen and the ingenious way through which he identifies the real thief.
In another act, he takes his girlfriend out on a date and when she dumps him, he sneaks off but not before switching off the main power.
It's strange that in real life Rowan is an electrical engineer and according to a
Guardian
report, was "obsessed with all things electrical," in college.
Episode: The Trouble with Mr Bean
Last updated on: September 9, 2011 13:52 IST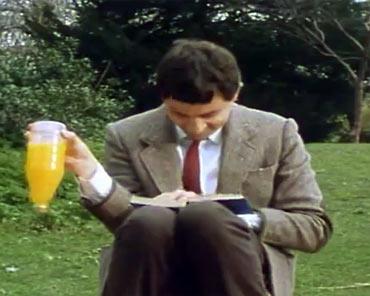 The dentist episode is far too famous, especially for its car ride (again the 'act of preparation' technique) but the one that helps get into Mr Bean's psyche is the last -- a lavish picnic he gifts himself like he surprises himself with the birthday card in another episode.
His socially inept behaviour drives him into an extreme state of loneliness and that's what marks Mr Bean out from the rest. That's why he prefers to go out alone on picnics and on rare occasions when friends drop in (in the Do-it-Yourself episode), the merrymaking ends in tragedy.
Nevertheless, he is always dressed for the occasion, like a gentleman (influenced by Tati's trenchcoat-attired M. Hulot and Chaplin's Tramp). It is because of these carefully drawn-out physical attributes that people recognise Rowan as Mr Bean. It's an albatross he will have to bear all his life.
Episode: Mr Bean
Last updated on: September 9, 2011 13:52 IST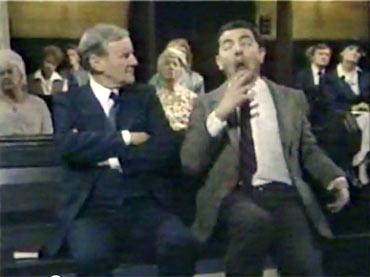 Mr Bean is not a religious man by any stretch of imagination. When he goes for mass at the church, he finds himself unable to sing the hymns.
He's afraid the man next to him might admonish him for popping a mint to fight off drowsiness. Mr Bean is afraid of many things -- of altitude and water, both (he refuses to jump into the pool), of looking less spiffy than usual (he clicks a photograph of the back of his head to check if the hair is in place), of hurting his Teddy (he paints with it and gifts him new pair of eyes on Christmas).
Film: Bean The Ultimate Disaster Movie
Last updated on: September 9, 2011 13:52 IST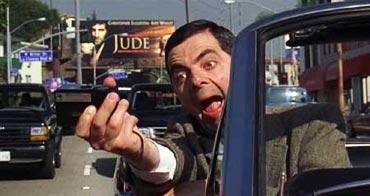 This film might have amused James McNeill Whistler whose masterpiece Mr Bean destroys and is unable to restore after much effort.
The original hangs at his apartment, utterly reworked and looks every bit a Mr Bean creation. The only prior painting experience Mr Bean has is, of course, of drawing a banana and two circles representing breast at an art class.
From Mr Bean to an artist and from an artist, he becomes the scholarly Dr Bean. Never known to speak unless absolutely required, Mr Bean's speech, rather an analysis of Whistler's Mother is the highlight of his largely silent career.