Remembering Elizabeth Taylor
Last updated on: March 23, 2011 21:48 IST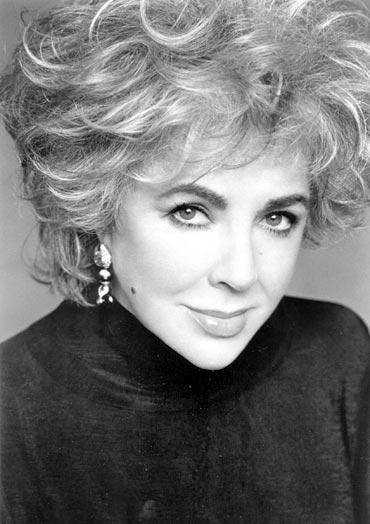 Elizabeth Taylor,  who became a legend with her heady mix of beauty, a jet-set lifestyle and outspoken activism, died aged 79 on Wednesday at the Cedars-Sinai Hospital in Los Angeles following heart failure.

She was surrounded by her children- Michael Wilding, Christopher Wilding, Liza Todd, and Maria Burton. She also is survived by 10 grandchildren and four great-grandchildren.

A look at the life and times of the great actress:
Early life
Born in Hampstead, London, Elizabeth Taylor was the second child of Francis Lenn Taylor and Sara Viola Warmbrodt. Her father was an art dealer and her mother a former actress whose stage name was Sara Sothern. At the age of three, Taylor began taking ballet lessons. After World War II broke out, her parents decided moved to the United States.
Metro-Goldwyn-Mayer took interest in her but she failed to get the contract with them after an informal audition with producer John Considine since she couldn't sing. However, on September 18, 1941, Universal Pictures signed Elizabeth to a six-month renewable contract at $100 a week.
Elizabeth Taylor, the child artist
Last updated on: March 23, 2011 21:48 IST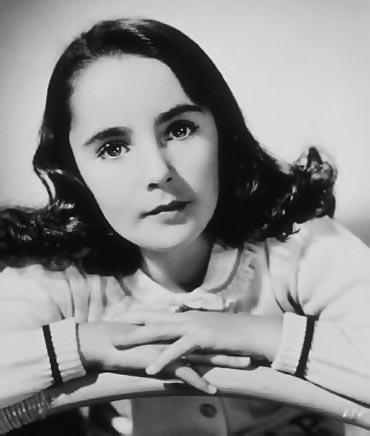 Taylor appeared in her first motion picture at the age of nine in There's One Born Every Minute which was her only film for Universal Pictures. Less than six months after she signed with Universal, her contract was reviewed by Edward Muhl, who felt "She can't sing, she can't dance, she can't perform. What's more, her mother has to be one of the most unbearable women it has been my displeasure to meet." Universal cancelled Taylor's contract just short of her tenth birthday in February 1942.
On October 15, 1942, Metro-Goldwyn-Mayer signed Taylor to $100 a week for up to three months to appear in the film Lassie Come Home. He co-star was Roddy McDowall, with whom Taylor would share a lifelong friendship.
On the basis for her performance in Lassie Come Home MGM signed Taylor to a conventional seven-year contract at $100 a week, increasing at regular intervals until it reached a hefty $750 during the seventh year.
Her first assignment under her new contract at MGM was a loan-out to 20th Century Fox for the film version of the Charlotte Bronte novel Jane Eyre (1944). During this period she also returned to England to appear in another Roddy McDowall picture for MGM, The White Cliffs of Dover (1944). But it was Taylor's persistence in campaigning for the role of Velvet Brown in MGM's National Velvet that sky rocketed Taylor to stardom at the tender age of 12.
She also proved successful in Warner Brothers' Life With Father (1947), Cynthia (1947), A Date with Judy (1948) and Julia Misbehaves (1948). Her reputation as a bankable adolescent star and nickname of One-Shot Liz referring to her ability to shoot a scene in one take promised her a full and bright career with Metro-Goldwyn-Mayer. Her last role as a child artist was Little Women (1949).
Her first role as an adult
Last updated on: March 23, 2011 21:48 IST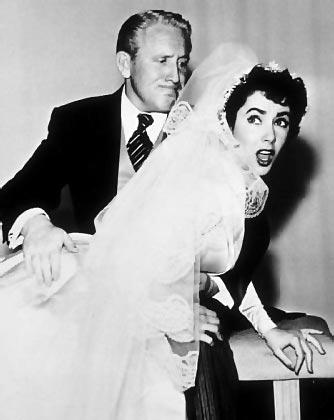 At the age of 16 Taylor played a 21-year-old in the film Conspirator (1949), but the film bombed at the box office, though Taylor's performance was praised by critics as her first adult lead in a film, though the public didn't seem ready to accept her in adult roles. Her second film The Big Hangover (1950) was a critical as well as box office failure.
Her first box office success in an adult role came in Father of the Bride (1950), and soon they made sequel, Father's Little Dividend (1951), In late 1949, Taylor had begun filming George Steven's A Place In The Sun. The film became the pivotal performance of Taylor's career as critics acclaimed it as a classic, a reputation it sustained throughout the next 50 years of cinema history.
Taylor became increasingly unsatisfied with the roles being offered to her at that time by MGM. While she wanted to play the lead roles in The Barefoot Contessa and I'll Cry Tomorrow, MGM continued to restrict her to mindless and somewhat forgettable films such as: a cameo as herself in Callaway Went Thataway (1951), Love Is Better Than Ever (1952), Ivanhoe (1952), The Girl Who Had Everything (1953) and Beau Brummel (1954). She had wanted to play the role of Lady Rowena in Ivanhoe, but the part was given to Joan Fontaine. Taylor was given the role of Rebecca.
When Taylor became pregnant with her first child, MGM forced her through The Girl Who Had Everything even adding two hours to her daily work schedule so as to get one more film out of her before she became too heavily pregnant. Taylor needed the money, as she had just bought a new house with second husband Michael Wilding and with a child on the way things would be pretty tight.
Taylor had been forced by her pregnancy to turn down Elephant Walk (1954), though the role was written for her. Vivien Leigh, Taylor's senior, but to whom Taylor bore a striking resemblance, got the part and went to Ceylon to shoot on location. Leigh suffered a nervous breakdown during filming, and Taylor reclaimed the role after the birth of her child Michael Wilding, Jr. in January 1953.
Rhapsody (1954), another tedious romantic drama, proved equally frustrating. A film critic for the New York Herald Tribune wrote: "There is beauty in the picture all right, with Miss Taylor glowing into the camera from every angle...but the dramatic pretenses are weak, despite the lofty sentences and handsome manikin poses."
Elizabeth's Oscar roles
Last updated on: March 23, 2011 21:48 IST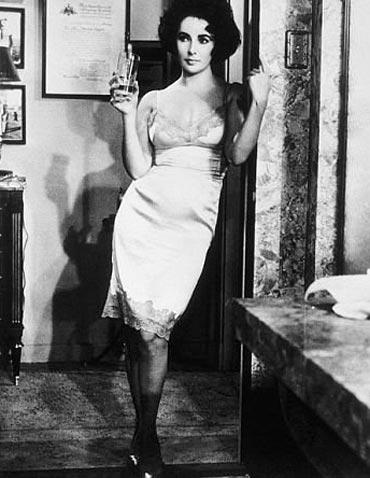 Taylor was nominated for an Academy Award for Best Actress for the following films: Raintree County (1957) and Cat on a Hot Tin Roof (1958) and Suddenly, Last Summer (1959)
In 1960, Taylor became the highest paid actress when she signed a one million dollar contract to play the title role in 20th Century Fox's lavish production of Cleopatra which would eventually be released in 1963.

During the filming, she began a romance with her future husband Richard Burton, who played Mark Antony in the film. The romance received much attention from the tabloid press, as both were married to other spouses at that time.
Taylor won her first Academy Award, for best actress in a leading role, for her performance in Butterfield 8 (1960), which co-starred then husband Eddie Fisher.
Her second Academy Award, also for best actress in a leading role, was for her performance in Who's Afraid of Virginia Woolf? playing opposite then husband Richard Burton.
Taylor and Burton would appear together in six other films during the decade The V.I.P.s (1963), The Sandpiper (1965), The Taming of the Shrew (1967), Doctor Faustus (1967), The Comedians 1967 and Boom! (1968).
Taylor appeared in Reflections in a Golden Eye (1967) and Secret Ceremony (1968). However, by the end of the decade her box-office drawing power had considerably diminished, as evidenced by the failure of The Only Game in Town (1970).
Taylor continued to star in numerous theatrical films throughout the 1970s, such as Zee and Co. (1972) Ash Wednesday (1973), The Blue Bird (1976) and A Little Night Music (1977).
With then-husband Burton, she co-starred in the 1972 films Under Milk Wood and Hammersmith Is Out, and in1973 Divorce His, Divorce Hers made for television.
Diminishing career
Last updated on: March 23, 2011 21:48 IST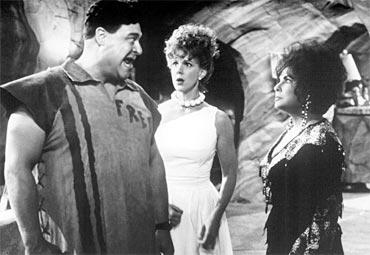 Taylor starred in the 1980 mystery film The Mirror Crack'd, based on an Agatha Christie novel. In 1985, she appeared in a film Malice in Wonderland. Taylor appeared in the miniseries North and South. Her last theatrical film to date was 1994's The Flintstones.
In 2001, she appeared in television film These Old Broads. She appeared on a number of television series, including the soap operas General Hospital and All My Children, as well as the animated series The Simpsons.
Taylor made her Broadway and West End debuts in 1982 with the Lillian Hellman's The Little Foxes. She also appeard in the film Private Lives (1983), in which she starred with her former husband, Richard Burton.
Taylor fell sick retires from movies
Last updated on: March 23, 2011 21:48 IST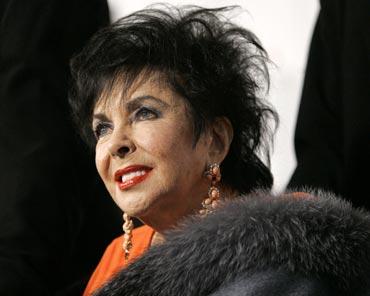 In November 2004, Taylor announced that she had been diagnosed with congestive heart failure, a progressive condition in which the heart is too weak to pump sufficient blood throughout the body, particularly to the lower extremities: the ankles and feet.
She broke her back five times, had both her hips replaced, survived a benign brain tumour operation and skin cancer, and faced life-threatening bouts with pneumonia twice.
Towards the end of her life she was reclusive and sometimes failed to make scheduled appearances due to illness or other personal reasons. She used a wheelchair and when asked about it stated that she had osteoporosis and was born with scoliosis.
On 1 December 2007, Taylor acted on-stage again, appearing opposite James Earl Jones in a benefit performance of the AR Gurney play Love Letters. The event's goal was to raise $1 million for Taylor's AIDS foundation. Tickets for the show were priced at $2,500, and more than 500 people attended.
When Taylor was not working
Last updated on: March 23, 2011 21:48 IST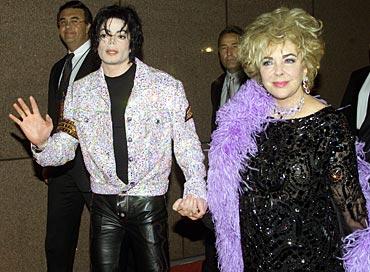 Taylor had a passion for jewellery, over the years she owned a number of well-known pieces, two of the most talked-about being the 33.19-carat Krupp Diamond and the 69.42-carat pear-shaped Taylor-Burton Diamond, which were among many gifts from husband Richard Burton. Taylor also owned the 50-carat La Peregrina Pearl, purchased by Burton as a Valentine's Day present in 1969.
Taylor started designing jewels for The Elizabeth Collection, creating fine jewellery with elegance and flair. She also launched three perfumes, Passion, White Diamonds, and Black Pearls, which, together, earn an estimated $200 million in annual sales
Taylor devoted much time and energy to AIDS-related charities and fundraising. She helped start the American Foundation for AIDS Research after the death of her former co-star and friend, Rock Hudson. She also created her own AIDS foundation, the Elizabeth Taylor Aids Foundation.
In the early 1980s, Taylor moved to Bel Air, Los Angeles, California, which was her residence until her death. She also owned homes in Palm Springs, London and Hawaii.
Taylor was a supporter of Kabbalah and member of the Kabbalah Centre. She encouraged long-time friend Michael Jackson to wear a red string as protection from the evil-eye during his 2005 trial for molestation, where he was eventually cleared of all charges. In 1997, Jackson presented Taylor with the exclusively written-for-her epic song Elizabeth, I Love You, performed on the day of her 65th birthday celebration. Taylor attended Michael Jackson's private funeral on September 3, 2009
On October 6, 1991, Taylor had married construction worker Larry Fortensky at Jackson's Neverland Ranch.
Elizabeth Taylor is no more may her soul rest in peace.

Information sourced from Wikipedia