Reese Witherspoon weds beau Jim Toth
Last updated on: March 28, 2011 16:18 IST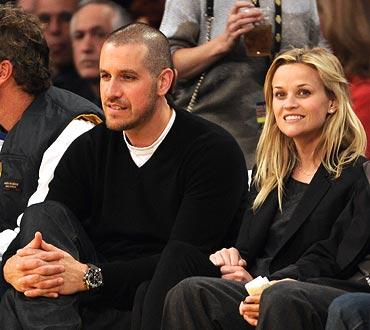 Get your lowdown on what's happening in the world of Hollywood, right here!
Actress Reese Witherspoon tied the knot with beau Jim Toth on March 26.
The couple exchanged wedding vows at the actress' seven-million-dollar estate in scenic Ojai, CA, reports Radar Online.
Lights twinkled in the trees and candles seemed to be everywhere, even bordering the gate and driveway to her home.
Witherspoon, 35, made a magnificent bride in her custom-designed gown by Monique Lhuillier. Toth showed off his tall and muscular physique in a fitted suit.
The bride's children from her marriage to Ryan Phillippe, Ava, 11, and Deacon, seven, were present at the ceremony.
According to Us magazine, Witherspoon walked down the aisle to the traditional strains of Here Comes the Bride, and the couple then exchanged rings designed by jeweler William Goldberg.
A handful of A-list actors made the exclusive invite list.
Judi Dench lets slip date of next 007 film
Last updated on: March 28, 2011 16:18 IST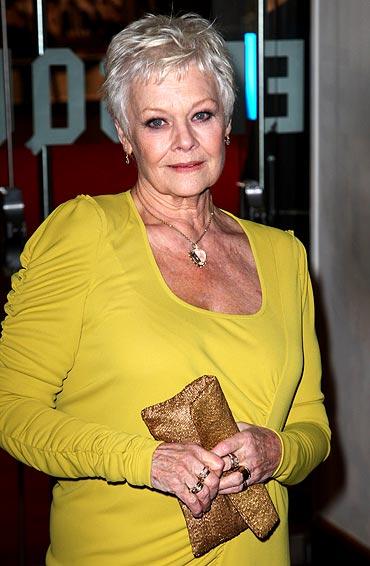 Dame Judi Dench has accidentally revealed that the filming for the next James Bond blockbuster will begin in November.
The date had been kept top secret until the Oscar winning actress, who will reprise the role of spymaster 'M' for the seventh time, let it slip.
The future of the Bond franchise, which was revamped with the casting of Craig as Bond in Casino Royale and Quantum of Solace, was in doubt last year when MGM Studios filed for bankruptcy protection.
'I am going to do the next Bond in November. I don't know the location yet but hopefully it will be somewhere nice. I can't tell you much more but I do enjoy playing 'M' as she is such a strong character. I like being bossy and my grandson thinks its cool that I'm in Bond,' the Daily Express quoted the 76-year-old actress, as saying.
'Portman did only 5 percent of dancing in Black Swan'
Last updated on: March 28, 2011 16:18 IST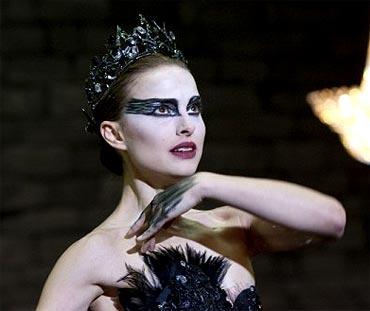 Oscar-winning actress Natalie Portman's body double Sarah Lane has claimed that the actress only did five percent of the full-body shots in Black Swan.
Lane, 27, has claimed she is the victim of a 'cover-up' and movie-goers have been misled as to how much of the dancing Portman actually performed in the film.
'Of the full body shots, I would say five percent are Natalie,' the Daily Mail quoted the American Ballet Theatre soloist as saying.
'All the other shots are me,' she said.
Lane has said that she performed many of the incredible dance sequences and Portman's face was then digitally placed onto the professional dancer's body.
Portman received the Best Actress Oscar for her role in Black Swan at this year's Academy Awards.
'I forgave Liz Taylor for stealing hubby years ago'
Last updated on: March 28, 2011 16:18 IST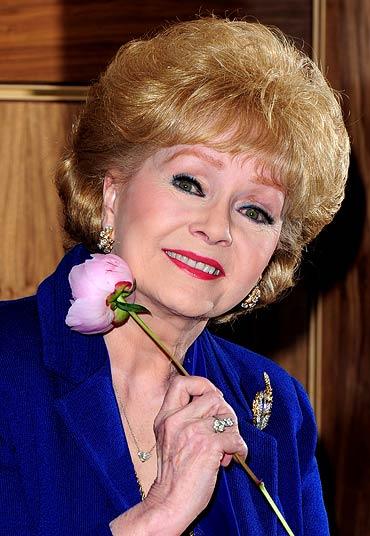 Actress Debbie Reynolds has revealed that she forgave Dame Elizabeth Taylor for stealing hubby Eddie Fisher long ago.
Reynolds has also revealed how the two beauties buried the hatchet and became friends.
'I was going to London on the Queen Elizabeth ship, and I looked up and saw tons of luggage going by me and birdcages and dog cages and nurses, and I realised Elizabeth was on the same ship as me," the New York Post quoted Reynolds as saying.
'I'd remarried, and she'd remarried. I almost changed my mind about going, but my husband said, 'Don't be silly. We won't be on the same floor. [But] of course, we were,' Reynolds told PopEater.com.
'So I sent a note to her room, and she sent a note back to mine, saying we should have dinner and get this over with and have a good time.'
'We had a wonderful evening with a lot of laughs,' Reynolds said.