Rate your best Ajay Devgn performance!
Last updated on: April 1, 2011 18:31 IST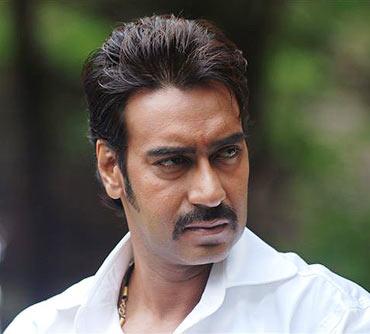 Starting off as an action hero, Ajay Devgn has established his reputation as an intense actor over the years.
More recently, he made a switch to comedy, rather successfully.
As the actor enjoys possibly the best years of his career, we look at some of his best performances on the eve of his 42nd birthday on April 2.
Click through the slide show, and tell us which Ajay Devgn film is your favourite!
Once Upon A Time in Mumbaai, 2010
If Amitabh Bachchan set a benchmark with the performance-of-a-lifetime in Deewar (1975), Ajay took it a step further in this Milan Luthria film. Both played characters inspired by real-life don, Haji Mastan.
Appealing as much to the front-benchers as the high-brow critics, Ajay wowed all with his quiet intensity and gold-hearted munificence. As he forsakes the world of crime to enter politics and serve people, he proves that he's more a messiah than a dreaded don.
Performance Rating: 8/10
All The Best, 2009
Last updated on: April 1, 2011 18:31 IST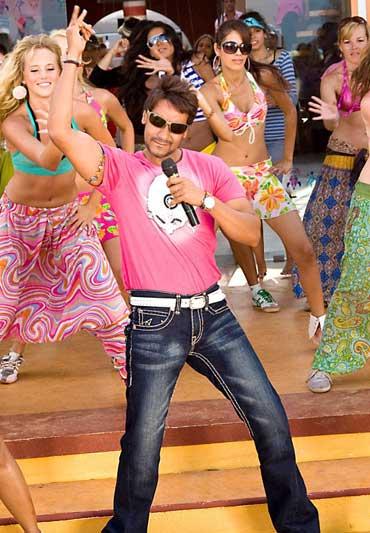 His coming-of-age as far as comedy is concerned; although he did show flashes of slapstick humour in previous films like the Golmaal movies, Raju Chacha, Hum Kisi Se Kum Nahin and Ishq.
He plays a car expert who slips into messy situations every now and then, thanks to the misdoings of his best friend.
The fact that Ajay and not Sanjay Dutt, who on a good day can produce ROFL-laughter, walked away with all the chuckles only confirms his uncommon comic talent.  
Performance Rating: 7/10
Halla Bol, 2008
Last updated on: April 1, 2011 18:31 IST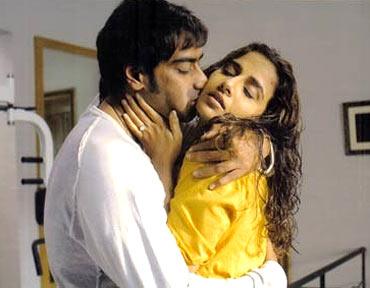 It may appear rather easy for an actor to play an actor in a film. But the fine line does blur at times, making the reel and real merge to create its own unique magic.
Halla Bol bunches several headline-hitting social issues together and sets it against the struggles of a reel-life hero to emulate his screen image in real life. Ajay rises to the occasion and in the safe hands of director Rajkumar Santoshi, matches up to his formidable on-screen guru, Pankaj Kapur.
Performance Rating: 7/10
Omkara, 2006
Last updated on: April 1, 2011 18:31 IST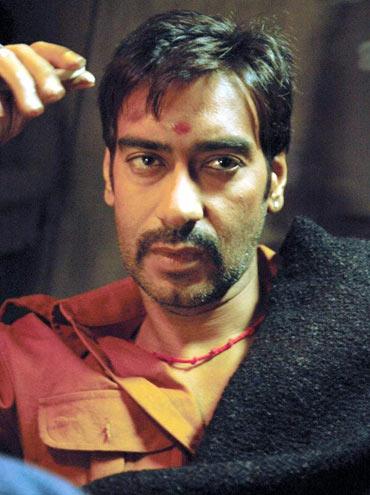 Agreed, Saif Ali Khan garnered the most effusive praise for his Landga Tyagi but isn't that obvious given that his was a more colourful role? Omkara wouldn't have been possible without Omi, the title character, who gives an interesting twist to the Shakespearean Othello. 
What's more, the female fans found the bare-chested (for a change) Ajay hotter than Saif, who too drops his shirt but never quite charms the way he usually does. This is Ajay's game, all the way!
Performance Rating: 8/10
Main Aisa Hi Hoon, 2005
Last updated on: April 1, 2011 18:31 IST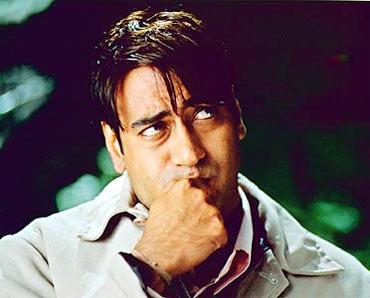 This emotional statement on single parenthood and mental illness is to Ajay's career what Mera Naam Joker was to Raj Kapoor. Both are akin to a parent's handicapped son given special attention and all that you could and be proud of it no matter how the son grows up to be.
Like Mera Naam Joker, Main Aisa Hi Hoon was a box office disaster but Ajay has often considered it to be one of his best performances. We only have this to add: it's an honest attempt.
Performance Rating: 7/10
Raincoat, 2004
Last updated on: April 1, 2011 18:31 IST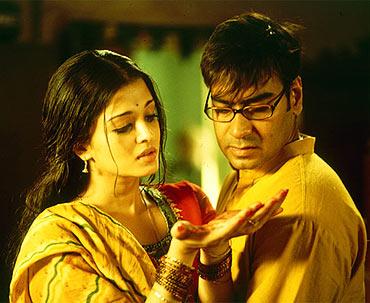 This was a role custom-written for Ajay a doomed lover arrives at the doors of his ex-lover in a state of poverty and their romance is rekindled. The actor brings in the device of reticence and uses it as a contrast to Aishwarya Rai's aristocratic, happy-sounding housewife.
The fact that he was working with Rituparno Ghosh for the first time gives his acting a different direction handled maturely by the Bengali filmmaker.
Performance Rating: 7/10
Gangaajal, 2003
Last updated on: April 1, 2011 18:31 IST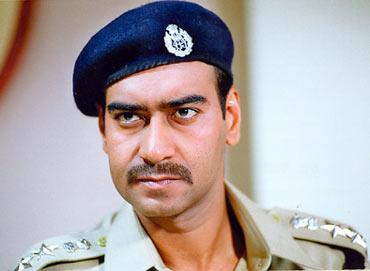 Ajay works best with Prakash Jha and nowhere is this more apparent than in Gangaajal. Set as usual in Bihar, it features Ajay as the newly transferred top-cop who gets a taste of crime, corruption and police brutality in his district.
Unlike today's Chulbul Pandey, he's not a fancy-looking cop and never resorts to gimmicky, all the while looking at ways to free the land of its troubles. 
Performance Rating: 8/10
The Legend of Bhagat Singh, 2002
Last updated on: April 1, 2011 18:31 IST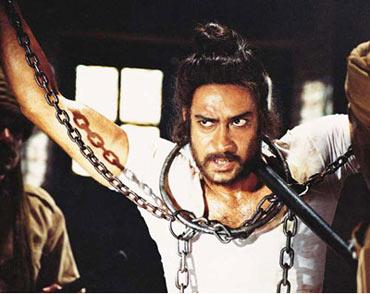 Clearly amongst his top acts, Santoshi directs Ajay in a National Award-winning role that he makes it his own. As the martyr Bhagat Singh, Ajay makes the revolutionary come alive on screen.
Watch out for the court scenes, the campus ones and especially the one in which Bhagat reveals his revolutionary ideas for his country. Let it be said that no other actor would have done a better job.
Performance Rating: 9/10
Hum Dil De Chuke Sanam, 1999
Last updated on: April 1, 2011 18:31 IST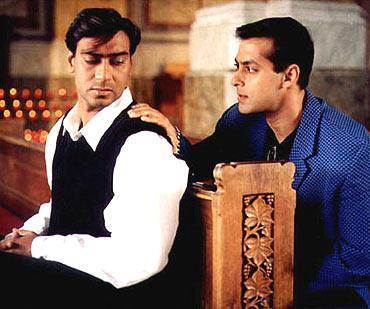 The real love story that was playing out between Salman Khan and Aishwarya Rai and the publicity it drew eclipsed Ajay's gentle performance.
He's a lawyer, madly in love with his wife and yet understands that if she's unhappy with him, it would make him equally unhappy. He commits to an act of ultimate sacrifice. Reminds one of Naseeruddin Shah in Woh 7 Din?
Performance Rating: 8/10
Zakhm, 1998
Last updated on: April 1, 2011 18:31 IST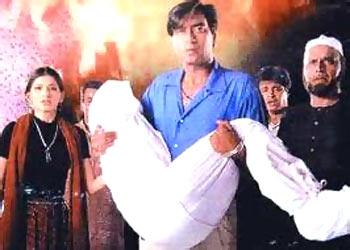 Alright, let's make it much simpler: if there's any film that would define Ajay Devgn, the actor, at the end of his career, it would be Zakhm.
Mahesh Bhatt's intensely autobiographical story set against the 1992 riots, it represents the hardships a mother undergoes to bring up her kid and a son's dilemmas and delights. Every scene is a gem and Ajay stands like a rock in all. No wonder, it won him a National Award.
Performance Rating: 9/10
Phool Aur Kaante, 1991
Last updated on: April 1, 2011 18:31 IST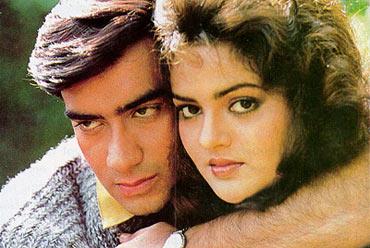 A very raw performance by a lean actor who many thought doesn't fit the standards of a Bollywood hero, Ajay surprised his detractors by being the most bankable star that he has become today.
The film was a runaway success, its songs a fixture on the radio and Ajay was a new star. We still remember, warmly, the scene with which Ajay made an entry into hearts perched atop two bikes and he has managed to stay there.
Performance Rating: 7/10
Which film do you think is Ajay Devgn's best so far? Write in!