'After Ranbir-Deepika, people will want to see Ranbir-Katrina'
Last updated on: May 9, 2013 17:45 IST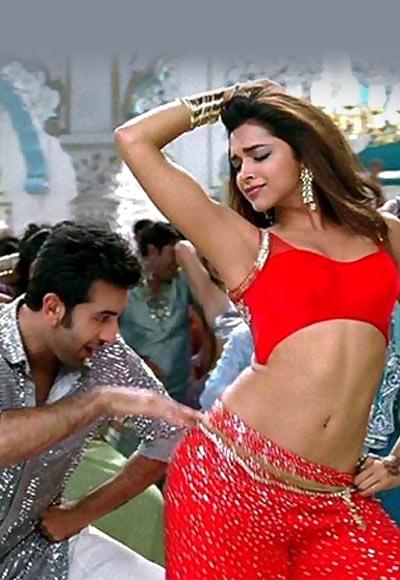 He was assistant director to Ashutosh Gowariker in Swades and Karan Johar in Kabhi Alvida Na Khena. Then Ayan Mukherjee made his debut as director with Wake Up Sid, a coming of age film with Ranbir Kapoor.
For his next film, Yeh Jawani Hai Deewani (YJHD), he has paired ex-flames Ranbir Kapoor and Deepika Padukone.
The first look of the film caused quite a stir with Deepika Padukone telling her co-star Ranbir Kapoor, "Agar main tumahare saath do minute bhi aur rahi toh mujhe tumse pyaar ho jayega... phir se." (If I stayed with you for another two minutes, I would fall in love with you -- again)
But Ayan Mukherjee isn't complaining about it; he feels it has helped the film.
In this interview with Sonil Dedhia, Ayan justifies why it took him four years to make his second film, the pairing of Ranbir and Deepika, his friendship with Ranbir and continuing the legacy of the Mukherjee family.
Your first film Wake Up Sid was in 2009. Why did it take four years for your second?
I needed time to make this film correctly. At many levels I think understanding what I wanted to make was very important.
I had to write it correctly and then shoot it in a particular way. 
I don't want to be arrogant, but I really believe that creativity does not cater to timelines. This film required time. Also I don't have a mindset where I think I have to make one film a year. Who knows, my next film will come after five years.
'I don't want to stagnate so early in my career'
Last updated on: May 9, 2013 17:45 IST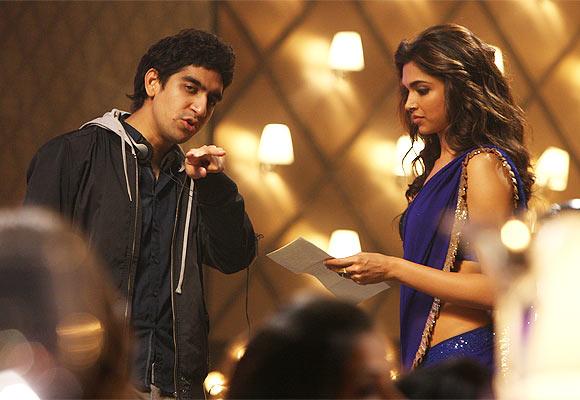 I read somewhere that just after Wake Up Sid released, you took off for Argentina to do an international film study.
I went to Argentina for a holiday for one month and all of these things became part of my second film. 
Working in the Hindi film industry is an amazing place. But at the same time, the more you work in the industry the more you realise that you just hang out with a small group of friends.
I want to keep tapping into the world outside Hindi films. In that way I don't stagnate as a filmmaker early in my career.
Wake Up Sid drew much from your personal experiences. How much of your personal experience is evident in YJHD?
My first two films are about characters close to my age. I think the personal touch should be there. Most good filmmakers take a piece of work and find a personal connect with the film.  
In both my films, I have written about characters of about my age. Tomorrow if I had to make an action film I am sure there would be some personal elements of my life in it.
'I am interested to know which star is having an affair with whom'
Last updated on: May 9, 2013 17:45 IST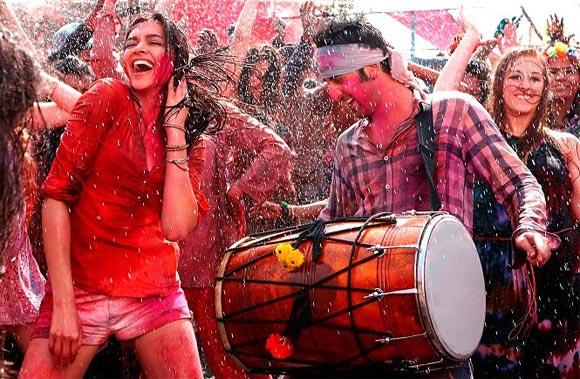 A lot has been written about Ranbir and Deepika coming together for a film. Did you think about them as ex-flames when casting them for your film?
I admit that I did think about them being an ex-couple but none of that was on our mind during the casting process. I cast them because they were right for the film.
With Ranbir, something special is happening with my career so far. We have developed a deep friendship. Sub-consciously, I am writing specifically keeping him in mind.
I am grateful that he has agreed to be part of my films. He is the best actor. Deepika was a part of my thought process when I first wrote the world of the film.
I took my time as I wanted to be 100 per cent sure that Deepika was it. But as the writing progressed, I felt she was the right person.
Did it bother you that the chemistry between Ranbir and Deepika would become bigger than your film?
No. I think people want to hear about what's happening in a celebrity's life. People like to read gossip like which stars are dating each other or anything that is related to their personal lives. 
The truth is that I am working in this industry and I am also interested to know which star is having an affair with whom. A star's life provides us with certain degree of entertainment.
It is fun, it is what we talk about, it is entertainment. As long as it does not get vulgar, or cross a certain line and invade their lives, I think it is fine. If it adds to the film and generates a certain level of curiosity it is great. Tomorrow, if Ranbir and Deepika do a film again, people won't find it a talking point. The audience would be more excited to see Ranbir and Katrina in a film.
'Ranbir and Deepika didn't come with the baggage of their relationship'
Last updated on: May 9, 2013 17:45 IST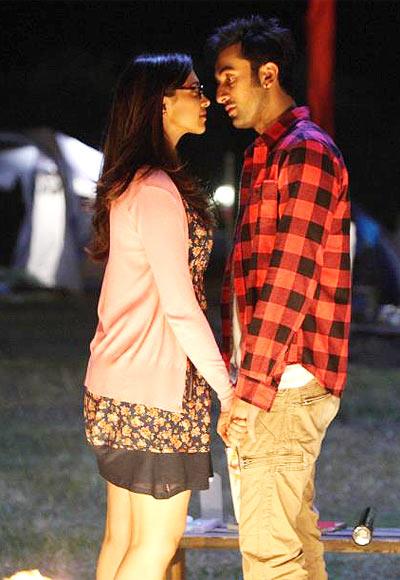 Your masterstroke was the last dialogue in the promo where Deepika tells Ranbir, "Agar main tumahare saath do minute bhi aur rahi toh mujhe tumse pyaar ho jayega... phir se." It really took everyone by surprise.
(Laughs) It was not my idea. A lot has been said and written about Deepika's dialogue.
Frankly speaking, I am happy that it has created a lot of excitement and hope people will come and watch it.
What I love about Ranbir and Deepika is that they didn't come with the baggage of their relationship. They were in a relationship and that did not work out. There was a lot of controversy (referring to the Koffee with Karan episode, where Deepika and Sonam Kapoor discussed Ranbir).
Today, they are two people who are good friends and better co-stars. On the sets we would joke about their relationship. They were very comfortable with each other. It makes me feel good, their attitude towards work. It's good to see that they can be friends and can work together.
Would you agree that they are the hottest couple in B-town?
After doing this film, I can proudly say they are the most exciting young couple.
They are both in an amazing space and they are both at the peak of their careers. They keep up with each other so well.
A lot has been said about Ranbir's acting and the girls that have worked with him, but they don't really match his talent as an actor.
I don't think you will feel that when you watch Ranbir and Deepika. They are in a great zone as actors. They look good together on screen. They make a great couple. I hope they do lot of films together.
'I get great pleasure in torturing Ranbir'
Last updated on: May 9, 2013 17:45 IST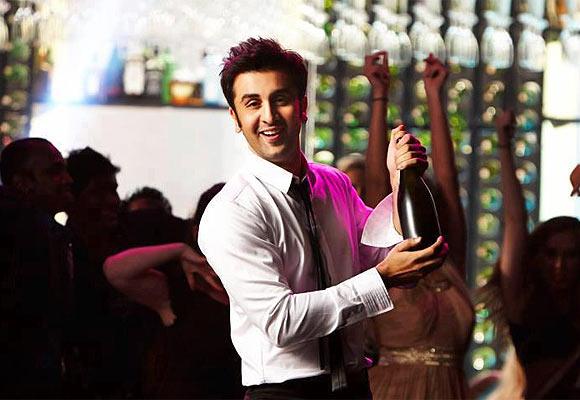 Ranbir and you are very good friends. Is it difficult to work with friends?
It is a privilege to work with him. When we were doing our first film, we had a lot more fun and camaraderie.
We got to know each other so well during this film that we got into our respective roles correctly. Our friendship and having a similar mindset and belonging to the same age group make it easy for us to understand each other.
Even before writing my third film I am so excited and inspired by Ranbir. The thought of working with him again and again does not make me feel uncomfortable.
Ranbir was really annoyed with you when you left him in the middle of the ocean while shooting a sequence...
I get great pleasure in torturing Ranbir and he knows it. We mutually like to torture each other (laughs).
When we were shooting a song sequence in France, Ranbir had to be in the middle of the ocean. He does not like to be in water. I am fond of swimming and don't get scared.
In that scene, Ranbir jumps into the ocean and the boat where we have our cameras goes a bit far away. I thought it was a normal shot. But we did not have safety jackets or guards. During the shooting, we left him in the middle of the ocean and I know that he was completely annoyed with me.
'Ranbir was very childish during Wake Up Sid'
Last updated on: May 9, 2013 17:45 IST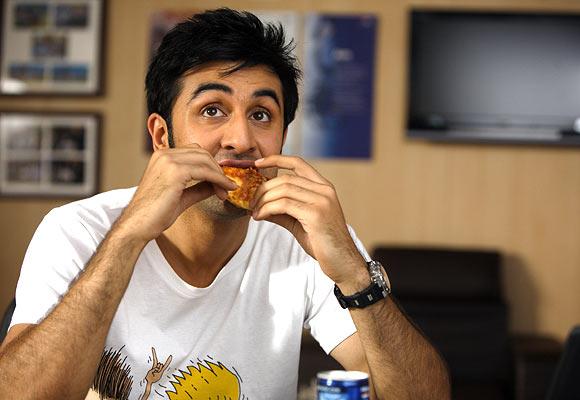 How do you think Ranbir has grown as an actor?
More than an actor he has grown as a person. In the last four-five years, the manner in which he is taking his personal life, the way he is planning his career and his value systems, they are all really mature decisions.
He is 30 and so he is more comfortable than he was when shooting for Wake Up Sid four years ago. The level of maturity and confidence that he has gained as a human being has really helped him as an actor.
Ranbir's understanding of human emotions has become deeper. That can be seen in the characters he played in Rockstar and Barfi!.
I remember Ranbir was very childish during Wake Up Sid. Today, he has sobered down in a nice way.
Both films are coming-of-age films. Ranbir's character in YJHD looks like a continuation of Wake Up Sid. Is that intentional?
No. I rid myself of any thoughts of what was coming out of Wake Up Sid. I just rid myself of that film.
The two films are different. Ranbir's character in both films starts off at the same age, but YJHD will show a longer life span.  
They are different kinds of youngsters. In my first film, Ranbir played someone who was trapped in his adolescence, unwilling to take on life as an adult. He wanted to be trapped in his teenage, college days, never thought about life outside that.
In this film, he plays a boy who can't wait to embark on his adult journey. He has a vision about his life and can't wait to fly out. 
'I would like to remake Love in Simla'
Last updated on: May 9, 2013 17:45 IST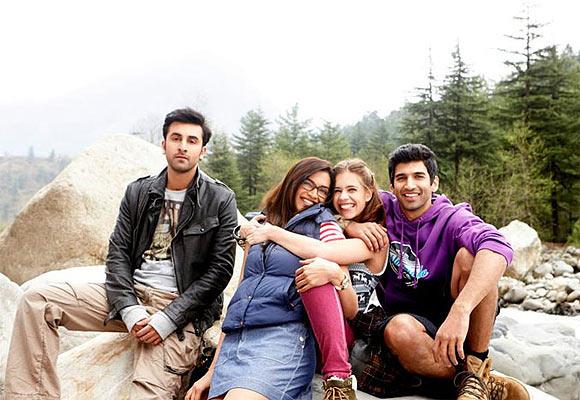 Have you decided on the next subject for a film? Is there anything already in your mind, like re-making an old film of your uncle, Joy Mukherjee (Ayan is the son of actor Deb Mukherjee)?
I am supportive of re-makes. There are five basic story lines and then directors and scriptwriters give their own interpretation to it. So many Hollywood films are being re-made. Look at Batman or Superman. Every time they have been shot differently, made more contemporary to suit the current generation.
If I had to re-make a film of my uncle's it would be Love in Simla. I think the film is relevant even today. Somewhere I think my film YJHD is similar to it.
You belong to a film family. What are your early memories of films?
My memories of being a film industry child were a longing to actually be a part of the industry.
Filmmaking was a natural but complex progression. I never saw my grandfather's success, as I was not born at that time.
Growing up there was a heavy influence of films. I grew up hearing words like screenplay and editing and names like Satyajit Ray and Bimal Roy
While I come from a family deeply rooted in the film industry, and my grandfather was a very big figure, in my father's generation, with the exception of my uncle Joy Mukherjee, they were not that successful.
It wasn't like I was Rishi Kapoor's son that I could approach anyone easily.
How did your father help your career?
My father was a very big influence in my life. My relationship with my father has been instrumental in my becoming who I am today.
I was the centre of his universe. Making me excel was his priority over everything. It is very central to the confidence that I have today. There was a strong supporting track of father and son in my first film, Wake Up Sid.