Why Lata Mangeshkar cancelled song recordings
Last updated on: December 7, 2010 14:56 IST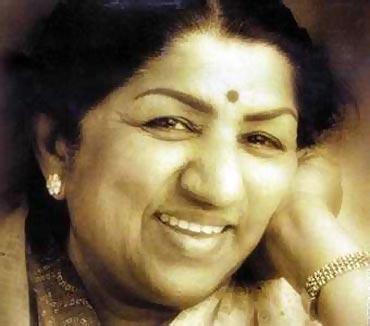 Bollywood's music industry has a truckload of interesting stories yet to be told.
Raju Bharatan, an assistant editor at The Illustrated Weekly of India, Asia's oldest English magazine till it shut down in 1991, and author of Lata Mangeshkar: A Biography and the recent best-seller A Journey Down Melody Lane, shared some great snippets in the first two segments of this series.
In this concluding part of his interview with Patcy N, Mr Bharatan reveals why Lata Mangeshkar cancelled song recordings, and much more.
Lata would often cancel recordings on the morning that a song was to be recorded.
She was a singer who wanted to give her best whenever she sang.
Only when she woke up in the morning would she know how bad her sinus problem was.
If it was bad, she would cancel the recording for that day, as she wouldn't be able to give her best.
Lata and Raj
Last updated on: December 7, 2010 14:56 IST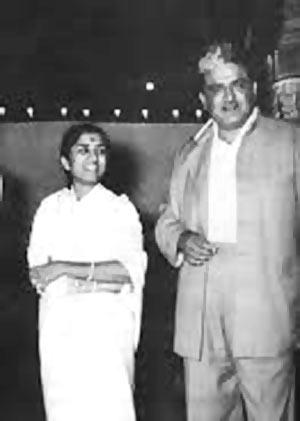 The day Lata received the Bharat Ratna -- India's highest civilian honour -- in 2001, she was with
Raj Singh Dungarpur
(
the doyen of Indian cricket management and former president of the Board of Control for Cricket in India
).
I knew about their relationship, but in my book, I quoted (journalist) Shradha Sukumaran to confirm it.
Lata took good care of Raj Singhji in the hospital for nearly a year. After that, he was brought to Mumbai, but his health became worse (Dungarpur passed away last September at the age of 73).
How Naushad raised Rafi's morale
Last updated on: December 7, 2010 14:56 IST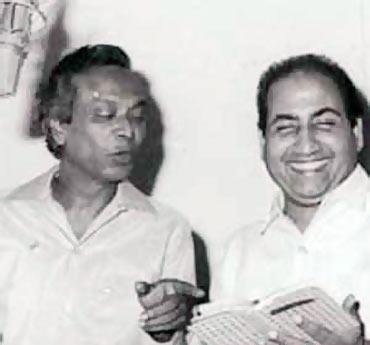 People would ask Mohammad Rafi to sing like Kishore Kumar. That would upset him.
Kishore was doing well, Rafi was not getting too many songs. (This was in the 1970s.) He was getting less money for his work too.
(The legendary composer and Rafi's mentor) Naushad once called him up, and gave him a pep talk.
He also paid Rafi his old rate -- which was Rs 15,000 -- for singing Naiyya Meri Chalti Jaye (in the film My Friend).
Naushad believed in Rafi. He helped Rafi get back his confidence.
Tune first? Or lyrics first?
Last updated on: December 7, 2010 14:56 IST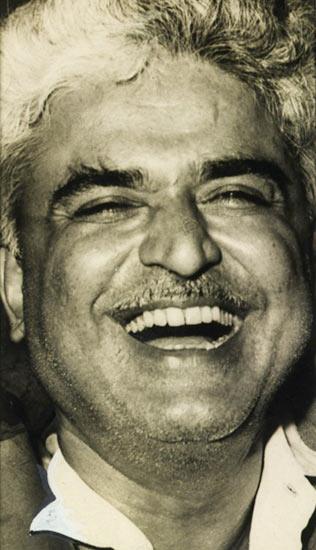 C Ramchandra was a spontaneous composer. But unless the lyrics were written, he would not compose the tune.
He once told me, "Ask Yusuf (actor Dilip Kumar) to go through his emotions first and then we give him his dialogues. Will he agree to do that?"
"Every song has an emotion and weight. If I don't know the weight, how will I make the tune?" he explained.
Shankar of the Shankar-Jaikshan duo was just the opposite. I once met him at his home. He was sitting at the piano and playing Dost Dost Na Raha from Sangam. It was the best Bhairavi ever composed. I asked if he wanted the lyrics first or would he compose the tune first.
He told me that he would never allow a songwriter to write the lyrics first, not even the brilliant Shailendra. If the songwriter wrote the song in a certain way, Shankar felt his music would become limited.
Songs like Sajan Re Jhoot Mat Bolo (Teesri Kasam), Hum Toh Jaate Apne Gaon (Diwana) and Dost Dost Na Raha (Sangam) were written by Shailendra after Shankar composed the tunes.
Every composer has a different style of working.
What Naushad would reject, C Ramchandra would take
Last updated on: December 7, 2010 14:56 IST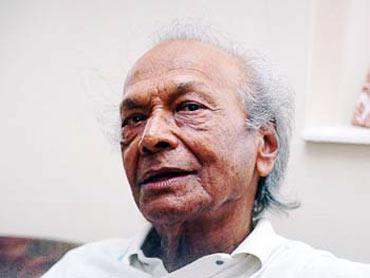 Naushad would charge Rs 1 lakh (Rs 100,000) for composing songs for a film, and Rs 10,000 for the orchestration.
Director S M Sreeramula Naidu's Malaikkallan, starring (Tamil movie superstar) M G Ramachandran, was a big hit.
He now wanted to remake the film in Hindi, as the sets were ready. He signed on Dilip Kumar and Meena Kumari, and came to Mumbai to sign on the top composer, Naushad Ali.
He asked Naushad for 10 tunes in 30 days. In return, the composer would get his due payment.
But Naushad refused. He said, 'Naidusaab, yeh koi baniye ki dukaan samjha aapne? Ek gaana nahi milega aapko tees din main. (Naidusaab, do you think this is a baniya store? You will not get even one song in 30 days.)'
The entire approach to a man of Naushad's temperament was wrong. The producer treated Naushad as a tradesman, and Naushad turned him down.
Naidu went to the next best composer, C Ramchandra, and asked for the same thing.
C Ramchandra said he would give Naidu the tunes in 25 days, but would charge more. Instead of his usual Rs 80,000, he charged Naidu Rs 1 lakh.