'Rajputs' target Ekta Kapoor at Jaipur Lit Fest
January 20, 2014 19:30 IST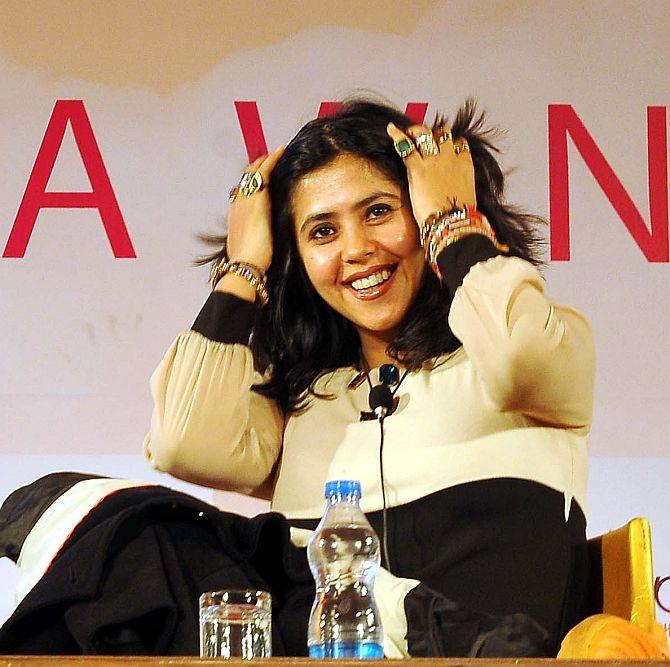 Balaji Telefilms owner Ekta Kapoor becomes the target of a mob claiming to be members of the Rajput community for depiction of the historical figure of Jodha in her on-air serial titled Jodha Akbar.

Rediff.com's Sanchari Bhattacharya, who is covering the literature festival, reports

A session featuring producer Ekta Kapoor at the Jaipur Literature Festival on Monday was interrupted by a bunch of demonstrators who were protesting against Jodha Akbar, a television series produced by Kapoor.
The protestors, reportedly from the Rajput community, were objecting to the depiction of Jodha in the television series.
The protesters reportedly even tried to throw a bottle at Kapoor, who was on the stage and addressing the audience at the time. They were subsequently escorted outside the venue by security personnel.
While the protesters were shouting slogans at the venue, an unruffled Kapoor raised her hand and told them, "Here, that's me."
She waited for the ruckus to subside and then remarked coolly, "I actually enjoyed that".

Click on NEXT to read further...
'Rajputs' target Ekta Kapoor at Jaipur Lit Fest
January 20, 2014 19:30 IST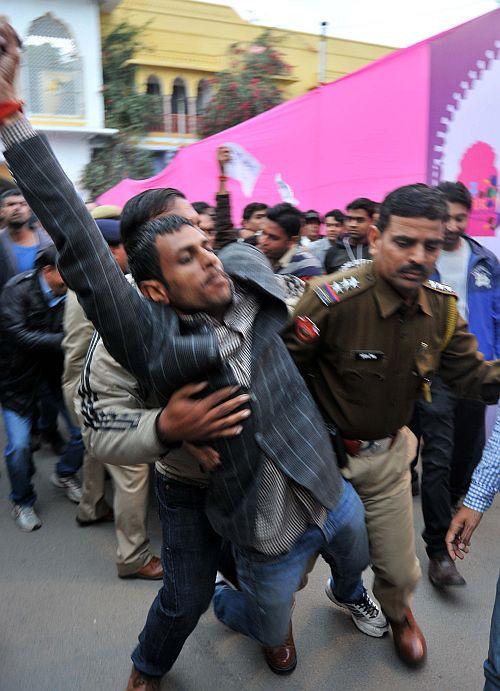 "The more popular the person, the greater the criticism," Kapoor said.
Author Siddharth Dhanvant Shanghvi, who was moderating the session, tried to downplay the incident, saying, "That is not the live band that is playing tonight. JLF usually can do much better than this".
Audience members at the overflowing venue seemed to be confused at the cause behind the disruption.
"Why do you think they were angry? Did they find the Dirty Picture (a film produced by Kapoor) too dirty," one of them was heard wondering.
Though the session continued after the incident, Shanghvi soon wound it up.

Click on NEXT to read further...
'Rajputs' target Ekta Kapoor at Jaipur Lit Fest
January 20, 2014 19:30 IST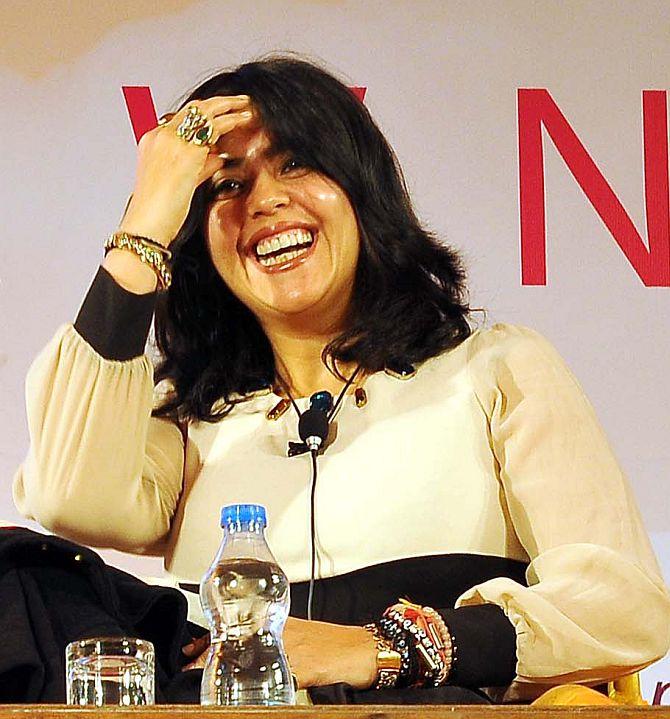 Before the protests unsettled the event, Kapoor was regaling the audience with a sample of her trademark wit.
"I am great at boring people, especially in episodic periods of one hour," she quipped.

She also talked about dealing with the criticism that she attracted regularly for her regressive television shows, and earlier, for being an overweight teenager.
"I believe that I have no business hearing the negative things people have to say about me. I don't have to live my own life according to your expectations. What's your problem with a few extra kilos on my body," said Kapoor.