Rajjo director: I was doubtful about Kangna's dancing skills
November 13, 2013 12:47 IST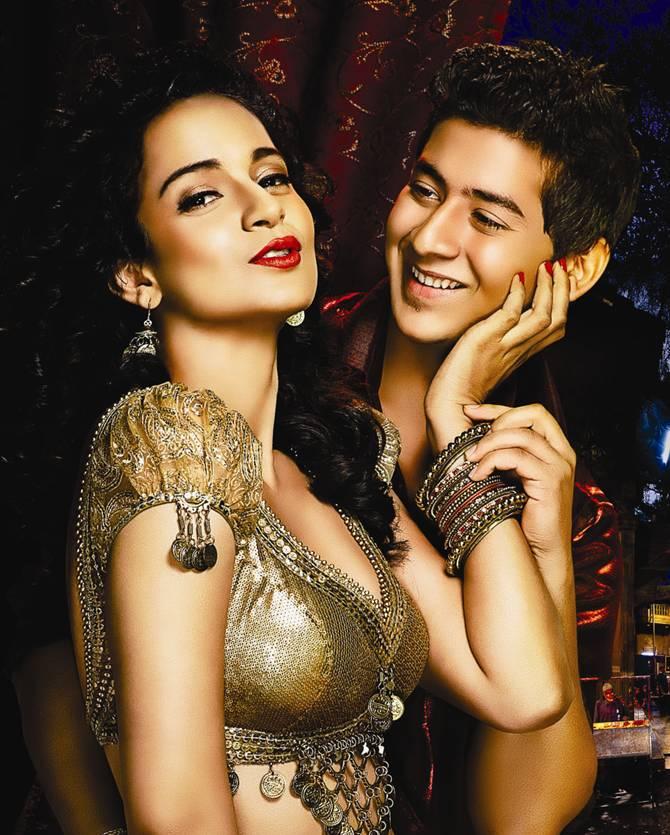 Vishwas Patil, who makes his directorial debut with the Kangna Ranaut starrer, Rajjo, on November 15, seems to be a rather unconventional Bollywood aspirant.
Here's why...
He is an IAS officer.
He is also a historian and a novelist whose books have been published in 14 languages.
Two of his books -- Panipat and Mahanayak (based on Subhash Chandra Bose) -- are bestsellers in Hindi and Marathi.
Another novel, Zadazadati, won the Sahitya Akademi Award in 1992.
Patcy N finds out what compelled this academician and award-winning author to turn his attention to cinema.
How come a historian and IAS officer decided to get into films?
I started my career as a film journalist in Kolhapur. It is an inspiring city. Indian cinema was born in Kolhapur as Prabhat Film Company (formed in 1929 by V Shantaram).
From V Shantaram to Bhalji Pendharkar and Ashutosh Gowarikar, they are all from Kolhapur. I had been interested in films from the beginning.
How did Bollywood happen?
Direction was my ambition and I was looking for opportunities to get into it.
I shifted to Mumbai about 20 years ago because of a job transfer. For the last eight years I have worked as assistant to the great cinematographer Binod Pradhan.
I worked hard to gain the technical knowledge. To become a director you need to be technically sound only then can you control your cast and crew. If you are not prepared within half an hour, your cast and crew will know how far you can go.
I acquired the technical knowledge from working with Binod Pradhan on many films.
I was also the joint Managing Director of Filmcity for three-and-a-half years, from 1990 to 1994. I had a good rapport with Naushadsaab and Dilip Kumar.

Dilip Kumar was directing a film called Kalinga at that time. I would often go on the sets because he liked me a lot. I unofficially assisted him too.
Please click NEXT for more...
'I wanted a very strong actress and I knew Kangna could do justice to the role'
November 13, 2013 12:47 IST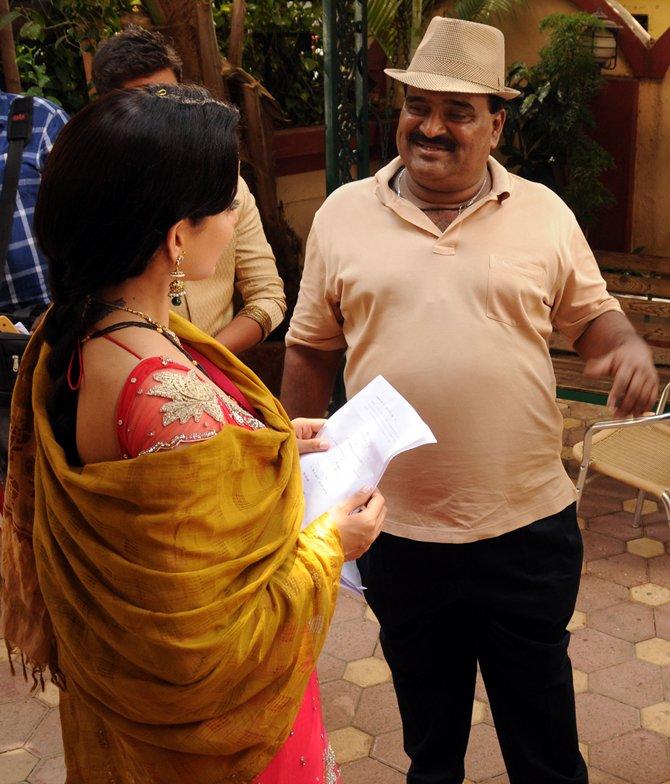 How did Rajjo happen?
My book Not Gone with the Wind is based on world literature and how famous novels were adapted into movies in Hollywood.

Last week Bharatiya Jnanpith published the book in Hindi as Badi Kitabon Par Badi Filmein.
I was approached by a producer to write a story and screenplay. I wrote Rajjo and the producer liked it.
The producer's brother had read Not Gone with the Wind and he loved it so much that he told his brother to ask me to direct the film too. I got the opportunity and grabbed it.
Was Kangna Ranaut your choice or the producer's?
I was given total freedom to select the cast and do whatever I wanted. I decided that Kangna should be in the film. It was a strong, women-centric role.
The story is of a girl who turns from a nautch girl into a classical dancer.
I wanted a very strong actress and I knew Kangna could enact the role well. But I was doubtful about her dancing.
When Kangna heard the songs of the film, she told me 'Sir these are outstanding songs, if you are not pressed for time, give me some time and I will rehearse them really well.'
I delayed the shoot for five months so she could prepare herself and only then did we begin the shooting.
'I had approached Rajat Bharmecha for the male lead role but he asked me to go through his company'
November 13, 2013 12:47 IST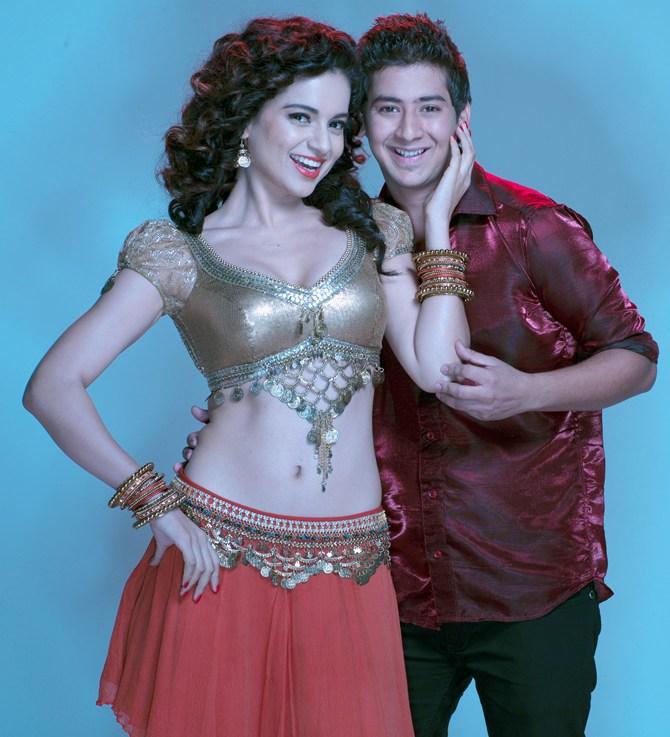 Why did you take a newcomer, Paras Arora, for the male lead?
I wanted an actor who was around 18 or 19 years of age and we don't have any hero in that age group. Here, 40-year-olds play 18- and 19-year-olds. I knew what I wanted. There was no alternative to Paras.
I had approached Rajat Bharmecha who had worked in Udaan, but he told me I would have to go through his company. I thought it was a long process and I did not want to go through all that.
After that I called Paras. He was very enthusiastic. He worked really hard.
Was it difficult since Paras was new to films?
I had my doubts.

Paras had worked in the television serial Veer Shivaji. Binod Pradhan had told me that actors who act in mythological and historical serials find it difficult to adapt to normal acting.
But once I had explained the role of Chandu to him, he got it right.
'The sets cost around Rs 5 crore'
November 13, 2013 12:47 IST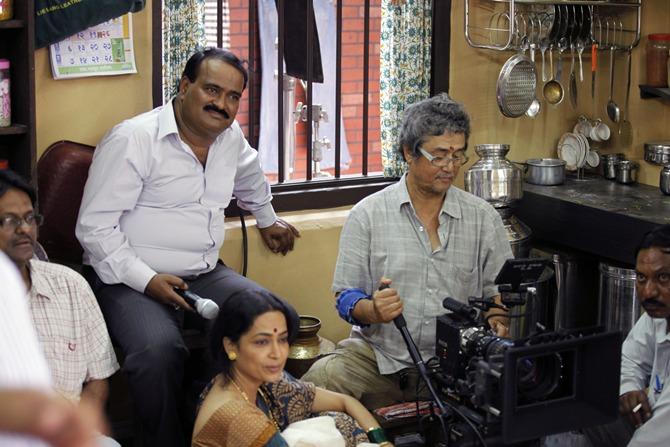 Your sets are very expensive. You have recreated Kamathipura and Mumbai Central. Why not just go to the location and shoot?
We went to Mumabi Central and shot for three days. It is difficult to shoot there because of too much noise. We needed some calm while shooting so we created the sets.
Muneesh Sappal -- who has earlier created sets for Rab Ne Bana Di Jodi, Bhootnath and Paheli, made the sets.
We created just four lanes of Kamathipura. We also erected a theatre which people thought was real and they came to buy movie tickets!
It cost around Rs 5 crore to create all this. Our film is very big; there are so many characters in the film. We shot for total of 70 days.
Any interesting anecdotes about the film?
About 45 km from Mumbai is a place called Tower Wadi, towards Panvel in Raigad district. The whole village is of tribal people.
We needed all the animals from the village to come together during one scene -- about 700 buffaloes and cows.
The villagers drink local hooch and go to sleep and don't get up early in the morning. I wanted everyone to be ready before sunrise for the shoot, but they wouldn't get up.
I would go to everybody's house at 2:30 in the morning and put water on their faces and wake them up.
But no one got angry; everyone co-operated.