'If a film requires me to run naked on the street, I will'
Last updated on: February 22, 2012 18:14 IST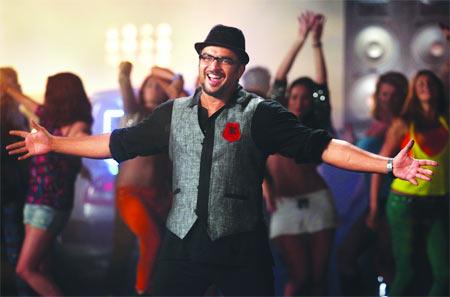 Despite his star status, R Madhavan is very grounded.
He knows the super success of 3 Idiots is not attributed to him; it would go to his co-star Aamir Khan and director Rajkumar Hirani.
On the other hand, his career has been very successful, and the struggler from Jamshedpur now resides on the plush 35th floor of a building.
He talks to Sonil Dedhia about his relationship with his Jodi Breakers co-star Bipasha Basu, and why he will do anything on screen if his role calls for it.
So, you are now known as the official break up man. How does it feel?
It's a great thing that before the release of the film, people are making us out to be jodi breakers. That means our publicity is hitting the right note.
I enjoyed playing the character of a jodi breaker because it is completely different. Bipasha's character and mine offer innovative ideas about how to end relationships that are not working.
Do your friends come to you if they are facing issues in their relationships?
I think I have been a relationship expert for the longest time (laughs).
I have advised a lot of my friends but I am more of a jodi maker than a jodi breaker. I have got six couples married off and they are all very happy.
'Bipasha was stunningly professional'
Last updated on: February 22, 2012 18:14 IST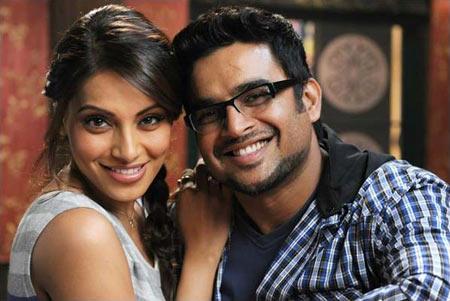 This is the first time you are working with Bipasha Basu. Is it difficult to adjust to a new co-star?
Very rarely have I worked with the same co-star except for Aamir Khan and Sharman Joshi.
My films are very character and story specific. If it wasn't for Kangna Ranaut, I wouldn't have done Tanu Weds Manu. It wouldn't have worked as there is no other heroine who could have pulled off the role. Similarly, in this film we had to have Bipasha.
When the casting is perfect and when we have a good team on board then the ambiance while shooting the film is very pleasant and there is no way one can make a bad film.
Whether the film works or not is in god's hands. I think with Jodi Breakers, we have made a good film.
How was the experience of working with Bipasha?
Initially, there was a little scepticism. Her being a big star I just hoped that she would come on time and that she didn't have the attitude of some top heroines who say they don't care about their co-stars.
Bipasha was stunningly professional, shockingly involved and a complete privilege to work with.
'I am bored of playing a nice guy'
Last updated on: February 22, 2012 18:14 IST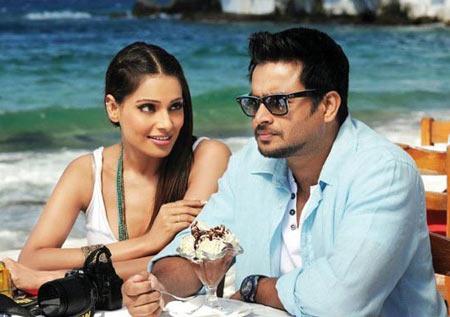 What has been the response to the new look that you have in the film? A lot of people are considering it as an image makeover.
Everything that I do in a film has a reason behind it because of the script. I am doing this film because I wanted an image makeover, so it is being considered as one.
I designed my look and I went to Alim (hairstylist) and told him to give me the look that I carry in the film.
My characters in films like Tanu Weds Manu, 3 Idiots and Ramji Londonwale were all straight and nice guys. I am bored of playing a nice guy (laughs).
Would we ever see you flaunting your six packs?
If the film requires it, and if I am able to repair my knees right away, why not? From Kamal Haasan to Bipasha and even my wife, all of them want me to lose weight and have six packs but I guess they are more concerned that I look fit and not fat.
I am not proud of the fact that I have put on so much weight. I have no choice because I can hardly run since my knees are badly hurt.
I am going to take a break after Jodi Breakers releases and not come back till I have lost weight.
After the success of Tanu Weds Manu, do you think the audience has accepted you as a solo lead in Hindi films?
I guess my fans and audience can answer that question. But if I go by the demands of the producers and the remuneration offered to me, I would say yes.
Also, talking about the solo lead in Hindi films, I guess people have accepted me since Rehna Hai Tere Dil Main (RHTDM). Even though the film didn't do well at the box office, my fans and audiences are still dying to see me as Madhav Shastri again.
'The success of 3 Idiots shouldn't be attributed to Sharman or me'
Last updated on: February 22, 2012 18:14 IST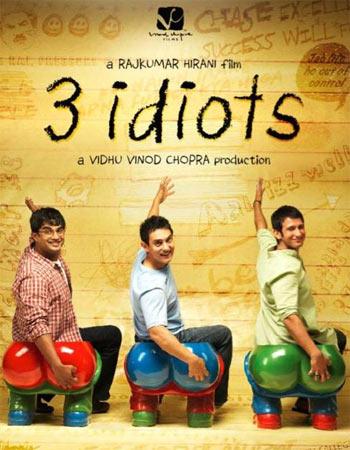 Do you feel additional pressure when you have a solo-hero release?
Yes, the responsibility is huge. I am used to this down south when I do Tamil films. The pressure is the same unless it is a film like 3 Idiots where I know that nothing is on my head. If the film works, the credit will go to Aamir Khan and Rajkumar Hirani and if it doesn't work then also they are responsible for it.
Do you really think so?
Of course. You should not attribute the success of 3 Idiots to Sharman Joshi or me. It should always go to Aamir Khan and Rajkumar Hirani because they are the people who had high stakes in the film.
They might have high stakes but at the end of the day, a film is a team effort and everyone should be equally responsible.
You are absolutely right, but people didn't go to see the film because it was an R Madhavan film; it was publicised as an Aamir Khan, Rajkumar Hirani and Kareena Kapoor film. The budgets of the film are akin to that.
When you have Aamir Khan, R Madhavan and Sharman Joshi in a film it will always be sold as an Aamir Khan film. The credit or the failure should be attributed to the one who is spearheading the marketing of the film.
'I am not uncomfortable doing anything on screen'
Last updated on: February 22, 2012 18:14 IST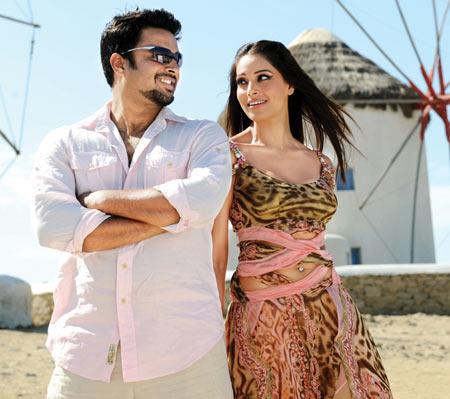 Your performances have been appreciated like never before in Hindi films. Do you feel more secure and stable now?
Not at all; in fact, it makes me nervous. The only good thing that happens when a film is a solo hit is that the budget of the subsequent film goes up!
I want all my films to recover money because I need everyone who has invested in the film to make money.
I learnt this from Aamir Khan, that it's not important that the guy who makes a film makes money. It is the person who buys your film who must make money.
Is there anything that you would not do on screen?
I treat my work very religiously. If a film requires me to run naked on the streets and if I believe in it I will do it.
I cannot say that kissing on screen is a pleasurable experience, and my wife is jealous, but merely kissing on screen or doing an intimate scene is no reason to question my character. I am not uncomfortable doing anything.
'No other actor would have accepted Tanu Weds Manu'
Last updated on: February 22, 2012 18:14 IST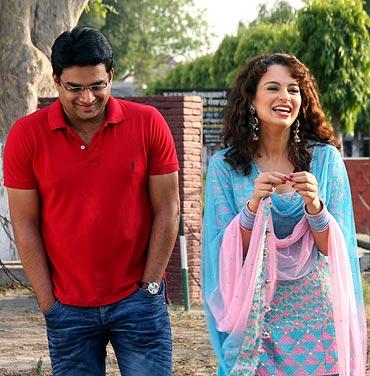 Do you select films looking at your character in the film or the overall script?
The script and its requirements are the most important thing. My desire to play a character is the least thing that affects the selection of the script.
An actor cannot solely concentrate on his character; he has to see whether the film is intelligent enough to titillate the audience.
No other actor in Hindi cinema who is a star would have accepted the role in Tanu Weds Manu. My role did not have any dialogues in the climax, nor were there any fight sequences or item numbers or any smooching scene.
You needed somebody with conviction to make a film like that and to agree to do a film like that. I knew from the date I signed Tanu Weds Manu that it will work.
You have said that you became an actor by providence. Do you think you have achieved what you set out to do?
I never set out to achieve anything. Even today, my wife and I stand on the balcony of my 35th floor apartment and laugh because we can't believe where we are today.
I came to Mumbai just to see what it offered me and it continues to offer me new things and has always kept me excited.
Some years ago if someone back in Jamshedpur had told me that I would act in the most prolific hit of all time (3 Idiots), I would have laughed.
I remember when I came to Mumbai standing on the Lokhandwala flyover, looking at the tall buildings and saying to myself, 'it will be nice to have a penthouse in one of those buildings'. And today I have achieved that. It was just wishful thinking and it came alive (smiles).
'I would have missed Alai Payuthey had I done Iruvar'
Last updated on: February 22, 2012 18:14 IST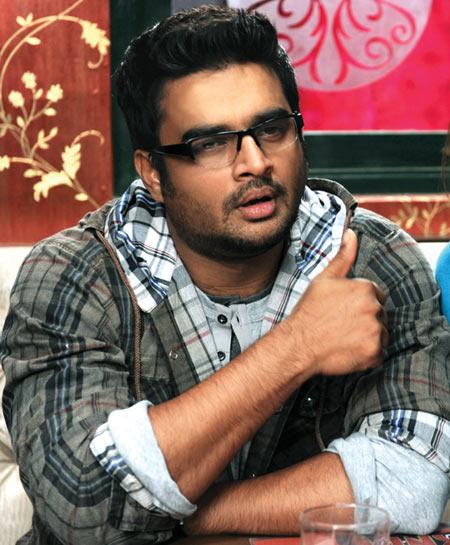 You first auditioned for Mani Ratnam's Iruvar and were rejected. Was that a blessing in disguise?
Yes, first because I was able to meet Mani Ratnam. Second, I would not have fit the role as I was too young to play the character. Third, Iruvar was not a big hit. I also think I would have missed Alai Payuthey had I done Iruvar.
I think whatever happens, happens for the best. When I was rejected for the film I felt a little disappointed. But I have learnt from my earlier experiences that if something happens, there is a good reason behind it.
I have learnt to trust my instincts over a period of time.
Was there ever a phase when you were short of work?
One goes through all sorts of insecurities. By god's grace I have never been short of work or money in the last 15 years. I don't know if my career has been very eminent, but I can surely say that I have had a decent run.
You have had your share of flops in Hindi cinema. Do you regret doing it?
No, not at all. When I started doing Hindi films, I was not a hero. Rehna Hai Tere Dil Main was quickly snuffed out of cinemas.
But there hasn't been one week in the last 10 years when RHTDM has not played on one of the channels on television. I don't think there can be a better record of a stupendously successful film. I don't think any blockbuster film has been showcased so frequently on television.
If you ask me, a hardcore failure of a film in which I really bungled up, was a film called Valthukkal in Tamil. Halfway into the shooting of the film, I realised I was dead!
'I have learnt a lot from my fans'
Last updated on: February 22, 2012 18:14 IST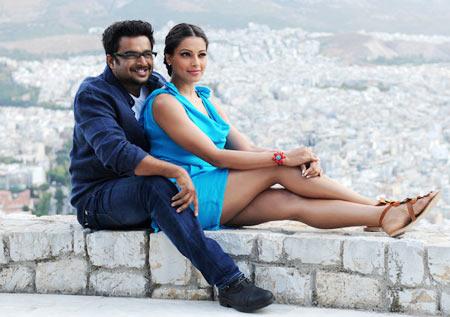 What would you say is the biggest achievement of your career so far?
I'll quote (director) Rakyesh Omprakash Mehra on this. We were at a party and he suddenly told me that I am the luckiest actor in the industry.
I was surprised and asked him why he felt so. He told me that people spend a lifetime working in iconic films that go into the archives of the film industry. If you are a part of these films, you are an iconic star. He said I am the only person who has got seven (Alai Payuthey, Anbe Sivam, Kannathil Muthamittal, Aayutha Ezhuthu, Guru, Rang De Basanti and 3 Idiots) -- such films in a matter of six years. I was in tears.
After 10 years, if you ask me what is my biggest achievement, I take a look at my bio-data and I can see that I have worked with Mani Ratnam, Kamal Haasan, A R Rahman, P C Sreeram, Amitabh Bachchan, Aamir Khan, Rajkumar Hirani, Rakyesh Omprakash Mehra. Except for Rajinikanth -- and it's my dream to share screen space with him -- I have worked with everyone.
Do you Google yourself any time?
Of course. I am very egoistic about it (laughs). My fans are my critics and they are the ones who give me constructive criticism on the internet.
I like to learn from them because I don't want to remain stagnant. I have learnt a lot from my fans. 
'My son is charmed by the fact that his father is an actor'
Last updated on: February 22, 2012 18:14 IST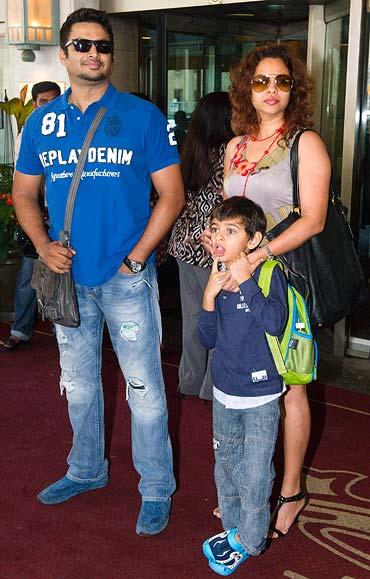 You will be working in the Hollywood film The Man Who Knew Infinity. Do you think there is a lot of hype surrounding Indian actors doing films in the West?
I guess it's newsworthy. Unless you become the solo lead in a mainstream commercial Hollywood film you are not a Hollywood hero. Till that happens, it is still throwing a stone in the dark. I wouldn't even say that Ben Kingsley is a Hollywood hero.
How do you give time to your family considering your tight working schedules?
Honestly, I am not able to take out as much time as is needed. My son is growing up and I want to spend a lot of time with him as I don't want to see disappointment in his eyes. I am trying to take as much time as possible from my schedule for him.
How does your son Vedant react when he sees you on television?
I am his favourite actor and so he doesn't like me to be beaten up. He hates it. He waits for me to beat the hell out of the bad guys.
He is very charmed by the fact that his father is an actor. He is slowly getting all sorts of comments in his school. It is not going to be an easy life for him, but he is learning quickly. He is a sensible child (smiles).