The secret behind Priyanka and Aamir's wrinkles
Last updated on: February 17, 2011 10:45 IST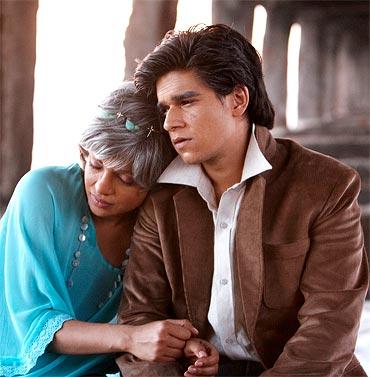 Acting is all about transformation. Even the most perfect faces are no good unless they hold true to the character they portray. And that's what makes prosthetic makeup so indispensable.
Gone are the days when stars slipped into cheap get-ups to conceal their real self. With the increase of prosthetic makeup, whether to age, appear fearsome or undergo a drastic makeover, filmmakers are encouraged to think out of the box situations and stories.
Bollywood, too, boasts of some grand examples of this trend. Here's a look at some of our actors at their unrecognizable best.
Priyanka Chopra, 7 Khoon Maaf
Playing a 65-year-old woman when you're only 28 isn't a walk in the park, especially when she happens to be someone who's killed all of her seven husbands.  
Priyanka Chopra gets by with a little help from the makeup team of Drag Studio, responsible for Brad Pitt's stunning transformation in David Fincher's The Curious Case of Benjamin Button, in Vishal Bhardwaj's eagerly awaited 7 Khoon Maaf.
Given that PC ages from 20 to 65 in the film, the experience was understandably grueling for her.
Amitabh Bachchan, Paa
Last updated on: February 17, 2011 10:45 IST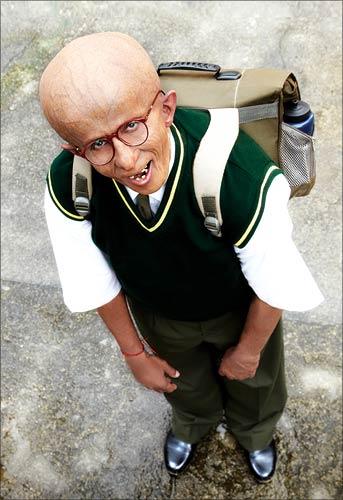 It's not every day an actor in his late 60s is offered a role that requires him to play a 13-year-old.
Filmmaker R Balki, however, made Big B a (rather unusual) offer he couldn't refuse. As the Progeria-afflicted Auro, Bachchan ages rapidly and sports a peculiar look, aided by prosthetic makeup and special dentures designed by Hollywood's Christien Tinsley and Dominie Till.
The procedure took several hours during which AB could neither eat nor talk. Bet the acclaim that followed more than made up for the ordeal. 
Shabana Azmi, Makdee
Last updated on: February 17, 2011 10:45 IST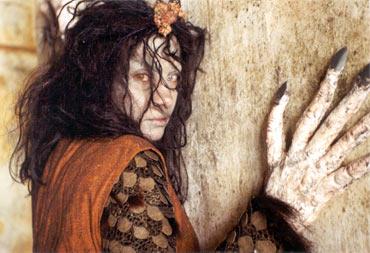 Until Vishal Bhardwaj's Makdee, one was yet to witness a dramatic changeover of epic proportion in Shabana Azmi's physicality.
As the fantasy caper's dreadful witch sporting layers of pasty makeup and blue coloured lenses, the versatile actress reacquainted us with her ability to surprise. And scare.
Hrithik Roshan, Dhoom 2
Last updated on: February 17, 2011 10:45 IST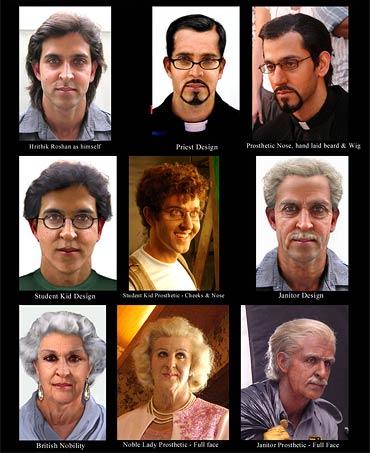 There's a good reason why Dhoom is best remembered for its antagonists instead of Abhisheks.
After John Abraham's sleek biker style, Hrithik Roshan stepped in to up the ante with his consuming charisma, gorgeous dance moves and a series of impressively devised avatars as The Saint-inspired conman by prosthetic specialists at Hybrid Enterprises.
Dame Duggu, anyone? 
Darshan Jariwala, Gandhi, My Father
Last updated on: February 17, 2011 10:45 IST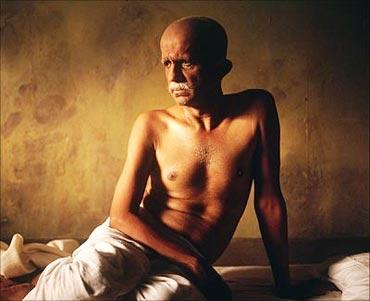 Hybrid's Penny Smith also pitched in their creativity to convert character actor Darshan Jariwala, who otherwise bears no resemblance to Mahatma Gandhi, into a striking reflection of Bapu for Feroz Abbas Khan's critically acclaimed, Gandhi, My Father co-starring Akshaye Khanna.

 
Mallika Sherawat, Hisss
Last updated on: February 17, 2011 10:45 IST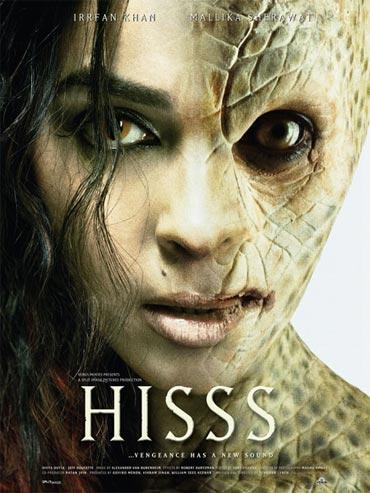 Bollywood's resident hottie Mallika Sherawat sportingly gets into a whole lot of faux snake skin to portray a revengeful naagin in Jennifer Lynch's Hisss.
Alas, neither Mallika's sizzle nor the prosthetic-assisted slithering could save Hisss from bombing at the box office.
Kamal Haasan, Chachi 420
Last updated on: February 17, 2011 10:45 IST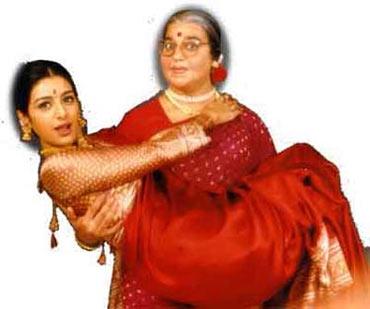 Inspired by Robin William's man-parading-as-older woman act in Mrs Doubtfire, Kamaal Haasan worked up his own version in Tamil, Avvai Shanmugi.
Prompted by its success, he got back to directing its Hindi remake, Chachi 420, a droll comedy high on superlative performances of Amrish Puri, Om Puri, Paresh Rawal and Haasan, of course.
The superstar is perfectly genial and lovable as the wholesome granny nanny Laxmi Godbole desperate to spend time with his estranged daughter.
Kamal Haasan, Hindustani
Last updated on: February 17, 2011 10:45 IST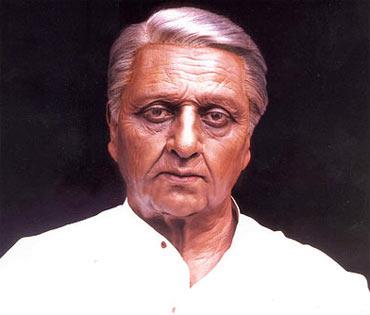 In Shankar's dubbed Hindi version of Indian, Haasan plays a double role -- a scrupulously honest father and his corrupt son.
An opulent, jazzy drama with lavishly picturised songs and action, Hindustani packs in abundant visual spectacle.
Foremost among them is Haasan's eye-catching credibility as a craggy old man courtesy some fancy prosthetic wizardry. 
Aamir Khan and Shah Rukh Khan, Tata Sky and Dish TV commercials
Last updated on: February 17, 2011 10:45 IST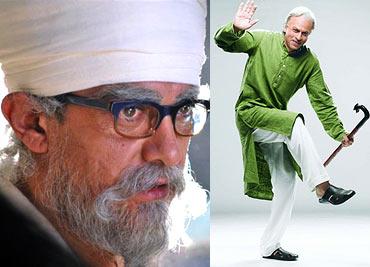 Prosthetic intervention comes in handy when donning quirky disguises like only Aamir Khan can in Tata Sky's fun advertisements.
Whether he's taking off on a puckish woman, an overbearing, overweight tailor or an elderly Sardarji, the 3 Idiots star is pretty committed to his endorsements.
Not to be outdone, Shah Rukh Khan tried a platinum-haired Dadaji types romancing Tanvi Azmi in a Dish TV commercial. What can we say except may the best (old) man win.