Priyanka: Shah Rukh doesn't make me blush
Last updated on: April 6, 2012 14:01 IST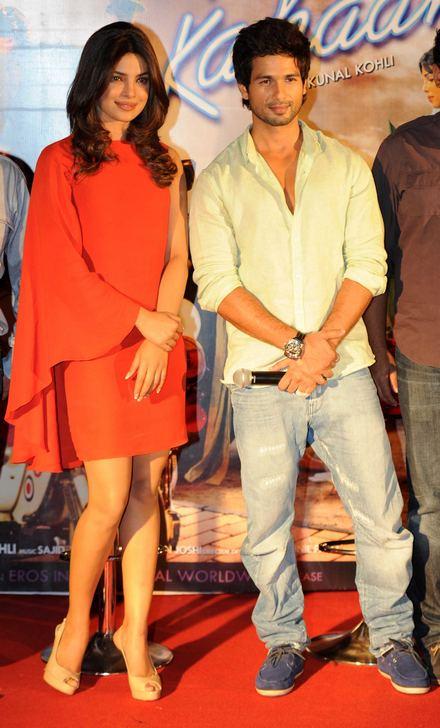 The cast and crew of Kunal Kohli's new film, Teri Meri Kahaani assembled at a suburban multiplex to unveil the first trailer. Although the director reached the venue on an hour in advance, the lead stars did not put in an appearance till an hour later.
While the trailer gives out a Mausam-meets-Anjaana-Anjaani vibe, the director explained what lies at the core of the film.
"My film takes you on a journey of love through the ages. Ever since humans have existed, they've known love.  So my basic idea was to show the strength of love beyond generations. That is how the film's idea was conceived," said the director of films such as
Hum Tum
and
Fanaa
.
Shahid: I completely believe in love
Last updated on: April 6, 2012 14:01 IST
When it was pointed out that, today, few romances survive a lifetime, while the film propagates a contrary philosophy, leading actor in the film, Shahid Kapoor, sounded like the eternal romantic when he observed, "I do agree with what you say, but that is where cinema comes in. It is an escape from reality."
He had more insights to share.
"I completely believe in love. It is possible for love to survive beyond all odds if it is honest and pure. I think it is the most beautiful feeling in the world. I think it is rightly said that it makes the world go round."
That doesn't quite correspond with the long list of girlfriends Shahid has had, but he's probably talking here on behalf of his character in the film who is a die-hard romantic.
Priyanka: Love makes the world go round
Last updated on: April 6, 2012 14:01 IST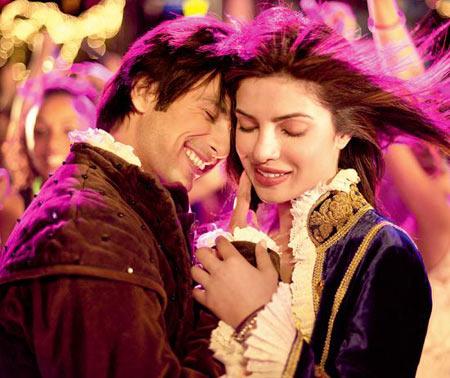 Shahid says he was keen to collaborate with Kohli since a long time but couldn't decide on a creatively fulfilling story.
"Kunal and I were engaged in brainstorming sessions to lock up a great script. He randomly came up with this idea and casually mentioned it, and I was hooked.
"I play three different characters and each spans three different lifetimes. I thought it was an exciting idea, something not tried before anywhere in Indian cinema or elsewhere."
Not exactly true since a Taiwanese film called Three Times, released in 2005, happens to have a similar storyline.
Denying any parallels with that art-house drama, Kohli said, "It's completely different. While I was making Teri Meri Kahaani, somebody did tell me about Three Times and I checked it out. Let me assure you, it has no similarities."
Around this time, a ravishing Priyanka Chopra hurriedly reached the venue and excused herself by saying that it was hard to convince the director of Krissh 3, Rakesh Roshan, to let her attend this event.
Asked bluntly if she would date Shahid Kapoor three times over three different lifetimes, she said, "I think this is the film that we are endorsing, so why not?"
Her idea of love didn't differ much from her co-star's: "Love makes the world go round. It may sound like a cliche but I absolutely believe in this saying. In fact, it is a cliche because it is true. I love a lot of people but the list starts with my family."
Shahid: I play three different characters and each spans three different lifetime
Last updated on: April 6, 2012 14:01 IST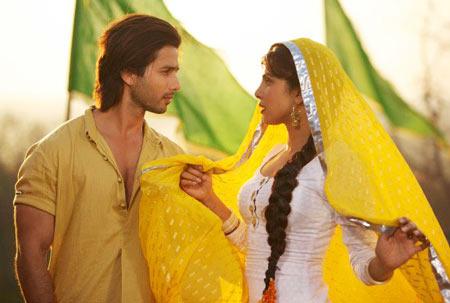 To play characters from three different generations must have been tumultuous. The easiest to pull off was the era 2012, Priyanka said, because of its obvious contemporariness.
Recently, a Mumbai-tabloid carried a story that had "unnamed" friends of the actress claiming that she was tired of reports about her alleged affair with actor Sharukh Khan. The friends defended her saying that the stories stemmed from insecure wives.
In fact, a mini-war even broke out on Twitter between Priyanka and producer-director Karan Johar on the same issue. Johar accused Priyanka of doing it all for publicity and alleged that her "hired PR machinery" was involved.
Kunal Kohli made sure no questions regarding this issue came up and kept the focus on his film.
But when this reporter managed to slip in a question asking Priyanka whether Sharukh Khan makes her blush any more, like she had once confessed on Koffee with Karan, the actress bluntly denied it.
"Sharukh Khan doesn't make me blush. I don't remember saying any of that."