Salma Hayek strips for her latest film
Last updated on: July 12, 2012 15:24 IST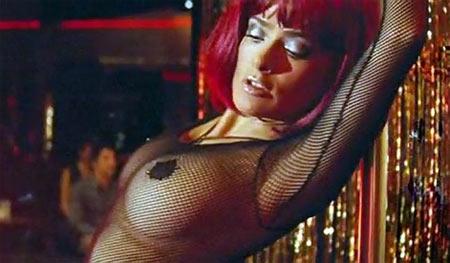 Get your lowdown on what's going on in the world of Hollywood, right here!
Salma Hayek proved that she's still got an incredible figure by flaunting her ample assets in a fishnet body stocking in scenes from her latest movie Americano.
With heavy make-up and a red wig, the 45-year-old actress, who plays stripper Lola in the film, writhes on the stage as punters look on, Sun reported.
Another shot shows her perfect behind as she performs at a strip club.
She peels off a thong in further scenes from the drama.
The Mexcian star, who is married to French billionaire Francois-Henri Pinault and has a four-year-old daughter, looked half her age as she showed off her killer curves.
Hayek has played exotic dancers in two previous films called Dogma and From Dusk Till Dawn.
Penelope Cruz pregnant with second child
Last updated on: July 12, 2012 15:24 IST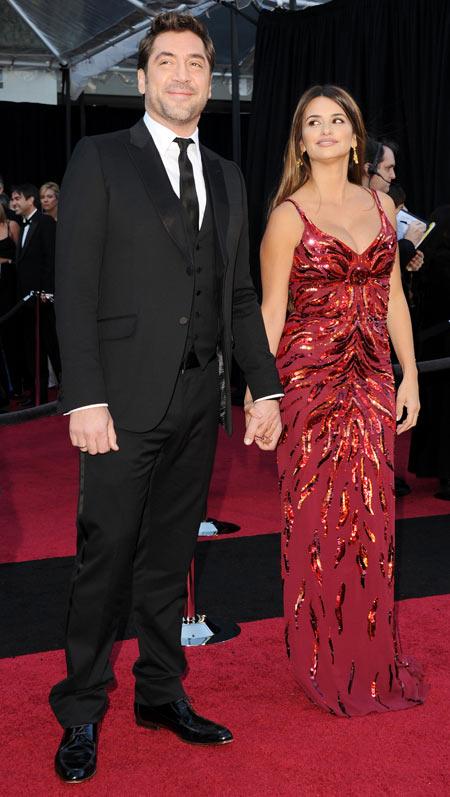 Penelope Cruz is reportedly three months pregnant and is expecting her second child with hubby Javier Bardem.
The 38-year-old actress is already mum to 17-month-old Leonardo.
According to Spanish TV program Espejo Publico, a source close to the couple, as well as an insider who has been working with the actress in Madrid, have confirmed the pregnancy news, Contactmusic reported.
Recently, the brunette beauty had admitted having the time of her life by being a housewife and staying at home to look after her son. The actress described it as the 'best thing in the world'.
Cruz revealed that she 'worries less' since becoming a mother as compared to earlier days when she 'always loved' to be concerned about everything in her life.
'For me, having my son means I worry less. I''ve always loved to worry -- ever since I was a little girl people would tell me I worry too much. But these days I really have to pick my subjects to worry about because there are only so many hours in the day,' she had said.
Vera Wang splits from hubby after 23 years
Last updated on: July 12, 2012 15:24 IST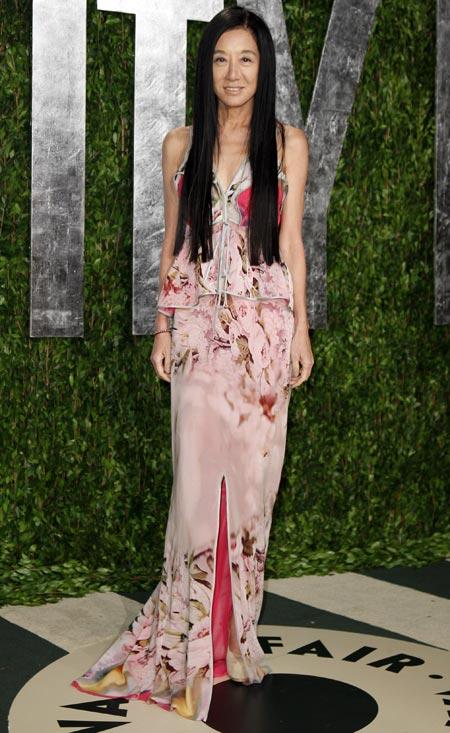 Vera Wang, the designer known for her dreamy bridal collections, has reportedly split from her husband Arthur Becker.
The president of Wang's company, Mario Grauso, issued a statement to the Women's Wear Daily, saying, 'Vera Wang and Arthur Becker have mutually and amicably agreed to separate. They remain devoted parents to their two daughters.'
Becker, who worked briefly as a stockbroker at Bear Stearns and Co. and as CEO of NaviSite, has become more involved with the day-to-day operations at Vera Wang in recent years.
'They will not let this impact the running of the company. They have worked too hard to build it up,' the New York Post quoted a friend of the designer's as telling the fashion trade newspaper.
The couple, who got married in 1989, have two daughters, Cecilia and Josephine.
Suri Cruise may be raised half-Scientologist
Last updated on: July 12, 2012 15:24 IST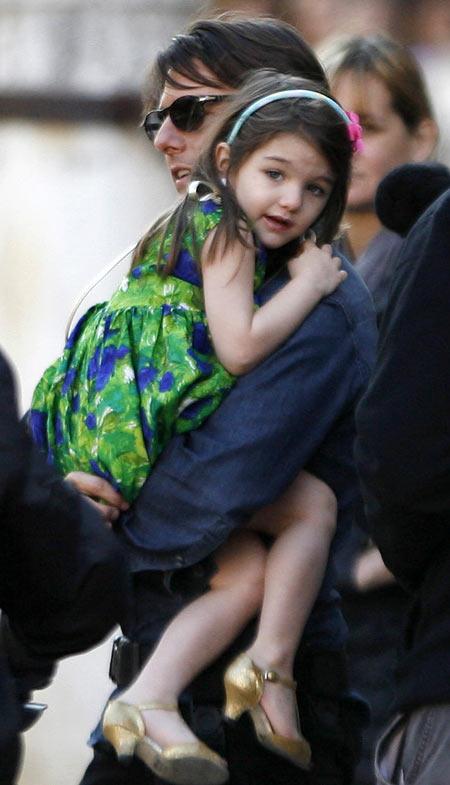 Katie Holmes and Tom Cruise's daughter, Suri, may be pulled in between her father's controversial religion of Scientology and her mother's Catholic believes.
 
Now that her star parents are getting a divorce, the parent with primary custody decides in what faith the child will be raised.
 
If Suri lives with her mother for a majority of the time, which will be the case, then Holmes will have the right to determine how (or whether) the girl worships, Stuff.co.nz reported.
 
This means that Suri is probably more likely to grow up with saints and Psalms than with hypnosis and the Scientology Code of Honour.
 
Still, most US courts allow the noncustodial parent to expose the child to his or her religious beliefs, so long as no effort is made to denigrate the faith of the custodial parent.
 
Behind this judicial leniency stands the conviction that every child should eventually have the power to chart her own religious course, and that only after encountering both mom's and dad's spiritual practices can she truly make an informed decision.
Nicole offered help and support to Katie Holmes in divorce
Last updated on: July 12, 2012 15:24 IST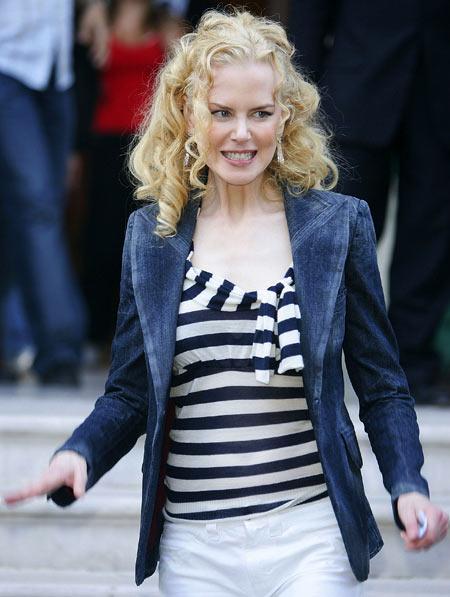 Katie Holmes reached out to Tom Cruise's second wife, Nicole Kidman when she planned her divorce from the actor, it has been revealed.
 
The two have reportedly been friends since 2006, when Holmes, 33, married Cruise.
 
Kidman, 45, divorced the Top Gun star in 2001 after 11 years, but has two adopted children with him -- Isabella, 19 and Connor 17.
 
'They've spoken over the last few weeks,' the Telegraph quoted a source as telling Us magazine.
 
'Nicole has been supportive, saying she's been through it too and to hang in there,' the source said.
 
When Holmes and Cruise's marriage became beyond repair and there were increasing concerns over the future and well-being of their six-year-old daughter Suri, she turned to Kidman for advice.
 
'Nicole offered her support and help,' the source added.
 
The couple reached a private settlement just 11 days after Holmes filed for divorce, avoiding a full-blown court battle as well as detailed exposure of the actor's links to Scientology.
Source: ANI