'I am in a very exciting phase'
Last updated on: January 25, 2011 16:24 IST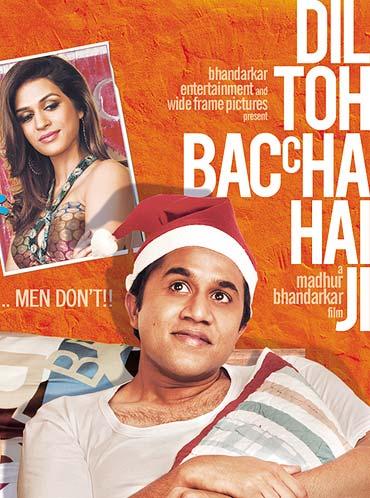 Omi Vaidya, who infused hilarity in the big blockbuster, 3 Idiots, was amazed when he learnt that he would be under the supervision of filmmaker Madhur Bhandarkar in his next film, Dil Toh Baccha Hai Ji.
As 3 Idiots opened up a world of prospects for Vaidya, the actor maintains that Bollywood has been a genial and an inviting outing that sustains itself largely on sentimental associations.
In a frank speak with Ankur Pathak, Omi Vaidya shares the various dissimilarities between Madhur Bhandarkar and Rajkumar Hirani and much more.
Why did you choose another comic role in your second film? It seems like the 3 Idiots hangover.
Does it? Many years ago, I saw a film called Chandni Bar and was totally bowled over by it. Nobody made that kind of films then. It was terrific.
So when I got a call from Madhur and he told me that I've been rounded up to play a part in his next, I was overjoyed and didn't know how to react. Thinking of the genre was my last concern. This was a lifetime opportunity for me and I think Madhur as well as all other co-stars have done a phenomenal job in Dil Toh Baccha Hai Ji.
'In the West, I am reduced to a tiny part that is very shallow'
Last updated on: January 25, 2011 16:24 IST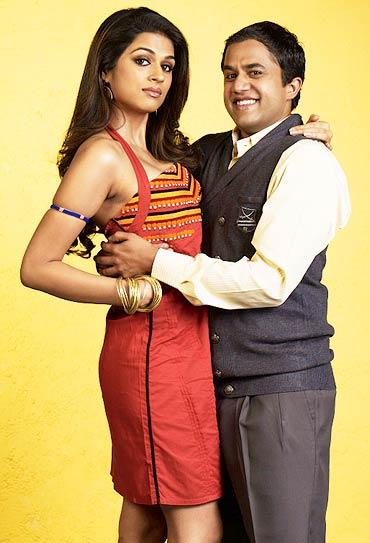 You are doing substantial Bollywood films now. So is your career in the West on hold (Omi has acted in American serials like The Office, Arrested Development, Kath And Kim, Bones and CSI: Las Vegas)?
Well, not exactly. It is still going on. See, to work in any industry, you have to be there. Since I'm here, I plan to stick as long as people want me to.
You seem to be enjoying Bollywood. Is that why you've stuck here?
There is a lot more work here and people have liked me a lot more too. They appreciate me even there, but the work is way too challenging there.
But Indians anyway do not have a wide scope in the West, right?
Yeah. In America, Indians are limited to particular roles like that of an Indian or an Asian. The roles are very consequential or major. Mainstream roles are rare.
And in the Indian film industry?
In Bollywood, I am not limited. I can play any kind of role. I am offered characters that are very crucial to the script. It is not like this over there. In the West, I am reduced to a tiny part that is very shallow, a cab driver for instance.
'Bollywood is totally mad and hectic'
Last updated on: January 25, 2011 16:24 IST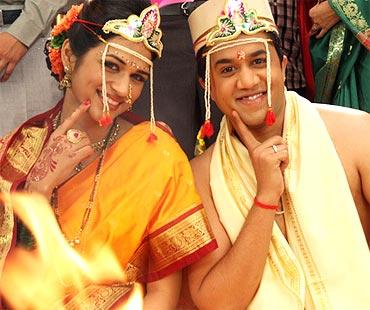 In terms of working atmosphere, how different are the two?
They function in a largely different manner. Bollywood is totally mad and hectic, things get done at the last minute, and there are abrupt cancellations. It is highly disorganised.
Also the equations are very personal here, something that is not seen in the film and television circuit in America. It's business out there, you come and leave and don't talk to too many people. Here, people are extremely warm. They offer you tea and share a friendly vibe. If you aren't like that, you'll be out quickly. In the West, it is like a job, the boss is sitting inside.
How ambitious are you?
Not much. I'm here to entertain people. As long as they are getting entertained through me, I'm happy with that. I am privileged to have got the opportunity to entertain people here and I'll continue to do so. I've no goal or ambition to become big and famous. I just enjoy what I am doing.
'I am in a very exciting phase'
Last updated on: January 25, 2011 16:24 IST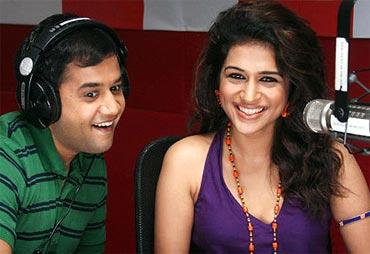 You got to work with two of the best directors of the country. How different would you say Rajkumar Hirani and Madhur Bhandarkar are, in terms of filmmaking?
Both of them are greatly creative but enormously different.
Rajkumar Hirani film is a lot more organised. Everything is in place. When you reach on the film's set, things move like in a machine.
On the other hand, Madhur is very much on the fly. So he will have a script but he'll make changes in the dialogues on the spot. If things aren't working as planned, he will change it immediately.
How hopeful are you with Dil To Baccha Hai Ji?
I am in a very exciting phase and so I am greatly looking forward to it. It's a foolish decision when a director like Madhur Bhandarkar approaches you and you reject the offer. So, in that sense there wasn't scope to say no for me.
I enjoy watching Madhur's films so I was glad to be a part of one of them. I hope my performance will be appreciated as a lot of effort has been put it. I also wish that the film does well at the box office.