The real reason why Guru Dutt's marriage collapsed
Last updated on: December 7, 2010 14:48 IST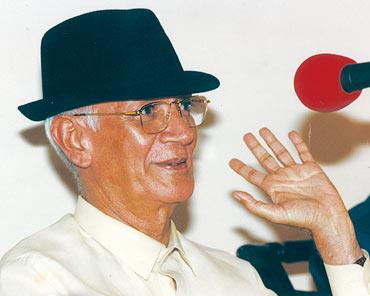 In the first part of our three-part special,
Raju Bharatan
revealed
an impish side to the great Lata Mangeshkar
among other little-known stories about Bollywood's music industry.
Bharatan, an assistant editor at The Illustrated Weekly of India, Asia's oldest English magazine till it shut down in 1991, and author of Lata Mangeshkar: A Biography and the recent best-seller A Journey Down Melody Lane, is far from done.
In this, the second segment of his conversation with Patcy N, he reveals how Guru Dutt made composer O P Nayyar run around for Rs 5,000, and much more.
O P Nayyar was an amazing composer. I admired him for the fact that he was the only composer to work without Lata Mangeshkar. Nobody else had the guts.
For Guru Dutt's Aar Paar, he charged only Rs 5,000. But Guru Dutt was not paying him his due.
When Nayyar came to Mumbai, he was put up at the Favell Hotel in Marine Drive, with his wife and little kid. His bill ran up to Rs 412, but he did not have any money.
I C Kapoor, who was a film distributor, intervened and made Guru Dutt pay Nayyar the money.
As Nayyar was leaving Guru Dutt's music room, Guru Dutt entered and asked him to work in his next film as well.
Guru Dutt was very difficult to work with, and O P Nayyar did not want to work with him.
But I C Kapoor convinced him and told Guru Dutt to pay him Rs 10,000 for his next film -- Mr and Mrs 55.
OP and Asha
Last updated on: December 7, 2010 14:48 IST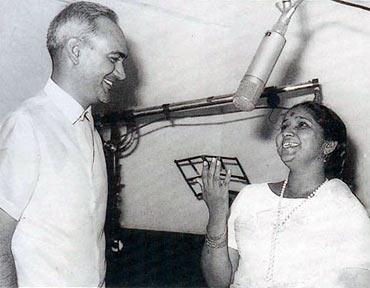 My wife Girja Rajendran (she passed away last December) was a journalist who wrote on music.
When we heard the song Poocho Na Hamme, Hum Unke Liye from Mitti Mein Sona, we loved it and decided to pay Nayyar a visit to tell him how much we loved the song. At the time, he was not getting too many movies.
He was very pleased when we met him, as nobody was meeting him too.
While we were talking to him, the doorbell rang and Asha Bhosle entered.
Nayyar's wife Saroj Mohini was sitting right there, but did not mind Asha coming into their home even though she knew about their association.
She had come to terms with the fact that if it wasn't Asha, it would have been some other woman.
Why Guru Dutt and his wife fell apart
Last updated on: December 7, 2010 14:48 IST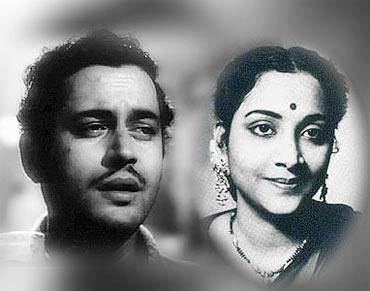 People have spoken about Geeta Dutt not tuning with her husband Guru Dutt, but no one has tried to understand why.
Does anyone know that she was a good singer, but she had an ultimatum -- as she was the bahu of the house -- to come home by 4 pm and take care of her family and children.
Geeta Dutt's song recording would sometimes begin at 3:30 pm, how could she reach home on time?
They wanted her to sacrifice her career while Guru Dutt could do whatever he wanted -- even go out with Waheeda Rehman. That is how the problem started initially.
Guru Dutt owes his success to Geeta Dutt. Barring only 3 songs in Jaal (Lata figured in the other four songs), Geeta was the main singer in all of his first seven films.
Why Manoj Kumar ditched Kalyanji-Anandji
Last updated on: December 7, 2010 14:48 IST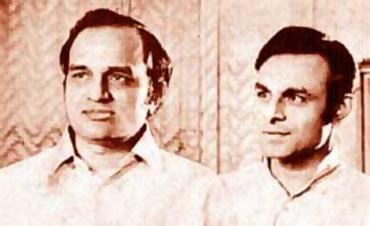 Kalyanji-Anandji composed the music for Manoj Kumar's
Upkar
.
After Upkar, when Manoj started working on Purab Aur Paschim, he asked Kalyanji-Anandji to get his song played on Radio Ceylon by paying them money. But Kalyanji-Anandji didn't want to spend a dime.
They would assure Manoj that his music would be played on Radio Ceylon, but did not pay the radio station.
So Manoj signed Laxmikant-Pyarelal for his next film.
Manoj could afford to pay for his music to be played on radio, but he did not want to. Those days, the norm was that the music director paid.
Kishore Kumar's revenge
Last updated on: December 7, 2010 14:48 IST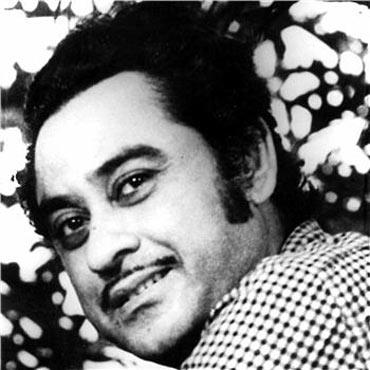 Kishore Kumar came into the industry as a singer-actor. But once he was paid for his work as an actor, he would not be paid separately for singing.
Kishore was unsuccessful for such a long time that he signed on those terms and later, it became the norm.
Later when he began asking for money to sing in films he acted in, he was not given a chance to sing. In Begunaah, a song sung by Manna Dey was picturised on him.
Kishore was acting in Ashok Kumar's Raagini, which had music by O P Nayyar. Both Nayyar and Ashok Kumar were superstitious.
One day, when I present, both of them were going through Kishore's horoscope, and taking a call on whether he should sing in the film or not.
According to Nayyar, Kishore was not destined to sing in the film, but Ashok Kumar argued that he was.
Nayyar wanted Mohammad Rafi to sing Man Mora Bawra, and finally had his way. The song was to be picturised on Kishore.
Kishore took his revenge by ruining the scene.

Kishore was a good singer, so his rise was not a surprise. But he was an eccentric.
Pancham -- R D Burman -- said Kishore was a brilliant singer, and hard working as well. He would even act out his song in front of the mirror. But he wanted to be paid before he sang the song.
'The Pele of music'
Last updated on: December 7, 2010 14:48 IST
One day, I asked Salil Chowdhury how he had composed the song
Itna Na Mujse Pyaar Badha
(from
Chhaya
).
I had read somewhere that the song was a copy of Mozart's 40th Symphony.
He said it was indeed Mozart's 40th Symphony, but with his touch. He showed me how he got Lata Mangeshkar and Talat Mehmood to change the beat, and make it sound like Raag Bhairavi.
I told him it was a copy. So he promptly said, 'So what? Even Shakespeare copied.'
He once told me that he was the Pele of music.
'Raju,' he once told me, 'there are certain rules in all games. Even football has certain rules. But there comes a player who breaks all the rules and scores a goal. And that is Pele.'
'So I am the Pele of music. I break all the rules and create my own music.'
When Rafi had an off day
Last updated on: December 7, 2010 14:48 IST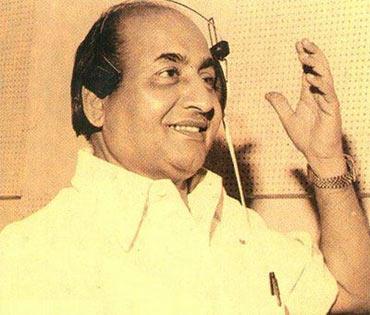 Salil Chowdhury felt that Mohammad Rafi tended, unwittingly, to indulge in vocal mannerisms.
He was not the only one who felt that way.
During the recording of Jaane Kya Dhoondte Phirti Aankhen Tujh Main (Shola Aur Shabnam), Rafi needed over 20 takes. Even then (composer) Khayyam was not satisfied.
During the 21st take, Shola Aur Shabnam director Ramesh Saigal said he was running out of money, and he wanted the next take right at any cost.
Khayyam had to later join bits and pieces from the various takes to make it sound good.
But that could be Rafi's off day. This is the only industry where you cannot have off days.
Rafi could not get a particular portion of Tasveer Teri Dil Mein (Maaya) right as well, and Salil Chowdhury was trying to explain it to him.
After many takes, Lata Mangeshkar got angry with Rafi and snapped at him. The thing with Rafi was that if you got very demanding, he would be put off.
O P Nayyar and Naushad would not be demanding with Rafi because they understood him. But that day, Rafi got very upset because Salil took Lata's side.
Salil always considered Rafi to be just an okay singer.
Even Pancham and C Ramchandra felt that Rafi was no good. It is difficult to understand why they didn't like him because at least 50 percent of the songs he sung for them were hits.
Why Lata and Rafi fell out
Last updated on: December 7, 2010 14:48 IST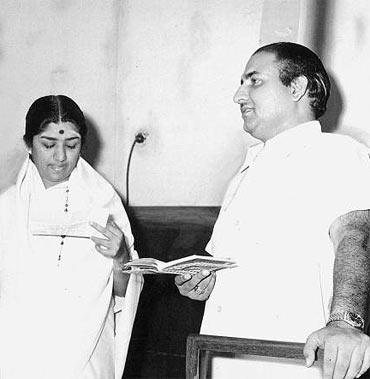 Lata had a point.
She told Rafi that they were the top singers, and if they got together, they could claim royalty from the producer for the songs they sing.
Earlier, producers would get 10 percent royalty for the film's music. From that, they would give five percent to the composers.
Lata felt the singer should get 2.5 percent, so she asked Rafi to join hands with her.
But Rafi refused. He said once he sang the song and got the money, he would have nothing to do with it. Then the song belonged to the producer and composer.
Plus, he argued that if he sang 10 songs, and only one of them became a hit, he would still get paid for all of them, so why should he ask for more.
Lata knew this was not Rafi talking; it was Naushad who had trained Rafi to think that way because he did not want to share royalty with the singers.
So she got upset and stopped singing with him.