Meet Vicky Donor's Girls: Beeji, Dolly and Ashima
Last updated on: April 27, 2012 18:43 IST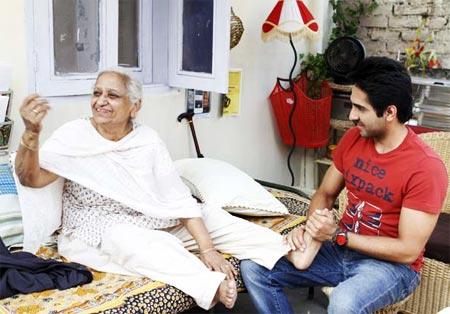 Apart from its novel storyline, Vicky Donor is gaining tremendous popularity thanks to three rare women characters in the film -- Vicky's progressive grandmother (played by Kamlesh Gill), his mother Dolly (Dolly Ahluwalia) and his love interest Ashima (Yami Gautam).
The three actresses spoke to Sonil Dedhia about their experience of working on the film.

At 75, Kamlesh Gill has suddenly become the coolest grandmother ever. Gill took the nation by storm by playing a progressive grandmother in Vicky Donor. So much so that she has been a trending topic on the social networking sites.
The theatre actress is overwhelmed with the response the film has got.
She says, "I am very happy the film is doing so well. I hear from my family about how my character is being talked about. It's a pleasant surprise but at the end of the day everyone has done really well in the film."
She recounts her first visit to the theatre to see the film with her family, "I went to see the film at one of theatres in Delhi. I sat for quite a long time after the film got over since I wanted the audience to disperse. To my surprise, when I came out everyone was waiting for me. Youngsters came up to me, hugged me and said they wanted a cool grandmother like my character in the film.

"Some of them even offered me to have a drink (Laughs)."

She also says that she has been getting calls from all over the world complimenting her for the whiskey drinking scene from the film along with Dolly Ahluwalia (who plays her daughter-in-law in the movie). "People love the idea of a mother-in-law and daughter-in-law sitting together and having a drink. It is quite unconventional in our society but I guess it worked. Since Dolly and I have done a lot of theatre together it was very easy to work with her."

On being asked about her most memorable scenes from the film and she says, "There are two scenes which are my favourite. When Vicky gets an iPhone for Beeji she disapprovingly says she was expecting a 32 GB memory instead of 16 GB memory (laughs). The other scene which I like is when Dolly and Beeji sit and drink and share their sorrows. It was really an emotional moment."
She says that she agreed to be a part of the film as she has earlier worked with Shoojit Sircar (the film's director) in a television commercial, "I had done an advertisement of a bank with Shoojit. When he offered me Vicky Donor, I found it very interesting. It was something different which was never seen before so I immediately agreed to be a part of it."
Gill is a renowned theatre and Punjabi television actor and has been working in plays for nearly 50 years. She has also acted in films like Socha Na Tha and Love Aaj Kal.

"In the 1970's, my serial Aur Gham Bhi Hain Zamanein Mein was very popular and I got a lot of movie offers. Unfortunately, I lost my husband at a very young age and since I had to take care of my two daughters, I didn't accept a lot of work. I did small roles and did whatever I could. My family was my priority and I am very happy about my decision," she explains.
Dolly Ahluwalia
Last updated on: April 27, 2012 18:43 IST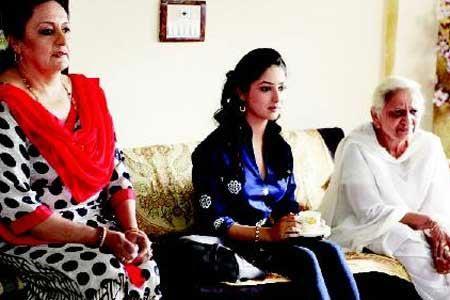 The chemistry between onscreen saas-bahu duo Gill and Dolly Ahluwalia was one of the most amusing elements in the film.

Ahluwalia says that the film has received some unexpected response, "People are just going crazy. My phone has not stopped ringing and everyone is just enjoying our saas-bahu's jugalbandi."

She adds, "Gill was a like a mother to all of us. Generally, saas-bahu are shown in a negative light but we wanted to show how the two can confide in each other as they unwind every night. It was an unconventional move but it paid off really well.

"I am glad that the film has received such a positive response. More than myself, I am really happy for Shoojit (Sircar). He deserves this success as he has waited very long for this."

A gold medallist in acting from the National School of Drama, Ahluwalia has worked as an actor in only a few films like Yahaan, Love Aaj Kal, Aloo Chaat. She feels no one respects time in the industry, "There have been times when I waited for one shot for the whole day and in the end it didn't happen. I couldn't waste my time and so I decided to take up costume designing."

Ask her what about Vicky Donor appealed to her and she says, "I've known Shoojit for a long time. I acted in Yahaan and was the costume designer on Johnny Mastana (earlier known as Shoe Bite).

"I had not read the script but I really loved the subject. I was convinced that Shoojit was going to make a sensible film with a good message for the society.

"The biggest compliment came from a bunch of kids who were waiting outside a theatre, "I came out of the theatre after watching the film and these kids came running towards me, hugged me and said we wish our mother was like you," Alhuwlia says adding, "I wanted the people to understand the frustration a single mother goes through and I am glad I was able to deliver it."

With such a positive response to her character, Alhuwalia says that she plans to take up more work as an actor, "I have been getting a lot of offers from big banners but I will take my time as I don't want to take a hasty decision. I am planning to slow down as a costume designer because it takes a lot of time and energy. Also, I consciously feel that I should relax and gossip around during the shooting and just enjoy life which I guess I will be able to do while acting (Laughs)."

Among her forthcoming films, Ahluwalia will don the hat of costume designer again for Farhan Akhtar and Sonam Kapoor-starrer Bhaag Milkha Bhaag and director Deepa Mehta's Midnight's Children.

She will also be seen acting in Anurag Kashyap's Luv Shuv Te Chicken Khurana.
Yami Gautam
Last updated on: April 27, 2012 18:43 IST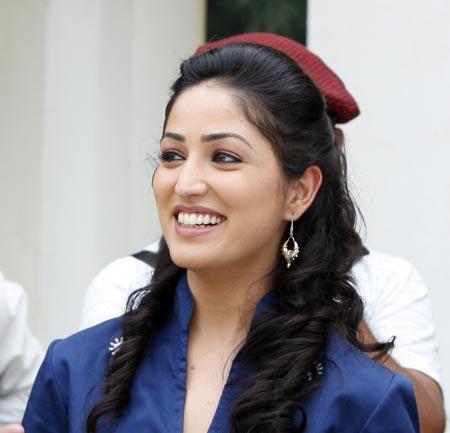 Yami Gautam, who's debuted in Bollywood with Vicky Donor is on cloud nine.

Along with the film, her performance has been appreciated by the critics as well as the audience. "I am really happy that the film has opened to such a positive response. A lot of people have found the film really inspiring and loved it. People are appreciating everyone in the film."

Yami aspired to be an IAS officer but destiny had other plans for her, "I was preparing for the IAS exams when my destiny took a different turn," Yami says. "My family suggested that I try modelling and acting. I didn't think about it seriously but they took my snaps and sent it to someone. After a few days I got a call from Mumbai for an audition and then there was no looking back."
 
The actress was earlier seen in television commercials like Fair and Lovely and Mirinda and has also worked in television serials Chand Ke Paar Chalo, Raajkumar Aaryyan, Yeh Pyar Na Hoga Kam and Afsar Bitiya.

She has also acted done films in Punjabi, Telugu and Malyalam.

Yami also revealed that director Shoojit Sircar was a little reluctant to cast her but finally agreed, "The casting director had seen my television commercials and called me for an audition. When I gave the audition to Shoojit, he was a little sceptical whether I will be able to play the role of a Bengali girl as I am Punjabi. Ultimately, he was convinced.

"In fact, he helped me with a few reference films to learn how to play a Bengali girl."

She said she was unaware that the infertility was a serious problem in our society.
"Sperm donation is the need of the hour. I feel there is nothing wrong in donating sperms. I am glad that our film has touched on a topic which was otherwise considered as a taboo. People have accepted the film and it shows that the message we wanted to convey has been positively delivered," she says.
Yami says that success of Vicky Donor has got her some good offers from a lot of production houses, "I have been constantly getting calls for a lot of roles but as of now I am just reading scripts. I will make an official announcement when I finalise something."