Manna Dey: Making beautiful music come alive
October 24, 2013 13:20 IST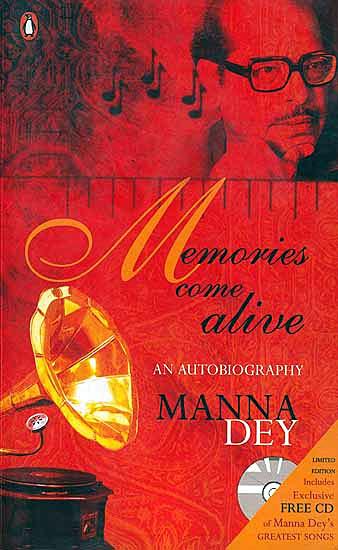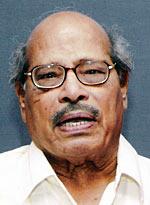 Legendary singer Manna Dey passed away into the ages on October 24. He was 94.
We celebrate the icon by presenting an excerpt from his autobiography, Memories Come Alive: An Autobiography, published in 2007.
The legendary Mohammad Rafi once said "You listen to my songs; I listen to Manna Dey songs only".
High praise indeed for the popular playback singer of Hindi and regional films. And praise which Dey treasured more than awards, which he looked upon 'as an inconsequential form of recognition'.
Born Prabodh Chandra Dey, the singer who excelled in wrestling and boxing was known for his jovial personality and was quite a prankster. And apart from Kishore Kumar, he was readily acknowledged by his contemporaries as one of the most sociable musicians.
In this excerpt from his memoir Memories Come Alive: An Autobiography, Dey pays tribute to the musicians who accompanied him on the musical journey of the good old days.
Excerpted from Memories Come Alive: An Autobiography by Manna Dey, translated by Sarbani Putatunda, with kind permission of Penguin Books. Rs 450.
Buy the book at the Rediff Bookstore!
'The man on the street enjoyed singing the songs'
October 24, 2013 13:20 IST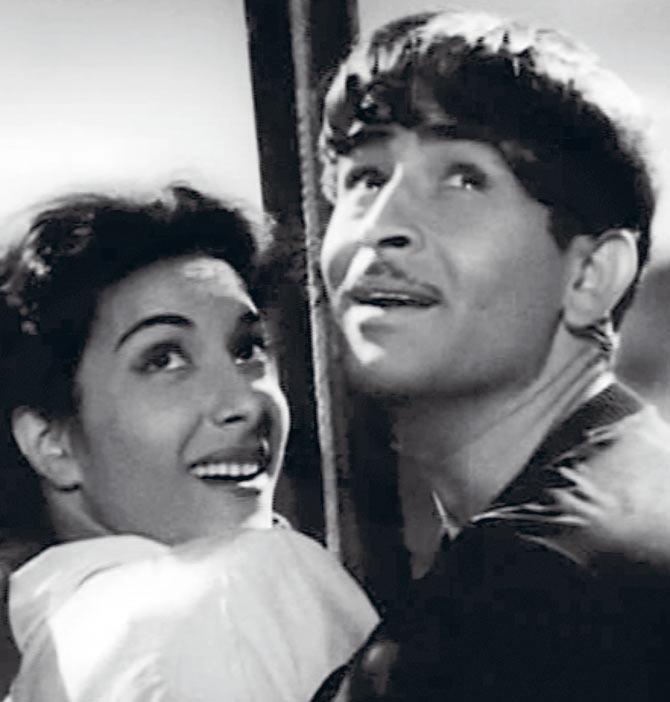 As far as I can remember, my very first song composed by Shankar and Jaikishan was for Awara, a film produced and directed by the legendary Raj Kapoor.
The duet with Lata Mangeshkar, Tere bina aag yeh chandni (This moonlight is fiery in your absence), written by the famous lyricist Shailendra, would mark the beginning of my golden period in playback singing.
Then followed one smash hit after another: Lapak jhapak tu aare badarwa (Rains you come frolicking) in Boot Polish, Dil ka haal sune dilwala (It's the benevolent soul who is sensitive to the heartbeats of another) in Shri 420, Yeh raat bheegi bheegi (This rainy night) in Chori Chori, and Jhoomta mausam (This frisky season) in Ujaala.
The most interesting feature of Shankar and Jaikishan's melodies was their sheer novelty and, in that respect, they remain unrivalled.
The man on the street enjoyed singing them for fun and their appeal has survived the passage of time.
Their commitment to their work was truly commendable and considering their taste and flair for innovation, which they introduced to suit a song's mood and lyrics, along with the kind of effort that went into their compositions, it is hardly surprising that they should have produced such memorable hits.
'Among those who thought me fit to sing their scores was Naushadji'
October 24, 2013 13:20 IST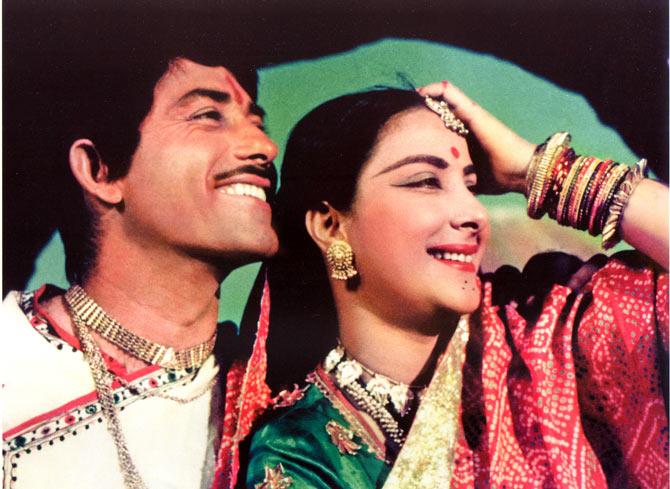 It was Shankar and Jaikishan's last composition for me, Sur na saje (It isn't the right melody), from Basant Bahar, that would bring the most productive period of my career with them to a glorious close. A spate of offers to sing playback followed right away from other music directors and I accepted them with eagerness.
Among those who thought me fit to sing their scores was Naushadji, whose ingenuity would lead him to discover in me a singer capable of doing justice to his tunes. His talent for innovation, evident in each of his compositions, amazed me. Like all true artistes, he could never rest until he had honed a composition to perfection. Recording a song for him involved nearly a dozen takes and his approval would not be forthcoming until one had gone through the entire process.
Yet, I loved collaborating with him because he was so committed to his work. Of his many compositions, the ones that deserve special mention because of their immense popularity are Bhagat ke has mein from Shabab, Chuniya kati jaye and Dukh bhare din bitey re bhaiya from Mother India and Mere gharse pyar ke palki chali gai from Palki.
Needless to say, I enjoyed singing them all.
Then there was the well-known music director Madan Mohan, with whom I had the good fortune to work. His talent for achieving a harmonious fusion of folk and classical melodies was what made his compositions stand out. It was Madan Mohanji himself, in fact, who first introduced Punjab folk tunes in Hindi films.
I began singing his scores in 1957, with Kaun aya mere man ke dware and Bairan ho gayee rain, both for Dekh Kabira Roya, and followed it up with other songs composed by him which included such memorable numbers as Prabhu dwar chali, for Sheru, Aj mile mann ke meet for Nawab Sirajuddaula and Bheegi chandni, a duet with Lata Mangeshkar for the film Suhagan.
'Few Indian music directors can match either Salil-babu's talent for innovation or his versatility'
October 24, 2013 13:20 IST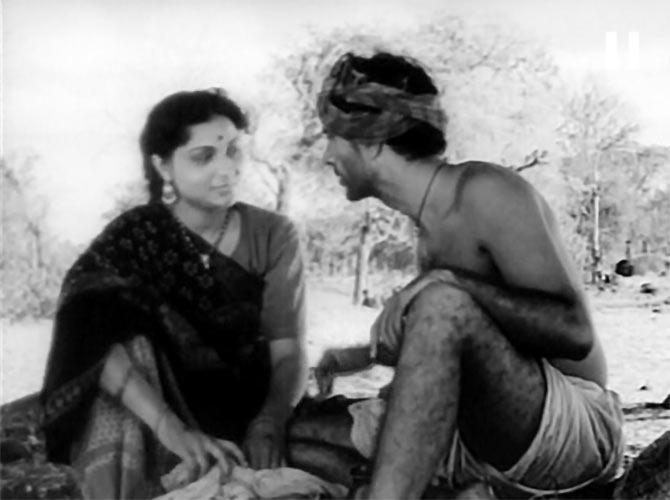 Another legendary music director with whom I had the honour of working was Salil Choudhury. I first met him in 1953, when I was to sing for a Bimal Roy film, Do Bigha Zameen. He had just arrived in Mumbai then and was composing the music for the film.
The lyricist working with him happened to be none than the famous Shailendra. I sensed from the tunes of the two songs, Dharti kahe pukar ke and Hariyala sawan dhol bajata hai, which impressed me greatly, that a new talent had arrived in the Mumbai film industry.
Both the songs represented an effortless fusion of Indian folk tunes and Western pop.
Few Indian music directors can match either Salil-babu's talent for innovation or his versatility. He composed music, wrote lyrics, arranged musical compositions and performed several other music-related tasks. He was a poet as well, often calling me to announce, 'Manna-da, I have written a poem. Now, listen', before proceeding to read out his work.
Hearing his poems read out in his own voice was an experience in itself. The secret of Salil-babu's incomparable compositions lay in his in-depth knowledge of Indian folk tunes and the exemplary thoroughness with which he conduced his research into music. Although I have had the privilege of singing for several other talented music directors, Salil-babu's compositions were certainly a class apart.
My tribute to him would be to place him, in terms of sheer potential, in the same category as Tagore and Nazrul Islam. It is a tragedy for us all that his personal problems would hasten his death and create a void in the world of Indian music.
'Salil babu came to my rescue when I was trying in vain to gain a foothold as a playback singer in Bengali films'
October 24, 2013 13:20 IST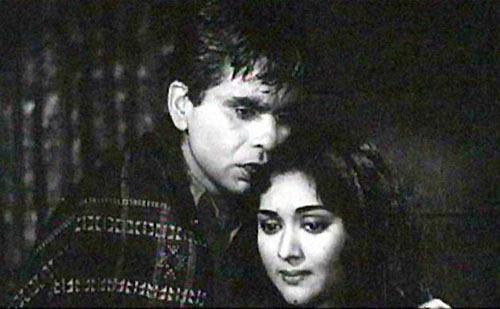 Salil babu had set up the Bombay Youth Choir, a cultural body whose aim was to create music for a free India. We were all its eager members and worked hard, initially, to ensure that it fulfilled its objectives. With time, however, and the increasing workload it brought in its wake, we failed to live up to the commitment we had made to it. The organisation died a natural death.
There was one person though, who made it her mission to fulfill Salil-babu's dream by setting up the Calcutta Youth Choir, when she moved from Mumbai to Kolkata: Ruma, or as the world knows her, Ruma Guhathakurta.
Following my work in Do Bigha Zameen, I would have the privilege of singing Salil-babu's composition for several other films, notably, Madhumati, Kabuliwala, Jhoola, Sangat, and Anand. In fact, it was Salil-babu again who came to my rescue when I was trying in vain to gain a foothold as a playback singer in Bengali films. It was he who game me my first break with a Bengali number for the film Ek Din Ratre, lip-synched on-screen by one of the most impressive veteran actors of the time -- Chhabi Biswas. An interesting anecdote comes to mind in this connection.
After I had recorded the song, I unexpectedly met Chhabi babu at the studio. He appeared somewhat disconcerted by the encounter, but had sufficient presence of mind to declare in his booming voice, 'Hey, Manna! I hear you've sung an obscene number that I'm supposed to lip-synch on-screen? How can I possibly sing it? Couldn't you have done something better?
The song was actually supposed to be a drunkard's slurred ditty, Ei duniyay bhai shobi hoy, shob satyi, shob satyi (Anything is possible in this world, brother, and it's all true, all true.)