Madhavan: I'm not comfortable kissing on-screen
Last updated on: February 23, 2011 13:01 IST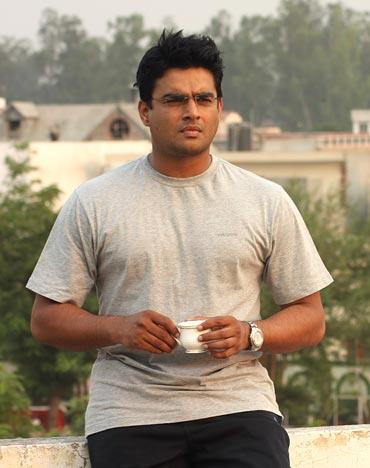 An actor with a salient portfolio of films that occasionally claim an eligible dwelling in India's cinematic history, like the revolutionary Rang De Basanti, or the inspirational Guru, or the provocatively motivational 3 Idiots, R Madhavan has been very cautious in his choice of movies.
For him it seems, even more than the story, it's the intensity of the character he is set to enact that enlivens him to come on board. So what made him sign up Tanu Weds Manu, his latest release premiering this Friday?
Ankur Pathak finds out.
Tanu Weds Manu happens to be your next big release post the thunderous 3 Idiots. How bad is the pressure?
It is fairly bad. More so because the trailers and the music have generated a lot of excitement. I'm getting nervous because the expectations are high. The track Saddi Gali has become a rage and it is heard playing in almost every other wedding. Suddenly, Tanu Weds Manu has become a much bigger film than it started out to be.
So it's a small film?
Small in the sense that it is a film made on a budget of    8 to 10 crores. It is not as if this is a film to be made on a big budget, it is meant to be a small budget film.
'Nobody in the industry could've done Tanu better than Kangna'
Last updated on: February 23, 2011 13:01 IST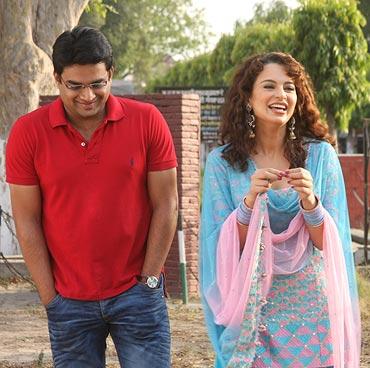 Can you tell us how a guy like Manu goes about in his normal life?
Manu is that strong, controlled, silent guy whom every other guy wants to be like. He is a guy, who'll walk into a room and instantly command respect.
A group of friends may be having fun, pulling tricks on each other, but nobody dares indulge in that kind of leg-pulling with Manu. This not because they feel threatened by him, but because of his personality. You'd rather have him as a respected friend than frivolously joke about and poke fun at him.
Why is he fond of Tanu?
See, Tanu is this rebellious, hot-headed girl who'd break the rules just because they're there. She is someone who wouldn't want to be confined to a particular set of laws. So the film is about these two diametrically opposite people and how they fall in love, and also the sacrifices that have to be made.
Was it a tough character to enact?
Totally. Without doubt, this is the most challenging role that I've done. I had to kill myself, honestly. It was mentally draining, and I had to try and concentrate hard to not make Manu heroic. It is so easy to do things that are heroic but it is so difficult to play an intense character who is real. I had to make him subtle, intense and interesting. 
So how exciting was it to have Kangna as your co-star in a comedic avatar? She's largely played disturbed and psychotic roles...
Yes, true. But I feel that there is nobody in the industry who could have done Tanu better than Kangna. I know she is a pahadi girl, and she has grown up there. She is exactly familiar with the aesthetics of the people there. Like how they eat, the way they talk, also the way they sit. All this is second nature to her.
Did you have anything to do with her Kangna playing the part of Tanu?
Yes. I thought she was the most appropriate choice to play Tanu. And I'm glad about my choice. We were to do another film together which didn't work out. So, when this script came to me, I suggested her name. In fact, I gave her the narration and then things moved forward.
'My equation with the women I've romanced on screen has worked phenomenally for me'
Last updated on: February 23, 2011 13:01 IST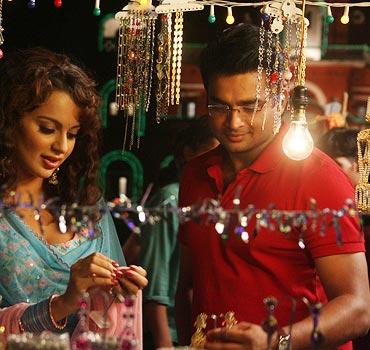 Okay, post 3 Idiots weren't there an army of film offers that came to you?
There still are. I had to refuse a lot of films from big banners because I'm very particular about the films I choose. I can't sign a film just because they've approached me. I don't want to be a part of any project.
Secondly, today there are expectations from me, and that too in terms of romance. I don't understand why, maybe it is the telecom ad, or a film like Rang De Basanti. My equation with the women I've romanced on screen has worked phenomenally for me.
Maybe the film Rehna Hai Terre Dil Mein had a lot to do with it...
Absolutely. I couldn't agree with you more. That image has lingered in the audience and the producer's mind for the longest time.
So this entire out and out romantic image, does it also replicate in your real life persona?
I guess so. I am not really a hard-core party animal or a person you'd spot extensively at filmy dos. I am a little reclusive and a homebody. I'm entirely devoted to one woman, my wife (Sarita), who I love. That is how it works for me.
Valentine's Day just passed by. How did Mr Romantic spend it?
Well, I didn't really plan anything. But at the end of the day, Sarita gave me a pleasant surprise. She gave me a nice shirt, and in the evening we went out for dinner at this high-end restaurant. We looked back at our lives, laughed at the circumstances of our togetherness, and also spoke about Tanu Weds Manu. We never proposed to each other. You know, things just glided from one point to the other and all of it was so comfortable.
Do you guys have contrasting personalities?
Not overly or outwardly. I'm a carefree kind of a person whereas Sarita is more particular. She is more responsible, yes, whereas I don't worry too much. So, in this way, we definitely are contrasting but not that much.
'I've seen a lot of girls like Tanu'
Last updated on: February 23, 2011 13:01 IST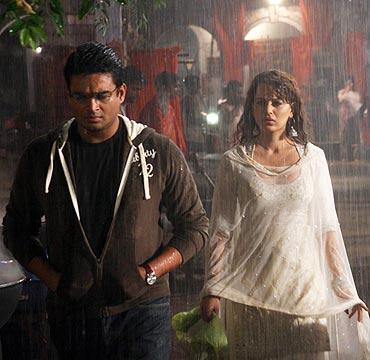 Have you ever come across or been in a relationship with a girl like Tanu or someone bearing her traits?
Yes. I've seen a lot of girls like Tanu, you know somebody who rebels without a cause, takes panga for no reason. And trust me, it is fabulous to see the transition when they become adults. You know, at one point they are these reckless tom-boyish kind, and then one guy comes along and sweeps them off their feet, and suddenly they are these docile adults epitomising womanhood. I've seen quite a few but not through personal experience. I've just dated one girl in my life who I eventually married.
You are talented but do very few films. Why is that?       
There really are very few scripts that excite me. As I said earlier, I cannot just sign movies for the sake of it. It has to move me in some manner. I work on only one film at a time. Like, now when I've finished TWM, I've to get it out of my system first, and only then can I move on to something new.
I remember doing Teen Patti while I was also filming for 3 Idiots. I really couldn't concentrate as hard as I'd like to. Being less frequent at the movies is perhaps one reason I have a strong set of audience.
You are a bankable actor in the South but in Bollywood, you have usually portrayed strong supporting characters. Why is that?
Well, I did do RHTDM, Ramjee Londonwale, and 13B as solo leads. See, for me my character is of high value. And in the films that I've done, the supporting characters that you are talking about, they've gone and become historic. Be it Rang de Basanti, Guru or for that matter, 3 Idiots. I'd any day go for an interesting part in a Rajkumar Hirani film than go for a frivolous solo lead.
Are you in touch with Aamir Khan?
Oh, yes. We are fairly in touch. I just met him a week ago. In fact, I had dinner with Raju and Sharman (Joshi) recently, and all of them are really excited for Tanu Weds Manu. They are supporting me in whichever way they can.
'I'm dying to be like Manu'
Last updated on: February 23, 2011 13:01 IST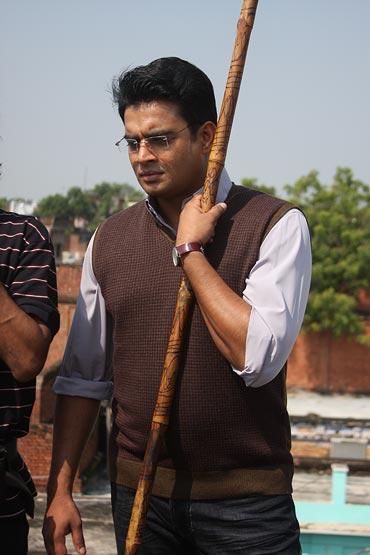 There is a lot of speculation about the kissing scene between you and Kangna in the film. So is there a kiss or not?
Unfortunately, there isn't anything remotely even close to a kiss. It is all just PR speculation. TWM isn't such a film where you'd get to see such intimate scenes.
Your wife must be really happy then?
Yes, absolutely. Actually I've just done one film (Guru) where I had to kiss and I wasn't really comfortable with it. See, it isn't really a big deal. The bigger worry is to kiss properly on screen. It isn't really a very easy job. You might be a good kisser in real life but when you have to do it in front of the camera, it is a whole different ball game.
You've been around for more than a decade now. How do you stay out of link-ups, controversies or scandals?
In terms of breaking the law, it doesn't really excite me to drive under the influence and be responsible for killing people. Or not pay my taxes.
In terms of link-ups, I guess you guys haven't yet found anything yet. I might be having a clandestine affair which hasn't been revealed yet [smiles wickedly]. Truth of the matter is that I love my wife too much, and I can't really wait to go back home from work and be with her and my son. I travel so much that I really miss home. I want to be loved; I want to be hugged everyday. You never see me partying or indulging socially at all. I have a parallel life alongside. I love making my own plans, playing golf and going on my bike tours.
Back to the film, how close would you say R Madhavan is to Manu?
I'm dying to be like Manu. My wife thinks I can't even hold a candle to Manu. He is too much of an outstanding guy. I wish I could be like Manu, I really do. I think I'm just about 40 percent of what Manu is.
Who is your favourite real life couple?
Yash Chopra & Pamela Chopra: They are an eternally romantic couple, very sweet.
Mani Ratnam & Suhasini Mani Ratnam: They are simply fabulous. It is so good to see them.
Rishi Kapoor & Neetu Singh: They are again an ideal and really wonderful couple.
Prem Chopra & Uma: I think they have one of the most romantic marriages. Any event you go to, they are always together.