'Katrina is not an item girl, Aamir just lets you be'
Last updated on: December 05, 2013 17:39 IST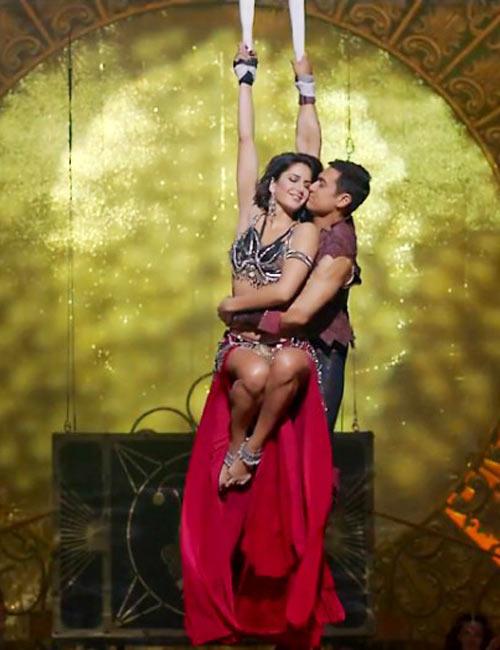 "I was scared every single day of shooting Malang," choreographer Vaibhavi Merchant says of her work in the Rs 5 crore song that features in the upcoming film, Dhoom 3.
The song, picturised on Aamir Khan and Katrina Kaif, looks quite breath-taking, as the actors pull out all stops and perform dangerous-looking aerial stunts.
Vaibhavi tells Patcy N how she pulled it off.
The song Malang seemed to have required rigorous training.

Aamir Khan and Katrina Kaif are part of the Great Indian Circus so, yes, the emphasis or the inspiration is on acrobatics.

It took me four months to put Malang together. From conceptualising the sets, the costumes, and props, to what are the aerial acts that they will be performing, what apparatus they will have, how it will be choreographed, when they are on ground how they will look.
Click Next to see more.
'All the stunts are done by Aamir and Katrina, no body doubles were used'
Last updated on: December 05, 2013 17:39 IST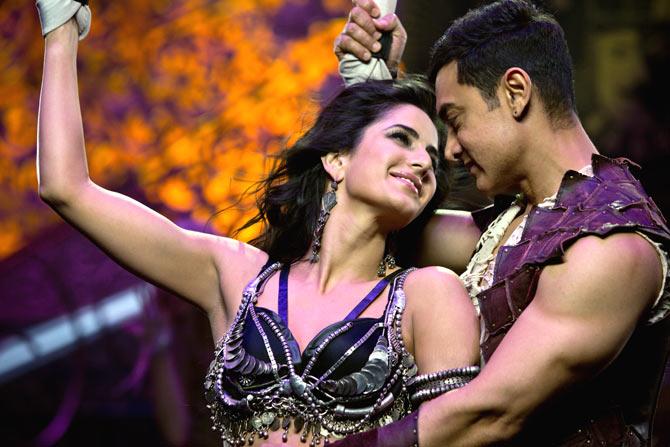 How difficult was it for Katrina?

Malang is a film within a film actually because it has taken as much time on pre-production as a small budget movie would take.

Both Aamir and Katrina knew their characters well in advance. They knew they had to do rigorous physical training to look the part, and they had to look like acrobatic artistes. For this, they trained for a year-and-a-half, to get their bodies together.

After that they started special training. Katrina had to be on the hoop, she also had to do strap sections and a trampling section. Both Aamir and Katrina had to get trained in these apparatuses. Strap is very difficult because your entire body weight is on one right arm and shoulder.

All the stunts are done by Aamir and Karina, no body doubles were used.
There are times when I had to suspend them in the air for 16 seconds to 40 seconds or maybe more. They had to be 35 to 40 feet above ground, and that's a lot

We had safety measures. The riggers had come down from London so all the wire work and harness work was operated by them. Safety was emphasised a lot. It was state-of-the-art.
'At the end of the day, both Aamir and Katrina would have sore shoulders'
Last updated on: December 05, 2013 17:39 IST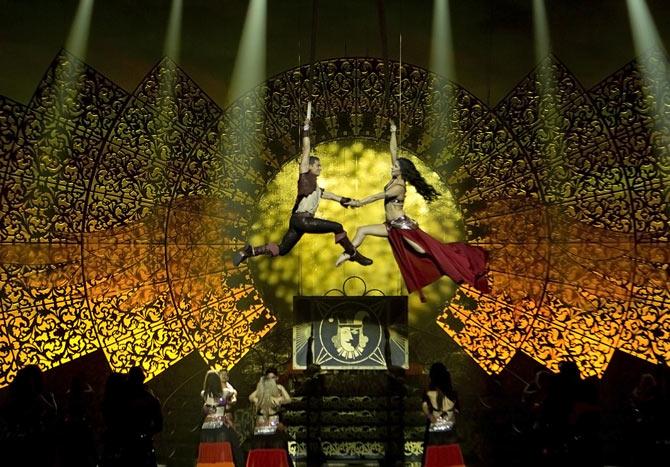 Katrina said she did a sequence on the hoop, which had to keep rotating, and there was no harness as it may get entangled...

Even the hoop is wired, but yes they didn't have a safety harness. We did it with crash mats on the floor.

When we started her hoop training, we started it at a two feet height till she learnt the technique and the choreography, and only then did we take it higher.

We were shocked that both Aamir and Katrina learnt everything so fast. They gave it their best without complaining for a single day.

Katrina's make-up had to be such that it covered all her bruises as she was black and blue. You would feel scared looking at all those marks.
There were times when I was shaken at what this girl is going through. I would pity her. I would feel bad but I can't show that or else she will lose that spirit and energy. I had to encourage her.

At the end of the day, both would have sore shoulders. A professional acrobat who performs these stunts at circus and stage shows starts at 7 pm and finishes by 9 pm, with an interval in between.

But when you are shooting something like this, you have to shoot for 12 hours, and on an average they are suspended for may be six to seven hours. They worked four times more than professional performers do.

On the hoop, if the stunt doesn't look right or there is a technical problem, they have to give another take and do exactly the same things again. Just imagine the wear and tear on their bodies while I shot with them for 12 days.
'Aditya Chopra is not a producer who compromises'
Last updated on: December 05, 2013 17:39 IST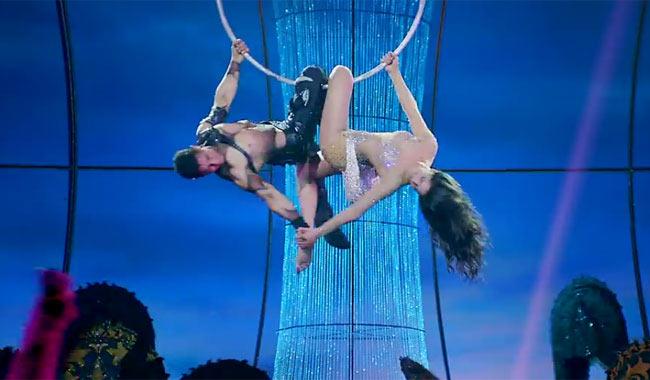 After the shoot, did they have to take any special care?

Yes, of course. They had to do physiotherapy; they had to warm up before they started the routine. They had to stretch after the routine.
On the day of the shoot, they reached a point where their bodies were functioning like professional acrobats.
They had undergone such intense training that their bodies automatically reached that point, they were that strong.

Did you ever feel a shot was really risky or you were sceptical that it could be done?

I was scared every single day of shooting Malang. I can't remember one moment when I felt normal.
Even when the actors were dancing on the ground, there were other performers behind them who were flying and swinging mid-air. In every shot, there was someone aerially bound.

From the time I started conceptualising the song, which was in October 2012, till March-April when we started shooting, that entire journey for me was fun, a great challenge, high pressure. Eventually everything had to look stunning.

Adi (Aditya Chopra) is not a producer who compromises. He was giving us such support, he asked us to go all out in whatever we wanted to do.
'There was a lot of emphasis on Katrina's costumes'
Last updated on: December 05, 2013 17:39 IST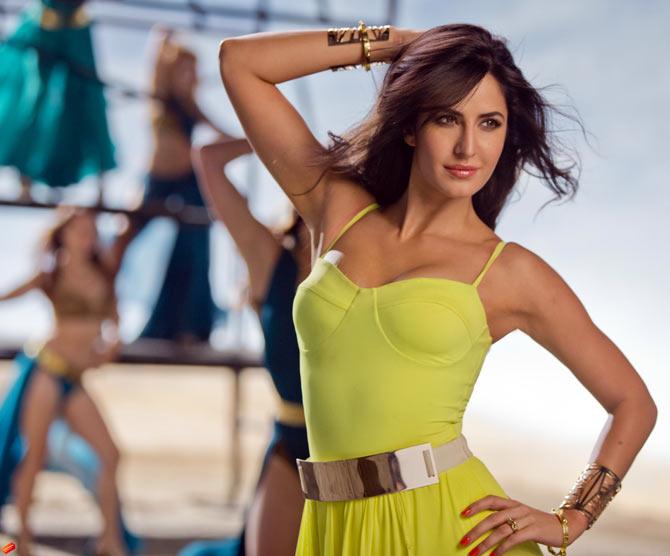 This is supposed to be the most expensive song to date...

Yes, it is. I have my doubts, though, whether what has been reported is the correct cost because it is a lot more than that.

When you see it, you will see what went into it. Right now everyone is watching it on television and internet and mobiles.
But a song like Malang must be seen on the big screen. Only then can you gauge the cost and what all went into it.
People have no idea what is waiting for them on the big screen.

In fact, every song of Dhoom 3 has to be experienced on the big screen.

There are already two Dhoom Machale songs in Dhoom and Dhoom 2. What challenges did you face in making the third Dhoom Machale song?

We were very clear that this time Dhoom Machale had to be as close to the film as possible. You can see in the promos that the film is shot very stylishly.
We know that the Dhoom franchise is about entertainment but in this particular Dhoom, it was also necessary to represent certain aesthetics and craft of filmmaking.
The challenge thrust upon us was to up the scale by leaps. It should amuse international viewers, and it should appeal to a wide range of audiences in India. That was our biggest concern.

It could not be a typical Hindi film song. It can't go into the 'item song' category. We were also clear that this song will be used to promote the film so it could not be shot like any other song.

There was a lot of emphasis on Katrina's costumes. Usually when you choreograph a song, you conceptualise it and then you decide on the costumes. But in Dhoom Machale it was the other way around -- we knew the costumes she would wear to represent her character, which was that of a performer.

Once the costumes were locked and I started choreographing, I knew that she had to dance in six-inch pointed heels. I had to keep in mind that the choreography had to match the outfit that she was wearing.
'In this song, Katrina is competing with herself'
Last updated on: December 05, 2013 17:39 IST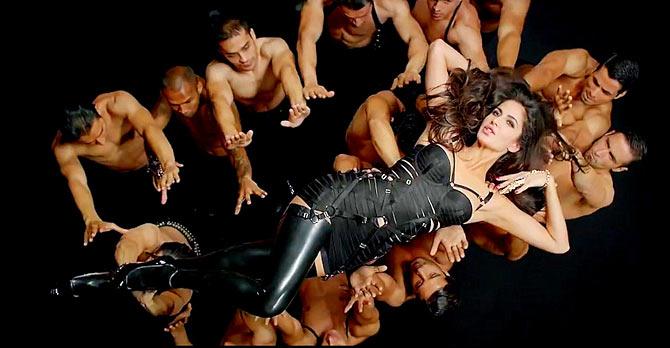 Katrina is known for her item songs like Sheila Ki Jawaani and Chikni Chameli. How difficult was it to choreograph the song for her and still not call it an item number?

'Item' is a word we have coined because of a song's mass appeal. People love to dance to these songs and the songs become very popular. So, basically, the song becomes 'itemised'.
As a choreographer, you only react to the music. If you hear a folk song you add folk dance steps to it, if you hear a western dub-step you add that kind of dance. The steps are dictated by the music.

Katrina is very passionate about her dance. In this song, Katrina is probably competing with herself, with her own work in the past. She has never grooved the way she has grooved not only in this song, but also in other songs in the film.
She had to train extremely hard for the song Malang as well. No item girl suspends herself 30 feet above ground and starts swinging.
I can't call her an item girl. She is a professional actress.
She has done the job dictated by the character in the script and she has worked towards it.
'Katrina literally slogs her butt off'
Last updated on: December 05, 2013 17:39 IST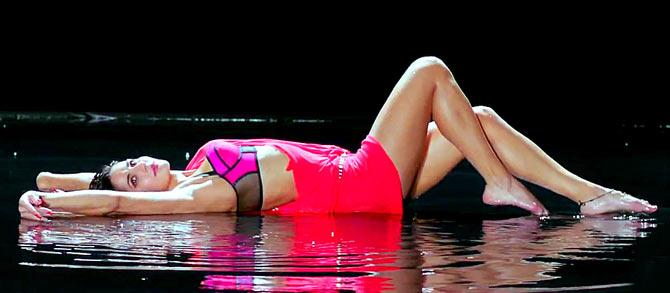 You have choreographed all the songs of Dhoom 3. Overall what was your experience of working with Aamir and Katrina?

Aamir is always a pleasure to work with. He is a great cinema connoisseur.
He is so experienced. He has got his facts right. He has got his craft and pitch absolutely bang on. He is any technician's delight. He understands what is required of him when you take him a notch up and down.

He is very passionate about his work. He gives so much time to a project that he makes that his life. He makes sure he eats, drinks, thinks only that when he is on the sets.

At the same time, he is not pushy or over-passionate, He is somebody who lets you be. He keeps us on our toes but he is also ahead of us. You have to catch up with him.

I have spent the last three years with Katrina -- with Ek Tha Tiger, Jab Tak Hain Jaan and now Dhoom 3. I have never worked with any other actor or actress like this, back to back. We have literally lived together in the studio and on location.
She is a gem. She loves dance so she gives it her all. I like the fact that she loves dance as a subject; some people fear it and it becomes difficult to handle such an actor or actress.
She literally slogs her butt off. She is very particular about her costume. She is the only one of the new generation who comes well prepared on the sets. Whatever she has achieved it is due to her sheer hard work.