Meet Ajay Devgn's love in Singham
Last updated on: July 13, 2011 15:08 IST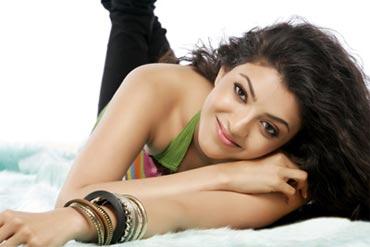 After making her mark in the South Indian film industry, Kajal Agarwal gets her Bollywood break with Rohit Shetty's Singham opposite Ajay Devgn.
Kajal has earlier done a small role in a Hindi film Kyun! Ho Gaya Na, where she played Aishwarya Rai's friend but she prefers to call Singham her debut Bollywood film.
She talks to Patcy N about Singham, and how a Mumbai girl made it big in the South film industry.
What made you come back to Bollywood when you were doing so well down South?
I have not come back to Bollywood, I have just started my Hindi career in Bollywood. I had got offers to act in Hindi films earlier too, but nothing worked out because I did not have dates -- I was doing five movies a year.

Rohit approached me for Singham. I was to work with the dream team of Ajay and Rohit. I liked the story, and then I was doing a film in the language that I was really comfortable in and the dates worked out perfectly. So, everything fitted in just right.
Singham has been made in many languages (originally in Tamil as Singam, dubbed into Telugu as Yamudu, remade in Kannada as Kempegowda, in Bengali as Shotru). What made you sign it now after all the other releases?
I had seen the original in Tamil and I really liked it. When I got an offer to do it in Hindi, I was happy because Hindi is a known language for me -- we speak Hindi at home so I was more than happy to do it in a language I am comfortable in.
'My character is extremely important in Singham and will be noticed'
Last updated on: July 13, 2011 15:08 IST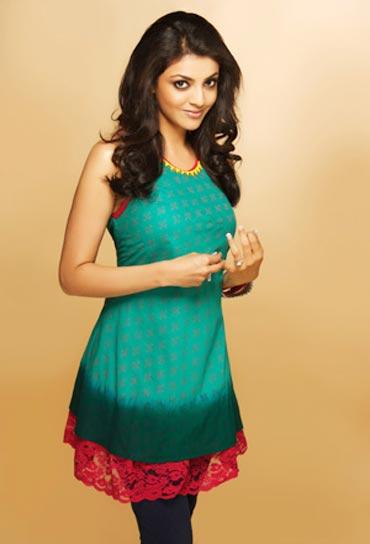 The director of Bommalattam, Bharathiraja, who gave you your first break down South, is upset with your saying that you don't consider yourself to be a South Indian actress because you are North Indian by birth. What's all this controversy about?
First of all, I have never made any comment like that. I don't know how this entire controversy has come up. I am very proud to be a South Indian actress; I have started off from there so my loyalties definitely lie with the South. I don't need to go around justifying my loyalty because my audience already knows that through my work.
A publication had asked me whether I have any plans of relocating to Mumbai and I had replied that relocation is not the question because I live in Mumbai, I am from here. I do my work in Hyderabad or Chennai and come back to Mumbai where my family and friends are. So home has always been Mumbai for me. They misquoted me as saying that I don't consider myself as a South actress any more. I was upset with this controversy.
Ajay Devgn plays the character of Singham in the film and the title suggests it's his film all the way through, so where does that leave you?
Yes, it is essentially an action flick but nonetheless it does have elements of drama, emotions, it has a nice love angle too. You don't have to be on screen for two hours to show you have talent, you can prove yourself in 15 to 20 minutes. So, although I don't have a run of two hours in the film, my character is extremely important and will be noticed.
'I was the victim all the time and always fell for all the pranks'
Last updated on: July 13, 2011 15:08 IST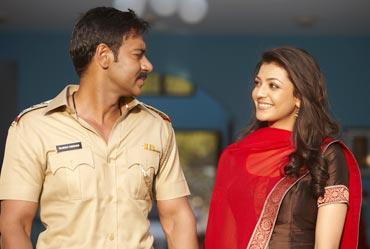 Ajay Devgn is an industry veteran. Did you learn anything from him?
Yes, I did learn from him. I really admire his quality of switching on and switching off from the character. As soon as he hears 'action' he is another person and as soon as they say 'cut' he is back to being his normal self. That is really amazing. I am trying to imbibe that quality.
He is supposed to be a big prankster. Did he play any pranks on you?
I was the victim all the time and always fell for all the pranks.
The most memorable was an action scene in which Ajay is beating up the goons with his belt. I was standing right there so he called me and said "Kajal, ye le inko maar." (Kajal beat them up)
I asked him why I should do that when Singham (Devgn's character in the film) was there. He said this is the time when you take your badlaa (revenge) and you are showing your feminism.
I thought he was right so I told the goons that I had never done an action scene before, so they should dodge my blows. They said "no problem, madam" and I started hitting them. Then everyone on the sets started laughing and I realised that it was a prank.
'Rohit knows how to keep everybody happy on the sets'
Last updated on: July 13, 2011 15:08 IST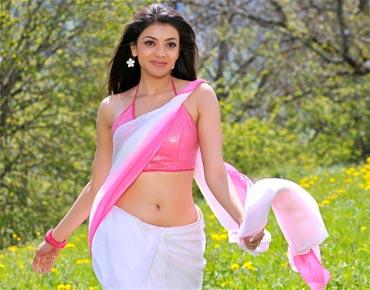 How was it working with Rohit Shetty?
It was wonderful working with Rohit. He is one of the most talented directors I have ever worked with. He knows what he wants and knows how to get it and at the same time he is extremely genuine, humble and very professional. He has a fabulous sense of humour. He knows how to keep everybody happy on the sets.
You are from Mumbai, so why did you choose to work in the south Indian film industry?
I am from Mumbai and I did my schooling from St Anne's High School in Colaba, and then Jai Hind College, and I got a degree in Mass Media from KC College after which I started getting offers to act in South Indian films and I took it up. I had not thought about acting professionally but all these offers were tempting. I took them up initially for fun but then I got totally involved and decided I wanted to make it a career.

But how did you get those offers?
Couple of people I knew when I was in college had circulated my pictures. I had also done a lot of theatre, English and Hindi. I was with a theatre company called Two Plus Production and that's how I got noticed and that's how people approached me. My first South film, Lakshmi Kalyanam, really did well and then there was no looking back
'I can understand and converse fluently in Telugu'
Last updated on: July 13, 2011 15:08 IST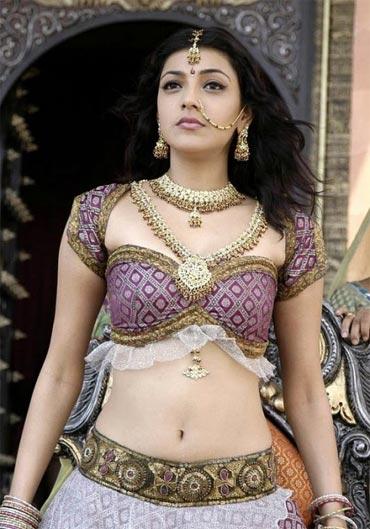 Did the success of Magheedhara change your life?
I don't think so; it did not change anything for me personally. But it did change the way people look at me. It probably made me more confident than I was.
How did you cope with southern languages, understanding the meaning of your dialogues and so on?
Thanks to theatre I am very used to rendering long dialogues. I wrote my dialogues in English or Hindi first. My directors and assistant directors have been very supportive in explaining to me the meaning. I do not spare them till I understand the exact meaning. Now, after four years in the South industry, I can understand and converse fluently in Telugu. I am still learning Tamil.
Have you got any other offers from Bollywood?
Yes, I have an offer but I can't disclose the details right now.
Suppose you start getting more films here, will you stop working in South films?
No, I will just wisely choose projects from both industries.