'I owe it all to Priyanka Chopra'
Last updated on: February 17, 2011 18:32 IST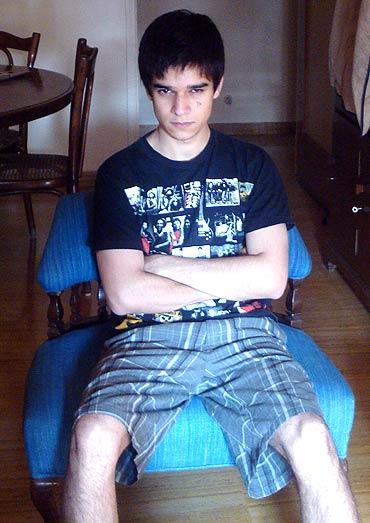 No hot-blooded man needs an excuse to lust after Priyanka Chopra. But imagine romancing PC, and then getting paid for it!
For Vivaan Shah, son of acting veterans Naseeruddin Shah and Ratna Pathak Shah, this was a great opportunity in more ways than one.
The 21-year-old will make his debut in the brilliant director Vishal Bhardwaj's promising new film 7 Khoon Maaf.
Vivaan, who will sit for Bachelor of Arts degree examination in April, is not nervous. When Patcy N met up with him, he seemed confident about stepping into his new career, and leaving his academics behind. He tells us more about himself.
So you play the seventh husband in the film?
The seventh husband cannot be disclosed. But I will not deny that. There is a twist in the tale.
I play the servant and the film's narrator. My character ages from 17 to 45. Ever since I'm a child, I'm infatuated by Priyanka but it's never reciprocated because she's much older. So when she gets married so many times, I get jealous. I hate all the husbands profusely. When I turn 45, there's a twist in the tale, which leads to the seventh husband.
Are you an accomplice to her murders?
No. She has four domestic helps, I'm the youngest of them. I am not involved in the murders but they are.
'I never wanted to be an actor'
Last updated on: February 17, 2011 18:32 IST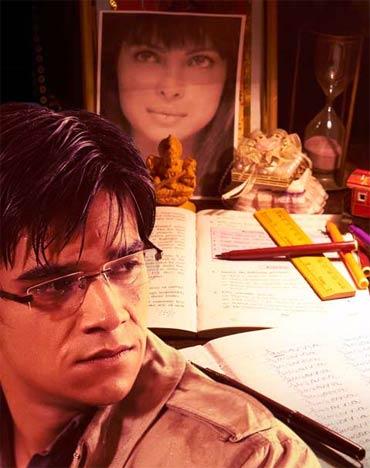 How did you bag the role in 7 Khoon Maaf?
I have known Vishalji from a young age. We are family friends. Baba (Vivaan's father Naseeruddin Shah) and he were in the same cricket team and are close friends too.
Off late, he started observing me, and one day, called me to his office. He asked me to give an audition. I was blown away.
I prepared for the audition and gave it. He showed the screen test to UTV and they liked it. That's how I got the film.
But was acting on your mind?
That's been a dilemma. Being the son of actors, it was expected of me. In school, people would say, 'yeh toh actor hi banega' (he will become an actor only). That made me rebel against it.
When Vishalji called me to his office, I realised it was an immature and stupid notion.
 
Have you every acted in your father's theatre group, Motley?
I have helped out on his sets, I have done a lot of backstage work. I haven't really acted in his plays. I hope to do that soon.
'I was very nervous facing the camera'
Last updated on: February 17, 2011 18:32 IST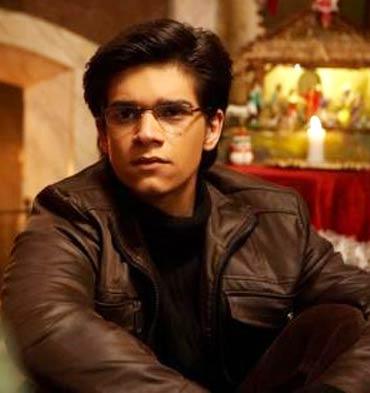 Were you nervous when you faced the camera for the first time?
I was very nervous. It was a difficult experience.
The sets were intimidating. It was difficult to execute what you had planed and worked out. For that, I owe it all to Priyanka, the amount she helped me, and the advice she gave me. She taught me how to be at ease and not let things bother you, how to be calm and not nervous, and how to contain your thoughts.
She sensed that I was a lost cause initially. She gave me training on professionalism.
Vishalji would also guide me. But a director cannot constantly be in charge of the actors, as there are so many other things to do.

'I used to be enamored by the environment, and I enjoyed the shoots'
Last updated on: February 17, 2011 18:32 IST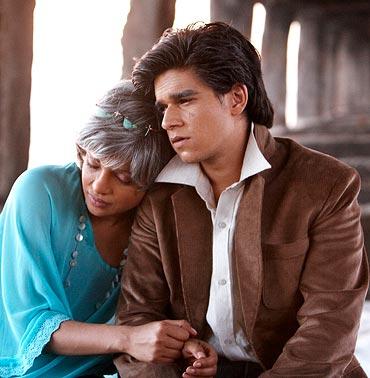 Do you remember going on the sets wit your parents?
Yes. I used to be enamored by the environment, and I enjoyed the shoots. When my father started doing mainstream movies in the 1990s, I remember going to the sets of some, like going to Kenya for Vishwatma, Manali for Tahalka, and in Mumbai for Mohra.
But my parents would keep saying it's so boring on the sets. This enthusiasm that I had also helped me make up my mind to become an actor.
Your father is the powerhouse of talent. Did that put any added pressure on you?
No. On the contrary, it will motivate me to do better. People asked me this question when I was in Coorg, Karnataka, when we were shooting 7 Khoon Maaf. They asked me if my father coming on the sets would make me nervous. But I said that that would motivate me and charge me up even more.
 
Didn't your father made a conscious effort not to be on the sets when you are shooting?
Yes, he did. But he was there once or twice when I was shooting. Believe me, when he was around, his presence motivated me to another level.
'Chakra and Albert Pinto are interesting because he played a tapori for first time'
Last updated on: February 17, 2011 18:32 IST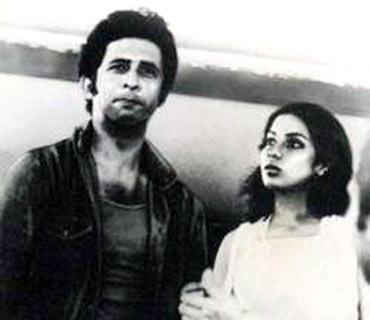 Which Naseer film do you love best?
There are many. To name a few, there's Masoom, Sparsh, Katha, Chakra and Albert Pinto Ko Gussa Kyon Atta Hai.
Masoom is not exactly my favourite, but I like it because of the cult status that it has achieved.
I prefer his serious films like Paar, where he played a farmer. He had to go through rigorous training in that. He became very thin, and started looking like a farmer.
He has an engaging performance in Sparsh because he plays a blind person.
Chakra and Albert Pinto are interesting because he played a tapori for the first time, after having the image of a sophisticated Urdu literary figure.
What next?
I have not signed up any film yet. But hopefully, I will start with something soon.
My college exams get over in April, and with that, my academics will come to an end.