The real Salman: Bodyguard Shera reveals all
Last updated on: August 4, 2011 17:06 IST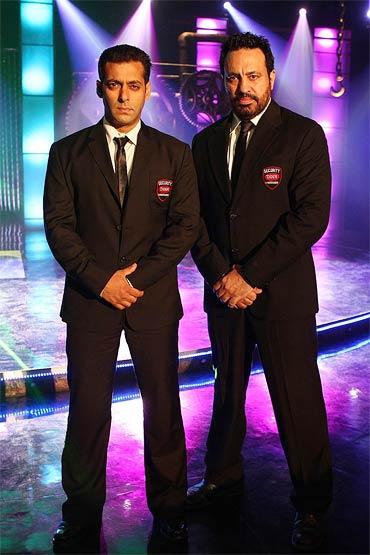 Trust Salman Khan to do things differently. At the launch of the first look of his new film Bodyguard, Salman took a backseat and let his real life bodyguard of 15 years, Shera, take centre stage.
Sonil Dedhia gets into conversation with Shera, real name Gurmeet Singh, as he talks about his association with the superstar and making his debut in Bollywood.
We generally don't see bodyguards in the forefront. This is the first time ever.
It's a big honour for me. I never even dreamt about it. I have been with Salman bhai for 15 years but I never imagined that I would be given such a big opportunity.
How did you get associated with Salman Khan?
I own a security company called Tiger Security that supplies bodyguards to a lot of actors. Sohail Khan called me when he needed security for Salman's overseas tour.  I met him and he was so impressed with me that he insisted I go with Bhai (Salman Khan) and that is how my journey with him started.  
Tell us something about yourself.
My real name is Gurmeet Singh. My father gave me the name Shera because when I was born I was very healthy and grew up to be a strong boy.
'Salman Khan is a real superstar'
Last updated on: August 4, 2011 17:06 IST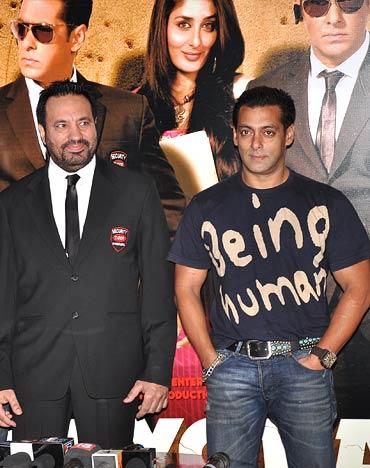 Have you worked with any other celebrities?
Apart from Salman, I have not worked with anyone, but when Salman has told me to do so, I have accompanied a lot of stars like Hrithik Roshan, Kareena Kapoor and Karisma Kapoor.
You have been with Salman Khan for so many years. How has he changed over the years?
I have been with him for 15 years now.  From his debut as a romantic hero in Maine Pyar Kiya to his recently released action films like Wanted and Dabangg, Bhai has changed so much. The mannerisms, style, body there have been so many changes in him.
Salman is playing a bodyguard in the film; did you give him any tips?
After being with me for 15 years I don't think he needs any tips! He has noted me so closely for the past many years that he doesn't need any advice. Also, I am no one to give him advice. He is a real superstar.
'Salman taught me some dance steps'
Last updated on: August 4, 2011 17:06 IST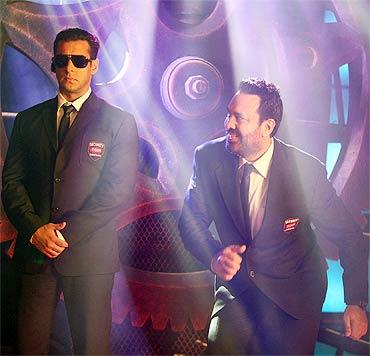 Salman refused to wear any other security company's uniform but yours. In fact, he refused Rs 7 cr to wear anyone else's uniform.
Atul and Alvira Agnihotri, who are the producers of the film, called me and asked me to send the logo of my security company. I was not aware for a long time that Bhai chose to wear the uniform of my company. You can imagine his liking for me by that. He is a real nice man at heart.
Are you doing an item number in the film?
Yes, I have shot for the title song of the film. Bhai taught me some dance steps. I was extremely nervous and scared as this was the first time I was shooting for a film. I did a lot of rehearsals and I think I have got it right. I don't want to say a lot as it is a surprise package and I am sure everyone will like it.
Do you like him doing romantic roles or action roles?
I am his bodyguard; I like Bhai in whatever role he does.
'I have never seen such crazy fans for anyone'
Last updated on: August 4, 2011 17:06 IST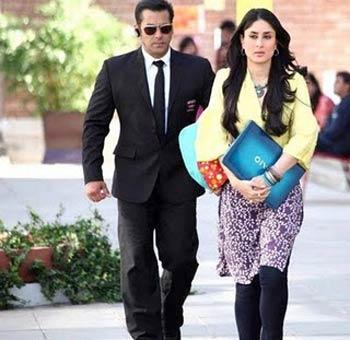 How difficult is it to handle his fans?
It is very difficult to protect and do my job for such a big superstar. His fans are not like any other fans. Bhai's fans are diehard fans. All his fans gather in a mass when he is in public and there are times when there are stampedes whenever he steps put of his house.  They want to touch him, click photographs with him and it becomes very difficult to handle the crowd. I have never seen such crazy fans for anyone.
Is there any incident that you can share?
I remember one incident, which happened in Chennai recently. A girl suddenly came on the stage and held Salman Bhai very tight and refused to leave him. At this point there aren't any special arrangements for ladies security. Somehow I managed to coax her to leave Salman. Bhai always tells me, 'Do what you have to but make sure that none of my fans ever gets hurt.'
Recently Salman said he trusts you with all his women.
Yes, he can trust me with anything. Fifteen years is a long time. I will not think even once before taking every bullet fired at Salman, if that ever happens. I can die for him.