Sanjay Dutt: My fans have made me a star
Last updated on: May 2, 2012 18:58 IST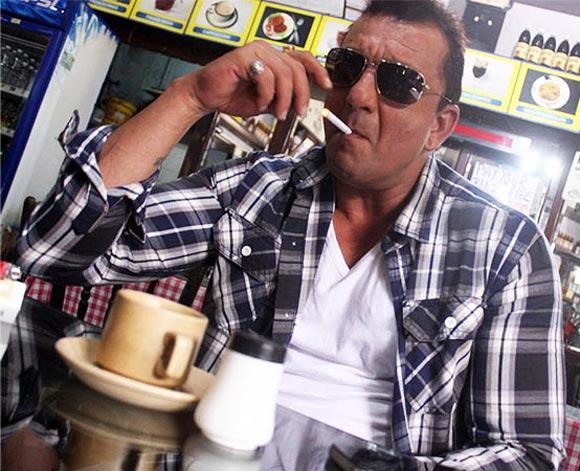 Just when critics started writing him off, and saying his illustrious career was finally over, Sanjay Dutt bounced back with a stellar performance as Kancha Cheena in Agneepath.
The 52-year-old actor is busy shooting at Film City in suburban Goregaon, Mumbai, for the patchwork for his upcoming film Department.
Directed by Ram Gopal Varma  the film also stars Amitabh Bachchan and Rana Daggubatti and will release on May 18.
In a candid chat with Sonil Dedhia, Dutt spoke about working with RGV, how he is enjoying fatherhood and why politics is not meant for celebrities. 
Every time the critics write you off, you come back with an outstanding performance as you did in Agneepath.
I don't think I went through any rough patch. It is the media that writes me off all the time. Every actor goes through a good phase and a bad phase in his career. It is the honesty of an actor that can get him back.
When you are on top you need to learn how to handle success and at the same time be prepared for the downfall too.
Are you getting more offers to play negative characters after Agneepath?
I am open to negative roles.
I got a few offers for negative roles after Agneepath but I didn't take it up. I need something that will push me beyond Kancha (his character in Agneepath).
'My character in Department has no feelings'
Last updated on: May 2, 2012 18:58 IST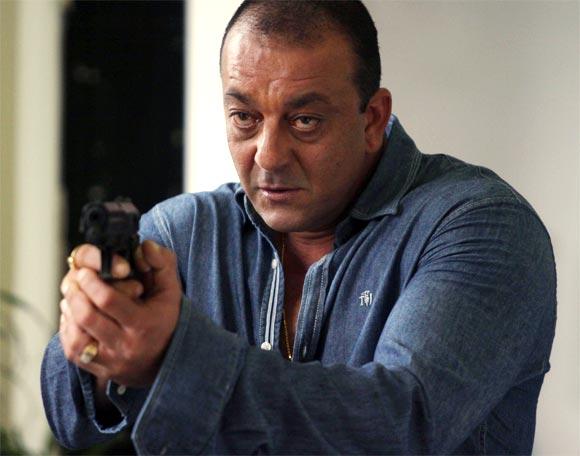 You worked with Ram Gopal Varma in Daud (1997). How has he evolved as a director?
He has grown tremendously as a filmmaker. When were shooting for Department he shot some sequences on Canon 5D which was interesting but at the same time it was difficult for me as I am not used to it. I think it was difficult for Amitji (Amitabh Bachchan) also.
 In a way it is good since he has kept pace with time and technology. He is a fantastic technician and a great filmmaker.
After Daud, did Varma offer you any films that you didn't take up?
No, he did not offer me any films. We went our own ways. He started making films with other people and I started working with other directors.
All of a sudden I got a call from him and he told me let's do a film together. I felt really happy because I had a good experience working with him in Daud and I was looking to work with him again.
We had a lot of fun making Department.
You have played a cop so many times. Don't you get bored playing the same character?
Sometimes it gets boring to play the same character. An actor should know how to design his character around the script.
Recently, Salman Khan played a cop in Dabangg. It was an interesting script but Chulbul Pandey (the character played by Salman Khan) was the highlight of the film. At the end of the day, it was a cop film but Salman gave it his personal touch and people loved it.
My character in Department has no feelings. If he wants to shoot someone he will not think twice.
'I have become very moody'
Last updated on: May 2, 2012 18:58 IST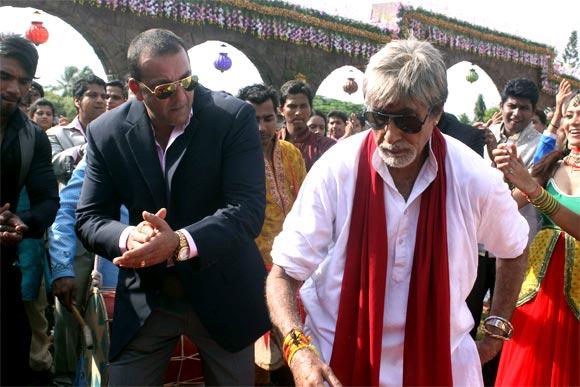 You started your career in films in 1981. Do you see any changes in yourself as an actor?
I don't think I have changed as an actor. I still read scripts and if I like it I do the film; if I don't, I reject it outright.
Yes, I can say that I have become very moody.
Why moody?
I have spent 32 years in the industry. It's five in the evening and I need to hit the gym but I am sitting in an interview with you (Smiles).
You were born to celebrity parents. Stardom has been a part of your life since your birth.
I don't think any actor can make a mark in showbiz because of his or her parents.
My father (Sunil Dutt) launched me in the film industry but it's my talent and hard work, which took me places.
My fans and the audiences made me a star. If they hadn't seen my films and liked my performances I wouldn't have been what I am today.
I am always going to be thankful to them. It is very important to know how to meet them and stay connected.
'I want to be exactly like my father'
Last updated on: May 2, 2012 18:58 IST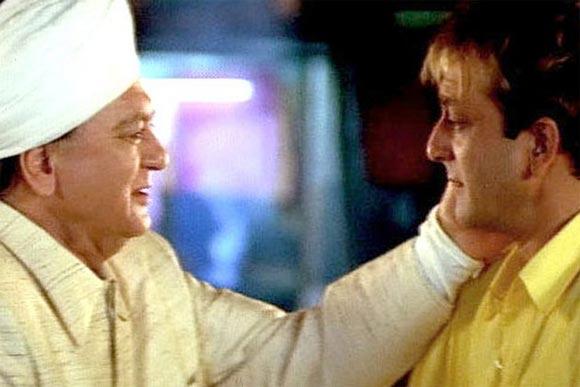 After a three-decade-long career, what is it that makes you want to get up in the morning and go on the sets?
It's a magical feeling when I am performing a role. It's fun to portray a particular character.
Just recently, my fans and audiences loved and appreciated my performance in Agneepath and I don't think money can buy that for me. It is such a beautiful feeling for an actor. And at the end of the day I have two kids so I will have to perform (Laughs).
Do hits and flops matter to you?
It does and it doesn't. It does because of the survival factor: at the end of the day, I have to look after my family.
It does not matter because I have spent enough time in the industry. I have crossed the stage where if a film doesn't do well or flops, I will sit at home and start cribbing and analyse where I went wrong. I just keep moving on.
Do you think you are too nice and people have taken you for a ride?
I used to be emotional and take my decisions from the heart and not from my brain. But of late things have changed. After spending a considerable time in the industry I have become more practical. I am still emotional for my friends and my family though.
'Fatherhood is a beautiful experience'
Last updated on: May 2, 2012 18:58 IST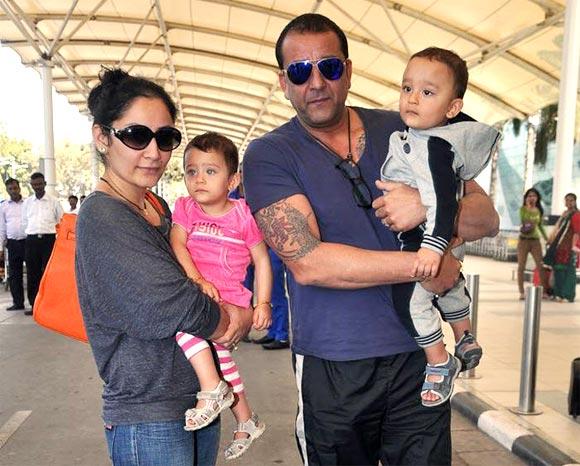 How does it feel to be a father all over again?
I had never experienced fatherhood when Trishala was born. My wife (Richa Sharma) was not keeping well and Trishala had to stay in the USA. I worked here in Mumbai. So I never had the experience of growing up with my child.
Today, it is a beautiful experience. As soon as I finish shooting, I try to rush home and spend time with my kids (Shahraan and Iqra)
You had a special bonding with your father (Sunil Dutt). Would you like to be like your father?
I want to be exactly like my father. He was there with us all the time and he was like a big support system for all of us.
But I would like to tell my kids not to be like me as I was in my childhood days (Laughs).
'I don't think any actor can become a politician'
Last updated on: May 2, 2012 18:58 IST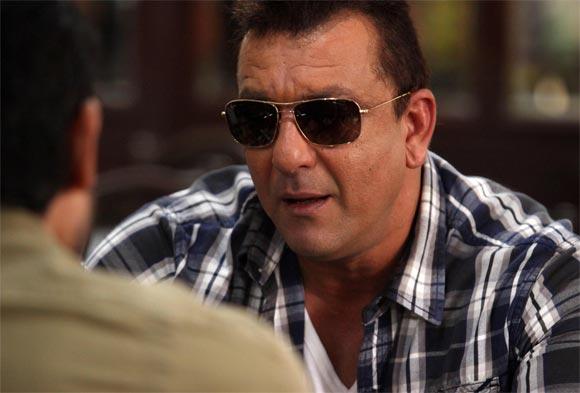 You recently started Super Fight League (SFL) with Raj Kundra. It was one of your father's dreams...
Yes, I am very happy and excited about it. We are taking SFL slowly and steadily. It is based on the Ultimate Fighting Championship (UFC) which has a huge following in the USA. It is one of the safest sports in terms of wrestling.
The surprising part is kids of 12-13 years know about UFC and we have got good support from the people for SFL.
Your father was a good politician. Do you regret that you entered politics briefly?
My father was never a politician. He had a good tenure because he was a good man.
I don't know why I entered politics. It was a mistake. During the time I spent in politics I learnt that you got to go there, give lectures and promise a lot of things, and you have to fulfil them. I don't think it ever happens.
Politics is a different world and I don't think any actor fits in that world.
Why is that?
I feel actors are very innocent people. Look at Dharamji (Dharmendra), he couldn't survive a long time. Hemaji (Hema Malini) is there, but still not there. Shatruji (Shatrughan Sinha) is a beautiful human being and he is a man who I think hasn't got his due. He had the potential to become the Chief Minister.