Priyanka: I never thought I could sing
Last updated on: September 14, 2012 14:43 IST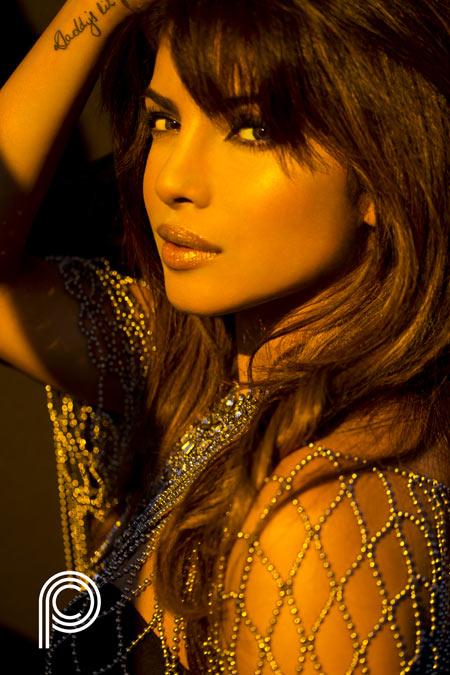 Priyanka Chopra has added another feather to her cap with her international debut as a singer with the single In My City, featuring will.i.am, on Thursday at a suburban hotel in Mumbai.
The album itself is expected to be released early next year, the promotional video of which will be launched internationally at the National Football League in the US on NFL network.
In this interview with Sonil Dedhia, Priyanka talks about her singing debut, fulfilling her father's dream, and the challenges that came her way. 
You are making your singing debut with an international music single. How does that feel?
I am thrilled to launch my debut album. This is a culmination of a two-year journey that has been the toughest yet the most enriching experience of my life.
It also marks the beginning of a new chapter. I walked into this project as a novice with no training in making music and today I am proud to be able to do something on a global platform that India would be proud of.
How did your musical dreams shape up?
When I was shooting for 7 Khoon Maaf in Coorg, I was in a very serious headspace. My manager, Natasha Pal, insisted I just have a meeting with a music label, as it could be an interesting idea.
I came back from Coorg and met a couple of people from Universal Music Group. I was wondering how these people came to know that I could sing. I came to know that it was (composer) Salim Merchant who told them that I could sing.
Later, Jimmy Lovine (chairman of Inerscope Records) came on board and then Red One, who won two Grammies last year, also became a part of the album.
It looked like everything was coming together.
My vocal coach Sam helped me a lot. She came with me to all the shoots that I did in the last two years. After pack up, we would do the riyaz and concentrate on my notes and range.
I never thought I could sing like this. It has been a wonderful journey.
'My father has been my biggest influence'
Last updated on: September 14, 2012 14:43 IST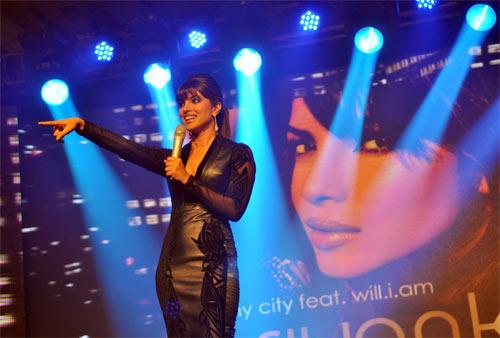 Your film Barfi! is getting good reviews from the critics and you are now launching your first international music single. Do you think everything was meant to come together?
I think so. When the stars align for you, all good things are meant to happen together (smiles).
I just hope people love Barif! and they also like my music album. I have worked hard on the music and in the film too.
What was the biggest vocal challenge?
The song is really grand. The album is on an international level and I had to match up to all the expectations.
I had to ensure that my range in singing was perfect. My vocal coach really helped me a lot and today, when I see the results, it has turned out so beautiful.
Who has influenced your singing the most?
My father has been my biggest influence. He is an incredible singer.
I grew up listening to a very eclectic mix of music. My father liked listening to Mohammed Rafi and my mother would listen to the Beatles, The Doors and also Metallica. My mother is also a huge 50 cent fan. 
I never thought that I would sing professionally, but at the same time I never thought that I would become an actor. If I did what I thought then, I would have been an engineer.
This album, which you will hear next year, is like my biography. I have co-written most of the album. The album has a range of songs from club tracks to pop and ballet.
'I hope to see some Bollywood actresses dance to my songs'
Last updated on: September 14, 2012 14:43 IST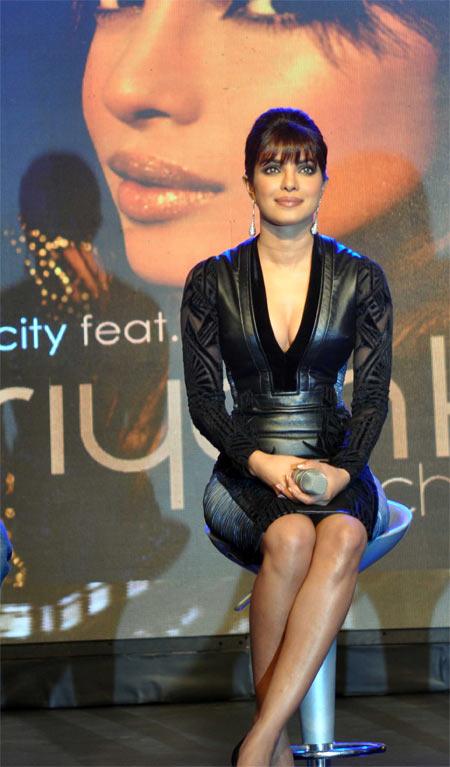 From Miss World to representing India globally in music, how surreal has this journey been?
As the song was being unveiled, I was standing at the back of the stage and looking at everyone's reaction. I never realised this was going to become so big.
If this works, it is going to be a huge honour to represent India on a global platform.
A one-and-a-half minute video of the song is going to play at the NFL (National Football League), which is amazing.
What did it take for a desi girl to evolve and take such a huge step in her career? At the same time, how much of the desi girl do we see in this album?
It took a lot of hard work to understand myself and be a part of it.
India is going to be a huge part of the album. We have used a lot of Indian instruments.
When I shoot the video I will make sure that the world experiences Bollywood. There is going to be a huge Indian influence in the whole album.
Will you do a lot of concerts to promote the album?
I am very nervous about performing live as I am not mentally prepared for it as yet.
But I love performing on stage and it will be a part of our promotional tour.
This is just the beginning of a new journey. I just hope to see some Bollywood actresses dancing to it (winks). 
'I would love to do playback singing'
Last updated on: September 14, 2012 14:43 IST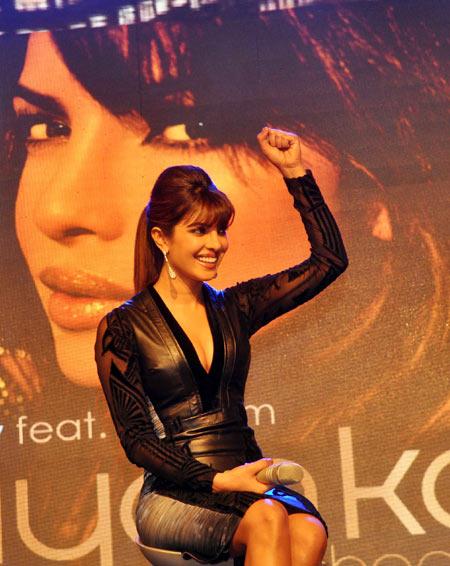 How did your parents react when you told them about the album?
My parents got very emotional when I told them about the whole thing. My father specially had always dreamed of me becoming a singer.
I think he wasn't as happy when I became an actress and won a National Award as he is today!
Can we see you singing your own songs in the films you do in the future?
I never thought I would have my own album, so I don't know. But, yes, I would love to do playback singing.
If people like Salim-Sulaiman or Vishal-Shekhar give me a chance, I will do it.
'I would like to sing for Rekhaji'
Last updated on: September 14, 2012 14:43 IST
While you are making your singing debut, Asha Bhosle is making her acting debut...
I was talking to her the other day and we were chatting about it. I am very excited to see her on the big screen. She is going to turn 80 very soon but still is so energetic and dedicated in whatever she does.
Is there any actress that you would like to sing for in a Hindi film?
I would like to sing for Rekhaji (smiles).