Why Preity signed up for Guinness World Records
Last updated on: March 9, 2011 18:24 IST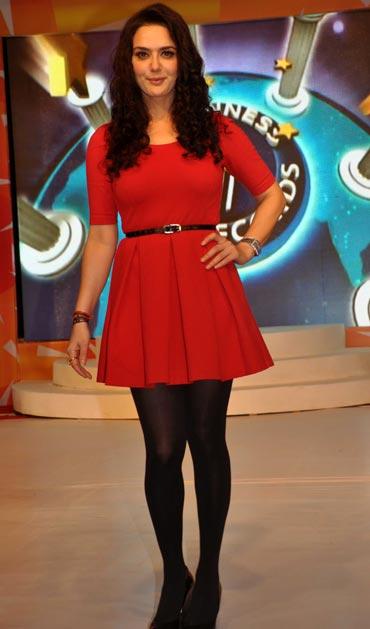 Preity Zinta will make her foray into television with Guinness World Records -- Ab India Todega, premiering on March 18 on Colors TV.
The actress will host the show along with actor Shabbir Ahluwalia.
The show intends to break over 70 Guinness World Records like pulling a heavy vehicle by hair, flipping omelettes in record time and swallowing swords.
Preity Zinta tells Rajul Hegde more about it.
'I have always been spontaneous in my decisions'
Last updated on: March 9, 2011 18:24 IST
What prompted you to do a television show?
There is a feeling of pride in hosting a show that will put India on the global platform and bring fame to the common man, who can do uncommon things.
I also loved the fact that people don't come here with any preconceived notions.
And of course, because I love adventure.
I have done it all, from rifle shooting, bungee jumping, scuba and sky diving... I'm more of a tomboy, and this show suited me. I would have been suffocated if I just had to deck up and sit.
Was it a spontaneous decision?
Yes, I have always been spontaneous in my decisions. The fact that I jumped into cricket was a very big decision at the peak of my career. I got into films in the same way.
'I have bashed up boys'
Last updated on: March 9, 2011 18:24 IST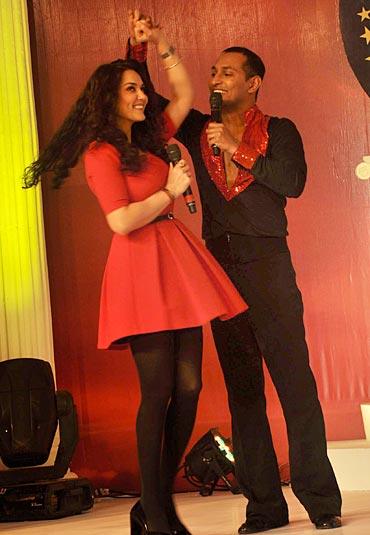 So you were always a tomboy?
If you look at my childhood photos, you will see me with fractures, scratches and bruises. And I didn't look like a girl!
Did you beat up any boys?
I grew up with mostly boys. I have older and younger brothers. What I learnt from them is that if you have any issues, sort it out right then and there.
I have bashed up boys in Delhi and Mumbai. You should attempt hitting someone only when you are wearing good shoes. And no need to be a commando -- just hit and run! (laughs)
'Sometimes, the show put me in a spot'
Last updated on: March 9, 2011 18:24 IST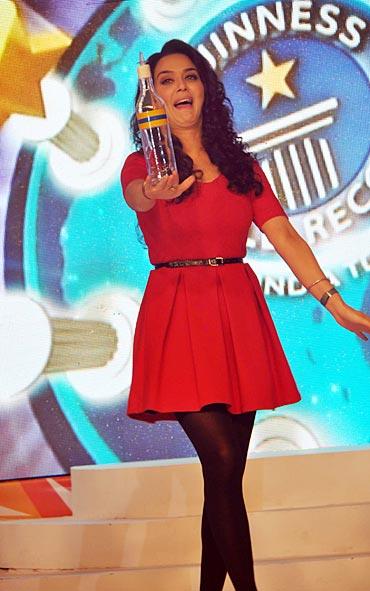 How difficult was it to adapt to television?
It was difficult because in films you complain about shots. On TV, you have no breaks. Plus, you are constantly standing. A show like this has a live audience, so you don't know what kind of questions they will ask you. Sometimes it puts you in a spot.
Did you tell the makers to edit portions you were not comfortable with?
Of course! But do you think they will listen to me (laughs)? 
If you hire me to act, don't teach me how to do it. Show me the direction. People have been working in the television medium for 20 years and I will not tell them how to direct a television show.  If something is really personal, I may tell them politely but that's it.
How did you deal with some of the stranger acts?
Sometimes I would get freaked out. One guy put sword inside his mouth and I was like can I look inside? Tears were rolling out of this eyes and I got a bit scared. It's really mind over matter.
During the Kargil war, there was a jawan who had been shot eight times at 23,000 feet. But he kept going up and down the mountain even after that, rescuing people. He survived.
If you do something like this in a film, people will say hero kuch bhi karta hai. But this is a real story. I know this because I did research during my film Lakshya.
So in this show, we get to meet real people who do crazy things. 
'I had put on around 7.5 kilos'
Last updated on: March 9, 2011 18:24 IST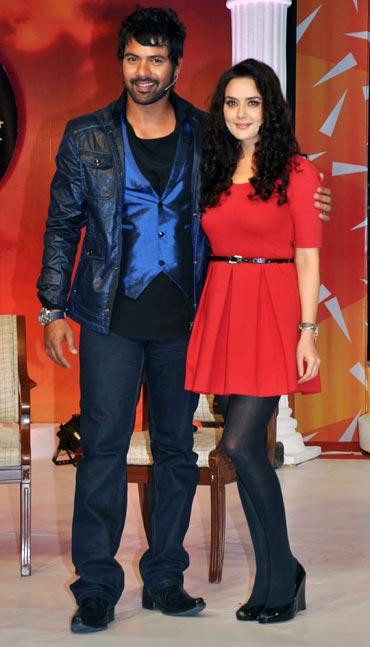 It looks like you have lost weight.
Honestly, it's because I'm getting back to films and entertainment. I had let myself go in cricket. When you are acting, we have to wear short skirts and look fit. But in cricket, we're wearing jeans and the Kings XI t-shirt, and no make up. I didn't have to care about posing then, and looking like a heroine. I had put on around 7.5 kilos.
There were rumours that you want to sell your cricket team.
That's a random rumour. I don't think I will ever get out of it completely. It's my baby; I have so worked hard on it. I have given my life to it.
Are you doing any films?
Yes. I will be doing some cool films after the IPL. The producer will make the announcement.