'I have no problem with the intimate scenes'
Last updated on: March 30, 2011 16:42 IST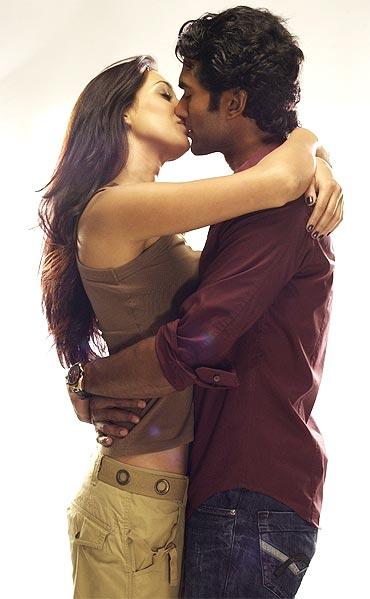 From working as a beauty therapist in England to winning the Miss Britain title in 2006, model Preeti Desai has come a long way.
She was featured in the Kingfisher Swimsuit Special Calendar in 2008 and is now set to make her Bollywood debut with Shor In The City. The movie stars Tusshar Kapoor, Sendhil Ramamurthy and Nikhil Dwivedi in the lead and is slated for release next month.
Desai talks to Sonil Dedhia about her Bollywood debut and the rumors about hooking up with Abhay Deol
You have been surrounded by controversies. Does it affect you?
I was always warned against controversies and it really doesn't matter as long as I know what is happening in my life. I take it with a pinch of salt.
So let's clear the air, are you dating Abhay Deol?
Since the time I have started my Bollywood career rumours about Abhay Deol's love life and me have been doing rounds in the industry. The media has gone from linking us together to getting us engaged. They have also written that we split because of my intimate scenes in the movie and have also got us back. It seems so funny because so much has already happened in my life I am not aware of it.
I would not like to comment on my personal life and let the media carry any rumors. It really doesn't bother me.
Were you apprehensive about having to do a kissing scene in the film?
I was a little apprehensive but at the end I guess the whole culture is changing and audience today has matured. So it really didn't bother me much.
I have no problem with those intimate moments and don't want them to be snipped out. I had faith in my director and the scene has been shot stylishly and beautifully.
'I wasn't very sure about movies'
Last updated on: March 30, 2011 16:42 IST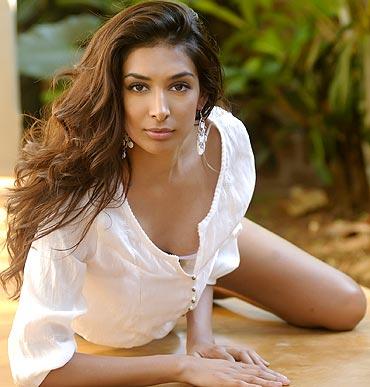 You come from a conservative Gujarati family; didn't your parents have any issues with your career?
My mother is the greatest influence of my life. My family has always supported me and I think I have never faced any problem whatsoever in any professional decisions that I have taken.
I remember when I was featured in Kingfisher Swimsuit Special Calendar 2008; my mother was the first one to show it to everyone. I don't think I can ask for better people in my life.
So how did Bollywood happen? What made you come to Mumbai?
After winning Miss Great Britain, I continued modelling because I didn't want to rush into anything. It was only when I felt comfortable with the ramp that I started to look at films.
I was in the UK just before coming to Mumbai. I had a lot of Indian friends there who said since I looked Indian I must try my luck in Bollywood. Meanwhile I also started getting offers.
Initially I wasn't very sure about movies but ultimately decided to give it a try.
So I packed my bags and came here. Once I was in the city I got a lot of offers. Then too I was not very confident of carrying it off. I thought I couldn't deliver dialogues properly or that there wasn't anything exciting coming my way. So I decided to go slow and not make any hasty decisions.
Did you always want to be an actress?
No not really. Back in England I was like any other girl who had a nine-to-five job. I was working as a beauty therapist but I didn't want to continue doing that. I always wanted to do something big. I worked with my father for sometime but modelling always excited me. Luckily I won the Miss Great Britain title in 2006.
'I gave myself a lot of time to prepare for films'
Last updated on: March 30, 2011 16:42 IST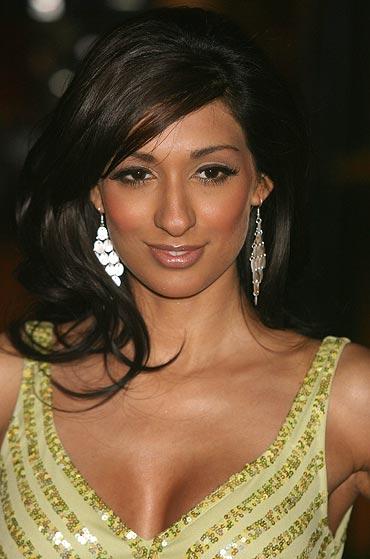 You started your career at a very early age. Don't you miss doing normal things a girl of your age does? 
Yes I did take up a lot of responsibilities at a tender age, but that naturally has made me a lot more mature than my peers. There is a price to be paid for everything but I don't regret it. I do normal things and have a life outside the studios as well. 
Was Shor in the City your first film offer?
No. When you are a model, you do get offers from directors who are looking for a fresh face. As I mentioned I wanted to do something, which was substantial, and not take up acting just for the sake of it. Also I gave myself a lot of time to prepare for films because I wanted to be confident and not feel conscious of the camera.
How did you get your first break?
One fine day my modeling agency called me. I read the script and I was very excited. It was the perfect role to start my innings in Bollywood. I also saw the short movie, which the directors had made and found that the movie was quite raw.
When the directors were narrating the script I was actually able to envision my character. So I instantly said a yes to it.
Tell us about your character in the film?
My character in the film, Sharmili is very opposite to what the film is all about. The film is all about the different noises or the nuisances that happened in the city but my character is very calm and composed and is very realistic and helps Sendhil's character settle down in the city of Mumbai.
'I am still learning to speak Hindi'
Last updated on: March 30, 2011 16:42 IST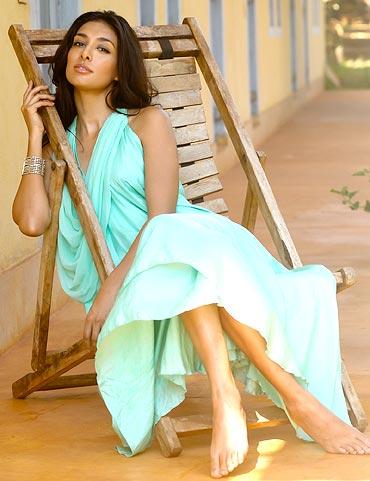 You have recently settled down in Mumbai, what was that one thing that struck you when you came to the city?
Mumbai is so much fun. It's like my second home. The first thing that struck me was I felt connected with the city and got very emotional. I had been to India a few times but this visit was with an intention of settling down for some time. I am in love with the whole mix of cultures and how warm and friendly the city is. It was not difficult to adapt in the city.
I have grown up watching a lot of Hindi films and was always excited to be a part of the industry now.
On the other hand it was scary. I didn't really know anyone in the city and I was after all leaving my family and friends to set out on a new journey.
Do you speak Hindi?
No, I am still learning the language and I am sure staying here for sometime I would pick up the language very fast. Though I am very fluent in Gujarati (Laughs)
How did you manage to recite the dialogues in the film?
Luckily I don't have any dialogues in Hindi, so I was saved this time around but I don't think this will happen all the time
How was it working with Tusshar Kapoor and Sendhil Ramamurthy?
Sendhil is a very quiet reserved person. He doesn't talk to anyone unless he is spoken to. But most of my scenes are with Sendhil so we bonded well on the sets. I would get a little nervous before the shoot. He would constantly tell me to keep it natural.
As for Tusshar he is very funny and would make everyone laugh. He made me feel so comfortable I had a great time with all of them on the sets. I have a small role in the film so I wouldn't be present on the sets every day. Sometime I would forget what my earlier scenes were (Laughs) so I was nervous but at the same time excited.
'I was very comfortable facing the camera'
Last updated on: March 30, 2011 16:42 IST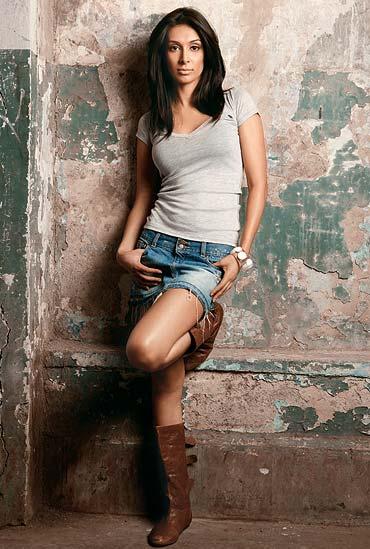 Did you feel like an outsider at any point?
No not really. I have done a lot of photo shoots so I was very comfortable facing the camera. I felt a little scared but that is normal for any newcomer, I suppose.
When I started shooting for the film everybody was very nice to me and would always make me feel comfortable so it was not difficult to adjust.
Also I have a lot of friends who have helped me to select the right scripts and get the right kind of work.
So is it necessary to have a godfather to get into films?
No I don't think so. The whole scenario has changed. It helps if you have any connection or any family member associated with the film industry but ultimately everyone has to prove his or her worth. I think Shah Rukh Khan is the greatest example. He didn't have anyone when he started but look where he is today!
What according to you is the mantra to succeed in Bollywood?
Though I am new here, I think it is essential to always take advice from the right people and take their advice. I consult my family as they always have answers to all my questions. Also it is necessary to go slow and do something substantial rather than doing a lot of work and not getting recognised for it.
'I am a complete Gujju and I am proud of it'
Last updated on: March 30, 2011 16:42 IST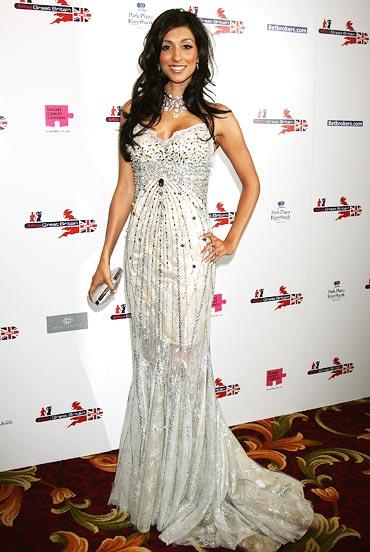 As a kid were you ever star struck?
I've never been star struck but I remember watching Maine Pyaar Kiya at least a 100 times! (Laughs). I also liked Amitabh Bachchan in Hum.
Which Bollywood actors do you want to work with?
Aamir Khan! I admire him for his choices in films. He is an intelligent man and whatever he touches turns into gold. I would also like to work with Shah Rukh Khan. I don't think I need to give a reason for it.
I loved Hrithik Roshan in Guzaarish. He was absolutely fantastic.
What are the other projects you are working on?
I would want to wait for Shor to release and wait for the audience reaction before taking up anything.
You were born in a Gujarati family but have stayed in England all your life. Can you speak Gujarati?
Oh yes. I can speak fluent Gujarati. In fact I am a complete Gujju and I am proud of it.
Do you cook good Gujarati food?
No, not at all, it's actually my mother who cooks some really nice Gujarati food and for me she is the best cook in the world. Being a typical Gujarati I just love to eat. (Laughs)
So what are your favourite Gujarati dishes?
I love dhoklas, theplas and the chutney that my mom makes. It's just amazing.