Talking Mausam with father-son, Pankaj-Shahid
Last updated on: September 20, 2011 18:57 IST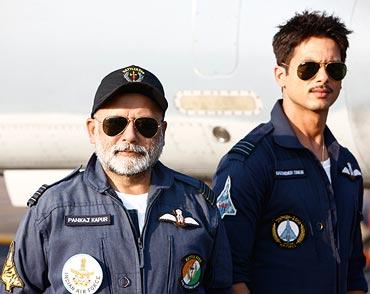 Waiting five hours to interview the father-son duo of Pankaj Kapur and Shahid Kapoor didn't seem so bad when they finally turned up, smiled and shared their lives.

"This is just our 25th interview of the day, so please be nice to us," Shahid said with a wink.

As they get ready for their first film together, Mausam -- directed by Pankaj and starring Shahid -- they look back on an eventful journey in filmdom. Sonil Dedhia takes notes.
Mausam shows the journey of two people over 10 years. Shahid has completed almost the same time in the film industry. How do you look back at his career?
 
Pankaj Kapur: For me, as a father, when I look back at Shahid's career, it's absolutely wonderful where he has reached today and I am very proud of that. The areas of concern have been diminishing in the last four or five years because I feel the choice of films he has made and the kind of filmmakers he has worked with will make him an intelligent actor. Also, the kind of performances he has given in these films makes me see him emerging as an actor-star who can handle himself well in the industry. I also expect him to reach greater heights in times to come.
 
Shahid Kapoor: I think dad is being very kind. Yes, I have discovered myself as an actor in the last four or five years. I am enjoying this phase and I love what I am doing. I am happy that people are appreciating my work and thus I am able to develop a relation with my audience. My fans have been kind to me as they have allowed me to make mistakes, which I think is inevitable. I am doing the work that I enjoy.
'Shahid is a committed actor and a committed son'
Last updated on: September 20, 2011 18:57 IST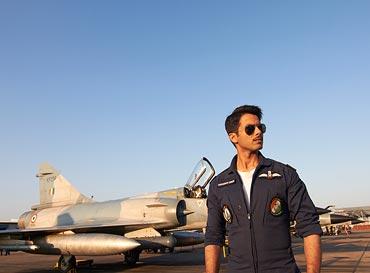 Shahid, your father in all his interviews mentioned that you got him into direction. Why did you ask him to make a movie for you?

Shahid: I always had a desire to act and missed the fact that I never had formal training in acting. I wanted to attend an acting school, but couldn't. I constantly thought of how I can learn despite losing out on the formal training. And that's when I thought if I get an opportunity to work and train under my father, then, being the kind of actor he has been in the industry, I would be able to learn a lot of things on the job. So I started coaxing him and convincing him to make a film.
 
Pankaj, you have written a lot of scripts. Why did you feel that you had to write a fresh script for Shahid?
 
Pankaj: I had written a lot of scripts, but when Shahid came to me, I wondered whether he could be part of any of them. I started fitting him into the scripts but, later, I realised that I was being unfair to him because for him to reach his potential and the kind of actor he is, there was something else which was required. That's when I decided to write a fresh script about a youngster.

Also, I wanted to write something that satisfied me as a writer and provided a scale of performance to my actors. I wanted to give an opportunity to my son where he would be able to go through the journey of his character.
Pankaj: The first part of the film is all about my childhood experiences in Ludhiana
Last updated on: September 20, 2011 18:57 IST
What took you so long to get into direction?
 
Pankaj: I suppose it's to do with circumstances. Back in the 1990s, I had an opportunity to make a film. But I realised that it is better for me to go in stages so I could explore myself as an actor and in the process I started writing scripts. I wanted to understand the whole medium and that is when I decided to do television. Once I thought that, I was confident about making a film.      
 
You have grown up in Ludhiana, Pankaj. What was it like recreating the lanes you saw as a child?
Pankaj: You will see impressions of the area where I grew up. I have also shown the culture I lived in and the characters that were around me during my days in Ludhiana. I have also captured the different nuances of my everyday life. The whole thing put together became the first part of our film. It was a wonderful experience to recreate it.

'Mausam is not our home production'
Last updated on: September 20, 2011 18:57 IST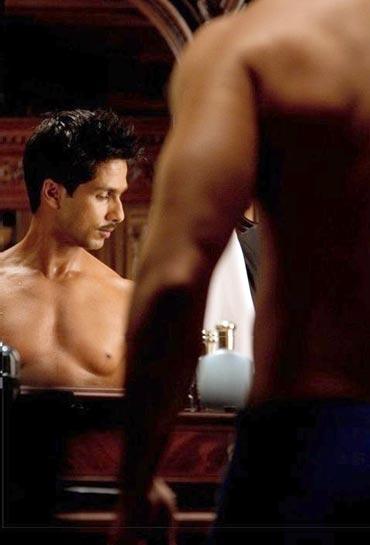 So, Shahid, will we see shades of your father in your performance?
 
Shahid: Being his son you will obviously see some shades of him in me genetically (Smiles). We are quite similar in nature. I remember on the sets there were many times when I would finish my shot and look at him and he would smile and tell me 'that's exactly how I would do it'.
However, Harinder Singh happens to be a character on his own. He is neither my father nor me. There is a lot that I discovered about Ludhiana through my father and I would say I haven't seen as authentic a Punjab before on the Indian screen as in Mausam. There is a lot that I have seen and experienced about his younger days through the making of Mausam.
 
Your wife Supriya Pathak is acting in the film and your kids, Ruhana and Sanah were part of the project. Was it a conscious decision to bring them on board?
 
Pankaj: It's a wrong notion that Mausam is our home production. It is not. My wife Supriya has acted in it and has been the backbone of the film. My daughter Sanah was an assistant director and the youngest of the lot, Ruhan, was also a part of the team. I would say we needed all of them to make the film reach where it has today. The level of family involvement and bonding and the kind of response I got in all the phases that I passed through during the scripting and making of the movie would not have been possible without all of them.
'Shahid stood by me like a rock throughout the making of Mausam'
Last updated on: September 20, 2011 18:57 IST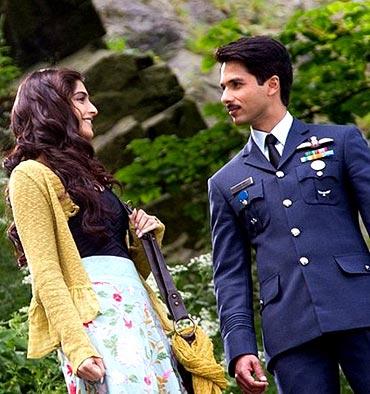 Apart from being an actor, what was your contribution to the film, Shahid?

Shahid:
I don't think there is any other contribution. I think if there was something to be done and no one was around to do it, I would just take it up. But I guess I would be like that while working on any other film. More than anything else, as a father and son we were always together, so as a son, whenever I required him or whenever he required me, we were always there for each other. 
Pankaj:
I think he is being humble. As a father, I can say he stood by me like a rock throughout the making of
Mausam
. He was not just the actor in the film, but he was like a companion and took up a lot of the responsibilities that I needed someone to take on. I don't think what he did for this film he can do for any other of his films. He has not only been a committed actor but also a committed son. 
What is Shahid's strength as an actor?

Pankaj:
As far as I am concerned the best thing that any person can have and which I think my son has is commitment to work and also the attitude towards it. As my father used to say, genius is one per cent inspiration and 99 per cent perspiration. In Shahid's case, he applied himself to the fullest and that is his greatest strength.
Shahid: My father is a visionary
Last updated on: September 20, 2011 18:57 IST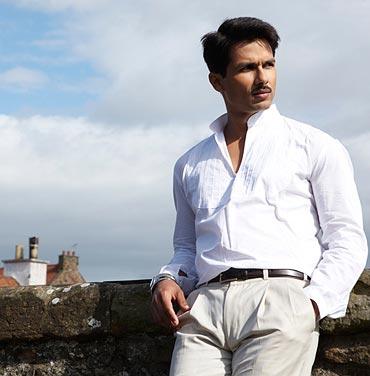 And Shahid, what would you say are your father's strengths as a director?

Shahid:
My father is very capable because of his experience and I don't think I have a right to comment on his strengths. He has done films that always represent the common man and which represent our common lives. There is a certain amount of realism and you can relate to the emotions and situations and see them around you. This also applies to
Mausam
, so that anyone can connect to it.
Beyond that, I think he is a visionary as he sees films -- and this was especially so with
Mausam
-- as larger than life. He has shot it in a certain way with all his understanding and learning from cinema for all these years and I guess that is his strength.
Shahid: I never felt that I'm working with a first-time filmmaker
Last updated on: September 20, 2011 18:57 IST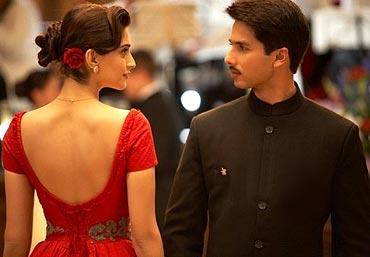 What kind of expectations did you have from Shahid when you started shooting the film?
 
Pankaj: When he showed his desire to be part of the film, we started sharing a very director-actor relationship. I must say he has grown up as an actor. He has done some wonderful work in the past but when he set out to work with me he completely submitted to me and gave me full liberty to mould him the way I wanted to. That in itself speaks hugely about him.

I read in an interview you gave that you refused to help Shahid when he came to you for advice when he was signing his first film (Ishq Vishk). Has the relationship changed between you after Shahid started working in movies?
Pankaj: I distinctly remember when he came to me and told me to accompany him when he was signing his first film. I told him that I am happy for you but I will not go with you. I think that one decision of mine made him a man from a little boy. Through the body of work that he has done he has learnt what to do and what not to do. In the last four to five years he has proved to all of us that he has matured as an actor and knows how to handle the space in which he is working.
 
Shahid: My relationship with him is the same as what it was before I entered films. We have spent a lot of time together doing this film. I have done a lot of films with different directors, but with dad, it is not the same. He has made me more professional. While shooting for Mausam, I never felt that I was working with a first-time filmmaker.
Shahid: I'm more thick-skinned around him now
Last updated on: September 20, 2011 18:57 IST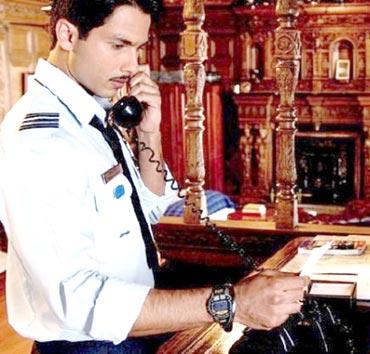 On the other hand, Shahid, you dedicated two years to one single film. Would you do that for any other director?
 
Shahid: Honestly, I don't know.
In Mausam's case, my father was directing me so I had blind faith in him, whom I can trust my life with. I knew if there is anybody who was going to take care of me it was him. The other factor was the script, which I loved. The script demanded that as an actor, I dedicate all my time and presence to it. I don't think I would have had the courage to give two years of my life if I doubted it at any point of time.
 
Your father used to act out scenes to you. What's it like having to take instructions from someone who is not only one of India's greatest actors, but also your father? Was he a tough taskmaster?
Shahid: Initially, I used to get jitters in his presence but now I have become used to it and have learnt how to overcome my nervousness. After spending so much time with him, I have become more thick-skinned. It is not very easy to satisfy him. Till the time I didn't get the thumbs up from his end, the re-takes didn't stop. But the process has made me learn a lot.
Every actor has a comfort zone and knows that there are certain things that audiences like about him and he plays on them. I wanted to get out of that and Mausam helped me do that. He changed my casual attitude to let go. He is the finest actor, and I say this not because he is my father but because of the experience and talent he has.
Pankaj: I don't think like an actor when I'm in director's shoes
Last updated on: September 20, 2011 18:57 IST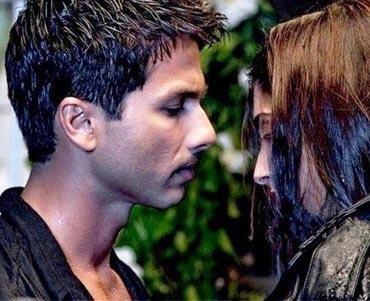 As a first-time director, were there any personal anecdotes that you share in this movie?
Pankaj: I'll tell you one thing, whatever story one develops, it's either because one has experienced some of these things in one's own life or read it somewhere or both. Then you think how to generalise the story so that the common man can relate to it. I think the strong point of Mausam is either you want to be part of it, or you have already been through such a situation, or you wish to experience something like that.
The movie is about an air force pilot. Pankaj, did you ever think of becoming one?
Pankaj: I wanted to be a pilot. Living my early years in Ludhiana, the Halwara base of the Indian Air Force, was very close to our house. I would see jets cruise over my head. One of my uncles was a pilot and I looked up to him and wished to become a pilot when I grew up.
Being an actor, didn't you ever feel like being a part of the film?
Pankaj: I wanted to be a part of the film but I realised that I can't be in front of the camera and behind it as well. I decided not to take a major role and to settle for a cameo instead. But each time I thought of coming in to do a cameo someone from the cast would tell me that this was not the right place to enter the film as the audience would expect more from me. This is the only time I listened to them and ended up with not doing even a cameo! (Laughs)
Is the dedication required of an actor different from that required of a director?
Pankaj: When I am in the shoes of a director, I don't think like an actor. I am only there to support my actors and take out the best from them. I happened to be aware of it as I had been an actor and it sort of helped me to take work out of them and to convey what I actually wanted from them.
Shahid: As an actor, it is not easy to satisfy him
Last updated on: September 20, 2011 18:57 IST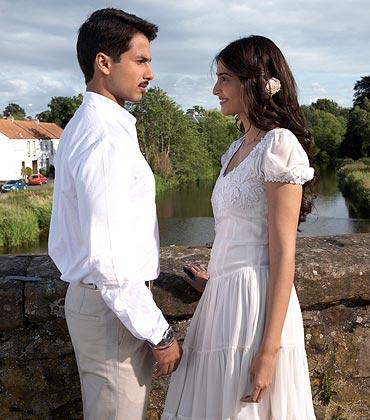 Have any of your own directors inspired you?
Pankaj: Not only my directors but I have taken inspiration from my own life. I was born in a middle class family and my father was a school principal. The kind of upbringing I had and the people that I interacted with and all the incidents in my life have inspired me to make this film.
How does it feel to be the only actor in the film industry to have flown the jet fighter aircraft, the F16?
Shahid: What can I say? I feel fortunate to fly an F-16 fighter plane. I don't think any other actor has ever flown an F-16. Even when Tom Cruise did Top Gun, he flew an F-15. The fact that I was sitting in an F-16, and was a co-pilot, was unbelievable. In such planes you can go up to G9 (a level of gravitational force). G1 is when you feel your body weight; G2 is twice your body weight etc. The pilot took me up to G7. That experience is something I will take to my grave.
Pick the three best movies of each other.
Pankaj: I would certainly want to mention Ishq Vishk because it was his launch pad and there was a kind of freshness with which he came into the industry. He was like a fresh breeze, which took a lot of people off their feet. The second one would be Jab We Met. It was such a fine performance by him. Lastly, I would say Kaminey.
I am not talking about Mausam but I personally feel it is one of his best performances.
 
Shahid: It is very difficult to choose with him. I would go with Maqbool. There was a television series, Neem Ka Ped, which aired on DD Lucknow. There is a film of his, Happi, which is releasing soon. I have seen 10 minutes of the film and he is just stunning in it.