'I haven't committed to any more romantic roles'
Last updated on: July 16, 2012 10:14 IST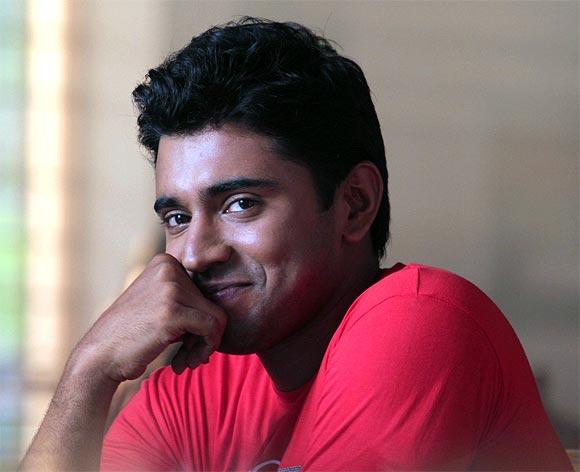 Nivin Pauly resigned from his cozy job as a software engineer at Infosys to pursue a "more creative" career in the world of movies.
His debut film, Vineeth Sreenivasan's Malarvady Arts Club made quite an impression. After brief roles in The Metro, Sevens, Traffic and Spanish Masala, and a highly successful music album called 'Yuvhh', he has suddenly become hot property.
For Vineeth's second film as writer-director, the very successful,Thattathin Marayathu, Nivin reduced weight and shaved off his moustache and beard to look like Vinod, a college student who is madly in love with a Muslim girl named Ayesha.
In this interview, he talks about the success of the film:
How is the response to Thattathin Marayathu?
(Smiles) It is tremendous and beyond our wildest imagination.
My phone hasn't stopped ringing since the release of the film.
I am receiving this kind of attention for the first time in my career and I am enjoying it.
You have gone on record saying that you were not completely comfortable playing a romantic hero. Do you feel more confident now that the film has been declared a hit?
I haven't committed to any more romantic roles. Of course, I had trouble adjusting to the role but I had a great love for my character Vinod. That helped me to act convincingly.
'I think people could relate to the love story in the film'
Last updated on: July 16, 2012 10:14 IST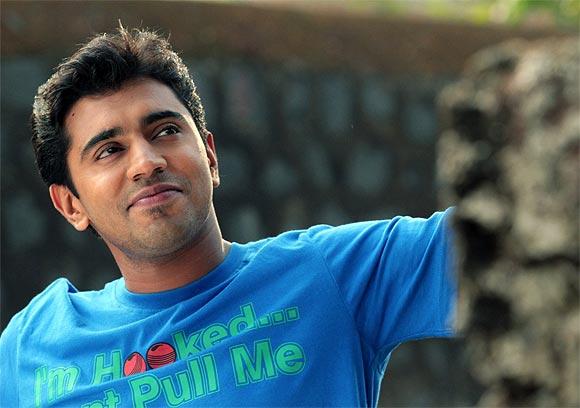 What was the best compliment you received about your acting?
I have been told that I was natural, my expressions were good and my dubbing was fine.
I am really happy that every aspect of the film, be it the background score, camera, the comedy sequences, have all been appreciated.
What do you think worked for the film?
I think people could relate to the love story, which is on simple lines. In fact, every cliched situation is there in real life romances like love letters, climbing the walls and the wait for the lover. Usually the love stories tend to highlight heroism.
Here there is, as in real life, an egoistical lover. The comments on six-packs and the difficulty in speaking English have left the viewers in splits.
You had a love marriage. Are any instances in the film autobiographical?
My character, Vinod, is restless and disturbed. In real life, I was not like that. My wife and I were friends even before our marriage and that developed into a mature relationship after a while.

'I am comfortable working with Vineeth Sreenivasan'
Last updated on: July 16, 2012 10:14 IST
Your  two best films have been with Vineeth Sreenivasan. What is your equation with him?
I feel really comfortable with him and of course, he is a very close friend. And the best thing is that we can communicate even without much talking.
What are your forthcoming projects?
Currently I am shooting for Sathyan Anthikkad's film. I have done a brief role in Bhoopadathil Illatha Oridam. Also, I have done Neram and Chapters.
I have spoken to director Aashiq Abu over the phone regarding a role in his next film, Da Thadiya, but it is yet to be announced officially.