Nishikant Kamath: I got it right with Force
Last updated on: October 3, 2011 15:41 IST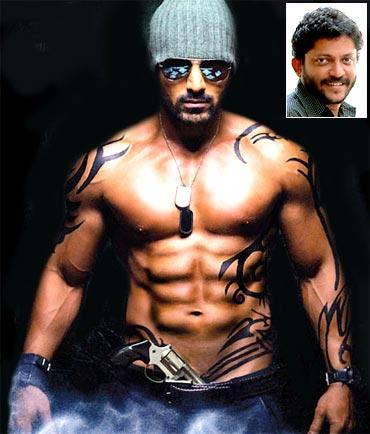 Last Friday's release Force, starring John Abraham and Genelia D'Souza is a remake of the Tamil film Kaakha Kaakha. Its director, Nishikant Kamath, who has made critically acclaimed films like Dombivali Fast and Mumbai Meri Jaan, has moved out of that space with Force. He tells Patcy N what making this film involved for himself and his crew.
How's feedback for the film, are you happy with the general reaction?
Audiences have really loved the film and so have my friends. My friends are not angry with me, they thought I may make a mindless potboiler but they were happy that in my first commercial film I managed to maintain my sensibilities.
I went to watch the film in a single screen and I was amazed to see the impact that heroism has on the crowd even today.
Every time John (Abraham) or for that matter even Vidyut (Jamwal) came on the screen there was roar from the audience.
More than being happy, I am satisfied with the response because films with socialism and realism come naturally to me but commercial films give me butterflies in my stomach. But the audience response shows that I got the film right, so I am satisfied.
'I have seen Subhash Ghai's Karz eight times in the theatre only for the songs'
Last updated on: October 3, 2011 15:41 IST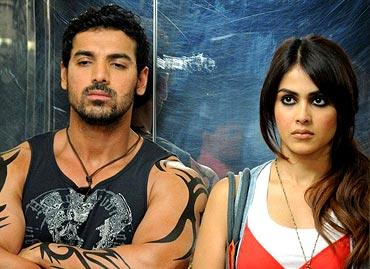 How come a serious director like you, with movies like Mumbai Meri Jaan and Dombivali Fast to your credit thought of doing a movie that is totally commercial?
After doing Mumbai Meri Jaan I had taken quite a long sabbatical because I wanted to know whether that was the only type of film I wanted to do, or I want to do something different. Part of human behaviour is that you get bored of doing similar things; the idea was to do something new: it could have been a horror film or it could have been a comedy or anything.
One more thought that pushed me to do a film like Force is that I grew up on mainstream cinema. I grew up watching Amitabh Bachchan, Dharmendra, Jitendra, Vinod Khanna. I have seen Subhash Ghai's Karz eight times in the theatre only for the songs; somewhere at heart I am still that audience.
So the idea was to make the kind of film I liked when I was a child, plus, I wanted to know whether I can do such cinema or not. That was the primary thought that pushed me to make this film.
But why a re-make of a movie; why not a fresh script?
I am always writing, in fact, I was writing a fresh film when John called me and told that he has seen a film and he is going to play the lead in it, and Vipul is the producer, and would I direct the film.
I was not sure whether I should do a remake or not, so I told him first to let me watch the film, and after watching it I felt the storyline was very good, especially the love story. I felt that if I could re-interpret the entire thing then there was a point in doing it. I told John that I liked the basic idea and I am ready to do it, but I need time to write it. So after agreeing to do the remake, I wrote the script for five months.
I reinterpreted the whole thing the way I wanted to tell the story.
'We shot purely action scenes in 65 to 70 days'
Last updated on: October 3, 2011 15:41 IST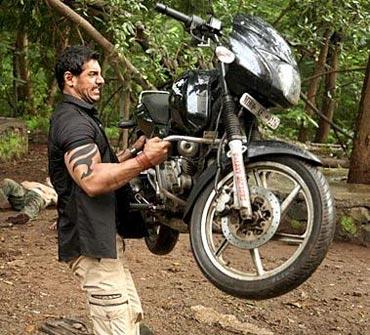 What are the differences between the films?
The spine of the story remains the same. In the original film, the hero is an 'encounter' cop and he deals with gangsters. Gangster films have been done to death in Hindi films so I was not excited about that. I thought that it could be a terrorist film, but after Mumbai Meri Jaan I had realised that I was bored with the idea of a terrorist film. Then I met a friend who is a narcotics cop. He gave me insights into how the narcotics people operated, how they bust gangs, how the drug money is related to so many other things, what are the rackets, how different drugs come to India...and  suddenly this film came to have drugs as the backdrop.
The original film is set in and around Chennai, but this film travels to Mumbai, Malshet, Pune, Manali, Rajashthan, Kutch border, Bengaluru, Goa, Kenya.
I wanted John beefed up for the role, the idea of doing this film was I saw a huge opening to do action films which I wanted to do since long before Wanted, Bodyguard, Dabangg and Singham had released or, for that matter, surfaced.
We styled seven different action scenes in the film. It has a definite shooting and editing pattern. Within the boundaries of commercial cinema I have tried to keep the action as realistic as possible. I personally don't agree to a man thrown three storeys up or a car blasting four storeys up; for me, the idea of action was different and I don't know whether I could pull it off.
The most unreal I have gone is with John lifting a bike but, honestly, during the shooting, he lifted the bike twice without cables. It is actually real but it looks unreal.
Some of the action sequences we did were really complicated. We shot purely action scenes in 65 to 70 days. I and Allan (Amin) were at loggerheads every day because of the action.
'John got injured every second day while we were shooting for Force'
Last updated on: October 3, 2011 15:41 IST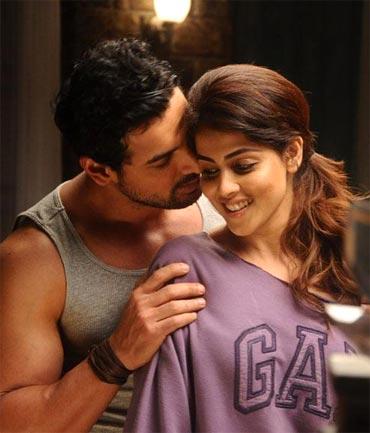 Since John asked you to do the film, you must have a good rapport with him.
He is a sweetheart and has been a very good friend for many years. We met years ago in the UTV office and then he saw Dombivali Fast and Mumbai Meri Jaan and he likes my work and I like his and we became friends and wanted to work together, and finally we did.
Working with him has been a fabulous experience. I pushed him to put on 15 kilos, not just of fat but also muscle. It was a lot of hard work and he did it in the five months that I was writing the script.
John pushed his limits for this film. I can't count the number of times he got injured and bruised and battered during the shoot. As an actor, too, you will see a different John in the film.
How many times was he very badly hurt?
Only once. When running, he fell flat on his back and the ground was full of pebbles and stones and I though probably he has broken his back, but when I went towards him he was all right. Only because he was John, who is so fit, he survived without getting any big injury.
He had a hairline fracture on his hand, he bruised his face twice, he got hit in the chest once, his arm was hurt badly once...every second day he was hurt but he fought his way through.
John has never given a solo hit...
If you see my track record I have never done a film seeing who has given how many hits. I did Dombivali Fast in Rs 65 lakh and it made a profit of Rs 8 crore, with no big name.

I made Mumbai Meri Jaan with great actors but none of them were stars. I don't think of profit and loss when I make a film. I wanted to make a good film and a correct film. I want to give my hundred percent to make a good film, the rest I leave to God.
'John and Genelia make a great pair'
Last updated on: October 3, 2011 15:41 IST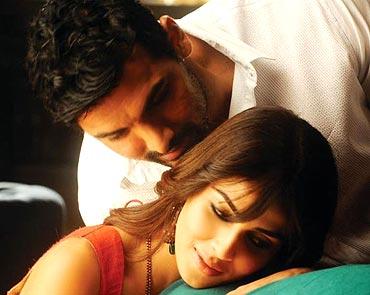 Tell us about Genelia.
She is cute and bubbly and innocent as the character she plays. She is great fun to work with on the sets. She is very hard working. John and Genelia make a great pair.
Vipul Shah is the producer of this film, but he is also the director of other films, so did he ever interfere in your work?
Vipul and I have known each other for 15 years, from our television days, so it's been a long association. 
I knew Vipul would never interfere. In the 100 days of shooting, he came on the sets for maybe one or two days. He never came to the edit. It was I who told him, 'let's sit together and watch the film and you tell me whatever you feel, suggestions are always welcome'. In commercial cinema I accept that Vipul is much more senior than I; he understands commercial cinema better than I do. 
What is your next film?
I haven't thought about it. Rather than running behind the story idea, it will come to me one fine day and then I will make it. I don't have to break any record.