'It's disheartening when your film doesn't do well'
Last updated on: January 29, 2013 14:28 IST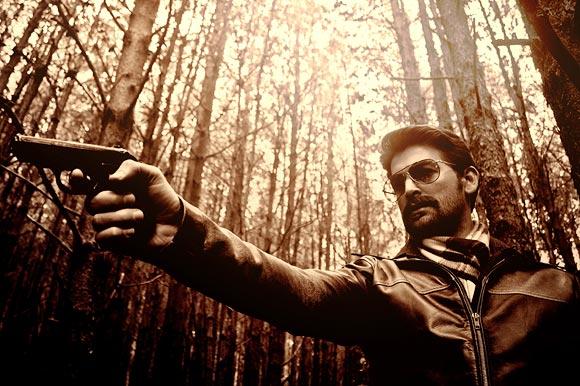 Neil Nitin Mukesh invariably plays 'grey' characters, whether it is the manipulative schemer in his debut film Johnny Gaddar or the egoistic male chauvinist in 7 Khoon Maaf.
The actor plays yet another grey character, a gangster, in his upcoming film David.
Directed by noted filmmaker Bejoy Nambiar, the film is about three people with the same name, set in different eras. Neil's portion of the film is shot entirely in black and white.
Neil tells Sonil Dedhia why he avoids playing the typical hero roles, and why he wants to keep doing films that he believes in.
You come across as choosy when it comes to selecting films. You may have seen something in Players, your last release, but it bombed at the box office. What do you think went wrong with the film?
I wish I knew the math of what makes a film successful. I am a creative guy. I haven't yet found out what makes a film a success. Today, when I see the films that have done business of Rs 100 crore, I consider Players to be way better than any of them, though it unfortunately didn't do well.
I haven't yet understood the psyche of the audience to know what works and what doesn't. I wasn't sure of my film New York, but it did brilliant business.
People said a lot of negative things about Lafangey Paindey's business, but let me tell you, it did tremendous business at the box office.
I thought 7 Khoon Maaf would be an epic film but everyone knows what happened (smiles). Still, all my films have recovered their money. That's why the producers want to work with me again. 
So, in case of a flop, do you simply move ahead or do you seek solace in the fact that your role was appreciated?
That's a convenient way out. But, luckily and by the grace of God, I have been appreciated for my performance in all the films that I have done.
I have got a lot of critical appreciation for my films but it is disheartening when your film doesn't do well. I keep telling myself that my career is like a boxing match. When you're in the ring, you either land a punch on somebody or you get hit. But every time you get hit and fall down, the game is to get up and fight again.
I have great inspirational stories of the likes of Amitabh Bachchan, who started his career with some unfortunate films, but look at him today. It is because he never gave up.
'I never knew that making a black and white film can be so difficult'
Last updated on: January 29, 2013 14:28 IST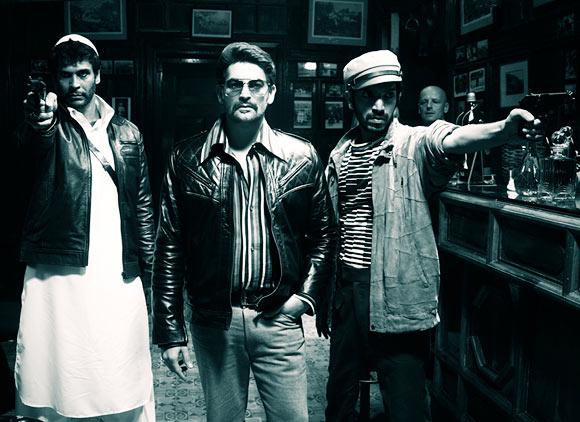 Have you given yourself time to put a strategy in place?
The moment a person starts strategising, his creativity goes out of the window, and I don't want my creativity to go.
I don't want to get into the race of popular demand just to cater to the people. Then there will be no difference between the rest and me.
Your part in David is shot completely in black and white. Did you have take a different approach?
Black and white is not as easy as people think it is. I too thought that it would be easy to shoot in black and white but I was so wrong.
I am also a photographer, so for me to shoot a black and white picture is relatively easy. Also, when you click a picture and convert it to black and white, it still gives a great feel.
But I never knew that making a black and white film can be so difficult.
You have to concentrate on the colours, especially the greens, the reds, the yellows, even the white. You cannot wear a white shirt for a black and white film because it will burn out in the exposure. For clothing to look white, you have to wear off-white so that when it burns out, it gives the right tone.
You cannot wear checks in a black and white film, as it jitters. There are different techniques of using make-up for a black and white film. For blood to look red, we mixed cough syrup with factory colour red dye.
'Intimate scenes in the film aren't for titillation'
Last updated on: January 29, 2013 14:28 IST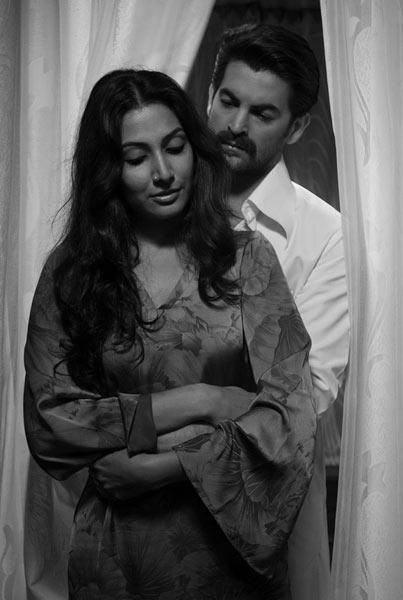 Is it true that your role was earlier offered to Vivek Oberoi?
I have heard that too but don't know much about it. Bejoy (Nambiar, director) and Vivek were in talks about the film. I think Vivek was to do the film too but then I came into the picture.
Bejoy asked me to meet him. By that time he had already started shooting for David. I thought it would be a guest appearance. But when we met, he narrated the story to me and said it wasn't working out with Vivek.
He gave me a narration in just 10 minutes and I instantly chose to be a part of the film.
Your part is missing in the Tamil version. That might give the message that your character is redundant.
I was informed about this earlier. The film is a bilingual. Vikram is the only man who is acting in both the Tamil and Hindi versions.
Vinay's (Virmani) character in the Tamil version is played by Jiiva. The film was shot simultaneously (in both versions). We did not want to compromise the film by having it dubbed in Tamil. It then loses its charm.
A decision had to be made whether we should keep my portions or not and we both amicably decided not to keep my part in the Tamil version. When you see the film, you'll realise that the Tamil people will miss the gangster story for sure! I feel the film is incomplete without the gangster story.
Reportedly, you have a lot of intimate scenes with Monica Dogra in this film.
No, there isn't a single intimate scene in this film that you can see. It's been handled beautifully. The scenes aren't for titillation. You can watch this film with your entire family.
'It is very difficult to constantly get films that run only on your shoulders'
Last updated on: January 29, 2013 14:28 IST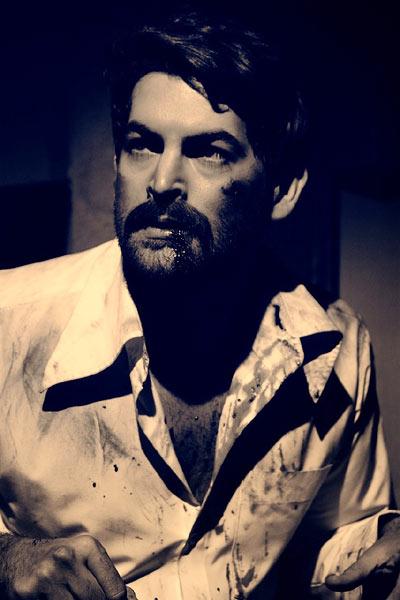 Despite experimental cinema getting appreciation now, it's still mass cinema that's raking in the moolah, which you despise. Do you think you could have done well giving in to such cinema?
The quantity would have been more, the hits would have been more, but the satisfaction as an actor would have been tremendously low. 
Also, respect for me as an actor would be very less. I would then just be following a norm. At this point of time, I am running parallel, trying to create my own niche and do cinema that I really want to do and keep doing films that I believe in.
I also feel that it is very difficult to constantly get films that run only on your shoulders. It's not as easy as you think for an established actor to go there and get a film.
I keep telling myself two more films and my struggle is over. David is my 15th film but I still think two more films and my struggle will be over. Ultimately, content sells over anything else.
So you'd never be seen in a film like Dabangg, Rowdy Rathore or Khiladi 786?
I'll do that too. I am doing Shortcut Romeo­­ -- you've never seen such action before. But at the same time, you'll see great performances too and a story to match.
I will do films in all genres but there's got to be a story in it.
'I'd love to produce and direct my own films'
Last updated on: January 29, 2013 14:28 IST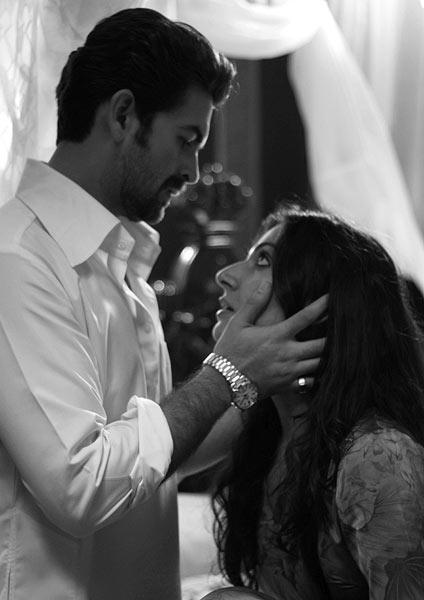 You had announced your own production house. Piadaar was the title of your first film. What happened to that?
It is still under production. It's still in the scripting stage. A script takes a lot of time to get right and it's the most important thing.
Binoy Gandhi is currently writing it with me and we have already recorded six songs which I have composed and sung.
Hopefully, we will start shooting when my prior commitments are over.
Was getting into a production house a step taken because you thought that the films being offered to you were not exciting enough?
Not at all. Creativity has no boundaries and I want to be a part of every aspect of filmmaking, whether it is producing, directing, acting, singing, composing etc. It's not that I am not getting good films; I am getting great films.
In fact, Binoy is upset now and wants to start Paidaar first, but I have other films that I have to clear.
I don't think Farhan Akhtar needs to produce all his films, but he produces them for the sheer charm of being a part of films. Raj Kapoor was a brilliant actor and never needed to direct or produce his films but he made cinema his own.
I'd love to produce and direct my own films more so for the cinema that I believe in and films that I want to see.
Your younger brother Naman is also getting into filmmaking.
Yes, Naman has completed four films as an assistant director. He is currently writing a script and hopefully next year I'll have to beg him to let me act in his movie! (laughs).