'It is normal for actresses to borrow jewellery'
Last updated on: June 7, 2011 13:01 IST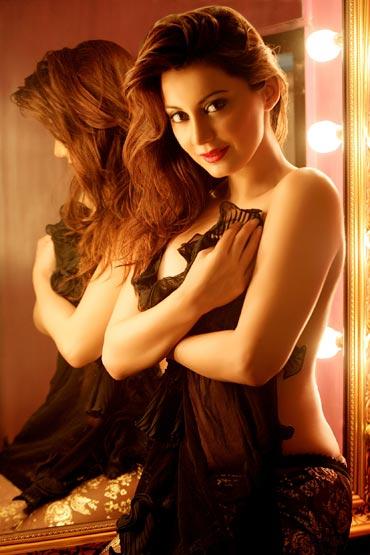 M
inissha Lamba
may not be the hottest property in Bollywood, but her portfolio boasts an interesting combination of films, from the laidback romantic musical
Bachna Ae Haseeno
to Shyam Benegal's National Award winning
Well Done Abba
(it won for Best Film on a Social Issue).
Recently, the actress was embroiled in numerous controversies, such as
bringing undeclared jewellery
into the country, and then tabloid reports suggested that her
debut
at the Cannes Film Festival had gone haywire.
In this exclusive interview with
Ankur Pathak
, the actress silences her fault finders, and assures her fans that her appearance at the mecca of film festivals was very successful.
She also expresses her excitement at being the latest addition to the ensemble cast of the upcoming mad caper
Bheja Fry 2
, her desire to work with Rajkumar Hirani and why she hasn't made it to the A-list so far. 
The past few days must have been traumatising. Are you sorted from all the controversies?

At the moment the customs' issue is still going on, and I am not allowed to speak about it.
Do actors generally borrow jewellery for these mega-events?

Yes. It is fairly normal for actresses to borrow jewellery for promotion. It is just that the customs laws are very complicated. It was a slight procedural error. One technicality and a little paperwork that was not taken care of resulted in the entire mess. Sometimes, you do get pulled up for things that you cannot comprehend at first.
'Being on the Cannes red carpet is success enough'
Last updated on: June 7, 2011 13:01 IST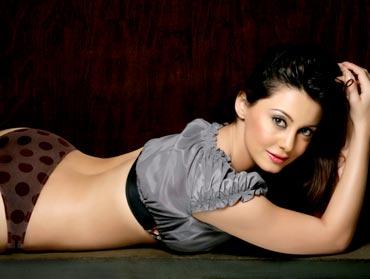 Are you content with the way your Cannes stint turned out?


I definitely am. It was the very first time for me and I was so happy to be a part of the brigade that went to the festival from India. It was totally misrepresented (
in the press
) and I had a great time there. Being there on the red carpet is success enough. Let's see what works out in the future.
What did the Cannes experience really mean to you?


You suddenly realise how big the game is. How on every level everybody is trying to make a film and competing with each other. The business of films is even more intense when the world of filmmakers, actors and producers accumulate in this one place.
It drives home the point that you are representing this industry that you totally love, on such a massive global platform. It gives you a sense of competition and your aspirations to be bigger and be the best there get higher.
'Shooting for Bheja Fry 2 was a laugh riot'
Last updated on: June 7, 2011 13:01 IST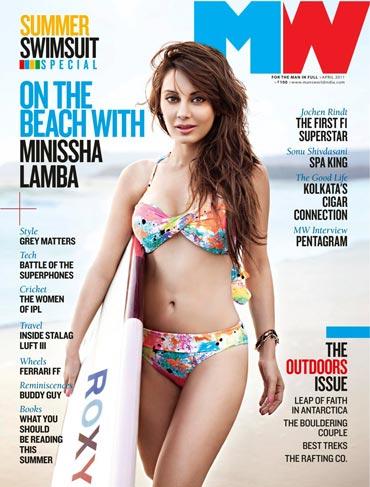 You are a welcome addition to Bheja Fry's mad team. What's your character in the film?


I play Ranjini who is a production executive at this reality game show. Vinay Pathak's Bharat Bhushan wins this contest and from there the clock starts. Bharat is a very shy character and in this film, I am introduced as his object of affection. We share a lot of common interests and passions, so we instantly bond.
Can you elaborate on the madness that might have ensued on the sets?

I had a fabulous time shooting the film because I was always in the company of comedians. They are always up to something. It was a laugh riot as they were constantly cracking jokes. The same energy and chemistry was then extended on screen, and we were so much better with our characters! It was so good that I never missed home. We were not connected to the internet or phones, and there were no newspapers or any access to the outside world.
So what did you all do?

We'd sit together playing dumb charades and chatting. We were all like-minded people who bonded very well and had a cool time. The kid in everybody came out. We all take our work so seriously, nobody ever plays games. We did, and it was so much fun.
'I'm a huge Hrishikesh Mukherjee fan'
Last updated on: June 7, 2011 13:01 IST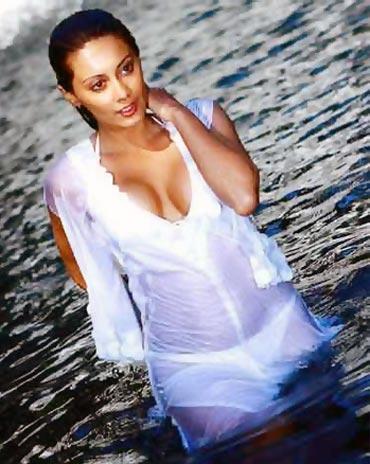 Did the young producer Mukul Deora have anything to do with such a casual, fun atmosphere?

Nothing particularly. I mean Mukul's a very chilled-out guy and a hands-on producer. He was on top of everything. He was the perfect friend, perfect producer, perfect host and a perfect trouble-shooter. He is a fun, great person to be around. 
Which are your most loved comedy films?

That has to be Rajkumar Santoshi's
Andaaz Apna Apna
. Aamir and Salman were just so terrific. Also, I am a huge fan of Hrishikesh Mukherjee's humour. His
Gomaal
tops my list. These are the films we grew up watching.
None of the current comedies?

Right now, I'm eagerly awaiting
Bheja Fry 2
's release. I haven't seen the film myself because I like to see my films when they are complete, just like any other person. That way, I enjoy it like a movie-goer.
'There are rarely any comedy films written for women today'
Last updated on: June 7, 2011 13:01 IST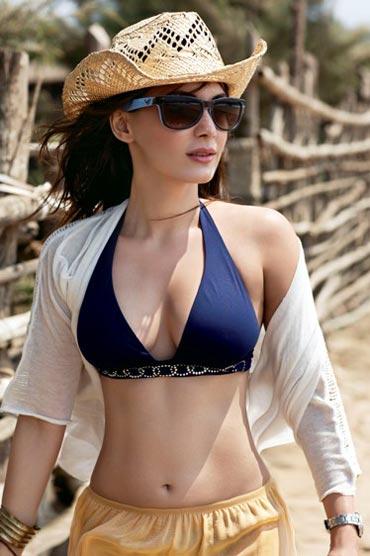 Why don't you name other recent funny films?

Okay. I am a great fan of the Munnabhai series. And I chuckled all the way in 3 Idiots. They are all perfect films. They represent what Bollywood is all about, the drama, the emotion, the angst, the humour, and to top it all, the message. It stays with you, like, forever.

So can we assume that Rajkumar Hirani is one director you are dying to work with?

Absolutely. I mean that man has got such a deep understanding of human emotions. He knows how to beautifully capture humanity in his films.

An actress with great comic timing?

It is Sridevi. I loved how she handled her characters in films like Chaalbaaz and Mr India. Unfortunately, today there are rarely any comedy films written for women. Where is the scope for an actress to flaunt her comic side in today's films? That's why I say Chaalbaaz, because the comedy is not even intentional, it is situational. It makes a huge difference.
Are you content with the way your film career has taken shape?

I am actually happy with the way it's shaped up. I'm fortunate that I got to do films that are so different from each other. There are performance-oriented roles as well as pure commercial fare. I think I have taken it slow because I didn't want to end up doing the wrong movies. Having said that, it's not like I've always made absolutely the right decisions.
'Hirani and Imtiaz Ali are busy working with the top heroines'
Last updated on: June 7, 2011 13:01 IST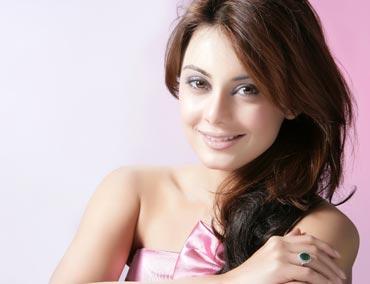 So what were the wrong decisions that you took?

There were films that I just let go because I wasn't brave enough to do them. I wish I hadn't underestimated some things and had just decided to take the plunge.

What prompts you to sign the films you do?

Maybe the desire to work with the director, and then the story that has been given to me.

So if a prominent director offers you a role that is not so significant, would you do it?

Mostly, but it depends on how badly I want to work with that director. Like if it's a Rajkumar Hirani or an Imtiaz Ali, I'd readily agree to do their films no matter what part has been offered to me. This is for the simple reason that I love the films made by these people.
Why do you think the calls haven't come from these guys?

For the simple reason that they are busy working with all the top heroines.
'You need incredible luck and marketing to reach the top'
Last updated on: June 7, 2011 13:01 IST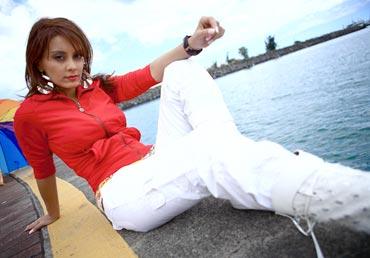 And why do you think you aren't counted among the top heroines today like, say, Deepika Padukone or Priyanka Chopra?

(Thinks) Well, I think that's a matter of incredible luck and marketing. I have always let my work speak for myself and not done any other kind of talking. I have never blown my own trumpet. That is something I'm not comfortable doing. If you are a person who likes to shout loud, then great, you must do it. But if you are not, it won't work anyway. It will fall flat.

Are you sidelining the numbers?

No, they are definitely important. But I'd like to be known for the work I do. In the race to be in the top-slot, one should not end up being blind-sided and do films only thinking of numbers. That might also backfire.
How bad are the critics?

Like everybody, I am also sensitive to whatever is written about me. A review at the end of the day is a public platform for everyone to read. The critics are pretty bad, but then you harden yourself not to take every word very seriously. Still, it is always great to have a favourable review. A good rating is very important.