Lara Dutta: I'm a huge Sholay fan
Last updated on: April 8, 2011 14:43 IST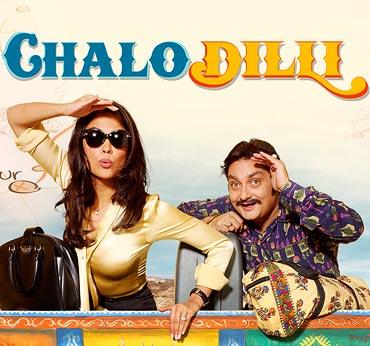 Lara Dutta is one busy lady these days. Barely two months into her marriage with tennis ace Mahesh Bhupathi, the actress has stepped into the role of a producer with her upcoming film Chalo Dilli, starring Vinay Pathak and her.
In conversation with Sonil Dedhia, Lara talks about life after marriage, her maiden production venture and her hilarious co-star.
How is marriage treating you?
There are so many additional responsibilities. I am learning how to strike a balance between my professional and personal life.
Is it difficult to come to terms with being married?
Not at all. I have always embraced my responsibilities. Although there are a lot of things happening at the same time, I'm enjoying every moment.
Wasn't it a little too early to get into production? Was it a planned move?
Yes, it was. I'd always wanted to venture into production. I'm working on a couple of scripts now. Unfortunately, in this industry, it's alright for an actor to have a production house but if an actress has one, it's assumed that it's only because she is married and doesn't have any work to do, so she's making movies for herself.
'Most of the time actresses are just left to play the actor's wife or girlfriend'
Last updated on: April 8, 2011 14:43 IST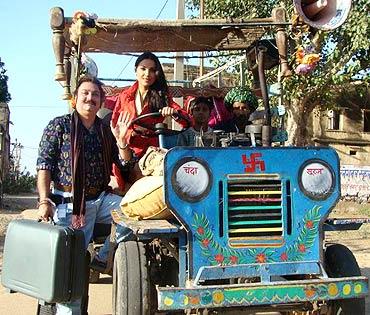 Why did you pick Bheegi Basanti as the name of your production house?
(Laughs) The story behind it is rather tongue-in-cheek. I named it Bheegi Basanti Entertainment because I am a big Sholay fan and I love the name Basanti. It's the most popular name for the Hindi film heroine for decades. It represents the typical Hindi film heroine and also my temperament, which many people are not aware of.
So how did the production venture happen?
No one knew about our production house Bheegi Basanti. After the cast was finalised, the director Shashant Shah waited for three months trying to get big banners to produce the film but the film was a bit small-scale for the big production houses. I really liked the script and so did Mahesh (Bhupathi). Also, Mahesh was already in talks with Eros Entertainment for some collaboration. So they decided to collaborate with us and that's how we ended up producing the film.
What made you take up this film as an actress?
Most of the time actresses are just left to play the actor's wife or girlfriend so there is not much to do. Chalo Dilli was a refreshing change which was different and that's why I decided to work in it. I feel great to be a part of this film because actresses hardly get a chance to prove themselves.
'Vinay doesn't really subscribe to commercial cinema'
Last updated on: April 8, 2011 14:43 IST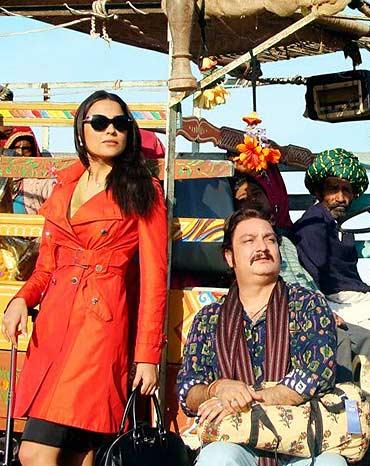 Can you tell us a bit about the story?
It's about a rich girl Mihika -- played by me -- who misses her flight to Delhi and meets Manu Gupta -- played by Vinay Pathak. He's a quirky trader, who deals in cloth pieces. As fate would have it, Mihika unwillingly gets stuck with Manu Gupta on a bizarre road trip to Delhi.
Was Vinay already on board when you were offered the film?
Yes, when the director approached me with the movie, Vinay was already a part of it. Vinay is a versatile actor and the script demanded someone who was unconventional. He had been a unanimous choice. Vinay is a person who doesn't really subscribe to commercial cinema.
Does that mean Chalo Dilli is an art film?
It's not art house film or alternative cinema. It's an out-an-out commercial cinema which has an element of comedy in it. I liked the script of the movie, which was quite unusual, and I loved the fact that as an actress, I would get to explore new areas.
What do you have to say about your unlikely pairing with Vinay in the film?
I don't think it's the first time we are watching an unusual pair. I was paired opposite Anil Kapoor in No Entry, who is much older to me. 
I try to do justice to whatever roles I take up and it really doesn't bother me whether I am paired opposite a superstar or a newcomer. At the end of the day we need to experiment and if we start being too cautious, we'll end up working with the same actors and doing the same roles. That's how people get stereotyped.
'Zeenat Aman loved Laila O Laila'
Last updated on: April 8, 2011 14:43 IST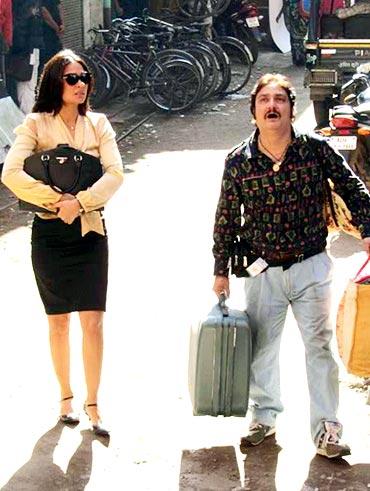 The movie seems somewhat similar to Jab We Met and the Hollywood movie Due Date.
I don't think it's right to make any comparisons and jump to conclusions. It is a film where two protagonists travel by road and if there are similarities, it doesn't really matter
Is it difficult to act in a film and produce it too?
Yes. As an actor I would do a 12-hour shift and then rush to production meetings so it's a big step to act and produce at the same time. The responsibilities increase tremendously but at the end of the day, it gives you a high when you see the final product.
How did the song Laila O Laila come into the picture?
It was Mahesh's idea. We wanted an iconic song and Mahesh came up with the idea because in Jhoom Barabar Jhoom, my character's name is Laila and Mahesh loves that movie (Pauses and gives a smirk).
Luckily, we got the rights for the song. We wanted to give a rustic feel to the song and Yana has done justice to it. It is coming out at a good time since there have been other revamped old songs in the market.
Zeenat Aman seems to have liked the song.
Yes. We showed her the rushes of the song and she was really happy to see it.