Karisma Kapoor: I did not miss films
Last updated on: May 10, 2012 19:59 IST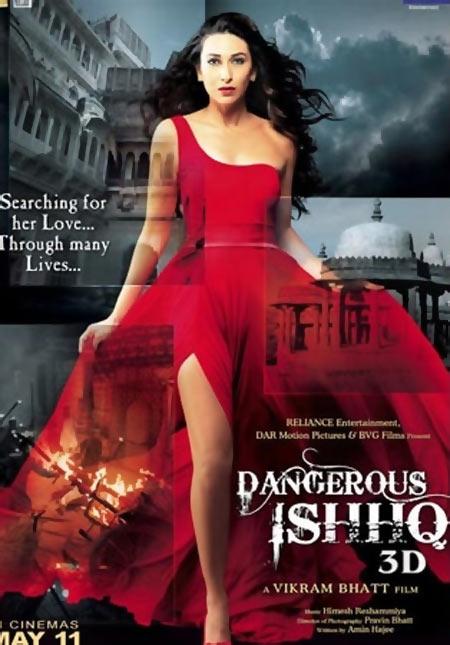 Karisma Kapoor
has not aged since her last film -- a terrible one called
Baaz: A Bird in Danger
-- in 2003 (
Zamanat
, which released in 2009,
Mere Jeevan Saathi
, which released in 2006, were stuck in the cans for a long time). 
In the 10 years that have passed since then, the actress has seen several highs and lows -- her grand wedding, becoming a mother (she has two children -- daughter Samaira is seven and son Kian is two) and constant speculation about the state of her marriage to Delhi-based industrialist Sanjay Kapur. 
When I met Karisma recently to interview her about her comeback film,
Dangerous Ishhq
, it was easy to see why she had not aged -- she takes great pains to look fresh and pretty, making sure her hairstylist and make-up artist follow her everywhere, and even interrupt a shot if a stray hair gets in the way of a perfect smile. 
The duo were her extensions, as she flitted from one press interview to the next, making sure she looked perfect for everyone.
'Dangerous Ishhq is an intense film'
Last updated on: May 10, 2012 19:59 IST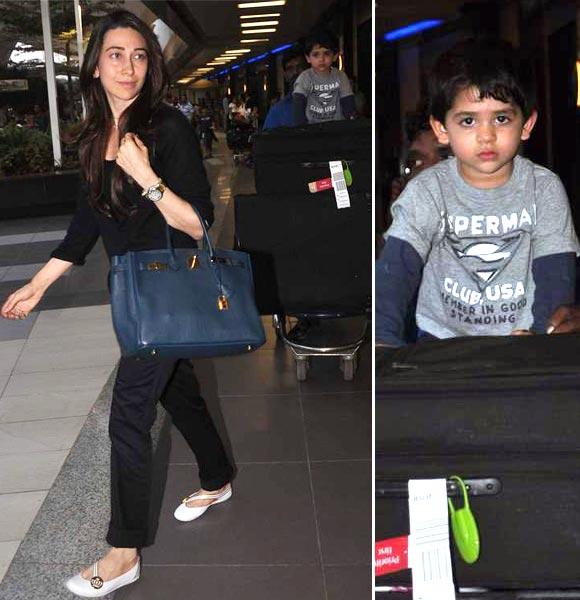 She finally settled down to chat, after flashing a broad smile for the camera.
 
"I did not miss films," she said, with a wave of her hand. "I have been working from a very young age -- I was 16 when my first film released.
 
"I was pretty clear that when I started a family, I would give my time and priority there. For me, leading a normal life is very important. Now that my kids are older and more settled, I thought, chalo, let me do a movie."
 
Of course, 'normal life' for the Kapoors -- often called the first family of Hindi cinema -- is very different from yours and mine.
 
Karisma's daughter Samaira took a while to realise this.
 
"Earlier, Samaira would not understand why her friends and their cousins, etc, would take my autograph. She was it was normal because everyone (in her family) -- her Maasi (Kareena Kapoor), Nana (Randhir Kapoor), Nani (Babita)... -- is giving autographs. I had to explain to her that our only family is like this; not every mummy is an actress!" Karisma laughs.
 
Little Samaira, however, is yet to see any of her mother's movies.
 
"She was too young (to watch my films) before. Now, she is slowly understanding movies. She just saw Housefull 2. It was a big moment for her to see her Nana (Randhir Kapoor) and Uncle (Rishi Kapoor) in the film. But she has seen some of Kareena's films," Karisma says.
'I felt nervous excitement on the first day of the shoot'
Last updated on: May 10, 2012 19:59 IST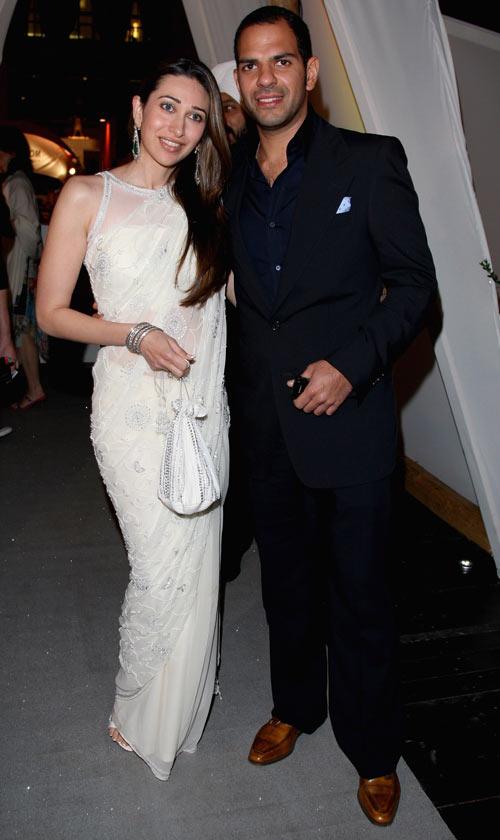 We move on to Dangerous Ishhq. What was it that made her sign the dotted line for Vikram Bhatt's film?
 
"His conviction," Karisma answers easily. "He was after me for the last two-three years. I wasn't even interested. Finally, last year, he asked me to at least hear the script. He said it was the first woman-centric film in 3D. So I listened to the script... and was bowled over. It's a role I've never done before.
 
"I read quite a few scripts. It's not that they were bad; some of them got made."
 
In her vast extensive career spanning many years and even more films, what role has she *still* not done?
 
"I've never done a supernatural film before -- in 3D! I play a modern day girl of 2012 in the film. At the same time, you will get to see me in the old world charm, in different avatars, dialects, in different eras. In one film, there are so many characters, scenes emotions," Karisma explains.
 
Dangerous Ishhq, for those who haven't yet seen the trailer (click here to watch the trailer), is the story of a supermodel whose boyfriend (Rajneesh Duggal) gets kidnapped. The film spans several lifetimes, where the two love only each other.
 
"On the first day of the shoot, I felt nervous excitement," Karisma says dramatically. "I was thinking, 'What am I doing here?' After all, it was after a long time (I was back on the sets of a film)... My unit was very different (from my previous film sets) because it was a 3D set-up with foreign technicians. Vikram was very sweet and started with a simple emotional scene."
'My mom is a very important in the support structure'
Last updated on: May 10, 2012 19:59 IST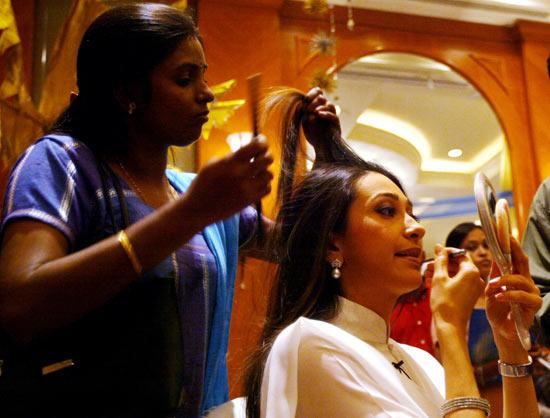 While on one hand, she delved into the depths of her emotional character, on the other, Karisma was busy playing MOM -- or, in her words, "Master Of Multitasking."
 
"In the middle of a scene, I would be calling home and asking, 'Khane ke liye kya banaya hai?' I think after you become a mom, that becomes a part of you. It's not difficult; it's like giving a shot!
 
"Everybody in the family would take turns looking after the kids when I was shooting," Karisma adds.
 
"It was a cycle of who's coming on which day. That's the amazing thing about the Indian family. We have a great support structure and that makes it easier for us mothers to work. My mom is a very important in the support structure."
'I loved doing all my David Dhawan films'
Last updated on: May 10, 2012 19:59 IST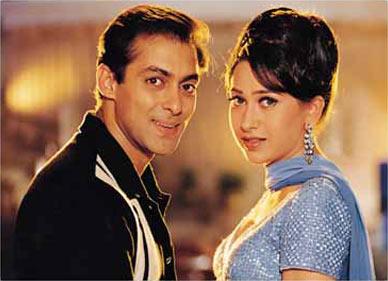 Dangerous Ishhq will see her take centrestage but she's been there before -- quite a few times, in fact.
 
Karisma looks back: "Shakti was very challenging. We were in Rajasthan, doing intense scenes like (costar) Nana Patekar dragging and beating me, in the heat. It was high drama!
 
"Zubeida was the total opposite. It was so subtle, so complex. She was a real-life person. It's very difficult to play a real-life person because you want to keep her as normal as possible.
 
"In Fiza, the scenes were so intense. It was the first time that I played such a deglamorous role. Lucknowi cotton salwar kameezes became fashionable after that film!
 
"Even Biwi No 1! Though it was a commercial comedy film with so many stars (Salman Khan and Anil Kapoor), I wondered how I would live up to the title role!" Karisma says, chuckling.
 
Given a chance, Karisma says she would love to do an out and out comedy like Biwi No 1 at this stage in her career. "In a way, Dangerous Ishhq was very intense. So I would love to try something different," she smiles. "I love doing the No 1 series, and all my films with David Dhawan. All of them have special memories."
'Heroine is going to be fabulous!'
Last updated on: May 10, 2012 19:59 IST
For now, we may think there's only one movie recommendation for her fans -- Dangerous Ishhq.
 
That wouldn't exactly be true. Karisma has one more recommendation -- sister Kareena's Heroine.

"I've seen the rushes. Heroine is going to be fabulous!" she gushes.

With Karisma, as always, it's all about family!