Kalki: I'm not that much of a Shaitan
Last updated on: June 7, 2011 14:03 IST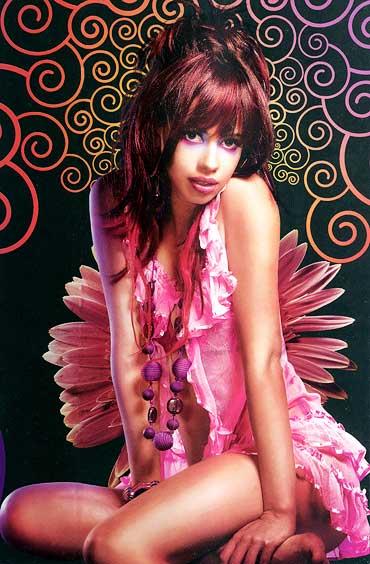 Kalki Koechlin and Anurag Kashyap had a low-key wedding after three years of courtship. The partnership carries on into their professional lives with Shaitan, their second film together after Dev D, produced by Anurag, and with Kalki in the lead role.
The busy couple have not had the time to go on a honeymoon, with Kalki away in Latur in Maharashtra shooting for Dibakar Banarjee's Shanghai.
Patcy N caught up with Kalki to know more about Shaitan and just how much of a shaitan she is in real life.

Since this is Anurag's production and you were Anurag's girlfriend when the movie was shot, did your co-actors feel that you got more footage than they did?
Absolutely not. First of all, this film is not about one hero or one heroine. It is an ensemble film and therefore it is not possible for one person to have more footage. Secondly, Anurag is not the kind of producer who will interfere; he hasn't once come on the sets. Once he trusts a director, he lets him take over completely.
'I am interested in real cinema, telling true stories'
Last updated on: June 7, 2011 14:03 IST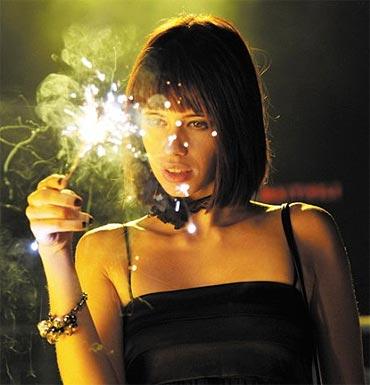 Why are you doing so many dark films when you yourself like romantic comedies?
I don't call them dark films, I call them real films. I am interested in real cinema, telling true stories. Even if they are not based on true events, they show the human qualities of a person, which are never perfect. There is always going to be depth and layers to people and that's what interests me in a character, when there is some problem to overcome, when there is a complication to understand in a person.
My forthcoming films My Friend Pinto and Zindagi Na Milegi Dobara are both comedies. Both films were like a breath of fresh air to me -- to be doing lighter films, not to be crying all the time. In Zindagi, I play this South Bombay girl, a very comic character, very posh, who always dresses very fancy in Coco Channel. She is very funny.
In My Friend Pinto my character is that of an innocent Catholic girl who believes that everybody is good. She is the cartoony innocent, wide-eyed head-in-the-cloud type.
'I had a playlist of mostly sad and angry music to prepare for Shaitan'
Last updated on: June 7, 2011 14:03 IST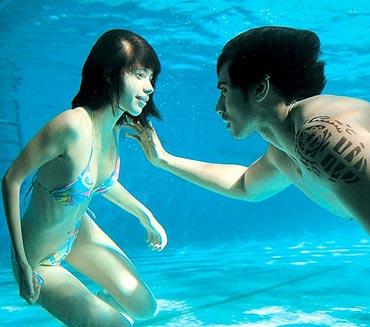 Tell us about the shaitani that your character does in the movie.
She hangs around with a group of friends who are hardcore party-goers, they do all kinds of crazy urban things -- they get drunk, they do drugs and all kinds of mad things. The harmful things start happening when they start hiding and covering-up their mistakes and that's when all their weaknesses come out and they start betraying and accusing each other. My character realises that she is vulnerable, immature, and is not able to handle all this. We all think we are so cool but when we are left alone, we are not so cool.
You were listening to certain kinds of music to get into the character.
I had a playlist of mostly sad and angry music. One of the singers that I was listening to was Ben Harper whose sings these I-am-so-alone kind of songs, which I guess teenagers listen to a lot nowadays.
The other band that I listen to a lot is The Muse. They play hard rock music with lots of anger, based on lots of angst about that's happening in the world. They have anger towards the world and anger towards themselves.
'I had to work with a diction teacher for Zindagi Na Milegi Dobara
Last updated on: June 7, 2011 14:03 IST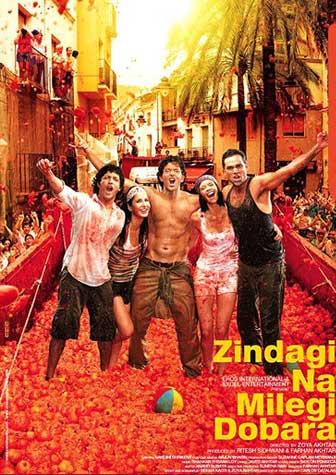 You have lost a tremendous amount of weight. Is it for the role?
No, it is not because of the role. I have lost weight since Dev D. I have been very busy, my lifestyle has changed. I have been working a lot. I haven't been trying to lose weight. I wish I would put on some weight.
 
Your Hindi has improved a lot since the first time I met you.
Khafi sudar gayi hai (it has improved quite a lot). I am taking diction classes. When I get difficult scripts, as for example Zoya's film Zindagi Na Milegi Dobara, I had to work with a diction teacher. Now I know Hindi and I can read and write Hindi, but the problem is that I can't improvise when I am acting because I think in English so I have to translate my thinking from English to Hindi and therefore I speak slowly. That is my limitation. But I am doing my own exercises to learn Hindi, I am watching lots of Hindi films.
'I don't lose my temper easily'
Last updated on: June 7, 2011 14:03 IST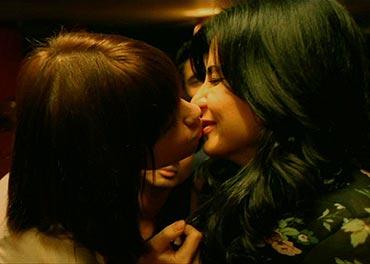 How much of a shaitan are you in real life?
I don't think I am so shaitan like the kids in the film, but I think I have been immature and stupid. I once stole a traffic cone from a policeman in London when I was very drunk because I needed a witch's hat for a play. I have injected vodka in watermelon and then I ate the watermelon. When I was very young I would pull spiders' legs -- that was really mean, actually, probably the meanest thing I did.
I don't lose my temper easily. I do get angry, but only those people who are close to me know that side of me, where I get angry and frustrated with the world. Otherwise, most of the time, I have a smile on my face.